1.4K Views
What Stores Carry Benjamin Moore Paint?
March 4th, 2022 3:07 PM
Share
We're committed to finding, researching, and recommending the best products. We earn commissions from purchases you make using links in our articles. Learn more here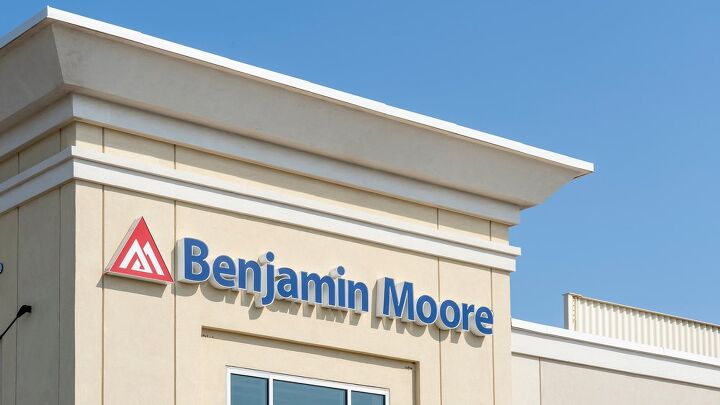 Few national hardware stores sell Benjamin Moore paint. But some small businesses might stock it as well. The point is that the brand is reliable for high-quality products. So, what stores carry Benjamin Moore paint? And is your search even worth the trouble?
Many stores carry Benjamin Moore paint because it's one of the most popular brands. Go to your local hardware store to look at color samples or get more information. But remember that only the major retailers stock a complete collection. So, shop online if you can't find the perfect stain. Or contact Benjamin Moore to discuss buying customized lacquer.
Do You Need to Hire a Paint Contractor?
Get free, zero-commitment quotes from pro contractors near you.
Is Benjamin Moore Good Paint?
Most people love Benjamin Moore paint. That's because it's a high-quality pigment, and it can outlast other brands. Take Benjamin Moore versus Behr stains, for example. Both products are durable and vivid. But Benjamin Moore is usually less expensive while still covering the same square footage.
Meanwhile, BM offers a savvy combination of quality and quantity. So, the brand sells paint and primer duos at affordable prices. Plus, their formulas don't contain volatile organic compounds (VOCs). And that means they're safe for use in homes even if you have allergies.
What Are the Different Grades of Benjamin Moore Paint?
Benjamin Moore attempts to provide vibrant stains regardless of the project or budget. Thus, they make four different grades of interior paint. Each grade features a distinct quality level and a unique price tag. But you can usually find them all at your local hardware store. So, look for these specific products:
Super Hide
Super Spec
Regal
Aura
The Super Hide grade paint from Benjamin Moore produces a virtually flawless finish. Yet, it dries into a matte finish, so you don't get much of a sheen. The higher you go in grades, the glossier your color becomes. However, you can adjust the glossiness when mixing pigments at the store. And in some cases, you can combine BM lacquer with other brands to create a tailored tint.
Are Benjamin Moore and Sherwin Williams the Same Company?
Some paint brands are compatible, while others are not. And compatibility has a lot to do with the formula. For instance, Sherwin Williams and Benjamin Moore are two distinct companies. So, they use different ingredients to produce their colors. That means you can combine the pigments for some projects but not others. Plus, brand variations are often demonstrated in the checkout line. And some retailers won't sell low-quality paint.
DID YOU KNOW: Benjamin Moore stores are usually locally-owned franchises. But Sherwin Williams stores are corporate-owned.
Does Home Depot Have Benjamin Moore Paint Colors?
The Home Depot stocks countless items for home renovation and remodeling. They have one of the most extensive paint counters in modern retail history. You can find products on their shelves from a bunch of well-known brands, including these:
Behr
Rust-Oleum
PPG
KILZ
Valspar
Diamond Brite
Glidden
Surprisingly, Benjamin Moore paint is not on that list. Home Depot does not sell it, and they haven't for several years. So, you have to buy your supply from somewhere else if BM is the brand you choose.
Can You Buy Benjamin Moore Paint at Lowes?
Lowe's once sold every major paint brand. However, things changed in 2022. As of January, Lowe's no longer distributes lacquer or supplies for Benjamin Moore. You must visit another store, buy online, or shop at your local Benjamin Moore franchise instead. But since the transition is recent, you could ask a Lowe's associate for some help finding your favorite colors.
Is Benjamin Moore Paint at Ace Hardware the Same?
Benjamin Moore paint manufacturers prefer selling their products through specific retailers. So, they don't distribute lacquer to certain stores. However, the brand maintains close ties to Ace Hardware. And that means you can usually find the entire BM color collection at that store.
FACT: Ace Hardware does not have exclusive rights to sell Benjamin Moore paint. However, the products on their shelves are of the same quality as the franchised lacquer.
Does Menards Stock Benjamin Moore Paint?
Most Menards locations carry several brands of pigment. And you can find almost any color you need. Yet, you won't be able to find any Sherwin Williams or Benjamin Moore paint there. That's because Menards is a family-owned franchise that maintains partnerships with local companies. So, they don't carry either variety unless through a neighborhood merchant.
How Much Does a Gallon of Benjamin Moore Paint Cost?
Expect to pay a range of prices for Benjamin Moore brand stains. Depending on the retailer, your costs can vary by tens of dollars. The Regal grade is mid-range. Yet, it costs about $60 per gallon. Meanwhile, the Aura grade is high-end. So, you'll pay around $80 per gallon for that. Your fees don't include specific pigments, finishes, or other ingredients. Thus, the total increases if you choose high-hide paint to conceal imperfections.
What Is the Cheapest Benjamin Moore Paint?
Always choose your paint grade carefully. And never let price be the sole determining factor of what you select. But you can save money on your project while still enjoying a professional finish. Pick the cheapest Benjamin Moore stains your money can buy.
Look for ben Interior paint for a steep discount. You can only find it in flat, eggshell, or semi-gloss finishes. And you might have to apply more than two coats to your walls. Plus, you'll probably need some primer. However, you'll spend less than half the price of their mid-grade product. And it dries just as fast.
Does Benjamin Moore Paint Come in Five-Gallon Buckets?
You can buy Benjamin Moore paint in bulk through an affiliated retailer. But don't search for large buckets at stores that don't sell the brand. Then, prepare for some stores not to carry such massive containers. Get ready to approach a BM franchise or shop online instead. Meanwhile, some retailers offer customers a discount if they buy their paint in bulk. So, ask an associate for more details.
How Much Benjamin Moore Paint Do You Need to Cover a Room?
The amount of paint you'll need to finish a whole room depends on many things. For one, a low-quality stain usually requires more than one coat. And you can't skip steps of your finish will suffer. So, you pay less upfront but more in the long run. Then, you still have to buy extra supplies in the end.
Benjamin Moore stains typically cover surfaces with one or two coats. But you might have to adjust your technique based on which paint grade you choose. If you pick the ben Interior series, your walls could require a few more layers. Thus, select the Aura series if you want to apply fewer coats.
Can You Return Benjamin Moore Paint to the Store?
Did you get the wrong color? Is your finish not as beautiful as you expected? If so, try to return your paint to the store. But remember that each location operates under different policies. And franchises don't always have to honor brand commitments.
Avoid frustration and wasted money by ordering paint samples first. That way, you can take the color home to test it in various lights. And if you don't like how it looks, you don't have to return to the store. Use the sample for touchups and mixing instead.
You can return Sherwin Williams paint to the store if you're unsatisfied. But Benjamin Moore retailers aren't quite as relaxed. Check the store's policy for more information. And always hang onto your receipt in case you need it.
---
Related Questions
How Many Coats of Benjamin Moore Paint Do You Need on a Wall?
You usually need at least two coats of paint to cover a wall. However, you could use less or more depending on the paint quality and wall materials. For example, porous surfaces can absorb stains quickly. So, you'll have to apply more color to achieve a silky finish. But smooth or primed surfaces take lacquer with fewer flaws. And that means you should take extra steps to hide imperfections.
How Long Does Benjamin Moore Paint Last?
Benjamin Moore paint can last a long time if you apply it to your walls correctly. You have to begin with a coat of primer for a smoother finish. Then, you can add a base coat to help the color adhere to your surface. Then, apply at least two coats of stain to complete the look. You'll have to do touch-ups and repaint like usual. But you won't have to do it as often.
Do You Need to Hire a Paint Contractor?
Get free, zero-commitment quotes from pro contractors near you.
Prepare For Your Shopping Trip
Buy what you need and finish your project quickly. Stop searching all over town for the best Benjamin Moore paints. You can buy samples, pints, and gallons at your local Ace Hardware store. Or you can visit the nearest BM franchise to get exclusive deals on custom colors. And if all else fails, shop online to tailor your order and save some time.
Related Guides

Tiffany Nichols
Tiffany Nichols specializes in aesthetics, design, marketing, and manufacturing. She's a copywriter and editor for several home renovation companies in the U.S. and works alongside some of the biggest names in the industry. Her hobbies include architecture, art, mental health, and fashion.
More by Tiffany Nichols
Published January 12th, 2022 3:55 PM