10 Views
What Happens After A Home Inspection? (Find Out Now!)
November 26th, 2021 9:53 AM
Share
We're committed to finding, researching, and recommending the best products. We earn commissions from purchases you make using links in our articles. Learn more here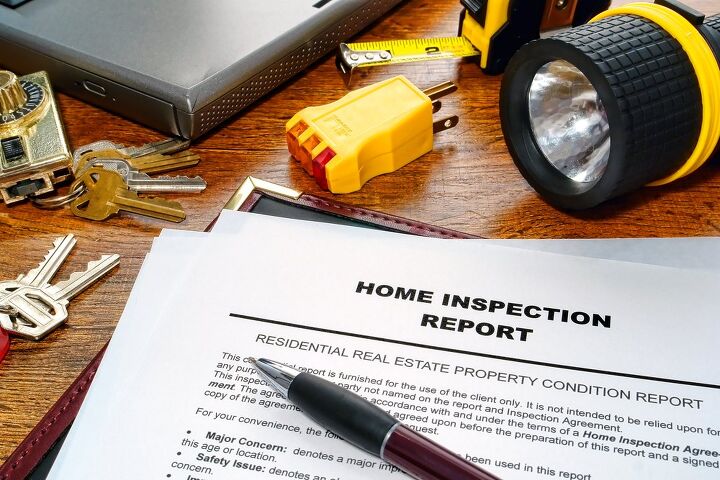 A fabulous exterior can hide some interior issues, and this is one of the main reasons why home inspectors are in business these days. A home inspection is used to verify that a house is in good working order and not needing significant repairs.
The home inspection process is major in itself, but afterward, there are some other important steps that need to happen before one can take ownership of a home. In this article, these post-inspection steps will be explained in detail.
After the home inspection is complete, you should review the results on your own. Next, you should review the results with your real estate agent. After this, you should make repair requests and negotiate with the seller. Once negotiations have concluded, get the house appraised. After it's appraised, it's time for closing. Once the closing is complete, you're a new homeowner!
Do You Need Home Inspection Services?
Get free, zero-commitment quotes from pro contractors near you.
Going Over the Home Inspection Report
When you first receive your home inspection, you should plan and set aside plenty of time for going over it thoroughly. Keep in mind that you'll probably only have between two and three days to go through the report.
A home inspection report will focus on many key aspects of a home, including structural components, foundation, roofing, plumbing, ventilation, electrical, and mechanical systems. The report will explain which repairs are necessary and what health and safety issues are currently present.
Keep in mind that not every issue listed will be critical. Everything that's found is listed because this is what's required of professional home inspectors. Therefore, you may find something like a dead lightbulb or smoke detector when going through the report.
Exercise good judgment and common sense when reviewing the report. Since every item listed will not require immediate attention, you should keep an eye out for the things that are significant and focus on those. It's quite likely your home inspector will indicate which items are important.
Mandatory Fixes
While there aren't really "mandatory fixes", there are issues that should be deal-breakers if they're found during a home inspection; they're deal-breakers if the seller is unwilling to do anything about these.
A home inspection can turn up a lot of unfortunate realities, including mold growth, chemical contamination, roof damage, and plumbing problems. Some issues can be overlooked whereas others will directly impact the habitability of a home. These are the health hazards and major structural risks that should be addressed before you purchase a house:
Mold and water damage
Pest and wildlife infestations
Fire and electrical hazards
Toxic and chemical hazards
Major structural hazards
Building code violations
Trip hazards
Cosmetic issues may diminish a home's visual appeal, but they don't count as mandatory fixes.
You should also keep in mind that what you want fixed may not be the same as what your lender requires fixed in order for your mortgage to be underwritten. You may be denied financing if the bank doesn't like the results of the home inspection, and it's almost certain you won't get financing if no repairs are undertaken.
In this case, certain fixes do become "mandatory", as without them one can't get the loan that's needed to close on the home.
Reviewing the Home Inspection Report With Your Agent
Once you have gone over the home inspection report once or twice on your own, it's now time to sit down with your real estate agent so you can review the home inspection report together. This is an important step, as your real estate agent will be able to guide you through the home inspection report. For this reason, you should have an experienced realtor on your side.
A realtor will help you identify which repairs should be addressed, and they will also know which health and safety concerns shouldn't be overlooked. Once a reasonable list has been drafted, the agent will send this over to the sellers agent for review.
Making Unreasonable Requests
You should only make reasonable repair requests and avoid demanding, as over-aggressiveness may cause the seller and his agent to back out of the deal altogether. These requests can be considered unreasonable, so keep this list in mind before you make your requests:
Cosmetic blemishes
Renovations that you were planning on doing anyway
Nonstructural cracks in concrete
Nonstructural cracks in drywall, e.g. tape joints
Repairs to an external/detached building, e.g. sheds
Landscaping (when it's unrelated to foundation-affecting drainage problems)
Cosmetic issues are often the result of general long-term wear and tear, and because this is something that's unavoidable, one can't expect a seller to resolve this before selling their property.
Which Requests Are Reasonable?
While there are things you should avoid asking for, there are definitely repairs that should be addressed before you purchase a home. The inspection report will outline what these are, and a few major examples are listed below:
Electrical Issues
If there's a problem with the electrical work, this should be addressed. There could be double-tapped breakers, faulty breakers, a rusted panel box, poor wire connections, corrosive wiring, and/or overburdened fuses.
Plumbing Issues
Plumbing issues can also be quite problematic. There may be a leak in a pipe that's hard to reach, and drainage issues could also be present. A leaking toilet and a water heater that's inoperable should both be addressed by the home seller.
Heating & Cooling System Issues
Heating and cooling systems are supposed to work well too. If there's a faulty thermostat, damaged ductwork, or malfunctioning components that render the system inoperable, you should address these with the seller.
Structural Issues
If there are structural defects like rotting wood and collapsing doorframes, the seller should address these. The structure is arguably the most important part of a home, and a buyer should definitely not overlook these issues if they're present. Moreover, appraisers focus on structure a lot during their process.
Roof Issues
The roof may have a damaged covering, the flashings could be damaged, the chimney may be falling apart, and there may be cracks that lead to leaks when there's rain or snow. When it comes to the roof, you should request that only the most significant issues be fixed; these will be the issues relating to the roof's structure.
Health & Safety Issues
Health and safety issues are also important. If there's asbestos or lead paint in the house, this should be properly removed. Mold and mildew should also be gotten rid of. These two elements usually exist in damp locations, like basements, attics, and crawlspaces. Rest assured that the home inspector will assess these places before they conclude their inspection.
What About Old and Outdated Systems?
A seller will not be obligated to replace a system just because it's at or near the end of its lifespan. If the system is still functional, at the time of the home inspection, then this is all that matters.
Say, for example, the house you want to purchase comes with a water heater that's over 10 years old. Most water heaters don't last longer than 12 to 15 years, so in this instance, it's fair to say you'd be buying a water heater that's seen better days. Unfortunately, there's really not a lot you can do in this instance, especially if the seller doesn't want to replace this appliance before you purchase the property.
Negotiating With the Seller
Now it's finally time to negotiate with the seller. Give the seller and their agent ample time to review the repair addendum. After sufficient time has been afforded, arrange to meet with the seller and their agent so you can discuss the repair requests in person. There are three things that can happen at this point:
The seller can make the requested repairs
Negotiations can take place over which repairs are needed
The seller can refuse to make any repairs
Each of these scenarios will be explained in brief detail below:
The Seller Accepts
In most cases, the seller will accept and make the repairs, usually because they are more interested in the larger sale. A lot of sellers don't know the defects that exist in their homes, and if they believe that these repairs are reasonable, then they pursue them without issue.
This is the most ideal situation, and this can be achieved if you approach the change-request process in the right way. That is, you must refrain from being overly aggressive. The wrong attitude could turn a would-be accommodating seller into an acquiescent seller at best.
Negotiating
There is no cut-and-dry formula when it comes to negotiating. Furthermore, negotiating can take many forms. For example, the seller may make only some of the repairs in exchange for a financial concession.
A lot of homeowners don't want to pursue repair, as this entails high costs, headaches, and a lot more time. So in exchange for dodging all these hoops, they lower their asking price. But don't think that just because the seller isn't making repairs that this means they won't be necessary.
If you're buying a house with a mortgage, it's quite likely that the lender will require certain repairs, especially the important ones. If, for example, it's evident that there are termites destroying the wood, this will need to be addressed before the lender approves financing.
Things that affect the home's structure are of particular concern to lenders, as a deteriorating structure can reduce the home's value significantly, even if the homeowner doesn't exacerbate the problem.
The Seller Refuses
In the rare instance that the seller refuses to make any of the repairs requested, and they don't even offer concessions, you should probably walk away from the deal. Of course the seller has a right to do this, but one should consider why they're being so adamant.
Now It's Time for the Appraisal
If the home inspection report looks good, i.e. no significant repairs are indicated, then it's time to begin the appraisal process. A real estate appraisal is much different from a home inspection, as the former is conducted so a lender can know for certain how much a home's market value is at the time of sale.
This value, in conjunction with your credit score and the type of loan you've been approved for, will also indicate to the lender how much of a down payment is needed at closing. If no problems arise during the appraisal process, then it's quite likely the lender will sign off on the deal and schedule a closing date.
What's Done Before Closing?
At this point, you're in the homestretch of the home-buying process. There are just a few more things you have to take care of for your lender. These are the titles search, getting homeowner's insurance, and a final credit check. In some instances, a property survey may be conducted, though this is not common practice.
The Title Search
A title search is used to verify a property's legal owner. This can also be used to identify any liens or mortgages that currently exist against the property. If there are no outstanding liens or unpaid property taxes, you won't have an issue during the title search.
But if these problems do exist, they could slow down the sale process and possibly end it altogether.
Homeowner's Insurance
Getting homeowner's insurance isn't that difficult these days. You should get three different quotes before you choose a policy. It's common practice for individuals to pay their home insurance premium annually. It's also common for home insurance to be rolled into a mortgage payment; if this sounds attractive, talk to your lender about this.
Final Credit Check
You'll want to make sure your credit is in good shape before closing. Don't rack up a large credit card bill before closing. This could reduce your score and make you unworthy of receiving financing at the last minute. Wait until after the sale is complete if you have to make a large purchase with credit.
Do You Need Home Inspection Services?
Get free, zero-commitment quotes from pro contractors near you.
---
Related Questions
Since the home-buying process is one of the most significant processes a human being will face in their lifetime, it makes sense that a lot of individuals have questions about home inspections and what comes after them. The frequently asked questions are answered below.
Is there an alternative to the traditional home-selling method?
If you're looking to avoid the traditional home sale, then you can choose to sell a house as-is. In this instance, a home inspection isn't even required, as the buyer will know they're purchasing everything they can and can't see.
Of course, for something like this to be possible, you can expect to get well below market price, but you'll still be able to sell your home without all the hassles, costs, and time-loss that's associated with pursuing pre-sale repairs.
What are as-is contracts?
Keep in mind that some states have as-is contracts. This contract will allow a seller to give up the responsibility of repair, and the buyer will accept the property in its current condition. However, in some instances, the buyer does still possess the right to walk away from a deal if a home inspection finds that there are way too many issues.

Matthew Mountain
Matt loves everything DIY. He has been learning and practicing different trades since he was a kid, and he's often the first one called when a friend or family member needs a helping hand at home. Matt loves to work with wood and stone, and landscaping is by far his most favorite pastime.
More by Matthew Mountain
Published September 29th, 2021 9:43 AM