58 Views
What Color Kitchen Table With White Cabinets?
March 4th, 2022 3:49 PM
Share
We're committed to finding, researching, and recommending the best products. We earn commissions from purchases you make using links in our articles. Learn more here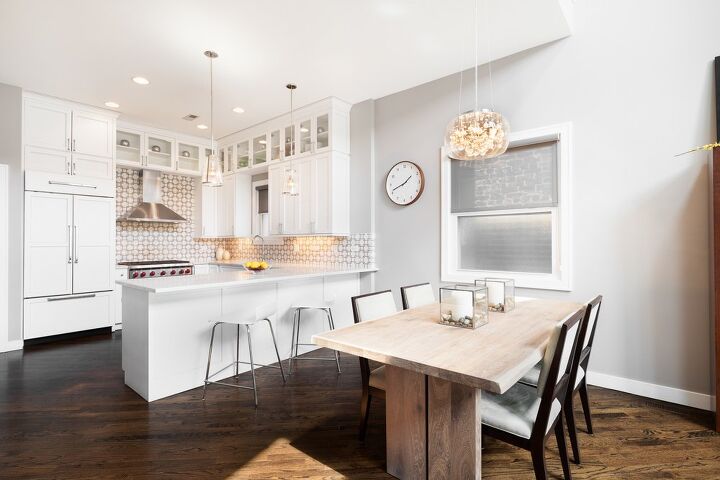 So many memories are made at the kitchen table: family game nights, homework, art projects, and of course, delicious meals. White cabinets are the ultimate blank canvas, which means your options are endless when it comes to the kitchen table. Whether your style is classic or avant-garde, there're lots of excellent options for deciding on the best color kitchen table with white cabinets.
For a classic look with white cabinets, a kitchen table with neutrals like white, black, cream, and stained wood will be your best friend. For a more creative style, try unexpected colors like blue, green, and yellow. If you want to add multiple colors or patterns, try terrazzo or mosaic kitchen tables with white cabinets.
Kitchen tables are easily replaceable and a great way to play with your interior design creativity. Changing it can drastically change the look of your kitchen, and you can do it on a budget easily. Let's check out some of the best kitchen table colors to match your white kitchen cabinets.
Do You Need an Interior Decorator?
Get free, zero-commitment quotes from pro contractors near you.
What Color Kitchen Table With White Cabinets?
The kitchen table takes up around 80% of the room, which is why it is such a vital piece of decor. There are thousands of kitchen tables out there: long, short, plain, ornate, rustic, or sleek, amongst other things. With vintage styles taking over the market, we are seeing more unique statement tables, both new and secondhand.
1. Black
Black is a classic; it always has been, always will be. It's easy to clean, looks sleek, and adds some moodiness to a room, especially if the room is primarily white. Dimension is the name of the game in interior design, and that is exactly what black brings to the table.
Depending on the shape of your table, black can accommodate any style. A more rounded, ornate table will give a traditional look, especially if it has some antique charm. A sleeker shape, either clean edges or round organic shapes, will provide a more modern and contemporary look.
2. White
Nothing goes with white like white, am I right? White on white kitchens have been in for nearly a decade now but are now seeing a more diverse shift. While white can make a small space feel open and fresh, too much can feel cold or like you're in a hospital.
One way to break up the white is to choose a non-white counter, like black granite or butcher block. Another option is to select a table with different colored legs, like a light wood stain, metallic, or black.
3. Dark Stain
Dark-stained kitchen tables are simply luxurious; they truly are a timeless piece. Natural materials, like wood, never go out of style and work with any look. The shape of the table is the biggest factor in the interior design style you are trying to achieve.
For an organic or traditional look, a long, rustic farmhouse table will work best. For added character, try an antique or vintage table which will give a more cottagecore vibe. Try sleek and angular shapes for a mid-century or art deco look.
4. Medium-Stain Color Kitchen Table With White Cabinets
Natural elements never go out of style, and a medium-stained wood table is the perfect middle-of-the-road color. There are so many different ways to style a medium stained wood, and tons of different undertones to try.
There are both cool and warm undertones, and they can drastically change the way your kitchen looks. Warm, red undertones, like chestnut, will produce a cozier atmosphere. Cooler tones will look contemporary, especially when paired with a stark white.
5. Light Stain
Light stain is the cousin of the all-white kitchen. White and light stain is a fantastic natural combo that looks good in just about every kitchen. Design styles that thrive with this color combo are Scandinavian, minimalist, and modern coastal, amongst others.
If you are going for a light stain, avoid choosing a white countertop to avoid a stark space. Cream or butcher block should be the lightest color you choose, and it will complement your kitchen table wonderfully.
6. Green Color Kitchen Table With White Cabinets
Green is popping off this season because it's fresh and brings a bit of the outdoors inside. Houseplants are a popular pastime and design element and have risen in popularity over the past few years. This feature has made green an absolute must-have for interior design.
For brighter, more eclectic styles, try a kelly green table. When paired with the bright white of the cabinets, kelly green will add a bit of vintage charm.
Moss green pairs well with organic, minimalist, and Scandinavian styles well as it brings a simple color and warmth. Emerald green works best with luxurious styles like industrial, eclectic, and mid-century.
7. Blue
Coming in so many lovely shades, blue is an exquisite choice for a kitchen table. Any way you slice it, a blue table will complement white kitchen cabinets.
Powder blue is a popular color this season and works well with both rustic and modern decor. This specific shade of blue shines in a modern coastal style, as well as contemporary, cottagecore, and modern farmhouse.
Dark blue with green undertones is especially popular with mid-century, industrial, and eclectic styles. The darkness of the table in contrast with the brightness of the cabinets will add depth and warmth.
8. Mosaic Kitchen Table With White Cabinets
Mosaic tiled tables can get a bad rap, especially if you're imagining an outdoor patio table. Monochromatic tiled tables bring a bit of southwestern rustic style into a modern space. High-end mosaic tables can cost quite a bit, which is why this is such a great beginner DIY project.
Orange, green, blue, yellow, or pink are great colors for a monochromatic mosaic table. If you want a bit of added style, try creating patterns with the tile shapes.
Multi-colored mosaic tables can be beautiful, but you must approach them with caution. Too many colors can cheapen a space and make almost too much of a statement. Pastel color palettes in demure organic patterns work well in neutral spaces and are able to truly shine.
9. Terrazzo
Terrazzo is composed of marble pieces held together by cement. Rising to popularity in the 1920s, terrazzo floors have been a luxurious staple for homes. Recently, it has become popular once again, but we are now seeing it in reimagined ways.
Terrazzo pieces come in many sizes, from small speckles to large, organic shapes. Larger pieces of marble are more on-trend than smaller pieces, but both are great additions to your home. The most popular color scheme we're seeing for terrazzo tables is a cream base with orange, blue, and green marble pieces.
10. Yellow
Yellow is such a joyful color, and you can find it in so many beautiful vintage pieces. This is great news for those who are balling on a budget. A vintage yellow table creates a very quaint environment and works well in an eclectic home.
However, sleek, modern, yellow tables give a very different story. This provides a high-fashion vibe to any room, very art modern. A table in an unexpected organic shape will make the table pop against the bright white of the cabinets.
11. Reclaimed Wood
Reclaimed wood gets its own category because of the amount of individuality that each one provides. While reclaimed wood can come in a variety of stains, many times, it is a combination of many different colors. Reclaimed wood is especially beautiful when used in a pattern, like a herringbone or asymmetrical shape.
Reclaimed wood tables are one of the most popular DIY projects for homeowners. They're a relatively simple project that anyone can do, and you can experiment with the difficulty level as well.
Do You Need an Interior Decorator?
Get free, zero-commitment quotes from pro contractors near you.
---
Related Questions
What floors go best with white cabinets?
There are endless flooring options that go with white cabinets. Wood or faux wood are the most common choices when it comes to kitchen flooring, and for good reason. Wood as a material is timeless and is able to transition from style to style with ease. All colors of wood go well with white cabinets, but not all colors of wood are timeless. For example, light gray wood was prevalent in the past decade but has now fallen out of style. Classic wood colors, like chestnut, maple, poplar, walnut, and oak, have all proven to stand the test of time.Tile is also a popular kitchen flooring choice not only for its beauty but also for the ease of cleaning. Because white cabinets are so versatile, tile is a great way to put your creativity to work. Neutral colored tiles are always in style: white, black, gray, and beige. Minimalist, Scandinavian, and organic styles all showcase an array of beautiful neutrals, which keep the space feeling open and relaxing. Adding an unexpected color for the countertops can create warmth and dimension if your space is missing it. With the rise of vintage styles, the ornate style of the 1920's art deco tile is all the rage. Though a bit of a risk in the "timelessness" department, art deco-style tiling is dynamic and unique. This adds such a difference to a primarily neutral and white room.

Stacy Randall
Stacy Randall is a wife, mother, and freelance writer from NOLA that has always had a love for DIY projects, home organization, and making spaces beautiful. Together with her husband, she has been spending the last several years lovingly renovating her grandparent's former home, making it their own and learning a lot about life along the way.
More by Stacy Randall
Published January 22nd, 2022 5:19 PM