359 Views
What Color Dining Table Goes With Dark Cabinets? (Find Out Now!)
October 28th, 2022 2:55 PM
Share
We're committed to finding, researching, and recommending the best products. We earn commissions from purchases you make using links in our articles. Learn more here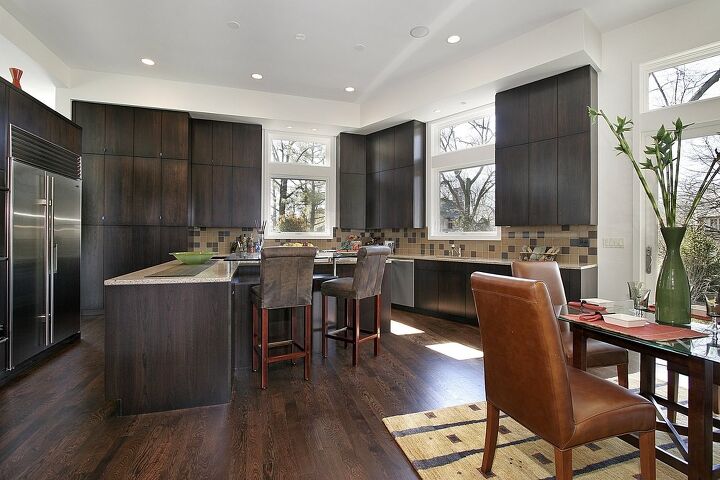 Choosing a dining table is exciting. The right choice helps to pull the kitchen and dining room together into a cohesive environment, yet it is a much less permanent fixture than the cabinets themselves. There is no right or wrong choice. It is simply a matter of the desired look for the room.
A dark dining table with dark cabinets gives the room a more weighty and traditional look. Choose a table that matches the cabinets or has the same color tone in a different shade. This creates an atmosphere that is cohesive, and timeless. A light dining table with dark cabinets gives the room a sense of fun and a modern vibe.
There are a lot of details that can go into choosing a dining room table. The details focus more on the style and atmosphere that is desired for the room. The color choice is no different. It will impact the way that the room is perceived when someone walks in.
Do You Need an Interior Decorator?
Get free, zero-commitment quotes from pro contractors near you.
Dark Dining Table with Dark Cabinets
This is the most timeless design choice. When woods match they create a cohesive environment that feels peaceful. Colors that are echoed throughout a room draw the space together.
The dining room table takes up 80% of the space in that room, so it is the biggest design factor in the room. When it matches kitchen cabinets it can give the illusion of a larger room. The eye is drawn from the long line of cabinets and continues on horizontally over the table and chairs.
Choose a dining room table with wood that exactly or closely matches the kitchen cabinets. 
Matching dark woods will create a weighty atmosphere. This is fine if flooring and paint choices help to offer an atmospheric lifting through lighter colors.
Dark, heavy cabinets paired with a dark heavy table is the most traditional feel. 
Dark, glossy cabinets paired with a dark, sleek table is an ultra-modern style. Depending on the materials this is a perfect way to achieve a space-age look. 
If the room needs a lift but cohesion is desired, choose a table that has the same color tone in a lighter shade.
When choosing to match colors, this sets a precedent for matching throughout the home. This makes purchasing furniture easy but not particularly imaginative.
For those who want a sense of rhythm and stability running throughout the home, this is a great design choice. Choose a dining room table that matches the kitchen cabinets and then purchase furniture packages that match the table. The feeling of cohesion will expand to every corner of the home.
Light Dining Table with Dark Cabinets
Pairing a light, contrasting dining room table with dark cabinets gives the entire space a fun lift. It creates a space where decoration choices are much more expansive because the heavy look and mood have been broken up by the dining room table and chairs.
A light, contrasting dining table that is paired with dark cabinets will create a visual division between the two spaces.
A light table will not create a visual illusion of more space. For an eat-in kitchen, it will help to create the illusion of two separate spaces.
The color of the dining room table and chairs should coordinate well with the cabinets to help the set seem like a logical choice for the room. 
This is the perfect design choice for those who enjoy redecorating seasonally or often. The table provides a well-coordinated design break which opens the door to stylistic changes in the room.
This style of coordination has a more modern hygge, industrial, or modern farmhouse vibe. It shows a sense of playfulness and comfortable contrast.
Mixed Color Dining Table with Dark Cabinets
For those who can not decide whether to coordinate or contrast, there is the mixed materials dining room table. These are chic, hygge, and fun. There are as many types of this table as there are styles of homes.
Purchasing this type of table is the easiest way to achieve cohesion without creating excess weight and a stylistic lock on the home. Here are a few examples.
A live edge natural wood slab top paired with black hairpin legs. This type of table pairs beautifully with hickory cabinets. If it is stained darker it looks incredible with cherry wood or walnut. 
A stained wood plank top that matches cabinetry paired with black or white table legs. Black legs will root it to the floor. White legs will help to lift it up.
A dark wood table top paired with brushed nickel or chrome legs achieves a lightened style that can be mid-century modern or space-age.
Light natural wood legs paired with a tabletop that matches the countertops provide a perfect segue from the kitchen to dining without creating a rooted feeling.
Black metal, chrome, or brushed nickel table legs can be paired with matching countertop materials to offer a high level of understated coordination.
A heavy white table base such as a trestle style that is paired with a dark-colored tabletop creates a homey farmhouse style. It looks best if the tabletop is a lighter shade of the cabinet color rather than matching exactly.
When choosing a table that is made of mixed colors or materials, choose one feature of the table that will coordinate with the dark kitchen cabinets.
For instance, choose a dark wood tabletop with light or white legs to echo the theme of the kitchen into the dining room without matching. Alternatively, choose a light table top that sits on a dark trestle or legs that coordinate with the cabinets.
Choose a Black Table
Interestingly, a black table can create the illusion that the cabinets are a lighter shade. When choosing a black table, choose one with simple, sleek lines.
A glossy finish will reflect the light and bring a depth and lightness to the room.
Choose dark wood chairs that coordinate with the style and color of the cabinets. 
The chairs can be an exact match or the same tone but several shades lighter.
This is a lovely, modern way to pair a dining table with any style of cabinets. If a black table and dark chairs will look too gloomy, then swap the chairs for off-white. White chairs can accomplish the same stylistic look, but they will give the set and the room a big lift.
Choose an Off-white Table
A flat white table will be too stark of a contrast. However, a soft off-white table will instantly transform a dark non-descript kitchen into a modern farmhouse kitchen.
Pair the white table with white chairs to create a distinct separation between kitchen and dining room.
Pair the white table with glossy black metal chairs for a modern industrial vibe. 
Pair the white table with dark chairs that match the cabinets for a classic, cohesive feel.
In this case it is the chairs that dramatically set the style. The off-white table serves as a contrasting centerpiece that lifts and lightens the look of the kitchen and dining room.
A white table serves as a beautiful canvas for tabletop decorations. It is a centerpiece that can host a variety of decorations with a sense of elegance.
Do You Need an Interior Decorator?
Get free, zero-commitment quotes from pro contractors near you.
---
Related Questions
What Color Table Goes with Dark Cabinets and Light Countertop?
There are three ways to pair a table with a contrasting cabinet and countertop scheme. Choose your favorite color, either the countertop or the cabinets, and choose a table to match. This will accentuate the desired kitchen attribute. It will also enlarge the room by drawing the eyes between the pieces that match.The second way is to find a table that coordinates with both the cabinets and countertop. It is easiest to find a table that has a light base and a dark tabletop. Even though the colors are reversed, it will look perfectly chic and coordinated.The third way is to pair a dark table that matches the cabinets with light chairs that match the countertop. This is a very modern and elegant style. 
What Color Table Goes with Cherry Wood Cabinets?
Cherry wood cabinets are notoriously hard to match. They have a lovely auburn hue that is rare to find in a table. Often when a cherry wood table is placed in the room the red color or the combination of dark colors can make the room seem heavy and small.
If you choose a table with a cherry finish, the pair it with off-white chairs to lighten the set.
Black pairs beautifully with cherry wood. Choose as simple of a dining table style as will coordinate with the kitchen. Pair it with heavier off-white chairs to lighten the effect. This effect can veer toward modern or industrial depending on the chairs.

Hannah DeMoss
Hannah DeMoss has been a writer for nearly a decade. Her passion for writing began years ago has continued to grow. Her expertise at home involves furniture restoration and other small DIY tasks. When not writing, Hannah enjoys the outdoors with her husband and pups, as well as traveling.
More by Hannah DeMoss
Published October 13th, 2021 4:36 PM