105 Views
What Color Dining Table With Espresso Cabinets?
March 4th, 2022 3:51 PM
Share
We're committed to finding, researching, and recommending the best products. We earn commissions from purchases you make using links in our articles. Learn more here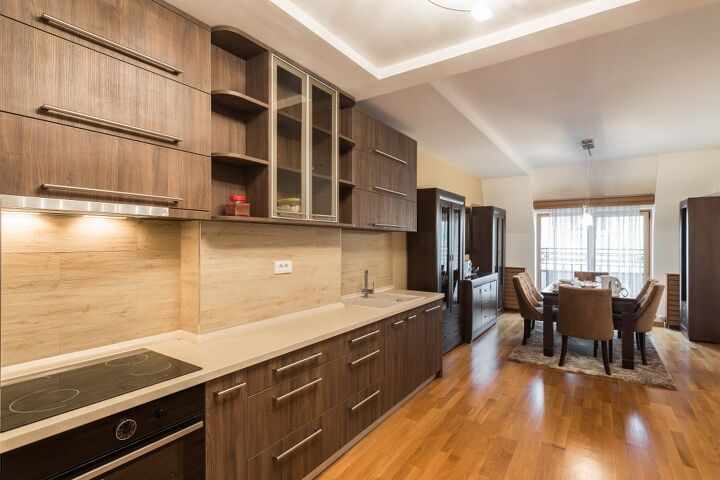 During the pandemic, we have seen a boom in home renovations as we've never seen before. With the materials cost skyrocketing due to the high demand, many are trying small changes that'll make a big splash. Swapping your dining table can change the entire vibe of your kitchen, so what color dining table goes best with espresso cabinets?
Espresso cabinets are considered neutral, so virtually any color dining table matches. The best neutral colors for a dining table with espresso cabinets are white, espresso, light wood, cream, black, and gray. To achieve a more colorful look, try emerald green, terracotta, yellow, and moss green with blue undertones.
Dining tables are a great way to play with your creativity because they are so easily replaceable. With the option to buy new or used, there are essentially unlimited possibilities for your dining table. With dining tables taking up much of your kitchen, let's make sure that yours is the main event.
Do You Need an Interior Decorator?
Get free, zero-commitment quotes from pro contractors near you.
The Best Color Dining Table With Espresso Cabinets
Espresso cabinets are a luxurious addition to any kitchen. Over the last decade, all-white, minimalist kitchens have been the it-girl of interior design. While this is a beautiful style that matches everything, there's been a lack of originality for the "ideal" modern kitchen.
Sustainability is the name of the game from here on out, so choosing unique, secondhand pieces is the new rage. The resurgence of vintage styles, specifically the 1920s, '50s, and '70s, has led to more colorful, one-of-a-kind spaces. Bringing back color and richness to the kitchen is what this year is about.
While more diverse spaces are trending, sleek and organic styles are still well-loved in the interior design world. Espresso cabinets pair beautifully with contemporary spaces, bringing dimension and creating a more dynamic space.
1. White
White is always at the top of our list for table colors, and for good reason, it's a blank canvas. White truly goes with anything, and when you pair it with deep espresso cabinets, it will truly shine.
Shabby chic furniture has been out of style for a few years now, but painted vintage tables are still in. A white painted dining table works well with modern farmhouse, modern coastal, and traditional styles.
Art nouveau is the current comeback kid, and we are here for it. Sleek, organic shapes work with so many styles: eclectic, Scandinavian, modern, organic, industrial, you name it. Try a dining table with rounded shapes and sleek, ornate legs.
2. Black Marble
While I wouldn't suggest pairing a plain black dining table with espresso cabinets, black marble is a different story. Either a heavy, block-style continuous marble table or sleek black marble with metallic legs will work well with espresso.
Since it's important to shy away from spaces with too much darkness, try and choose a marbled black table with bold veins in gray tones. This should give your space a bit of movement and keep it dynamic.
Black marble works best with a contemporary style and can look out of place with more rustic styles. Industrial, art deco, and gothic styles look best with the heaviness and luxury of the table.
3. Gray
Gray was the color of the 2010s, and some claim that it has had its time in the sun. However, gray is a neutral and, therefore, always has its place in the home. For espresso cabinets with cool undertones, gray can really make a statement in your kitchen.
This color table will look best with contemporary, traditional, and industrial styles, amongst others. The gray will bring some lightness into your kitchen without having such a stark difference. This can work in rustic spaces as well, but cool undertones can sometimes come across as cold instead of cozy.
4. Cream
There is a Danish word that represents all things cozy: hygge. Think of a woodsy cottage, sourdough bread, and winter fires surrounded by those you love. Cream and espresso are the ultimate hygge combo: warm, dynamic, and simple.
The pairing highlights natural elements and neutral colors, which works beautifully when adding green plants. Interior design styles that work best with cream and espresso are Scandinavian, organic, minimalist, and cottagecore.
This can also work with traditional styles, but you should pair it with a warm wall color. Decor should be more ornate for a traditional style kitchen, unlike the minimalist tendencies that organic and Scandinavian styles have.
5. Espresso
Matching your table with your cabinets is a classic move, they complement each other and create a cohesive environment. The dark on dark can feel too heavy in the wrong setting, such as a small enclosed space. This means you need to break up the dark with light elements, like white countertops or pale walls.
Matching your table to your cabinets is a classic traditional move. Think matching bedroom sets and old-school-style decor. The matching colors will keep things simple and feel that there is a clean flow to the room.
6. Light Wood
Light wood tables are a great option to pair with espresso cabinets. Warm undertones work best with espresso cabinets, but cool undertones can also work in the right setting. Birch, bamboo, maple, and white oak all work well with espresso, but really any light stains work well.
While a light wood looks good with espresso, you should choose either an alternative leg or chair color. This will give your space a modern look, think industrial or eclectic, especially if you opt for a brightly colored chair.
7. Emerald Green Color Dining Table With Espresso Cabinets
Jewel tones are popular this season, and emerald green is the most popular of all. There are tons of styles that work well with green tables in a variety of different materials.
Green tables come in many different materials, such as marble, painted wood, metal, or even lacquer. Each material will change the vibe of the space, so make sure to choose carefully. Some styles that work best with emerald green are eclectic, industrial, and mid-century.
For gothic, industrial styles, go for metal or marble tables in sleek, heavy lines. For mid-century or eclectic styles, go for a metal or lacquer table with more delicate features. For added diversity, try different colored legs, especially in metallic colors, like gold.
8. Terracotta Color Dining Table With Espresso Cabinets
Terracotta is such a fun and unexpected color for dining room tables. This is representative of southwestern and organic styles, even Scandinavian if the color is muted enough.
Try unexpected shapes in sleek, modern lines, like art nouveau styles. This will give a warm, organic feel to any space and make your table the main event.
9. Mustard Yellow Color Dining Table With Espresso Cabinets
Mustard yellow tables are the perfect opportunity to experiment with secondhand tables. The '50s had a lot of colorful furniture, and there are tons of unique pieces available out there. Keeping the yellow a little bit more on the brown side, such as mustard yellow, will complement the espresso.
10. Moss Green With Blue Undertones
This particular color is one of the most popular of the season. This color gives you the opportunity to play with warm and cool tones. This color looks best in minimalist, modern coastal, traditional, and modern farmhouse-style rooms.
Do You Need an Interior Decorator?
Get free, zero-commitment quotes from pro contractors near you.
---
Related Questions
What floors go best with espresso cabinets?
There are so many different styles of floors that go well with espresso cabinets. From wood to tile, your flooring choices are almost unlimited. As far as wood flooring goes, go for a lighter color wood like bamboo or birch. This will brighten your space and make it feel larger. Pattern and color are all on-trend this year and can look exceptionally luxurious, reminiscent of the 1920s. Think Gatsby-style art deco tile or Mediterranean monochromatic patterned tiling. 
What countertops work best with espresso cabinets?
Countertops are one of the more expensive updates you can do to your kitchen, so choose wisely. There are so many options for countertops nowadays: butcher block, granite, concrete, terrazzo, you name it. The most common and classic choice would be a white marbled granite. It's long-lasting, natural, bright, and has a pattern unique to each and every slab. For a more playful environment, try a colorful terrazzo countertop. Make sure the base is a light color, like cream or white, to make sure that your space isn't too dark or heavy. From here, you can choose the speckles of colors, warm, cool, or even a mix of both. 
What wall color goes best with espresso cabinets?
Wall color is one of the most important players when it comes to setting the tone of the room. Choosing a non-complementary color can offset the entire room where it will feel disjointed. If your espresso cabinets have slight warm tones, you could choose a white with warm green undertones or creamy undertones. For espresso cabinets with cooler undertones, try a slightly cool gray or white paint with warm blue undertones.By choosing a neutral wall color, you will allow the natural beauty of the espresso cabinets to really shine. It will also help to open up the space and allow it to breathe. 

Stacy Randall
Stacy Randall is a wife, mother, and freelance writer from NOLA that has always had a love for DIY projects, home organization, and making spaces beautiful. Together with her husband, she has been spending the last several years lovingly renovating her grandparent's former home, making it their own and learning a lot about life along the way.
More by Stacy Randall
Published January 22nd, 2022 5:50 PM