21 Views
What Color Kitchen Cabinets Are Timeless?
March 4th, 2022 3:27 PM
Share
We're committed to finding, researching, and recommending the best products. We earn commissions from purchases you make using links in our articles. Learn more here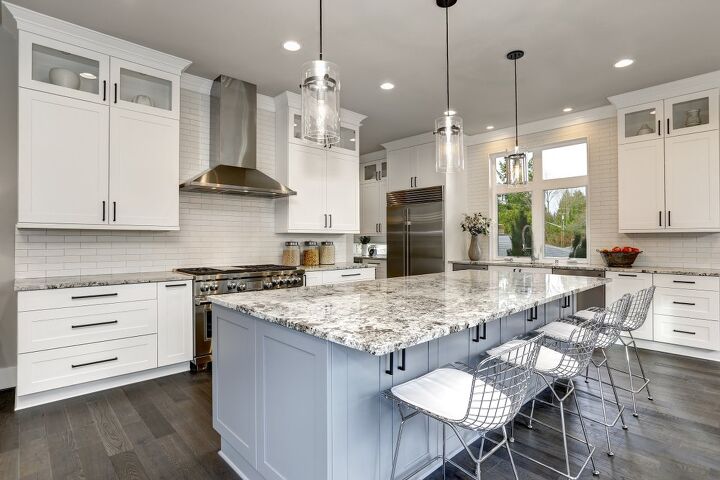 When it comes to designing a kitchen, one of the most important choices is your cabinets. Cabinets take up an extensive visual and physical portion of your space, making them a significant investment. Therefore, it's understandable that people wonder which color kitchen cabinets are timeless.
White kitchen cabinets are timeless and versatile, fitting in with various countertop choices, appliances, wall colors, and decor. However, you can also use neutrals like gray, cream, or natural wood tones for a more individual look to maintain design longevity. If you decide to go with natural wood, keep it light to maintain the timeless appeal.
Your kitchen is one of the most essential rooms in your home, and it's also one that sells houses. Unless you have money to burn and can change out your cabinets with every trend, choosing timeless colors is smart. Here's a look at some of the most timeless colors for kitchen cabinets so that you can select your favorite.
Do You Need to Hire Cabinet Installers?
Get free, zero-commitment quotes from pro contractors near you.
Timeless Kitchen Cabinet Colors
Timeless doesn't mean boring. It simply means that your choice will persist and continue to work for many years along with various other design elements.
Consider selecting timeless kitchen cabinets as a beautiful backdrop to the rest of your kitchen. You can always introduce more on-trend components in places that are easier (and less expensive) to change. For example, things like wall color, a backsplash, furniture, and decor are all excellent ways to update and stay on-trend.
But, it's difficult to add a trendy teal backsplash if you went with some crazy fad cabinet color five years ago. However, incorporating a timeless cabinet color into your kitchen opens the doors to endless design possibilities for years to come.
So, if you're planning to remodel your space or construct a new kitchen, plan ahead. Consider going with a cabinet color that possesses a classic, timeless appeal. If you're unsure where to start, we've done the work for you.
Here's a look at some popular options for kitchen cabinets. These colors of kitchen cabinets are timeless and can fit in just about any style of kitchen.
1. White Kitchen Cabinets Are Timeless
White cabinets have maintained their position as the most popular cabinet color for years. It's easy to see why since white goes with anything. Or, more aptly put, you can pair any colors against white; consider it a blank canvas.
Although all-white kitchens might not be the hot trend anymore, they still work if you want a clean, crisp look. If you have a smaller kitchen that lacks natural light, an all-white scheme can brighten and open up the space.
Or, for a bold, dramatic effect, pair your white cabinets with black granite countertops and a black-and-white tile floor. You can also select multiple other colors to complement white cabinets, including gray, green, blue, and yellow.
2. Gray
If you want timeless, but plain white isn't enough for you, consider gray cabinets. Whether light gray, dark gray, or something in between, gray color kitchen cabinets are timeless.
Granted, they might not be as timeless as white since white lasts forever. But, gray cabinets will hold their own in your kitchen design for many years.
Working as a neutral, gray also provides a reasonably blank canvas to pair with various colors. It's an excellent choice if you want a versatile cabinet color that has a bit more warmth than white.
Since gray comes in a broad range of shades, you'll need to be a bit more selective with other colors. However, you still have a wide range to choose from, including green, blue, yellow, red, black, white, orange, teal, gold, pink, and more.
3. Natural Wood
Opting for unfinished cabinets in natural wood tones can also create a timeless effect. Depending on how you decorate the rest of your space, you can create a rustic or traditional look. You can even achieve a modern, contemporary look with light woods like maple, ash, and white oak.
To avoid staining and to protect your cabinets from moisture, you should apply a clear coat. You can use a finish like polyurethane or polyacrylic (also a good idea if you plan to stain or paint your cabinets).
Unfinished cabinets provide a sense of warmth and coziness to a kitchen. They also offer a neutral backdrop that allows you to play with various other elements in the space. You can choose from a variety of countertop colors, backsplash designs, and wall colors.
4. Cream Color Kitchen Cabinets Are Timeless
Cream cabinets offer a softer, warmer neutral canvas than white. You can develop a wide range of design schemes using cream cabinets, from rustic to French country to modern. Like white, cream-colored kitchen cabinets are timeless, allowing you many possibilities.
Blues, yellows, greens, and grays look especially good with cream cabinets. Cream cabinets paired with dark brown or reddish-brown granite looks fantastic. Or, if you want a more subdued feel, you can opt for ivory granite with colored veining.
If you prefer a farmhouse-style kitchen, black granite countertops with cream cabinets deliver on style. But you can also pair cream cabinets with white countertops for a more opulent effect. Overall, cream cabinets can give your kitchen a traditional look laced with sophistication and elegance.
Benefits Of Choosing Cabinet Colors That Are Timeless
Sure, it's fun to play around with the latest trends and colors, but don't lose sight of the overall picture. You need to consider things like time, budget, and how long you plan to stay in your house when taking on a big kitchen project. (And cabinets are a big kitchen project.)
Now, if you absolutely adore the idea of high-gloss, lacquered red cabinets against gray walls, then go for it. It's your kitchen. But, do you plan to sell your house in five years? Are you the kind of person who likes to redecorate and update your design every few years?
If the answer to either of these questions is yes, choosing timeless kitchen cabinets is a better option. Classic cabinet colors allow you more freedom with your other design choices, meaning you can change things out more often.
You Can Change Your Design More Often
When you have timeless cabinets, you can repaint your kitchen every year if you want. It's also easier to swap out the backsplash in a couple of years or change out the hardware on your cabinets. You can afford to redesign more often when working with a versatile canvas.
Buyers Will Find Timeless Kitchen Cabinets Appealing
When selling your home, a design with mass appeal means you'll attract more potential buyers. Knowing which color kitchen cabinets are timeless lets you design a kitchen that will attract a variety of buyers. They can see your kitchen as move-in-ready and won't feel like they're facing a major renovation if they buy.
Do You Need to Hire Cabinet Installers?
Get free, zero-commitment quotes from pro contractors near you.
---
Related Questions
Is an all-white kitchen considered timeless?
All-white kitchens might not be as popular as they have been for the past 20 years, but they still work. Many people still prefer all-white kitchens, choosing to break up the color a bit with other neutrals or natural wood.If you're unsure how to design your kitchen, you can't go wrong with all-white. It allows you to personalize the space through numerous other means, like rich textures and patterns. Then, as you become more sure of your design style, you can easily add trendier elements. Picture a fun turquoise glass backsplash, concrete countertops, or a copper range hood.
What color granite goes best with white cabinets?
You can't go wrong with any color granite against white cabinets, so it's all about what you want. Do you want a bold contrast? Then choosing black or dark gray granite is an excellent choice. Or, do you prefer a more monochromatic aesthetic? If so, white granite or ivory would be an excellent choice for your white cabinets. If you want to make a more individual statement, you can go with blue, green, gold, or red granite.
What cabinet colors should you avoid in the kitchen?
Your kitchen is your kitchen, so ultimately, you need to go with cabinet colors that you love. But, that being said, think about your situation. If you plan to sell soon, then avoid overly trendy or jarring cabinet colors that would limit your buyer appeal. Bright red, neon green, or yellow cabinets could turn off a lot of people. Plus, they're hard to design around if you want to make a change. All-black cabinets might not be as bright, but they still make a strong statement. Staining your cabinets blue, dark green, or pale yellow can be beautiful, but it's also very specific. You don't necessarily need to avoid these colors; just make sure you plan to live with them for a while.Remember, your cabinets take up a large chunk of the visual space in your kitchen, so choose colors carefully. Avoid using colors that will be too overpowering, or conversely, will become too washed away in the space. Don't select a color just because it's "what's in," but instead, go with what you love.

Stacy Randall
Stacy Randall is a wife, mother, and freelance writer from NOLA that has always had a love for DIY projects, home organization, and making spaces beautiful. Together with her husband, she has been spending the last several years lovingly renovating her grandparent's former home, making it their own and learning a lot about life along the way.
More by Stacy Randall
Published January 17th, 2022 1:00 PM