103 Views
Best 54-Inch Double Sink Vanities: Top 5 Models to Consider
August 27th, 2021 7:11 PM
Share
We're committed to finding, researching, and recommending the best products. We earn commissions from purchases you make using links in our articles. Learn more here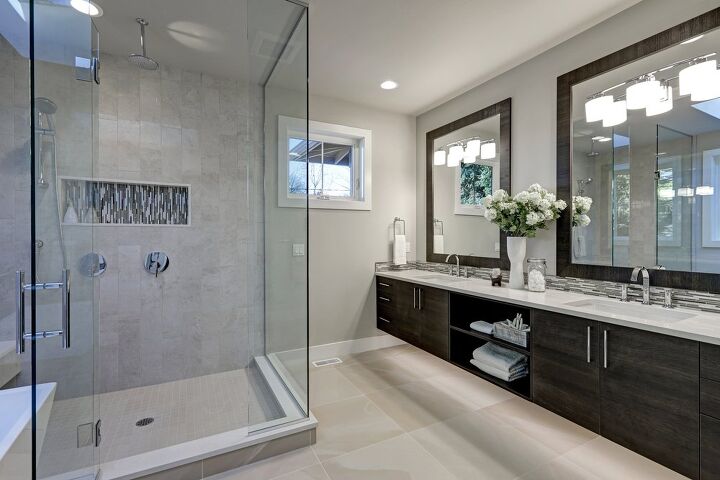 If there's one type of bathroom furniture that's coming back with a vengeance, it's vanities. They are becoming the most commonly-requested amenities in upscale bathrooms across the nation. They're incredibly beautiful and are known for adding a stately touch to an otherwise traditional bathroom setting.
Most interior designers prefer to stick to a 54-inch double sink vanity setup for their bathroom work. Why? Because it adds ease of use without it going into "full countertop" territory. You can get a gorgeous vanity with ease online, but finding the best ones can be a little tricky.
The best double sink vanity will have both style and sturdiness. Additionally, it should be low maintenance, require minimal assembly, be eco-friendly, and have pre-drilled faucet holes.
Do You Need to Hire Cabinet Installers?
Get free, zero-commitment quotes from pro contractors near you.
What Should You Look For In A 54-Inch Double Sink Vanity?
Like with all major furniture pieces, quality is going to be king here. A good double sink vanity will be made to be sturdy, easy to install, elegant, and highly functional. Since vanities are an investment in your home, it's best to avoid cutting corners by ordering cheaply-made pieces.
To help people out on their bathroom design journeys, we decided to take a look at the best double sink vanities that measure out to 54 inches on the net. Here are our top picks, plus why we love them…
Why Choose a Double Sink Vanity Over a Single?
While a single sink vanity takes less actual space, a double sink vanity provides the convenience of sharing the bathroom with your significant other. Finally, a double sink vanity means less clutter and an overall upgrade to your home.
There's a common belief that vanities have to have that "old French country" look in order to be beautiful, but Virtu USA has been working tirelessly to prove that to be false. This beautiful modern vanity uses a rich plum finish, smooth lines, and brushed metal to show how elegant contemporary vanities can be.
The Midori comes complete with two drawers and two doors, plus a gorgeous white polymarble countertop. Getting ready never looked so darned glam!
Key Features:
The Midori is one of affordable vanity sets you'll find on Amazon, clocking in at well under $1000.
Wooden Finish. Though there are also white and mahogany finishes, the plum finish stands out as a favorite thanks to its golden-cherry hued appearance.
White Polymarble Counter. The polymarble is known for its sturdiness as well as for being easy to clean.
Faucets Included. The cabinet comes with pre-drilled faucet holes, along with UPC-certified faucets. The faucets are also certified to be lead-free, making them a safe bet for families who want to avoid toxic compounds in their bathrooms.
Limited Lifetime Warranty. Virtu USA stands behind their products, which is why each vanity cabinet comes with a limited lifetime warranty on the faucets and one year warranty on cabinet hardware.
Having a solid wood vanity base isn't just a status symbol; it's a guarantee that you will be able to enjoy your vanity for years to come. The Hamlet takes a new twist on traditional double sink vanities using a solid mid-century modern styling coupled with reinforced dovetail cabinetry.
Boxy and yet totally charming, the Hamlet features two drawers and two doors, a perfect combo for people who want storage and functionality. The black hue of the Hamlet vanity cabinet works wonderfully well with contemporary, modern, and even more traditional bathroom layouts. Chic, no?
Key Features:
Soft Close Doors. If you want a cabinet that keeps things quiet, this one is it. The Hamlet comes with soft close doors and drawers. To make it even better, ARIEL also added a self-closing feature that ensures your bathroom will always look tidy.
Genuine Hardwood Plywood Build. Too often, cabinets that make their way to market are built of cheap material. ARIEL's Hamlet is made of hardwood plywood, which is specially designed to withstand more weight and pressure. The end result is a vanity resistant to wear and tear.
Built-In Toe Kick. Floor-mounted vanities like this one can be a pain to clean under. That's why the Hamlet comes with a built-in toe kick to make cleaning under the cabinet easier.
3-Year Manufacturer's Warranty. To ensure that clients are satisfied with the quality, Ariel offers a three-year warranty on its cabinets as well as a 30-day return policy.
This vanity cabinet is definitely a break from the norm, since it walks that fine line between both modern and rustic. Goodyo's 54-inch vanity cabinet comes with two beautiful ceramic bowl-style sinks that are perfectly paired with a high-quality tempered glass countertop.
It doesn't take too much to imagine this elegant cabinet in a rustic grey bathroom, nor would it take much to see it in a crisp contemporary spa setting. If you're a fan of sleek furniture, this one is a clear winner.
Key Features:
Wood Exterior with Melamine Interior. To make sure that you get the best mixture of quality and affordability, Goodyo created this cabinet using MDF wood with a melamine interior finish.
All-In-One Packaging. Unlike most other vanity cabinets out there, the Modern Grey Vanity Cabinet comes with everything you need to give you the look you see in its display photos. You get the cabinet, the faucets, the basins, the drains, as well as the mirrors and cabinet handlebars.
Modern Tempered Glass. If you are worried about using tempered glass as a cabinet component, don't be. Goodyo doesn't just involve good workmanship here. They also add a special white lacquer paint that is designed to be waterproof.
Safe Travel Packaging. Getting things delivered can be a hassle, but not this time. Everything is carefully shipped out using KD packaging for extra safe delivery.
Though mainstream trends have been gently guiding us towards a more streamlined, modern look, there's something to be said about the traditional elegance of baroque-style furniture. The Travertine is one of the very few double sink vanity cabinets that channels that old school, Victorian vibe and does it beautifully.
This striking piece of furniture features a rosy cherry finish, curved doors, a travertine stone top with a marble finish. Needless to say, this is the kind of vanity cabinet that one would expect to see in an opulent historic Colonial home. It's a statement piece that will get people talking and also look spectacular for decades.
Key Features:
Genuine Stone Top. The Travertine is named after its genuine travertine stone top, which comes accompanies with an ivory ceramic sink. People who want to have a cabinet that's the real deal need to check out this Silkroad offering. There's no "faux" here!
Comes Preassembled. With most of the double sink vanity cabinets on the market, assembly will always be required. The Travertine makes a point of being different here. Convenience lovers get to enjoy the quick "set and forget" installation of simply hooking up plumbing gear to the sinks.
Predrilled Faucet Holes. Though this model doesn't come with faucets, it does have the added convenience of having pre-drilled faucet holes designed to fit most standard faucet setups.
Tons of Storage Inside! If you have a lot of products that you need to store in your vanity, then you're going to adore the spaciousness of the Travertne's cabinetry. Its sturdy build also means you can hold heavier items in there without concern for breakage.
Most of the vanity cabinets that feature a two-sink hookup come with their own tops and sinks. That's great, if you're looking for an "all in one" type of build. However, not everyone wants that. If you want to get your own countertop or have a custom sink, you'll need a simple bathroom cabinet setup without the extras.
Virtu USA has a great example of what to get with its 54-inch "floating design" bathroom cabinet. It's sleek, has a versatile design, and can be dressed up or down as you see fit.
Key Features:
Easy Install. The simple design is meant to be free-standing and easy to put together. When you're ready to add your sinks, that ease will come in handy.
Four Functional Drawers. The Finley can use up to four functional drawers as part of its design. If you want to go for the dual sink look, then you can still enjoy ample storage through its two bottom drawers.
Soft Closing Hardware. As one would expect with Virtu USA's work, soft closing cabinet drawers are the standard here.
Manufacturer's Warranty. If you were worried about having a subpar cabinet base, Virtu USA is a great choice to work with. This gorgeous cabinet comes equipped with a manufacturer's warranty.
BONUS: Two Similar Vanity Cabinets Worth Snapping Up
Trying to find vanities that tick all the boxes can be tough, so it's important to keep your options a little open. These two top-rated vanities are a great compromise, if you're open to using them…
Designers who want a hypermodern vanity cabinet often find themselves at a loss when it comes to options. There simply aren't that many designers who make extremely modern vanities out there! Thankfully, Opulento's here to the rescue.
Their Fresca cabinet is a perfect example of the sleek, "Space Age" look that's been seen in so many artists lofts as of late. This design features a brilliant white facade, strong geometric lines, and organic sink faucets that add an extra touch of class.
It's worth pointing out that this is just slightly longer than 54 inches. However, that extra six inches of length won't make a difference in many bathroom setups.
Key Features:
Soft Close Doors. It's always great to get soft close doors, especially when you consider how this mechanism can help protect doors from wear and tear.
Solid MDF Build. The majority of this smooth white cabinet is made from sturdy MDF. The top of the counter, however, is made of specialized, long-lasting white acrylic for a sleeker touch.
Sink with Overflow. We've all had moments where we've let the water run a little too high. When this happens, it can cause serious damage to counters and flooring. The Fresca comes with dual sinks equipped with overflows to prevent flooding.
Easy Open Handles. The grippy yet elegant handles make it easy to open and close your cabinet's two doors and drawers.
If size is a must but sinks aren't, then check out this strikingly pretty vanity cabinet set by Vanity Art. At 54 inches, it's the perfect size for most bathrooms. Its single ceramic sink is created with a modern vibe in mind, while its cabinetry comes with a whopping eight drawers of storage.
This cabinet will look spectacular in a cozy Colonial home or in a more rustic ranch setting. Regardless of where you place it, it's safe to say it'll add a spa-like touch to your world.
Key Features:
8 Cabinets. If you're looking for serious storage, Vanity Art's model is right for you. Eight different cabinet drawers give you plenty of space for all your personal belongings.
Made from Oak and Ceramic. Getting truly durable cabinetry is a must, and that's something that can only be done with real wood. Vanity Art's cabinet is made of true oak wood, with a ceramic sink accompaniment.
Easy Install. Despite its complex appearance, this modern masterpiece is remarkably easy to install. After installation, owners get to enjoy a seriously easy to clean surface.
100% Guaranteed. To ensure customer satisfaction, Vanity Art backs each of their designs with a 100% guarantee.
Do You Need to Hire Cabinet Installers?
Get free, zero-commitment quotes from pro contractors near you.
Our Final Take
If you're looking for a 54-inch dual-sink vanity, it can take a little searching to find the one that matches for you. It's a niche market, especially if you want to get a vanity that's durable, stylish, and easy to install.
Thankfully, there are plenty of choices—and even more alternatives—that will make your bathroom dreams come true.

Upgraded Home Team
We are a team of passionate homeowners, home improvement pros, and DIY enthusiasts who enjoy sharing home improvement, housekeeping, decorating, and more with other homeowners! Whether you're looking for a step-by-step guide on fixing an appliance or the cost of installing a fence, we've here to help.
More by Upgraded Home Team
Published June 27th, 2020 9:26 PM