468 Views
Varathane Vs Minwax: Which Is Best For Wood Finishing?
November 16th, 2021 4:44 PM
Share
We're committed to finding, researching, and recommending the best products. We earn commissions from purchases you make using links in our articles. Learn more here
Wood finishing products are essential for homeowners looking to add a final touch. Choosing between Minwax and Varathane is difficult because of the differences in style and cost. Follow along as we compare Minwax and Varathane so you can choose the perfect wood finishing product for yourself.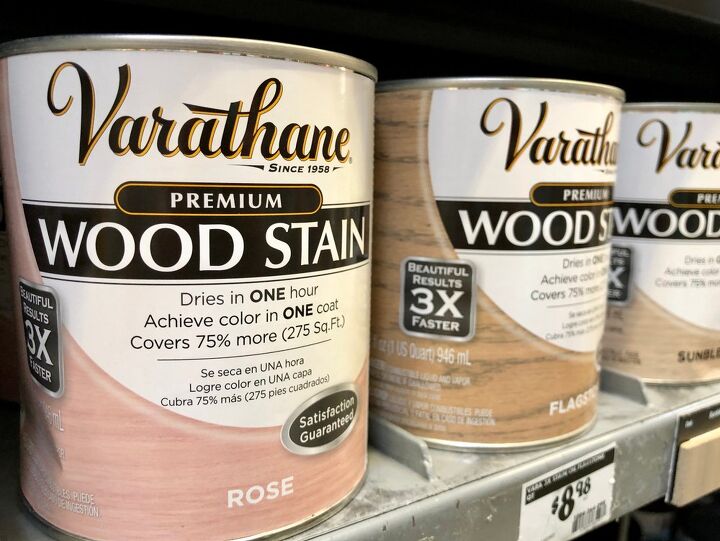 Choosing between wood finishing products is not as easy as it seems. It doesn't help the matter that there are so many great options out there to choose from. Between Varathane and Minwax alone, there are countless options to choose from to stain just about any kind of wood style or color in your home. But, which one is best for wood finishing?
Varathane is the best for wood finishing if you are looking for overall better finishes. On the other hand, Minwax is the better option if you are looking for the best pre-stain. Both products have pros and cons about them, and which is best depends on what your end goal is.
In this article, we will take you through both of these products and explain which situation is best for which one. That will help you when choosing a product for your finishing.
Do You Need Painting or Staining Services?
Get free, zero-commitment quotes from pro contractors near you.
Varathane vs. Minwax
Between Varathane and Minwax alone, there are countless options to choose from to stain just about any kind of wood style or color in your home. Minwax is a better option as far as pre-stain preparations goes, and Varathane offers better finishes
Wood finishing products serve more purposes than just enhancing the look of the wood it is applied to. In fact, without adding a wood finishing product to the wood, it would be susceptible to damage. Adding a finish to the wood protects it from scratches, humidity, dents, and spills.
Without using a finish, the wood can easily warp from humidity creating an eye sore and a structural error. Let's dive deeper into each brand and see what they have to offer.
What Exactly Is Varathane?
Varathane is a brand that has produced wood finishing and preparation products dating all the way back to 1958. Their finishing products come in a variety of colors ranging from black, blue, and brown, to grey, pink, and more.
There are several options for materials of Varathane's finishes and preparations, including:
Polyurethane oil-based
Polyurethane water-based
Soya oil-based (premium wood conditioner)
Varathane also produces wood putty for patching small holes and touch markers for correcting inconsistencies in the finish. One of the things Varathane is best known for is the fast dry time of their finishes. The Varathane Fast Dry Wood Stain for example, can dry within one hour of application. Not only does that save you time in the moment, but it makes the entire project go by quicker.
Ultimate Polyurethane Oil
Their Ultimate Polyurethane Oil Based finish provides clarity over the wood and goes on in two easy coats. That specific finish is perfect for adding a nice, warm sheen to your wood. As with all of their finishes, the Ultimate Polyurethane Oil-Based finish lasts a long time and offers damage protection.
If you prefer water based, their Ultimate Polyurethane Water Based is just as effective as oil, with the main difference being the 4-coat application.
What Is Minwax?
Minwax is a premium producer of wood preparation and finishing products. They have been around since 1904, and Minwax has always offered more options while maintaining the same quality. Their sanding sealers, wood fillers, refinishers, and pre-stain wood conditioners are just as effective as Minwax's finishing options. Whether it be a water or oil-based stain, you can expect a Minwax finish to be long-lasting and protective.
One of their most impressive stains Minwax's Design Series Color Wash. What makes the Design Series Color Wash so distinct is that it can be added to either bare or already stained wood. The Design Series Color Wash is perfect for creating an old-style look making your wood look aged and unique. It is not ideal for floors, but the Design Series Color Wash is ideal for smaller wooden surfaces.
Performance Series
One of Minwax's most versatile stains is the Performance Series Tintable Wood Stain. This specific stain is great because the variety in colors you can get it in, such as:
Grey elm
Country pine
Espresso
Shipboard
Willowbend
There are many more colors Minwax offers, but each one offers a unique look and added character to the wood surface. You will need to pour through their products to select one that's the best for your circumstance.
How To Choose A Finish
Choosing a stain finish can be tricky, especially consider the amount of options there are. Varathane and Minwax each are known for their variety in colors available. If you are going for a classic, refined wood finish look, consider something like Varathane's Classic Wood Stain Espresso, or Minwax's Dark Walnut finish. Darker finishes evoke a classic style that can really add character to any room.
Make The Room Feel Open And Brighter
Perhaps you want a finish that will make the room feel more open and brighter. In that case, something like the Ultimate Polyurethane Oil Based semi-gloss or Minwax's Natural 209 finish are perfect examples of simple, brightened stains.
Your finish should overtake the look of the wood itself, but instead enhance it. If you have a naturally dark wood that you need to stain, consider more of a glossy stain. However, if you have a noticeably light wood that you want to darken, look for more walnut, espresso, and mocha tinted stains.
Which Is Better: Water Based Or Oil Based Polyurethane?
Water based polyurethane stains are better than oil based because the dry time is faster and has a harder coating. Both water and oil-based polyurethane finishes have their own benefits and pitfalls. Water based finishes, for example, can retain the color of the stain for longer than oil-based. If fire safety is a big concern, it should be noted that water based polyurethane is less flammable than oil based.
One of the big draws of water based polyurethane is that it doesn't have much of a smell and it dries quickly. Oil-based polyurethane, on the other hand, is known for its distinct aroma.
Oil-Based Polyurethane
Oil-based polyurethane finishes tend to come out more evenly than water-based. They are also more durable than water-based finishes which means oil-based polyurethane needs fewer touch-ups. Both Varathane and Minwax produce several options for both oil and water based stains.
Oil-based polyurethane seems to be where it's at as far as having a finished product that's sustainable and doesn't fade over time. However, the application process is a bit more involved than a water-based product.
What Is The Purpose Of Wood Preparation?
If you want a stain and finishing product to take to the wood, it must be prepared. Varathane and Minwax both produce preparation products such as Varathane's Wood Conditioner or Minwax's Sanding Sealer. It is generally recommended that you prepare wood by sanding it first. After sanding it, you can use a product like Minwax's Sanding Sealer in order to get the wood in proper shape to take a stain.
Instructions For Wood Preparation
Sand the wood. Use some medium sandpaper (#120 grit paper) and sand the wood if you are going to use a water-based stain. If you are planning to use an oil-based stain, use a slightly heftier grit paper as high as #180.
Condition the wood.  After sanding wood, using something like Varathane's Wood Conditioner or Minwax's Sanding Sealer to prepare the wood. If you jump right into staining without preparing the wood, the stain simply will not take or dry the way that you want.
Without preparing the wood before staining it, you run the risk of having uneven, blotchy patterns. Using Varathane's Premium Wood Conditioner for example, all you need to do is apply it 30 minutes before the stain of your choice and you are good to go. If you apply Minwax Stainable Wood Filler, let it harden, sand it down, and you can begin staining in no time.
Precautions And Safety
Use gloves. As when using anything that doesn't belong on your skin, it's a good idea to use gloves when applying. This doesn't necessarily mean that the finish is terrible for your skin, but it can definitely stain your skin, especially if you're using the oil based product.
Wear goggles. Additionally, you might want to use goggles if you need to apply this to the underside of an object that you can't pick up and flip. This will help keep it from getting into your eyes and damaging them.
Use a respirator when necessary. If you're worried about the fumes, a respirator mask would be a great idea. However, when possible, try to use this product in a ventilated area. You can add a fan facing out of the room or open a few windows too. If you cannot properly ventilate the site, make sure it's clear of other people without a mask before applying.
Do You Need Painting or Staining Services?
Get free, zero-commitment quotes from pro contractors near you.
What Did We Learn?
Varathane and Minwax offer some of the best wood preparations and stains available. They both produce a broad enough variety that you can find anything that you may want whether it be water or oil-based. Staining wood is a way of adding character the room it is in and makes all the difference in the quality of your furniture or floors. Both Minwax and Varathane are excellent choices for staining and preparation.
Related Guides

Upgraded Home Team
We are a team of passionate homeowners, home improvement pros, and DIY enthusiasts who enjoy sharing home improvement, housekeeping, decorating, and more with other homeowners! Whether you're looking for a step-by-step guide on fixing an appliance or the cost of installing a fence, we've here to help.
More by Upgraded Home Team
Published July 13th, 2020 2:46 AM