98 Views
18+ Types of Christmas Lights (For House and Outdoor)
April 20th, 2021 5:46 AM
Share
We're committed to finding, researching, and recommending the best products. We earn commissions from purchases you make using links in our articles. Learn more here
While many people dread the cold months of the year, chilly days mean that the holidays are right around the corner. Christmas, the most wonderful time of the year, isn't just spending time with the family or exchanging gifts, it's also about incredible decorations and striking Christmas light displays. I don't know about you, but there is little that I love more than seeing my street decked out in bright, colorful Christmas lights.
Fortunately, with a little planning and preparation, you can achieve the best Christmas lights on your block. Some colorful cheer and bright lights are a wonderful way to make the holidays extra special, while also impressing your neighbors and guests. There are many different types of Christmas lights to choose from when it comes to both outdoor and indoor lighting displays.
The options you have for Christmas lights can be categorized based on the power source, bulb type, color, bulb size, and more. Whether you opt for LED lights or incandescent lights, mini lights or the traditional teardrop shape (C9), white lights, red lights, or multicolored lights, the options are nearly endless.
With that said, let's take a look at the various types of Christmas lights available to help you bring some holiday cheer to your home.
Do You Need to Hire Christmas Light Installers?
Get free, zero-commitment quotes from pro contractors near you.
Indoor vs. Outdoor Christmas Lights
When it comes to choosing Christmas lights, the first decision you must make is where they're going to go. Generally speaking, you'll find three different options based on where lights will be installed: outdoor, indoor only, and indoor/outdoor. Though it's typically fine to use outdoor lights inside your home, doing the opposite is unsafe.
You should never use indoor-only Christmas lights to decorate the exterior of your home. They should not be placed anywhere where moisture and exposure to the elements could lead to a short and create a fire hazard. When you consider the three options, the indoor/outdoor variety tends to be the most sensible choice especially if you frequently enjoy switching up your holiday décor or you simply don't want to have to worry about separating lights based on type.
Power Source
Whether you decide to stick with tradition or gravitate toward the latest trends, there are three main types of Christmas lights to choose from based on the power source: plug-in, solar-powered, and battery operated.
1. Plug-In Christmas Lights
The large majority of Christmas lights will be powered by plugging them into a standard electrical outlet. Though, the downside to these types of lights is that they don't offer much flexibility as they need to be near an outlet or you'll have to run extension cords to reach one. Christmas lights that have to be plugged in are also the least energy-efficient of the three options.
2. Solar-Powered Christmas Lights
Solar-powered Christmas lights, on the other hand, are much more energy-efficient. This option is an excellent choice for string lights in your outdoor Christmas décor. They eliminate the need for running extension cords or having an outlet nearby. However, solar-powered Christmas lights are most ideal if you live in an area that experiences a lot of sunlight during the day.
Otherwise, the lights may dim or end up shutting off entirely if they don't have enough sun to power them. Another major disadvantage to these lights is that they are only offered in cool LED colors.
3. Battery Operated Christmas Lights
The final option you have to choose from when it comes to Christmas lights categorized by power source is the battery-operated variety. These work well when you don't have access to an outlet, indoors or outdoors, or if you're only putting up a few lights. However, if you're trying to install an extensive Christmas light display, plug-in lights are always the best choice.
LED vs. Incandescent Lights
When it comes to bulb light source, you'll be faced with one of the most widespread debates: LED or incandescent? In recent years, LED lights have outshined incandescent Christmas lights in terms of popularity. However, that's not to say that you won't be able to find older incandescent lights available. In fact, some still prefer them for their nostalgic warm glow. Let's take a look at the two types in detail to understand their chief differences:
Incandescent Christmas Lights
Incandescent lights offer that classic look, a look that your grandma likely still displays in her home. They were essentially designed as smaller versions of the standard-sized incandescent bulbs you'd put in a lamp. Nowadays, many still use incandescent Christmas lights, as the modern version is smaller and more efficient than the original design (seen in the image above).
Incandescent Christmas lights are still less efficient than LED lights and use more power. However, the two advantages that they have over LEDs are the fact that incandescent lights are less expensive, and the bulbs have that warm, vintage glow that many prefer over the cold color of LEDs.
LED Christmas Lights
LED Christmas lights, on the other hand, are slightly more expensive than incandescent, use less power, and are more cost-effective to operate. This allows you to actually save money over the long term. They are also brighter and last considerably longer than their incandescent counterparts. In fact, LED light bulbs use roughly ten percent of the amount of electricity as a like-sized incandescent light bulb, while lasting two to three times longer.
Unlike incandescent bulbs, LED bulbs burn cool, meaning they don't heat up enough to potentially burn your fingers. Their outer shells are also made of a plastic material (rather than glass), which makes them more durable and less likely to break or flake off the colors. LED Christmas lights come in a wide array of styles, designs, and colors, and even offer the option to have color-changing lights.
Christmas Light Projectors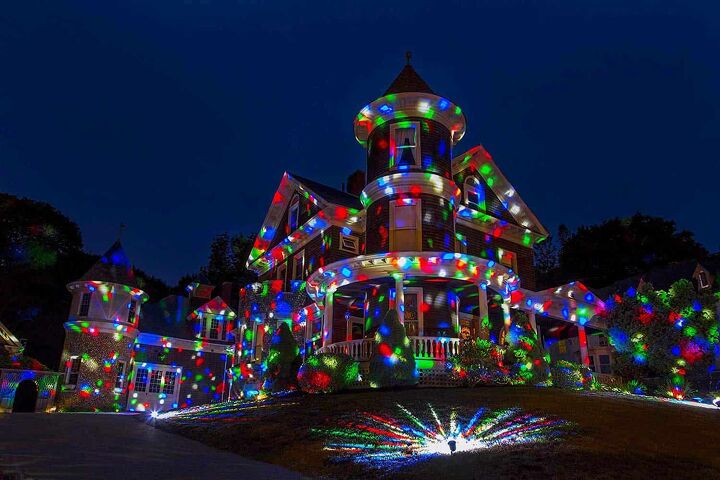 Christmas light projectors are a relatively new technology. They are, arguably, the quickest and easiest way to achieve an explosion of light and color on your property. Whatever Christmas pattern or symbol you prefer, there's likely a light projector out there you can purchase to decorate the exterior or even the interior of your home for the holidays.
Alternatively, instead of a pattern or symbol, you can purchase a projector that just emits a beam of one color. This is an excellent way to illuminate a section of your house or a decorative element, like a Christmas wreath. Christmas light projectors are also incredibly easy to install and set up; simply drive the stake into the ground, plug it in, and point it in your desired direction.
With this type of Christmas light, you won't have to worry about hooks, hangers, or traversing a ladder to string lights on your roof.
Light Type
Although the traditional teardrop-shaped light remains the most popular choice for Christmas lights, round or globe bulbs are also incredibly common. Aside from these two, you have many options to choose from with regard to Christmas lights based on shape or light type, including:
1. Icicles
Icicle lights are both classic and beautiful, making them a popular choice for Christmas lights. They look great on peaks, overhangs, roof awnings, windows, and over garage doors. Creating a stunning light display with icicle lights starts with having the right clip. You'll want to find a versatile clip that makes it easy to hang icicle lights on either your shingles or your gutters.
Traditionally found in white, icicle lights now come in a range of other colors such as red, white, and blue for a patriotic display, purple and orange for Halloween, or blue and green for a beachy/coastal vibe.
2. Snowflakes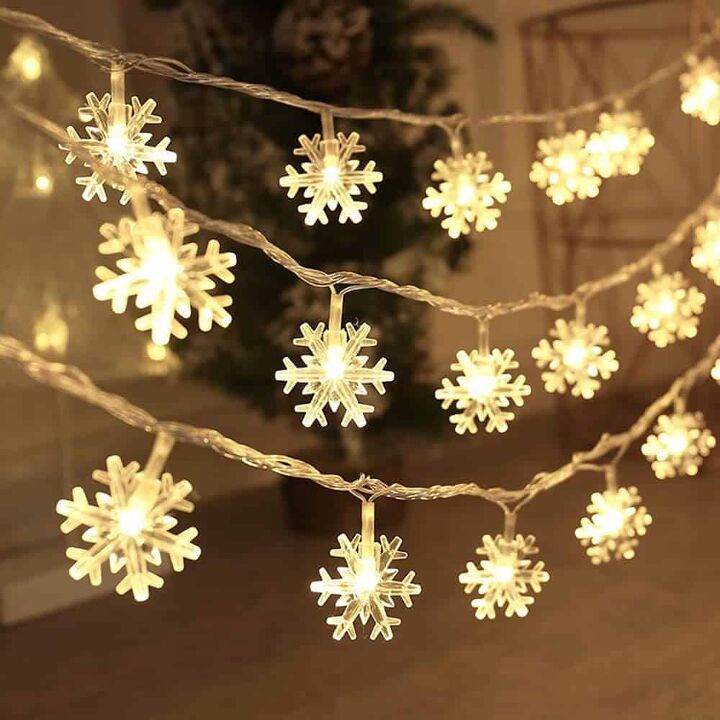 Snowflake lights are a fun variation on the traditional string light. They come in a range of styles, designs, sizes, and even colors to fit the look you're trying to achieve. You can hang snowflake lights in your trees, secure them to your railings, drape them along your mantel, attach them above your front entryway, and so much more!
3. Net Lights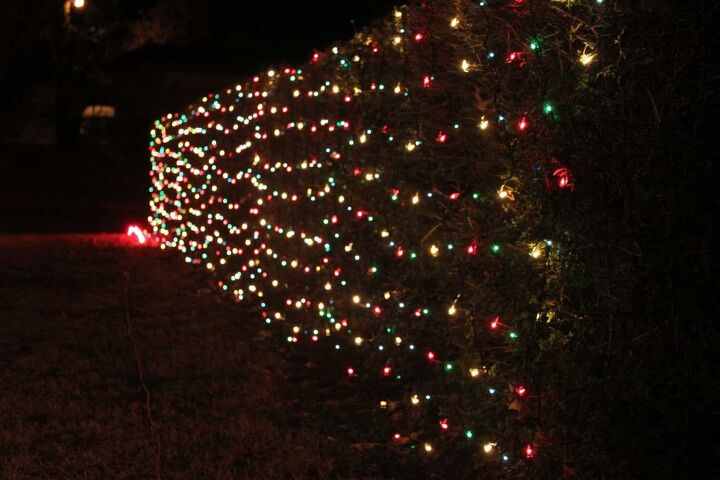 Wrapping string lights around bushes has been a popular outdoor Christmas décor idea for many years. Originally, the only way to achieve this look was to use lengths upon lengths of string lights and wrap or tuck them into your shrubs. Fortunately, net lights came along to make this process much easier.
Net lights are essentially a series of string lights, connected in a grid pattern. To install them, they can be easily draped over a bush or tree truck for a quick, hassle-free, and full coverage installation. Like traditional string lights, net lights come in many colors from white to red to blue, and even multi-color.
4. Rope Lights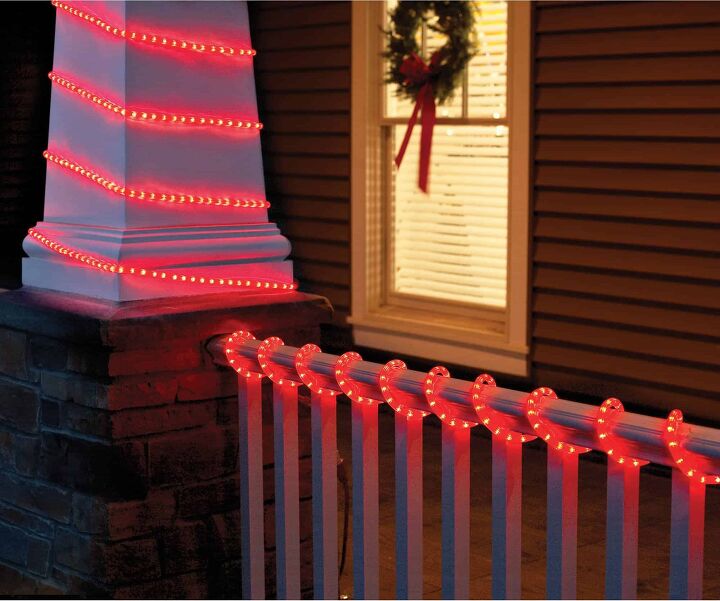 Rope lights are a type of Christmas light that encloses the actual bulbs in a clear plastic tube. They are made of flexible, outdoor-rated PVC tubing, with light bulbs evenly spaced throughout the inside. While these lights are incredibly popular for creating ambient lighting under cabinetry and alongside recessed ceilings, they offer a versatile solution for outdoor Christmas light displays.
Large spools of rope lights even allow you to cut and connect them to create custom configurations that fit your specifications. Or purchase a kit that is pre-cut for a simple and streamlined installation process. You can wrap rope lights around your trees, columns, windows, railings, or highlight architectural elements on your home's exterior – the options are endless!
Bulb Sizes
As previously mentioned, the most common varieties of Christmas bulbs or light type are teardrop and globe (round). And, when it comes to the sizes of these bulbs, there are many options available. The most common sizes for teardrop and globe lights include:
1. Mini Lights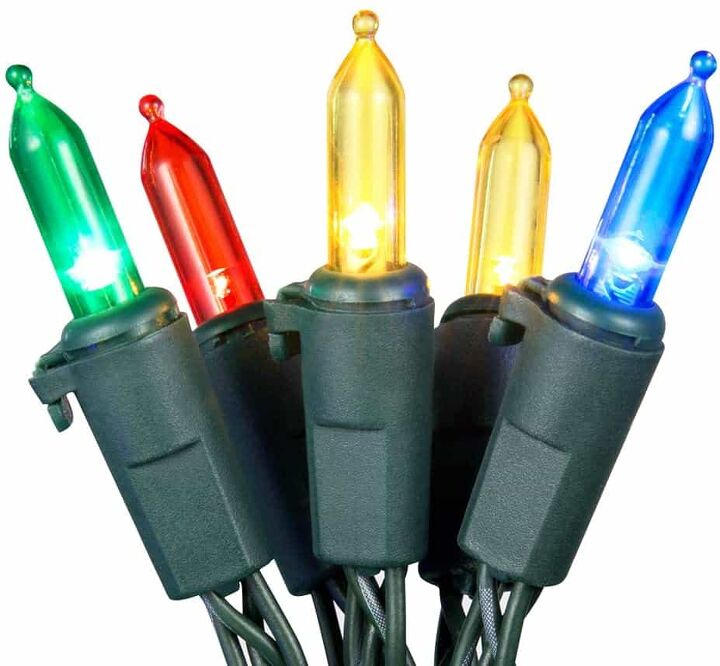 Mini light bulbs appear like tiny candles with pointed tips. Whereas, the LED variety has a round or globe shape. Regardless, mini lights are roughly ¼ inch in diameter and approximately 5/8 inch tall. These types of lights work well in trees and also when decorating various elements on both the exterior and interior of your home. Mini lights are the most popular sized Christmas lights, and likely the kind that you use or are most familiar with.
However, like with anything, holiday décor trends change over time. If you prefer a much larger bulb size for your Christmas light display, you have a number of other options to choose from.
2. C6 Light Bulbs
C6 light bulbs, on the other hand, are slightly larger than mini lights and are shaped like tiny, thin strawberries. They are the smallest lights that still have the conventional Christmas bulb shape. The C in C6 refers to cone size, and these bulbs are typically ¾ inches in diameter and 1 1/8 inch tall.
These bulbs are ideal for illuminating indoor Christmas trees or smaller elements on your property. When positioned densely and strategically, they can also be used as perimeter lighting. However, it's important to note that they don't burn quite as bright as larger alternatives.
3. C7 Light Bulbs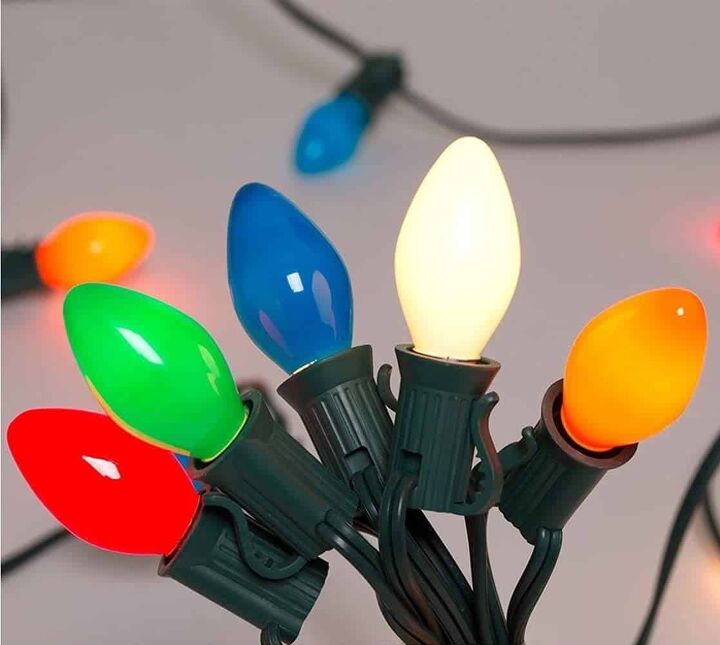 C7 light bulbs are slightly rounder and longer than their C6 counterparts. They are a complete one inch around and 1.5 inches tall. These bulbs are a relatively versatile option that works well on medium to large outdoor trees. Or, use C7 bulbs inside wrapped around your stairway's banisters.
Since C7 bulbs burn at roughly five watts a bulb, they serve as an excellent light source for your home's holiday lighting display. They also come in both LED and incandescent varieties, depending on your preference.
4. C9 Light Bulbs
C9 light bulbs have that traditional teardrop size and shape used for outdoor holiday displays. This type of bulb is one that you might be most familiar with from your childhood. They have roughly the same shape as the C6 and C7 bulbs, but are the largest of the bunch. C9 bulbs have a diameter of 1 ¼ inches and stand at 2.5 inches tall. This means that they are an entire inch taller than C7 bulbs.
The wattage of C9 bulbs can be twice as powerful as their C7 counterparts. Because of their energy output, they are often used for commercial applications. Though, they work wonderfully at illuminating roofing, larger areas of your landscaping, and overall making a major impact on your outdoor Christmas displays.
5. G12 Light Bulbs
Often called a raspberry light, the G12 lights are small, faceted, globe-shaped bulbs that are roughly the same size of a small raspberry – hence the nickname. They ½ inch in diameter and ½ inch tall and work well for both indoor and outdoor applications that will be viewed at a close distance.
These bulbs provide a bright, well-balanced, and diffuse light source. G12 bulbs are the ideal choice for large wreaths, wrapping small outdoor trees, entryway bushes, or Christmas trees.
6. 5MM Wide Angle Light Bulbs
Wide-angle light bulbs offer the brightest and most focused option for LED string Christmas lights. Often called 'rice lights,' these bulbs are small in size (5mm) but are still able to evenly disperse the light in all directions. This design creates the most consistent output of light, which does not change based on the angle the light is viewed at.
These light bulbs are recommended for both indoor and outdoor displays such as on Christmas trees, wrapping exterior trees, or other situations where a bright, even light distribution is desired. The size of 5mm wide-angle light bulbs is roughly the size of the eraser head on a pencil. They serve as an excellent alternative to traditional mini Christmas lights.
Christmas Light Colors
Another way to distinguish types of Christmas lights is based on color. While many people prefer the classic look of all white lights, others enjoy the look of alternating two colors. It's also popular to use a rainbow of hues in a Christmas light display. The choice in Christmas light color ultimately comes down to personal preference.
Although traditional primary colors tend to be the most popular choices, nowadays, you'll find virtually any color under the sun – such as purple, turquoise, pink, and even pastel or neon shades. Fortunately, the wide spectrum of bright colors does not limit the creative possibilities when it comes to designing your Christmas light display. With that said, let's take a look at some of the most popular Christmas light colors and color combinations in action:
1. Classic Incandescent White
The cozy warm glow of white incandescent light bulbs is very simple, iconic, and still very popular today and will likely remain a Christmas classic. These types of lights are generally inexpensive, as incandescent bulbs tend to cost less than the LED variety.
Though, it's important to note that incandescent lights require more meticulous planning use a higher wattage. You'll want to consider the wattage limits of your home and stringers if you want to go for a look that includes classic incandescent white Christmas lights.
2. White LED Christmas Lights
Oftentimes, white LED Christmas lights can be found in two varieties: cool white and warm white. And, for those who enjoy the traditional appearance of incandescent bulbs, you can even purchase LED bulbs in an opaque finish with a visible filament. That way, you can achieve the classic warm glow and save on energy.
LED lights use up to 90% less energy and last considerably longer than the incandescent alternative. This allows you to add as many lights to your home as you desire, guilt-free, and they'll keep shining bright for much longer.
3. Multicolor Christmas Light Bulbs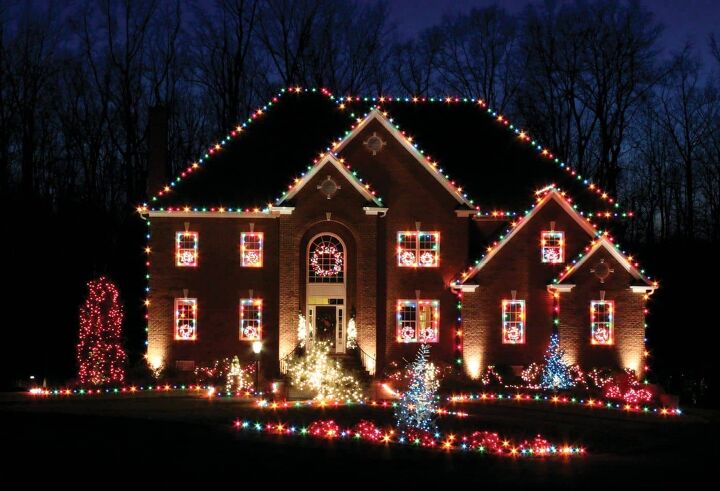 Another popular option for decorating your home's exterior for the holidays is by using multicolor lights. Multicolor Christmas light bulbs create the most playful and merry outdoor displays. These types of lights come in all of the most popular styles and bulb sizes, including both C7 and C9, and even as icicles, net lights, and so much more! You also have the option to choose from LED or incandescent multicolor light bulbs, depending on your preference.
4. Color Themes
Interchanging your bulb colors and creating unique light patterns is an excellent way to achieve a standout Christmas light display that will draw the attention of all who drive by your home. Some of the most popular color combinations for Christmas time include the following:
Candy Cane – Red and White
Classic Christmas – Red and Green
Aquatic Aesthetic – Green and Blue
Winter Wonderland – Blue and White
This is just to name a few, as you can combine virtually any Christmas light colors to create a unique custom display. Many of the above combinations can be achieved using both C7 and C9 bulbs, or by purchasing a themed light set the pairs the colors and bulbs together. You can also find a variety of color themes in mini lights and icicle light strings.
Do You Need to Hire Christmas Light Installers?
Get free, zero-commitment quotes from pro contractors near you.
Final Thoughts
One of the most striking ways to decorate for the holidays is by combining multiple types of Christmas lights, whether it be indoors or along the roofline of your home. Now that you have a better understanding of your options, this is much easier to achieve. By layering light styles, you can create a multidimensional presentation that will truly stand out on your block.

Jessica Stone
Jessica considers herself a home improvement and design enthusiast. She grew up surrounded by constant home improvement projects and owes most of what she knows to helping her dad renovate her childhood home. Being a Los Angeles resident, Jessica spends a lot of her time looking for her next DIY project and sharing her love for home design.
More by Jessica Stone
Published March 6th, 2021 6:56 PM