78 Views
Best Places To Get Christmas Decorations
November 17th, 2023 8:38 AM
Share
We're committed to finding, researching, and recommending the best products. We earn commissions from purchases you make using links in our articles. Learn more here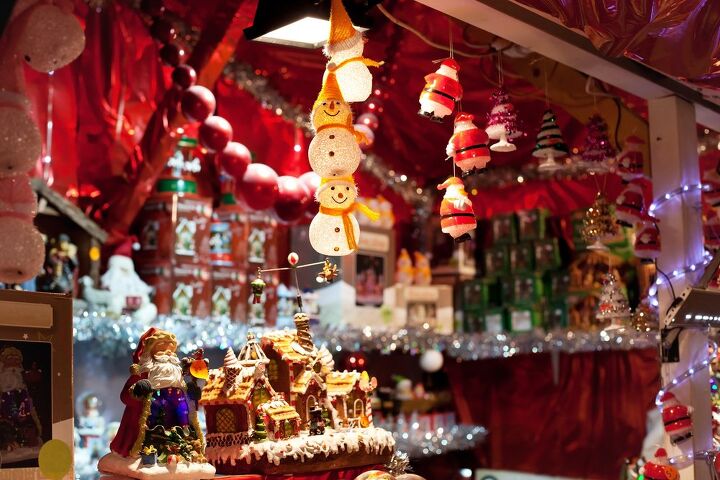 The excitement of decorating your house for Christmas is just as fun as the big day itself. It should be easy to find Christmas decorations these days, but it can be tricky because of how many options there are. So, what are the best places to get Christmas decorations?
The best places to get Christmas decorations are Home Depot, Ikea, World Market, Kirkland's, and Pier One. Kohl's, Target, Walmart, Lowe's, and Pottery Barn also offer unique and cheap Christmas décor. Online stores like Etsy and Amazon carry a wide selection of Christmas decorations, gifts, and trees.
You typically get the best deal when you buy Christmas decorations in November or after Christmas, when they are discounted. Follow along as we explore the best places to get Christmas decorations.
Where To Get Christmas Decorations
Whether it be Kirkland's or Target, you can find Christmas decorations at most major home goods stores. However, the modern world has shown that online resources like Amazon and Etsy are invaluable when it comes to Christmas decorations. Below are the best places that we picked out to get Christmas decorations to help you this holiday season.


1. Home Depot
Home Depot isn't just the best destination for hardware and home goods. It's also a treasure trove of unique and affordable Christmas decorations.
They offer everything from Christmas trees and lights to high-end animatronics.
Home Depot's selection of Christmas decorations is just as impressive as the Halloween décor they offer. You can decorate the inside and outside of your home with a single trip to Home Depot. The lawn inflatables and Christmas lights alone can make your home stand out on your street.


2. Ikea
You may only visit Ikea for affordable furniture in most cases, but you can also find some great Christmas decorations. Much like the furniture Ikea offers, the Christmas decorations are all cheap and simple. Between the artificial trees, wreaths, and holiday tablecloths, you can find nearly everything you need to decorate for Christmas.


3. World Market
It should come as no surprise that World Market boasts some of the best Christmas decorations on the market. They offer an even mix of indoor and outdoor decorations, and their selection of Christmas lights is unique. While they have traditional string lights, World Market also sells some fun and cute Christmas lanterns and mini light-up trees.
You don't have to go all out and decorate the outside of your home, however. World Market has plenty of Christmas throw pillows, tees, and nutcrackers that can bring the holiday spirit to the inside of your house.


4. Kirkland's
Kirkland's may not be as popular as it used to be, but the selection of Christmas decorations they offer speaks for itself. It's a one-stop shop for both indoor and outdoor Christmas décor, and the prices are affordable. The pre-lit gift boxes they sell are unique and work well on your porch or inside beside your Christmas tree.
They also sell some cute artificial Christmas trees and fake floral arrangements that you can easily store after the season to use next year. Sure, they have high-end Christmas trees that cost over $800, but you can also find some great options at Kirkland's for under $40.


5. Amazon
You can find nearly everything through Amazon, and that includes Christmas decorations. Convenience is the main reason to consider Amazon for Christmas décor this holiday season. That's especially true if you are an Amazon Prime member because the decorations will arrive quickly and without the cost of shipping.
It's also easy to set a price range on the site so you can filter through decorations that fit your budget. Whether it be garlands, throw pillows, outdoor inflatables, or Christmas trees, you can find everything you need for the season through Amazon.


6. Pier One
Pier One adds to their Christmas collection each year, and it's always worth checking out. The decorations they offer primarily fit indoors, but many of the figurines can work outside as well. Their selection of Christmas candles can also help you set the mood for the holiday season.


7. Kohl's
In terms of sheer selection, it's hard to beat Kohl's Christmas collection. They have well over 278 pages of Christmas decorations to choose from online. The only downside to that is that you'll probably want to buy everything, but nobody can afford that!
Most of the selection they offer focuses on indoor decorations. The Christmas village sets they offer are particularly cute and fun. You can even find Christmas-themed storage crates that come in handy when it's time to store your decorations after the holiday.


8. Target
Target is the perfect destination to find decorations for nearly any holiday, and that includes Christmas. You can find stockings, Christmas trees, figurines, garlands, ornaments, and more at Target. Any homeowner could decorate their house for the season with just one trip to Target.
They have a great selection of Christmas decorations online, but it's worthwhile to visit your local store. That will give you the chance to see everything in person and maybe even find some stocking-stuffers for your family.


9. Walmart
Walmart sells everything under the sun, so you already know they offer some incredible Christmas decorations. The licensed Christmas decorations that they sell set Walmart apart. For example, you can find Star Wars and Nightmare Before Christmas ornaments and decorations to add character to your tree.
You can find Christmas trees, nativity sets, ornaments, candles, and more. It's also the perfect place to shop for Christmas gifts to give to your family and friends.


10. Lowe's
Much like Home Depot, Lowe's always sells seasonal decorations to suit most holidays. They have thousands of Christmas decorations to choose from online, and your local store probably has a great selection as well. You can also get great discounts of up to 25% off on Christmas trees from Lowe's if you buy them before December.
The selection of indoor Christmas decorations features well over 3,000 items, and each one is unique. They don't have nearly as many outdoor decorations, but the yard decorations and lights are all vibrant. You can also find inflatable reindeer and snowmen as well as outdoor nativity sets at Lowe's.


11. Etsy
While many major stores have plenty of Christmas decorations, they may not have what you need. That's where Etsy comes into play. Etsy consists of countless independent creators who make unique and custom items, and it's a great site for Christmas décor.
Unique ornaments, figurines, yard decorations, and garlands only scratch the surface of what you can find on Etsy. Some creators even let you customize ornaments to suit your household and family. You may not be able to visit the store in person, but you will surely find some great decorations when you browse the site.


12. Pottery Barn
Pottery Barn sells some incredible Christmas and Hannukah decorations that stand out from the competition. The gingerbread collection is my favorite, but they have everything from ornaments and pillows to stockings and robes. They also sell a wide variety of artificial Christmas trees that range in price from $60 to $2,400.
The wide price range is part of why Pottery Barn is one of the best places to get Christmas decorations. No matter your budget, you can find garlands, candles, and Christmas lights to get into the holiday spirit.


Summing It Up
Home Depot, Ikea, World Market, Kirkland's, and Amazon are the best places to get Christmas decorations. You can also get unique and affordable decorations from Pottery Barn, Etsy, Lowe's, and Walmart. Target, Kohl's, Pier One, and World Market sell incredible Christmas decorations and artificial trees as well.


Related Guides:

Nick Durante
Nick Durante is a professional writer with a primary focus on home improvement. When he is not writing about home improvement or taking on projects around the house, he likes to read and create art. He is always looking towards the newest trends in home improvement.
More by Nick Durante
Published November 17th, 2023 8:38 AM