131 Views
Stocking Hanging Ideas When You Don't Have A Fireplace
October 31st, 2023 8:26 AM
Share
We're committed to finding, researching, and recommending the best products. We earn commissions from purchases you make using links in our articles. Learn more here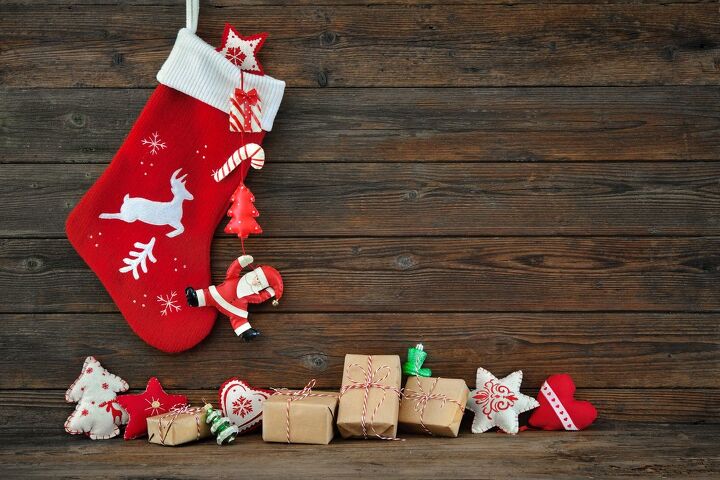 Making your home perfect for Christmas involves a lot of work and careful planning. After all, there are so many traditions wrapped up in this holiday, and many of these traditions involve specific decorations.
There is a tree of course, and then there are the stockings. Stockings are easy to procure or even make yourself, but hanging them can sometimes be more challenging. If you don't have a fireplace or a mantel, you might wonder how and where to hang your Christmas stockings.
If you don't have a fireplace or mantel, hang your stockings using stocking holders and place them on a flat surface. Try hanging stockings to the handle of the bedroom door or dresser knobs, or stand them upright in front of the Christmas tree. You can use adhesive wall hooks, a decorative rope, or even a curtain rod. If you want to keep strictly with tradition, create a mantel yourself.
If stockings are an important part of your Christmas tradition but you don't have a fireplace, don't panic just yet. Sure, hanging stockings from the mantel above a fireplace is the classic way to hang stockings, but it is by no means the only way. There are tons of simple, and equally festive ways to hang and display your family's stockings that will fill the home and everyone in it with plenty of Christmas cheer.
11 Ways To Hang Stockings When You Don't Have A Fireplace
1. Stage Them Upright Under The Tree
One way to display stockings doesn't involve hanging them at all. Instead, consider prominently staging them among the presents under the Christmas tree. Spread them out, and prop them up so they are visible and at the forefront. This is a great way to make your tree look even more photogenic and festive on Christmas. It also costs no money and is something you can do secretly and quickly early in the morning on Christmas day.
2. Place Individually On Doors The Night Before
Consider taking a note from the Easter Bunny, and distributing the stockings to individual rooms. You can place each stocking on the doorknob of bedroom door of each family member. This is a fun, sneaky, and exciting way to get the kids and kids-at-heart extra excited about the holiday before they even make it to the tree. Just make sure the loops on the stocking are big enough to fit around the specific doorknobs.


3. Purchase Individual Stocking Holders
Hanging stockings without a mantel is so common that there are stocking holders designed to fit any flat surface. These are heavy flat objects with hooks. They are designed to sit on any flat surface, like a dresser, table, or bookshelf. Simply put the stocking on the hook and you are done. The only issue with some of these holders is they can only withstand minimal weight. So, if you are the type to stuff stockings with gifts (or coal) then consider a different option.
4. Use Adhesive Wall Hooks
One easy solution to hanging stockings when you don't have a fireplace or mantel is to purchase some adhesive wall hooks. Adhesive wall hooks are simple to install on your interior wall. When purchasing wall hooks, make sure you buy hooks that can withstand the weight of your stockings. Be careful to only place these adhesive hooks in places where they won't ruin the surface of the wall when you remove them.
5. Hang Stockings From Dresser Knobs
If you have a hutch or a dresser in your living room, you can dress it up with your stockings for the holidays. The average dresser and hutch have lots of knobs to hang things from. This is a great way to add a bit of decor to the room, maximize space, and solve the problem of where to hang your stockings.
6. Use A Movable Coat Rack
If you have a classic coat rack that usually stands next to the front door, consider moving it by the Christmas tree around Christmas. You can use a movable coat rack to hang more than just your winter coats. Use it instead to hold all the stockings for you and your family members. This is a quick and simple solution and also takes up very little space in what will likely be a crowded room on Christmas morning.
7. Use a Curtain Rod To Hang Stockings
If you want to show off your stockings and Christmas spirit to neighbors, or just have them at eye level, then you can hang them from the curtain rod. Most curtain rods can withstand plenty of weight, and they are usually thin enough in circumference for you to slip in a stocking loop. This is another quick and easy solution that takes up minimal space and uses household items you likely already have near your Christmas tree.
8. Hang From A Decorative Rope
If there is one thing Christmas has no shortage of, and that is decorations. Among the many types of Christmas decorations, there are endless decorative tinsel, Christmas string lights, and rope. You can use a few feet of this decorative rope or tinsel and attach it to two sturdy points, or in a doorway. Once you secure this rope, you can hang your stockings from it accordingly.
9. Tie To The Staircase Railing
If you live in a home that has more than one level, then there is a good chance you have a railing. If the staircase is exposed and visible from the living room, then the railing is a fantastic place to stage all of your stockings.
You can use the entire length of the railing to stage your stockings, and even go in chronological order with the lowest height stocking being the youngest child, and the highest the oldest family member.
Tying your stockings to the railing is not only a great solution when you don't have a fireplace to hang your stockings. It is also a great use of space and is a wonderful way to decorate your stairwell for the holidays.
10. Secure Stocking To A Ladder Shelf
Ladder shelves are very common nowadays. If you happen to have one, you can use its many levels and svelt ladder-like pieces to hook your stockings to. Ladder shelves are great because they offer different vertical levels and usually have fairly thin pieces of wood that are easy to tie stockings to. But other bookshelves can also work as long as you can secure the stocking somehow to the shelf.
11. Create A DIY Holiday Mantel
If it is important to have stockings hanging from a fireplace mantel, then consider building one. You can use cheap or free materials, like scrap wood, or even thick branches from nearby trees to build a mantel yourself.
You can also put a bit of money and effort into this project if this is something you want to make a lasting tradition. Take the time to make it fun and festive, and this will not only be a great place to hang your stockings, but it will be a show-stopping holiday decoration you can use year after year.
Final Thoughts On How to Hang Stockings Without A Fireplace
There are lots of decorations to choose from when you are getting your home ready for Christmas. There are the outdoor Christmas lights, wreathes, the tree, and your stockings.
If you don't have a fireplace or mantel, there are plenty of alternative places to hang your stockings. You can hang stockings from a curtain rod, from a coat rack, or even from your staircase railing. You can use decorative holiday rope, adhesive hooks, or even dresser or doorknobs to hang the stockings.
No matter what method you choose, just make sure it not only adds Christmas cheer but also is capable of holding the weight of the stockings and their contents.
Related Guides:

Tom Gaffey
Tom Gaffey is an expert writer who currently resides in Washington D.C. Tom has a passion for real estate and home improvement writing, as well as travel and lifestyle writing. He lived the last twelve years in Hawaii where he worked closely with luxury resorts and event planners, mastering his knowledge of aesthetics and luxury products. This is where he found his passion for home improvement and a keen interest in DIY projects. Currently, Tom resides in Washington D.C, and also working on his debut fiction novel.
More by Tom Gaffey
Published October 31st, 2023 8:26 AM