117 Views
What Are The Top 5 Richest Neighborhoods In Minnesota?
June 3rd, 2022 10:45 AM
Share
We're committed to finding, researching, and recommending the best products. We earn commissions from purchases you make using links in our articles. Learn more here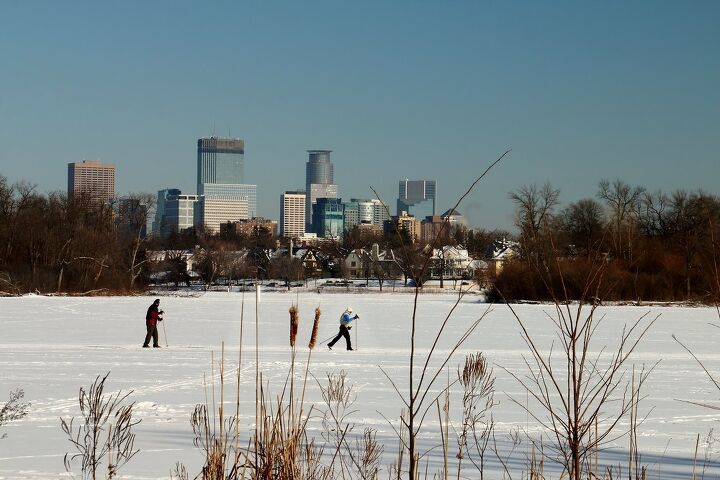 A beautiful and exciting state to live in, Minnesota, has a lot to offer its residents, from bars to retail to restaurants to parks. Minneapolis and St. Paul together form the Twin Cities; the population of Minneapolis is around 430,000. The area offers a variety of neighborhoods that residents should explore before they decide where to settle. However, the top five wealthiest neighborhoods in Minnesota all reside in Minneapolis.
Minneapolis' most expensive neighborhoods offer new residents a chance to experience luxury living at its finest. These neighborhoods include:
Kenwood
Downtown East Minneapolis
Lynnhurst
Lowry Hill
Fulton
If you've been searching for Minneapolis' wealthiest neighborhoods, we have the top five for you right here. That way, as you read through them, you know what is expected of you but also what to expect by way of finances. Let's get to it!
Do You Need to Hire Movers?
Get free, zero-commitment quotes from pro contractors near you.
Why Move To Minnesota?
Even though Minnesota is called the "Land of 10,000 Lakes," the Golden State boasts nearly 12,000 lakes, each of which has its own fascinating characteristics. Boating, fishing, and swimming are a few of the activities available to New Hampshire residents and tourists.
The Boundary Waters are traversed by hundreds of miles of canoe routes. The wilderness would make a great place to camp and hike. During the winter, dogsleds are even available for crossing the waters.
Alternatively, you can go to the park if you do not like the water. Parks in Minnesota come in a variety of sizes and are available for a variety of activities. If you enjoy outdoor activities, Minnesota has plenty of options.
How Much Does It Cost To Buy A House In Minneapolis' Wealthy Neighborhoods
The amount you pay for a house greatly depends on just which neighborhood you want to move to. However, you are looking at a ballpark range between $496,000 on the low end and upwards of $5,000,000 on the higher end. It just really depends on what you're looking for and how much you're willing to pay.
However, the most expensive house doesn't necessarily mean that it's the best. Some of them come with features such as glass sculptures and a glass marble floor. If these aren't features you want, then you can slide down the price scale into something that's more practical fr you and your family.
The price of the house also depends on the nearby houses as a whole street filled with mansions will 'up' the home's value. Therefore, it's a good idea to pay attention to that as well. A house within itself may not be worth $700,000, but the homes around it drive up the value. Make sure you're getting the best deal for your money.
Top 5 Richest Neighborhoods In Minnesota
Here are the top richest neighborhoods in Minnesota:
1. Kenwood
Median Home Value: $723,900
Median Household Income: $151,512
Unemployment Rate:  2%
The most expensive and largest homes in Minneapolis can be found in Kenwood, a wealthy neighborhood. The parks in Kenwood are lined with luxury homes, one of the city's most prestigious neighborhoods. Kenwood is north of Minneapolis that is situated on the Chain of LaTkes.
In recent years, the average home sale price has been around $825,000, with prices ranging from $580,000 up to $2 million. Calhoun Isles borders the neighborhood to the north, to the south, to the west, and to the east, and the neighborhood extends from Kenwood Parkway to the east, Kenilworth Place to the south, and West Lake of the Isles Parkway to the west.
What's In Kenwood?
There are a number of bars, restaurants, coffee shops, and parks to discover in Kenwood, which has a population of only 1,535. There are 1,65,796 households in Kenwood with a median income of $165,796. A home with water views will keep residents from ever wanting to leave. Both Cedar Lake and the Lake of the Isles are located to the west and east of the community.
The Kenilworth Trail runs north-south through the neighborhood, making the park a popular destination for outdoor enthusiasts. It is a popular place for walkers and joggers in the summer and for ice skaters and cross-country skiing in the winter because of its almost three miles of trails.
2. Downtown East Minneapolis
Median Home Value: $515,300
Median Household Income: $112,808
Unemployment Rate: 12%
Downtown East, another highly sought-after neighborhood in the city, is also among the most expensive neighborhoods in Minneapolis. This community can be found between I-35 W and Portland Avenue, located south of the Mississippi River and north of 5th Street South.
One of the unique aspects of this neighborhood is that it includes the Mill District, which contains numerous former industrial properties that date back to the days when Minneapolis was the world's flour milling capital. However, many of these old mills and factories have been converted into apartments.
There are typically more than four units per building in Downtown East, and the homes there are usually of an urban style. There are outstanding apartments and lofts to choose from in this area, offering a variety of styles and varying levels of character. Many high-end listings can be found for more than $3 million.
What Attractions Are Near The Neighborhood?
Those who enjoy the arts will enjoy the award-winning Guthrie Theater, which was founded in 1963 as a premier center for theater performance, production, education, and the training of professional theater artists.
The Mill City Museum and Gold Medal Park are two of the many exciting and vibrant attractions in the region. The area is well-served by Metro Transit, so getting around shouldn't be a problem.
3. Lynnhurst
Median Home Value: $491,829
Median Household Income: $138,952
Unemployment Rate: 3%
The Lynnhurst neighborhood in the Southwest part of Minneapolis occupies the area between 46th and 54th streets on the north side, Lyndale Avenue on the south side, and Penn Avenue on the west side. Lake Harriet's outflow runs in the area, and the creek is a famous canoe and kayaking destination. It's on the southeastern shore, and the flooding from the lake flows through several city blocks, leading to the resort.
A scenic trail system in the area, taking in Lake Harriet and connecting four other lakes, provides 15 miles of trails for avid bikers. Locals enjoy strolling along the lakeside pedestrian walkway or swimming at Lake Harriet South Beach during summer. The cold winter months will see them enjoying ice fishing, ice hockey, and snowshoeing.
4. Lowry Hill
Median Home Value: $436,480
Median Household Income: $107,949
Unemployment Rate: 3%
Lowry Hill, which has a population of approximately 4,000, tops the list of the most expensive neighborhoods in Minneapolis. A great many Victorian-style homes can be found in this neighborhood, one of Minneapolis' oldest.
Designed in the early 1900s, this neighborhood is dotted with boulevard trees, house lots, and lawns that all have a wide space between them. In addition to several historic homes in the neighborhood, the neighborhood has a number of architectural treasures. In Lowry Hill, you can find houses ranging in cost from $6 million to $5 million with gracious porches and elegant exterior details.
Lowry Hill is just five minutes from downtown Minneapolis and close to many of the city's most popular cultural attractions. Along with the Walker Art Center, the Minneapolis Sculpture Garden is one of the country's leading contemporary art institutions. There are plenty of ways to have fun all year round, including summer music festivals and concerts and winter events such as Holidazzle.
5. Fulton
Median Home Value: $419,217
Median Household Income: $128,282
Unemployment Rate: 1%
Over 6,000 people live in the southwest suburb of Minneapolis called Fulton, a more luxury neighborhood. Located north of West 47th Street, south of West 54th Street, east of Penn Avenue South, and west of France Avenue South, the Fulton boundary stretches for nearly a mile. Moreover, West 50th Street has three bustling commercial areas located along France, Xerxes, and Penn avenues.
Eighty-seven percent of Fulton residents own their homes, which is characteristic of suburban living. There are many schools in Fulton, and there is a vibrant nightlife and a median sales price of just under $520,000. A house in Fulton can cost anywhere between $300,000 and $3.5 million and is only 19 minutes drive from downtown Minneapolis.
What Does Fulton Have To Offer?
The neighborhood has several bars, restaurants, and shopping options and is walkable and bikeable. If you like the idea of being within walking distance of a variety of excellent recreational activities, Fulton is the place you should live.
Almost 6,000 people are living in Lynnhurst, the majority of whom own their own homes. This area is filled with restaurants, bars, coffee shops, parks, and public schools. Most of these amenities are within walking distance, so you have a life of luxury literally just a few blocks away.
Do You Need to Hire Movers?
Get free, zero-commitment quotes from pro contractors near you.
---
Related Questions
What is the wealthiest town in the US?
There is a town in California known as Atherton. It's no surprise that Atherton is America's richest place for the fourth time in a row, home to billionaires like Facebook's Sheryl Sandberg and Google's Eric Schmidt. It's also got a large number of luxurious amenities like multiple top-notch golf courses, pools, spas, and more.
Is Crystal, MN a safe place to live?
Violent or property crimes are more likely to occur in Crystal since you're 1 in 34 likely to become a victim. According to FBI crime data, Crystal doesn't rank among the safest places in the United States. When compared to the cities and towns in Minnesota of all sizes, Crystal has a higher crime rate than 91% of them.As long as you watch where you're going and pay attention to your surroundings, though, you should be fine. Just because an area has higher crime doesn't mean that the area is 'bad' necessarily, as the most crime happens within the drug world. Steer clear and keep your nose clean, and lock your home and car.
How much money do you need to live comfortably in Minneapolis?
Thus, someone with a monthly income of $4,187 or an annual income of $450,244 would be able to maintain a comfortable lifestyle in Minneapolis. It's important to note that this is merely a guideline. Studio apartments and roommates can help you save big on an excellent apartment if you're looking for a way to cut costs.

Heather Robbins
Heather is a passionate writer who loves anything DIY. Growing up, she learned everything from home repairs to design, and wants to share her tips with you. When she's not writing, she's usually hiking or searching for her next DIY project.
More by Heather Robbins
Published June 4th, 2021 8:22 AM