5.9K Views
17 Places to Get 55-Gallon Drum For Free (Near You)
August 26th, 2022 3:44 PM
Share
We're committed to finding, researching, and recommending the best products. We earn commissions from purchases you make using links in our articles. Learn more here
Free is an amazing feeling. It's especially amazing if you can get a useful product that can be reused for any situation. Enter, the 55 gallon drum. Apparently many online forums and communities are giving away this item like candy. Whether it be through Facebook or an old car wash, let's see how you can score a free 55 gallon drum.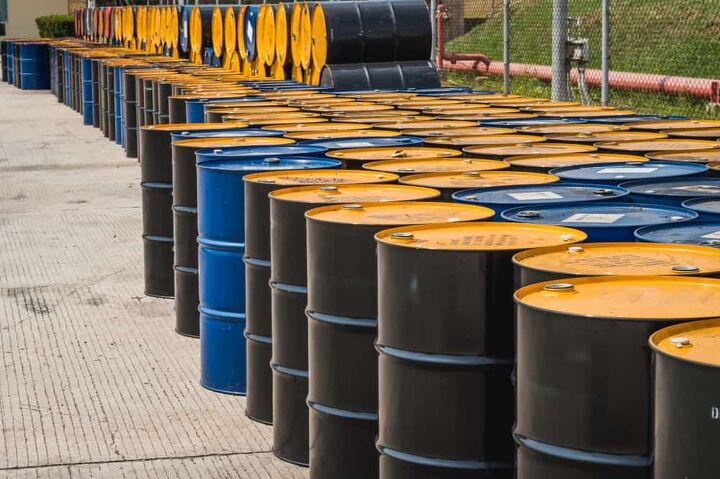 There are tons of uses for 55-gallon barrels, but what's even better than purchasing one is getting one for free. But is it possible to get such an item without having to pay for it? Read on–we'll tell you exactly how to do so.
You can find free 55-gallon drums on Craigslist, Facebook Marketplace, OfferUp, and LetGo; local construction and insulation companies also have them. Additional places to look are drink manufacturers, car washes and dealerships, auto shops, paint companies, and homebrew supply stores. Industrial waste collection companies, junkyards, scrap dealers, and personal ads are also options to check out for free 55-gallon drums.
Below, we'll talk about the places where you can find a 55-gallon drum for free. We'll also go over a few places where you can buy new and used 55-gallon drums. Then, we'll talk about the numerous uses for 55-gallon drums and how best to utilize yours.
17 Places To Get A 55-Gallon Drum For Free
If you're looking for a free 55-gallon drum, we have plenty of suggestions for you. It may take some time and effort, but you're sure to find success by going through the list below!
1. Craigslist
Your first option for seeking free 55-gallon drums is Craigslist. Craigslist is a website devoted to classified advertisements, and it has listings that you can sort by location. As a result, you don't have to dig through a newspaper to find what you're looking for.
You can also post a personal ad saying that you are seeking free 55-gallon drums. Bonus points if you happen to have a truck to pick them up, as that increases your odds of someone responding to you.
2. Facebook Marketplace
Facebook has a variety of groups for buying and selling operations, as well as Facebook Marketplace. You can find almost anything you want through these platforms. There are even a variety of free items that people leave out on their front lawn for pickup.
Facebook has a search function within groups and the Marketplace that allows you to narrow down your search. Of course, there is no guarantee you will find something, but persistence pays off.
Also, if you plan on purchasing anything online, be sure that you stay safe. Bring a friend (or two) with you so that you have extra help transporting the drums. Not only will your lower back thank you, but this provides you with an extra layer of defense against sketchy sellers.
3. OfferUp
OfferUp was created as an alternative to Craigslist. It's an online consumer-to-consumer marketplace that focuses on in-person transactions. What sets it apart is its mobile-friendly app. It also features user profiles with ratings, so it's easy to see whether the person you're buying from is trustworthy.
Unfortunately, OfferUp tends to receive poorer reviews than competitors due to app glitches. Still, if you're on the lookout for a free 55-gallon drum, it's definitely a place to check out.
4. LetGo
LetGo is similar to Craigslist and OfferUp with its focus on buying and selling secondhand goods. The purpose of LetGo is to make it simple to buy and sell locally. Users simply upload a photo of the item for sale (or items they wish to get off their hands by giving away for free).
Along with Craigslist, Facebook Marketplace, and OfferUp, LetGo is another excellent platform to increase your chances of locating a free 55-gallon drum.
5. Drink Manufacturers
Any group that makes a bulk quantity of bottled or canned drinks stores their product in 55-gallon drums. This applies to anyone from breweries to bottled water manufacturers. Call out to your local Pepsi plant or brewery to see if they have any on the side.
6. Food Manufacturing Companies
Food manufacturers are another viable option when looking for free 55-gallon drums. They often have ingredients shipped to them in large quantities, so there's a good chance they have plenty of empty 55-gallon drums around. A few examples of large food manufacturing companies that may have a location near you include Nestle, Tyson, Mars, and Kraft-Heinz.
7. Construction Companies
There are many liquid things that construction companies purchase and have on hand. For example, spray-on insulation and various types of paint typically come in these large drums. Simply give your local construction companies a call to see if they have any extras available.
In some cases, these companies may not be willing to provide you with the drums, given the chemicals they previously contained. You may be able to convince them otherwise, but be sure to spray out any of the chemicals inside.
The residue left behind by spray-on insulation and other substances doesn't cause permanent chemical stains. Therefore, it isn't likely to kill the plants in your garden, but even so, it's always best to thoroughly clean out the 55-gallon drums before using them.
8. Insulation Companies
Similar to construction companies, insulation companies are sure to have 55-gallon drums of spray-on insulation. They can save money by giving away the drums for free, rather than paying for disposal.
Do a quick search for "insulation companies near me" and try giving them a call. They might be happy to find someone who's willing to take their empty 55-gallon drums off their hands!
9. Car Washes
Car washes receive deliveries of soap in massive plastic drums. Thus, it can be pretty easy to drive by and ask about the next time they receive their shipment. Since they store soap, you still want to be sure that the drums are thoroughly clean. However, you don't have to worry about any intense chemicals.
10. Car Dealerships
Car dealerships receive a variety of car-related liquids in bulk, such as gasoline and diesel. If the dealerships have a maintenance department, then they're even more likely to have plenty of 55-gallon barrels sitting around.
Given that many of these barrels contain something toxic, be sure to clean them thoroughly before using them. Check to see if they can clean it for you beforehand; they may have no problem quickly spraying out the drums. Still, be sure to clean the drum after you receive it anyway for a double rinse.
11. Auto Shops
Auto repair shops are another excellent place to look for free 55-gallon drums. Various oils and other liquids used for auto repairs are commonly delivered to auto shops in large drums.
Of course, you'll want to clean out the drum before use. Even if the drum didn't contain any toxic chemicals, cleaning before repurposing is always the best way to go.
12. Homebrew Supply Stores
Another place to look on your quest for a free 55-gallon drum is a homebrew supply store. These stores order beer brewing and winemaking ingredients in huge quantities, so they're often delivered in large drums.
It's especially common for liquid malt extract to come in 55-gallon drums. If there's a homebrew supply store in your area, give them a call and see if they'll allow you to pick up their empty drums.
13. Paint Companies
To save money, paint companies ship paint and primer in incredibly large quantities stored in drums. These drums can be hard to request, as they contain several things that aren't safe for consumption. If you do plan on grabbing one of these, be sure to be incredibly meticulous while cleaning.
14. Industrial Waste Collection Companies
Most of the 55-gallon drums disposed of by manufacturing companies end up at industrial waste collection companies. You can often find both plastic and metal 55-gallon drums at these locations.
However, many of the drums at industrial waste collection companies contain toxic chemical residue. As always, be sure to clean them thoroughly.
If possible, figure out what the drums were used for before repurposing them. For example, you won't want to turn a drum that once held a chemical prone to explosion into a smoker. Similarly, it's not wise to store animal food in a drum that once held hazardous materials.
15. Junkyards
If you are not fast enough to pick up drums from industrial waste collection companies, the next stop for them is usually the junkyard. The junkyard is where most unwanted things end up, and not a lot of people want used 55-gallon drums.
Take the time to contact local junkyards and see if they have any 55-gallon drums available. Otherwise, if you are willing to go on a mission, you can explore the junkyard yourself in some situations. This will surely take some time and effort on your part, but it can be well worth it.
16. Newspaper (Personal Ads)
Another option you have is the newspaper. You might be surprised what can happen when you take out a personal ad. Be sure to clearly express your interest in picking up used 55-gallon drums for free.
You can also look through the personal ads to see what's available. Much like Craigslist or Facebook, you will have a higher likelihood of response if you are willing to pick up the drum yourself.
An easy way to obtain free newspapers is to stop by local restaurants and libraries. They often have a stack of complimentary newspapers for their guests to enjoy.
17. Scrap Dealers
Just like junkyards, scrap dealers often end up with the items that nobody seems to want or be able to use. It's pretty common for empty 55-gallon drums that have served their original purpose to end up at a scrap dealer.
Figure out if there are any scrap dealers in your local area. If there are, give them a call and see if they have any 55-gallon drums that you could pick up.
Six Places To Buy New And Used 55-Gallon Drums
Depending on your determination to find a free 55-gallon drum, it may be a better option to purchase one. You can purchase new or used 55-gallon drums at the following locations. Often, purchasing a 55-gallon drum is an easier and quicker process than finding one for free.
1. Global Industrial
Depending on your location, you may be able to stop by your local Global Industrial distribution center. Currently, there are Global Industrial locations in New Jersey, Nevada, Georgia, Wisconsin, and Texas.
If you're lucky enough to have a Global Industrial near you, then you'll have your pick of several different types of 55-gallon drums. However, they can be quite pricey, with most of the drums costing between $200 and $300.
2. Home Depot
Home Depot is another great option for 55-gallon drum purchases, and there are locations all across the US. As of March 2021, there were a total of 2312 Home Depot locations spread throughout all 50 states. Therefore, there's likely to be one near you.
According to Home Depot's website, it has a small selection of 55-gallon drums. All of them cost between $100 and $150, making them more affordable than Global Industrial's selection.
3. eBay
eBay is a classic place to look for new and used items. One of the perks of going on eBay is that you don't have to leave your house. In most cases, you can get your purchases shipped directly to your home. Of course, there's also the option of choosing to pick up the purchase yourself to avoid shipping fees.
A great feature of this site is that you can apply all sorts of filters to your search. You can look for a specific type of 55-gallon drum quite easily. You can even define the price range that you're willing to pay for it.
For example, you can choose the type, condition, material, and even color of the 55-gallon drum you want. eBay is absolutely one of the first places you should look if you're willing to pay for a 55-gallon drum rather than getting it for free.
4. The Cary Company
Like Global Industrial, The Cary Company will only be available to you in person if you live in certain states. Currently, this company has locations in Illinois, California, Indiana, Pennsylvania, and Utah. However, you can shop from The Cary Company's website and have 55-gallon drums shipped to you.
The Cary Company has a diverse range of 55-gallon drums. Some are perfect for storing liquids, others for solids. They have drums for various industries, ideal for pharmaceuticals, foods, and chemicals. Plus, there are multiple materials to choose from: fiber, composite, stainless steel, carbon steel, and plastic.
There are also new and reconditioned drums in multiple styles. You can purchase them at bulk and wholesale pricing for plenty of savings.
5. McMaster-Carr
McMaster-Carr is a private hardware, tools, and materials supplier headquartered in Illinois. It has ten locations across the country located in Illinois, Ohio, Georgia, California, and New Jersey. However, you can also order online from the McMaster-Carr website if there isn't a location near you.
When searching for 55-gallon drums on the McMaster-Carr website, you can sort them by material and other characteristics. Materials include plastic, steel, stainless steel, zinc, fiber, brass, rubber, iron, and aluminum. You can also choose the drum style and color.
6. Uline
Uline is a huge company that offers a wide range of supplies through its website, including 55-gallon drums. A quick website search reveals that Uline stocks plastic drums, steel drums, fiber drums, nestable drums, and stainless steel drums. There's definitely plenty to choose from, including various drum accessories.
11 Ways To Use A 55-Gallon Drum
The amazing thing about 55-gallon drums is that they can be repurposed in so many different ways. They have numerous uses beyond their original function of holding various liquid and solid substances.
Some of the ideas listed below involve storing or cooking food and water. Because of this, it's vital that you ensure any chemicals previously stored in the drum are completely gone. For food storage, it's best to opt for food-grade treated barrels to ensure safety.
1. Rain Collector
The first option when repurposing a 55-gallon drum is rain collection. You can feed your gutters into 55-gallon drums. Just be sure to check them after heavy rains! You'll also want to stay on top of gutter maintenance and cleaning when using 55-gallon drums to collect rainwater.
2. Planter
A plastic planter is great for accenting your garden with an incredibly tall feature. Some people even cut out the sides to make plants grow out of them. Because plants naturally seek the sun, this can be a beautiful idea.
Your other option is to surround the drum with a wood design, giving it a large, rustic barrel feel. There are many unique plant-based options you can choose. 55-gallon drums can add to your yard's visual interest and make plant maintenance simple.
3. Compost Mixer
Another idea for your 55-gallon drum is to turn it into a compost mixer. Simply turn the drum sideways and roll it around to mix up your compost.
Another option is to create a spinning contraption with a handle, which is much easier than rolling a huge drum around your yard. This is an incredibly eco-friendly option for your drum, especially when coupled with a nearby rain barrel.
4. Animal Food Storage Container
It goes without saying that farm animals consume a lot of food. Pigs, horses, sheep, and any other farm animals appreciate a reliable food storage method. Your wallet will appreciate you using 55-gallon drums for their storage.
You can even put the drums on their sides and cut out a quarter of them to create a feeding trough. This is a low-maintenance and simple way to store and provide food for all your animals.
5. Smoker
If you have a steel barrel, you have the option of converting it into a smoker. A 55-gallon drum is perfect for containing all of the heat. Also, it costs a fraction of the price for those willing to put in the work.
Smokers have tons of advantages–they give a great flavor, result in juicy and tender meat, and can feed large amounts of people. They're also easy and fun to use!
6. Grill
If smokers aren't your thing, you can also turn the drum sideways and convert it into a charcoal grill. Just be prepared to cut through a good chunk of steel slats and scrap to create the final product. Not only will you have a unique grill, but it's also a great conversation piece the next time you have family and friends over for a barbecue!
7. Barrel Stove
Going along with the cooking theme, smokers and grills aren't the only options for 55-gallon drums. You can also build a barrel stove! You'll need a steel drum for this one, plus a barrel stove kit. Attach the door and legs, then install the flue and damper, paint, add a grate, and you're ready to go.
8. Pond Filter
A pond filter effectively removes waste and debris from a pond to keep the water clear and healthy. The amazing thing is that you can transform a 55-gallon drum into a pond filter with some hard word and ingenuity!
Other supplies you'll need for this project include PVC piping, fittings, and filter media. A 55-gallon drum pond filter works great for koi ponds and other small bodies of water.
9. Drum Trailer
Yet another way to repurpose a 55-gallon drum is to turn it into a trailer. You can use the trailer for storage or for fun–it makes a great ride for children to enjoy. You may have seen barrel trains before that use 55-gallon drums as separate train cars. Of course, you can also use your 55-gallon drum trailer to transport various supplies and substances.
10. Nightstand
Looking for something to add a unique touch to your bedroom decor? Well, what about a nightstand made from a 55-gallon drum? All you need to do is clean, paint, and decorate it, and you've got a functional nightstand. You can even cut into the side and add shelving inside the drum for additional storage.
11. Upcycled Chair
An excellent choice for indoor or outdoor seating, an upcycled chair made from a 55-gallon drum is a fun addition to your interior design. There are a variety of ways to design your chair; just make sure to add a cushion for comfort.
How Much Does A 55-Gallon Oil Drum Cost?
A new 55-gallon drum will cost you between $60 and $400. It depends on the material (plastic or metal) and other characteristics. You may also have to factor in shipping costs if you aren't able to pick up the barrel yourself.
Meanwhile, a used 55-gallon drum can be free, or it may cost up to $100 or so. It really depends on where you purchase the drum. Stores will generally charge more, while you may be able to get a bargain by using sites like Craigslist and eBay.
Conclusion
Figuring out where to get a free 55-gallon drum can be challenging, but it's absolutely possible; start with sites like Craigslist and Facebook Marketplace. Local businesses that may have free drums include drink manufacturers, construction and insulation companies, car washes and dealerships, auto shops, and homebrew supply stores. You can also contact paint companies, industrial waste collection companies, junkyards, and scrap dealers.
If you don't want to go through the trouble of searching for a free 55-gallon drum, you can also purchase new or used ones. Home Depot, Global Industrial, eBay, The Cary Company, McMaster-Carr, and Uline are all viable options.
Once you've got your 55-gallon drum, there are lots of things you can do with it! Create unique furniture like a repurposed nightstand or upcycled chair, or revolutionize your cooking with a 55-gallon barrel smoker, stove, or grill.
Of course, you can also use the drum as a rain collector, planter, compost mixer, animal food storage container, pond filter, or drum trailer. The choice is up to you!

Eli Smith
I'm a guy who becomes the expert of whatever I stumble upon, writing-wise. I've written tons about cool home products, home improvement, and smart technology in the home. I'm also the proud father of a kiddo born on new years, making my holidays very busy.
More by Eli Smith
Published October 6th, 2020 11:33 AM