789 Views
The 10 Most Expensive Refrigerators (Luxury Brands for Home)
May 7th, 2022 8:25 PM
Share
We're committed to finding, researching, and recommending the best products. We earn commissions from purchases you make using links in our articles. Learn more here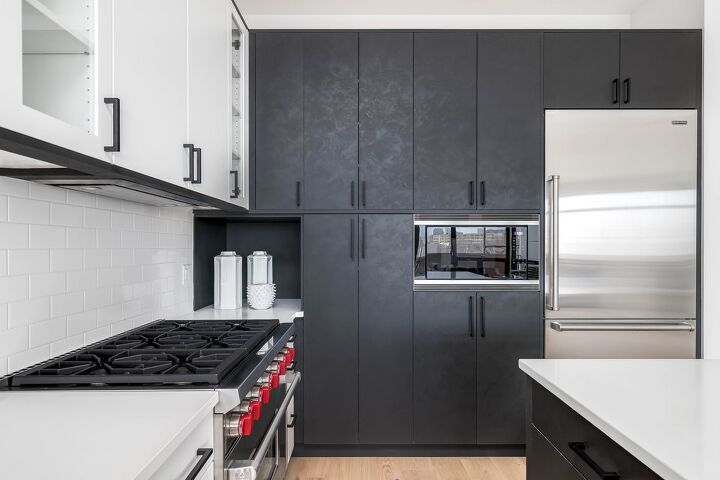 You get what you pay for with refrigerators, and that can be a good or bad thing depending on the cost. Some refrigerators are cheaply made yet minimally functional, whereas others stand out as expensive and superior. So, what are the most expensive refrigerators?
The most expensive refrigerator is the Dolce & Gabbana Hero of Two Worlds SMEG collaboration which costs $50,000. Refrigerators such as the Meneghini La Cambusa are comparable and cost $40,500 due to the chic appearance and smart functions. The Continental 78" Solid Door Dual Temperature and Hestan Lush Purple Side-By-Side both cost over $27,000.
Many of the most expensive refrigerator brands like Liebherr, SMEG, and Miele produce rare, high-end units. Cooling features, durability, design, and safety contribute to the high cost of a refrigerator. Follow along as we take a look at the most expensive refrigerators.
Top 10 Most Expensive Refrigerators
Brands like SMEG, Miele, Liebherr, and Hestan have a great reputation for excellent refrigerators. They are also known to sell some of the most expensive refrigerators on the market. Let's explore the most expensive refrigerators.
The Dolce & Gabbana Hero of Two Worlds refrigerator is just as luxurious as its other products. As shocking as it may sound, Dolce & Gabbana produced a limited edition high-end refrigerator that costs $50,000. The high price point has as much do to with this refrigerator's appearance as it does with its performance and function.
You can't help but notice the gorgeous exterior right away with the detailed art on the doors and sides of the refrigerator. Each Hero of Two Worlds refrigerator is hand-painted which adds to the artistry and cost right away. This SMEG collaboration is high-tech and features built-in wine racks and touch screens that appeal to wealthy homeowners.
The expensive price tag may limit who can buy this Dolce & Gabbana refrigerator, but the bells and whistles make it worth it. Dolce & Gabbana and SMEG built this refrigerator with automatic closing doors and a roomy interior.
2. Meneghini La Cambusa- $40,500
Another limited edition Italian refrigerator, the Meneghini La Cambusa costs $40,500 and exemplifies expensive taste. The high cost of the Meneghini La Cambusa primarily comes from how spacious and elaborate the refrigerator is. You can store more food than you would ever need to in this massive 6' x 9' refrigerator.
Think of the Meneghini La Cambusa more as a kitchen than it is a refrigerator. Sure, it is a refrigerator, but you can also use it to brew coffee or microwave food. Spacious shelves, deep drawers, a convenient cabinet, and an ice maker are the icing on the cake with this refrigerator.
The $40,500 price makes the Meneghini La Cambusa among the most expensive refrigerators of all time. However, the impressive design and endless features make this refrigerator worth it if you can justify the high cost.
The Continental 78" Solid Door Dual Temperature refrigerator costs $28,169 and is worth every penny. As the name suggests, this refrigerator measures 78" which makes it perfect for residential and commercial use alike. Continental focused on convenience with this unit as exemplified by the massive storage space which includes a freezer.
They took great lengths to ensure a consistent temperature between the magnetic door locks and magnetic gaskets. This massive unit stands just over 86" tall, 78" wide, and has a 39" depth. Storage is the main appeal of the Continental 78" Solid Door Dual Temperature refrigerator.
Energy efficiency is another benefit of this refrigerator thanks to the conservative LED lights. There are 6 doors and 9 shelves spread throughout 3 sections in this refrigerator, and it's worth the money.
You can't miss the Hestan Lush Purple Side-By-Side refrigerator based on its sheer size and vibrant color. The price tag is enough to make you do a double-take as well because this fridge costs $29,057. The standout feature of this side-by-side refrigerator is the deep and generous bottom freezer.
Bottom freezers are rarely so spacious, convenient, and easy to open. Hestan built each unit to refrigerate individual compartments to ensure consistent freshness and food safety. This refrigerator can appeal to large families and homeowners who need to store plenty of food.
Advanced compressor function means that your Hestan Side-By-Side fridge will remain at an even temperature. Antimicrobial drawers, customization, an LED display, and quiet operation make this one of the most expensive refrigerators.
Viking produces a wide array of household appliances, but their refrigerators are consistently top-notch. The Viking 7 Column Refrigerator & Freezer costs $25,368 and is one of the most expensive refrigerators currently. Compressors are what makes a refrigerator take, and this Viking unit has one with unique technology that makes it stand out.
Variable-Speed High-Efficiency Overdrive is compressor technology unique to this refrigerator that ensures quiet and consistent operation. You can set the Viking 7 Column refrigerator to Sabbath Mode and Vacation Mode to keep your bills low when you're away. Every detail from the water dispenser to the water-resistant shelves can improve the user experience.
The Dacor Contemporary DAREFR95 is large, spacious, and has a distinctly modern aesthetic. This refrigerator costs $18,894 and provides plenty of space between the fridge and freezer sections. Any homeowner can benefit from the 36" refrigerator section and 36" freezer section.
Humidity-controlled drawers ensure food safety and eliminate guesswork. Dacor utilized their SteelCool stainless steel interior with this refrigerator which helps regulate the temperature. Smart features add to the price tag of the Dacor Contemporary DAREFR95, such as remote monitoring.
The remote monitoring and smart Door Assist features both make this refrigerator easy to use. You can even preheat the water in the refrigerator from your phone with this unit, and that alone is worth the cost.
With a hefty price of $17,965, the Sub Zer Pro 48 is one of the most expensive refrigerators you can find. This refrigerator is a testament to how a brand can balance luxury and function with features like a glass door. You can easily control the temperature on this unit and trust that it will stay consistent thanks to the door seals.
Sub Zero reports that they build refrigerators like this unit to last for at least 20 years. The longevity of the Sub Zero Pro 48 combined with the dual refrigeration and temperature control are the main benefits.
Liebherr has one of the best reputations in the refrigerator market in terms of quality and continual innovation. The Liebherr 585L Integrated French Door refrigerator costs $16,740 and blends into any kitchen perfectly. Integrated refrigerators are made to be flush with the wall, and few are as easy to fit as this Liebherr unit.
The custom doors on the Liebherr 585L work perfectly for blending in but the refrigerator can stand on its own as well. Self-closing doors, telescopic rails for the drawers, and clear LED lighting make the Liebherr 585L one of the most user-friendly refrigerators. Liebherr also included a No-Frost system that ensures you won't have to worry about food going bad.
Both the freezer and refrigerator sections are spacious, easy to access, and childproof. Between the integrated water filter, dual cooling technology, and storage, it's easy to see why it's one of the most expensive refrigerators.
Miele may not be one of the most expensive refrigerator brands, but some models such as Miele 642 L Integrated Bottom Mount Fridge are pricey. It is worth the $14,999 price when you consider the superior storage and MasterCool system. The MasterCool system circulates air throughout the fridge to keep your food fresh and safe.
Frost won't gather on your food as it would with a cheaper refrigerator thanks to careful consideration by Miele. Miele also ensures that you can store your food anywhere throughout the unit and it will be equally fresh. Temperature control, excellent storage, and food safety features make the Miele 642 L Integrated Bottom Mount Fridge a great investment.
There 3 distinct temperature zones as well as 3 shelves for storage. You can also reconfigure this unit to your liking with the help of the adjustable containers that it comes with.
The Liebherr ECBN 6256 Premium Plus costs $8,953 and offers the perfect combination of storage and function. Families and single residents alike can benefit from this unit as it has plenty of shelf space and two spacious drawers. Liebherr built this refrigerator with their BioFresh technology in mind to let your food last as long as it can.
Each compartment in the Liebherr ECBN 6256 Premium Plus refrigerator is designed to keep food consumable for as long as possible. There are child locks on this unit to ensure safety which is important for families. The freezer on this refrigerator is also impressive and features SuperFrost technology to freeze food quickly.
Summing It Up
The Dolce & Gabbana Hero of Two Worlds costs $50,000 and is the most expensive refrigerator. Designer refrigerators like the Meneghini La Cambusa cost $40,500 and are just as much about style as function. The Continental 78" Solid Door Dual Temperature and Hestan Lush Purple Side-By-Side each cost more than $27,000.
Refrigerators such as the Sub Zero Pro 48 and Viking 7 Column Refrigerator & Freezer offer superior storage. Generally, expensive refrigerator brands like SMEG and Sub Zero include smart technology which adds to the cost. A great refrigerator doesn't need to be expensive, but the most expensive refrigerators often feature smart technology that improves the performance.
Related Guides

Nick Durante
Nick Durante is a professional writer with a primary focus on home improvement. When he is not writing about home improvement or taking on projects around the house, he likes to read and create art. He is always looking towards the newest trends in home improvement.
More by Nick Durante
Published May 7th, 2022 8:24 PM