44 Views
What Is The Least Expensive Patio Material?
December 20th, 2021 11:59 AM
Share
We're committed to finding, researching, and recommending the best products. We earn commissions from purchases you make using links in our articles. Learn more here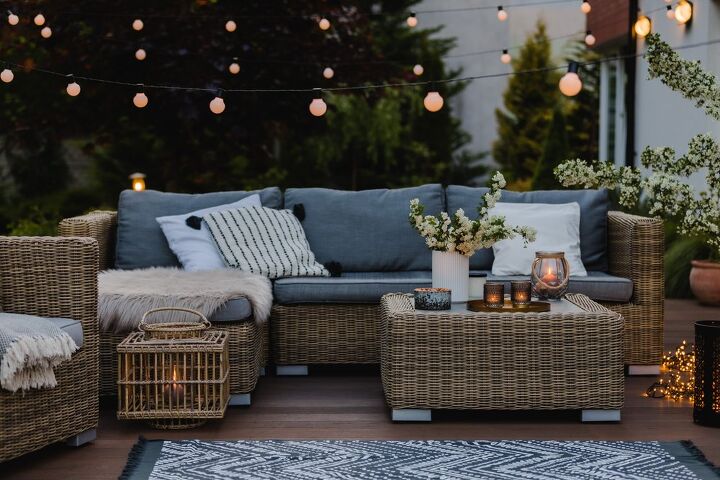 Green spaces are the future of our planet. Therefore, greens spaces and patios are getting more and more popular nowadays. Understanding the least expensive patio material will help you make well-informed decisions. So, you need to know how to invest in green spaces without spending too much money.
Concrete is the least expensive patio material on the market right now. You can easily pour it into different designs and shapes. Moreover, it costs the least per square foot as compared to other patio materials. With the help of a professional, a concrete patio will last for years without cracking.
You don't have to spend your entire financial budget on a patio. You can compare different patio materials. As a result of a careful comparison, you can find the least expensive material for your patio and build a green space oasis in your backyard.
Patios are perfect for people who do not have a lot of free space in their backyard. Patios are useful, comfortable, and offer enough greenery for your home. Today, we will look at different patio materials and find the best one for your property.
Do You Need Brick and Stone Patio Installers?
Get free, zero-commitment quotes from pro contractors near you.
What To Know About Using Concrete For Your Patio
Concrete is one of the simplest and least expensive patio materials. Your cost for concrete will be $6-13 per square foot. This way, you can easily design your patio without spending too much money. However, the cost of the concrete patio will depend on whether you buy colored concrete or a stamped type of concrete.
Of course, adding design and stamps to the concrete will cost a bit more. However, you could even do this on your own if you poured your own patio!
Durability And Different Designs
You can easily pour the concrete into the foundation and shape it the way you want. As a result, you can quickly create different shapes and designs for your patio.
Concrete is quite strong, durable, and long-lasting material. Concrete is not easy to work with, so hiring a professional to install this material is highly preferable.
The right installation will ensure concrete will hold up for many years. Just make sure that water does not get into the concrete material. It can freeze and crack up the foundation easily.
Upon finishing, you can apply a high-quality waterproof sealer. This will help keep water from seeping in the cracks and reduces the risk of a broken up patio.
Stamped Concrete
Some people often think of concrete as a simple and boring material. Therefore, you can use the stamped version and get creative with the designs.
This will liven up the place and make for an exciting patio material. You can get the stamped version in many colors and textures. Moreover, these designs include looks that resemble natural stone, etc. Pour it into any shape or design you want.
If you are not an expert, you should hire an expert for concrete installation. They offer you control over the shape and professionally install the concrete so it doesn't crack. On the other hand, if you're a DIY enthusiast like us and have a few projects under your belt, you can do the stamps and shapes yourself!
Can You Use Gravel For Patios?
Gravel is among the least expensive patio materials. Moreover, the price of this material is almost the same as that of concrete. However, gravel offers several pros over concrete, and you can efficiently work with gravel by yourself.
Gravel Is Easy To Install
Since you can easily install gravel by yourself, you don't have to hire a professional. Therefore, you do not have to worry about additional costs. You can save labor costs by installing it yourself.
Gravel is relatively easy to install without having any experience. So, you can place it into a wheelbarrow, wheel it to the location, and pour it into the foundation. You have to create a powerful and durable border to contain the gravel and form your patio's shape.
Prone To Weeds
Gravel is a very loose material. It can be easy to pour it into the foundation, but there are a few drawbacks. Since this is a loose material, it is prone to weeds and grass growing through it. Therefore, you need to use landscaping fabric before pouring the gravel into the foundation.
Something else that you can do is treat the gravel for weeds to prevent them from growing. You can also compact the gravel after you treat the area for weeds. This will help prevent them from growing through.
Different Types Of Gravel
There are various types of gravel to choose from:
Base Gravel
Pea Gravel
Quarry process Gravel
Marble Chips Gravel
River Rock Gravel
You can choose from a wide range of options. The choice will depend on various factors, such as foot traffic, area of installation, etc.
Installing Pavers For Your Patio
There is no comparison to the natural stone look when it comes to patio materials. Moreover, these pavers can easily match the interior design of your house.
As a result, pavers can offer a wide range of looks to go along with your home. Even though they're pretty complex to install, they're still one of the more least expensive patio materials.
Complex Installation Process For Pavers
Since all the pieces are equal in size, the outcome looks fantastic. Moreover, you can easily place these in the foundation without manually adjusting the height or width. Therefore, the process of installation for pavers is quite simple and easy.
Although pavers are relatively easy to install, yet these are often quite heavy. You must get a professional to install these for you. Pavers are among the least expensive patio materials. However, these are more expensive as compared to gravel and concrete. Pavers cost $13-$20 per square foot.
Variety Of Pavers
Paving stones offer a wide range of options to users. You can choose from a list of colors, shapes, and textures according to your requirements. These shapes and textures include:
Natural stone-look
Bricks texture
Cobblestones design
Hardwood floor texture
Pavers Are Easy To Replace
If you are looking for green patio materials, pavers are perfect for you. Manufacturers use concrete or recycled materials to create pavers. Moreover, if these ever get damaged, you can just replace the damaged slab. Thus, you don't have to replace the entire patio floor.
Using Bricks For Your Patio
Do you want a classic look? If yes, you should use bricks for the patio. Bricks are perfect for a sophisticated and elegant look.
While they're low cost, you'll have to make sure that you seal the cracks. Water will damage your brick patio, so don't forget to grab sealant when you grab your bricks!
The Process Of Installation For Bricks
Using bricks is great for your next patio project. However, these may be quite hard to install. You have to manually carve out the height and lay these down into the foundation.
Therefore, this can add to the complexity and time of the installation process. It is highly recommended that you hire a professional to lay down these bricks for a durable foundation.
Cost To Install A Brick Patio
Bricks are elegant and among the least expensive patio materials. However, these are more expensive as compared to the other options. On average, bricks will cost somewhere between $14-20 per square foot.
On the other hand, you can buy used, recycled, or salvaged bricks and save money. Moreover, since bricks tend to last for decades, you can use these without worrying.
Brick Cracks Easily
Since bricks are also porous, they can also get damaged when exposed to water. It is up to you to seal the empty places and cracks to stop water from seeping in. Therefore, you can increase their lifespan and save money on replacement.
Does It Matter What Material You Use For Your Patio?
Remember that whatever material you choose will also depend on the area you live in. For example, if you live in the midwest or northeast, you might not want to install a brick patio. That is unless, of course, it is under an awning. This is because if water or snow gets in the cracks and freezes, then it's going to ruin your patio. In this case, it would be better to install gravel or concrete.
In warmer climates, brick would be a great choice or even concrete. Gravel might, but at the same time, you'll want to treat the area for weeds, as weeds will multiply in hot and humid weather. Then again, if you live in the desert, you have nothing to worry about.
Do You Need Brick and Stone Patio Installers?
Get free, zero-commitment quotes from pro contractors near you.
Wrapping Up
There is a long list of the least expensive patio materials. However, the four options mentioned above are on the top for a reason. These are easier to install as compared to other options. Moreover, these will also last longer than other options and cost less.
These materials offer a wide range of options in terms of colors, textures, shapes, and designs. So, you can choose from hundreds of options and pair them with your house. Lastly, these are also durable. Therefore, these will last for years to come.
Look at your requirements and then choose the perfect patio material for your next home improvement project. Also, consult with a professional before moving forward with the installation. Their years of experience can help you with everything, and you can get it done by yourself.

Upgraded Home Team
We are a team of passionate homeowners, home improvement pros, and DIY enthusiasts who enjoy sharing home improvement, housekeeping, decorating, and more with other homeowners! Whether you're looking for a step-by-step guide on fixing an appliance or the cost of installing a fence, we've here to help.
More by Upgraded Home Team
Published July 2nd, 2020 4:07 AM