1.3K Views
Pros And Cons For Brock PaverBase Panels
October 27th, 2021 2:50 PM
Share
Are you thinking of incorporating Block PaverBase panels into your next project? Block PaverBase panels are typically used for a patio or walkway and look beautiful. Follow along as we weigh the pros and cons of Block PaverBase panels so that you can make your decision.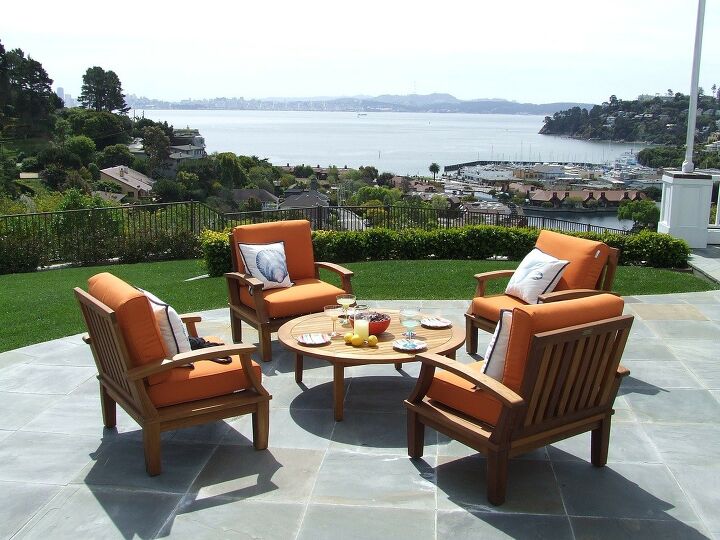 In order to ensure that any project you build lasts, you want to start with a strong foundation. This is especially true when considering the paver base for your project. Traditionally, the base used for a paver patio or walkway is a layer of crushed gravel about six inches deep. If you're building a standard patio, you will most likely be hauling out several tons of soil and carting in the same amount of gravel.
As with every product, there are pros and cons when it comes to using Brock PaverBase. You'll experience reduced installation time, You will save money on the need to haul heavy gravel, and it's also designed to drain correctly. However, the cons are that there is no certain lifespan, and it's also prone to shifting.
In this article, we will go through all the pros and cons of using Brock PaverBase. That way, you can choose whether this is a material suitable for your needs, or if you need something else.
Do You Need Brick and Stone Patio Installers?
Get free, zero-commitment quotes from pro contractors near you.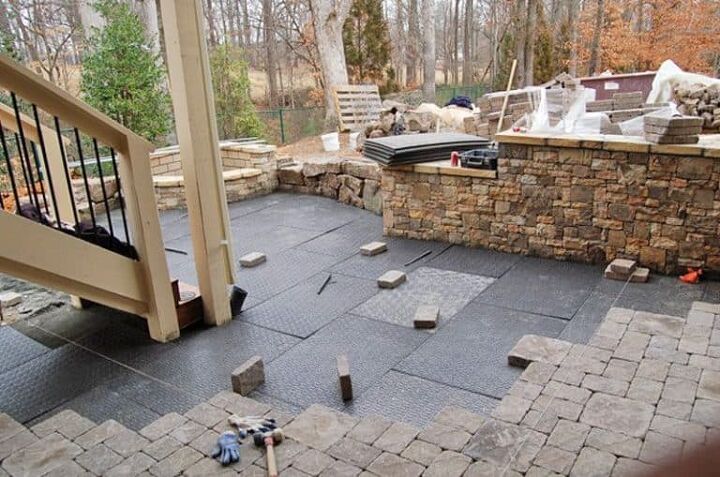 What Is Brock PaverBase?
Replacing the traditional rock base under pavers, Brock PaverBase is a lightweight, high-density panel system made of Polypropylene plastic. Polypropylene is known for its durability, flexibility, and high melting point. Its characteristics make it the ideal choice for tough products on the market, including cold-weather gear for soldiers and defensive car bumpers.
The Brock PaverBase layer technology was initially created as a safe way to underlay artificial turf. For years they have been replacing the stone bases underneath turf for the NCAA, NFL, and local high schools. However, they adapted this technology to be used under patio pavers and stones as an alternative to more conventional gravel bases.
The "tire tread" texture on each of the panels allows them to lock into place over a thin sand layer correctly. A uniform "floor" is created for the pavers from the overlapping edges of the panels. The panels spread out the load and allow the weight to be distributed evenly over the ground.
Brock PaverBase Pros
Aside from being more lightweight than conventional gravel bases, there are several benefits and pros of Brock PaverBase panels. These include:
Reduced installation time – A 100 square foot patio will only require around 20 panels instead of several tons of rock base. This, in turn, also reduces the amount of money you need to pay to create a 100 square foot patio—no more messy cement pouring.
Less digging and labor required – Installing a Brock PaverBase will not entail you digging several inches down to haul in the gravel. Instead of 6-8 inches, you will only need to excavate about 3 inches. Also, each panel replaces 160-200 pounds of the traditional base material.
Prevents damage to your landscaping – You will not need to use any bulky excavating equipment to clear the area. This will reduce the risk of any of your property being damaged in the process. You won't need to replace grass or pay for expensive pipe repairs since you won't be digging deeper.
Completely eliminates heavy gravel fill – One panel is equal to 1 pound and will replace around five bags of base (200 pounds). It's fewer materials you need to finish your project successfully. Talk about saving both time and money!
Insulation – Polypropylene is an excellent insulator and will prevent any frost from seeping into your soil. This means that you most likely won't experience cracking or significant amounts of soil shifting due to the water seeping under the pavement.
Proper drainage – Each panel contains drain holes that allow for adequate water evacuation. Brock PaverBase panels drain both horizontally and vertically to direct water away from the area. It also exceeds the permeability rate of pavers with a vertical permeability frequency of over 100″ per hour.
Simple to install – No special tools are required to install Brock PaverBase. They can be cut easily with a razor knife to fit into any curves and tight edges. You won't need to hire a professional since this is about as easy as it gets.
Reduces costs of your project – Because of the less material and reduced labor, using Brock PaverBase is not as expensive as traditional patio bases. You will also most likely not need to hire an expert, which would further drive up your costs.
Allows installation in limited access areas – Brock PaverBase can be transported to virtually any location. If you have a backyard that is fenced in or your project location has restricted access, you will not have any issues hauling this type of base.
Brock PaverBase Cons
Although the benefits are numerous, it's essential that we analyze Brock PaverBase from all angles. Here are some of the cons associated with this type of paver base:
Not suitable for driveways – Unfortunately, Brock PaverBase is not engineered to be used in any areas that experience vehicle traffic. This is because it is not a load-bearing product.
Shifting issues – Many consumers report that their patios appear "wavy" after about a year due to the shifting of the panels underneath their pavers. However, you can fix this by digging just a few inches to compact the soil under it with a tamper. Then, lay the pavers so that it minimizes the amount of shifting over time.
Material underneath must be level – In order for the panels to lay down and line up correctly, the sand and other materials underneath must be completely flat. This may take some additional time and experience to perfect.
Lifespan is uncertain– Although polypropylene is known to be durable, resistant to cracking, decay, and mold, this type of paver base hasn't been around long. Since these paver base products have only been around for a few years, it's unclear how they'll perform long-term.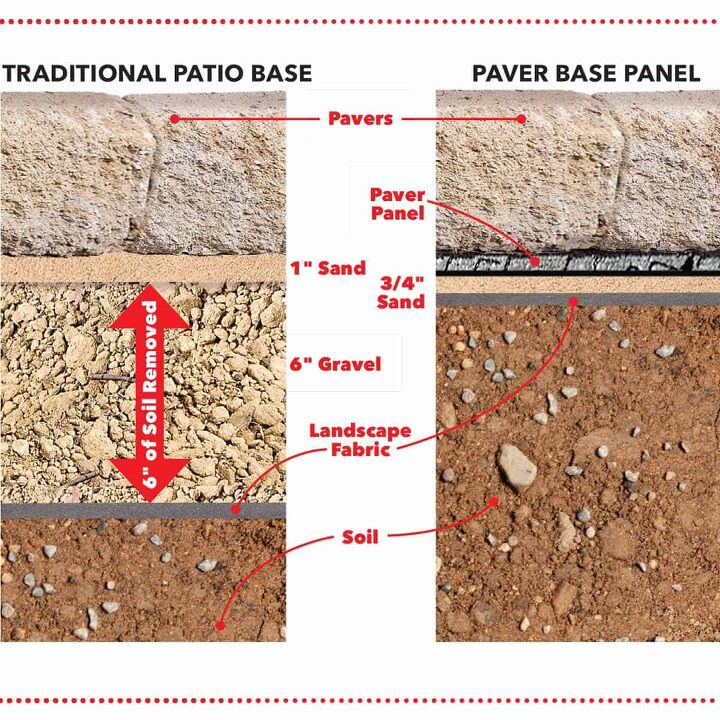 How To Install Brock PaverBase
Opting for Brock PaverBase instead of a traditional gravel base does not eliminate the need for thorough site preparation. You'll also need to understand how the installations differ to have the best results.
You'll first have to discard any grass or vegetation and dig down to remove approximately 2 to 4 inches of the soil. Since there is no thick layer of rocks to compensate for uneven ground, you must maintain a smooth, flat surface throughout this whole project.
Instructions
Tamp the soil down. Use a plate compactor to tamp down the soil prior to laying down the landscape fabric and sand. The landscape fabric is used as a barrier to keep the sand from intermixing with the soil below. Note: Woven landscape fabric does not allow proper drainage and can trap water underneath your patio. Choose a non-woven cloth that has a lifespan of at least 20 years.
Apply the sand. After you've laid out the landscape fabric, you'll need a layer of sand that is about ¾ inch in depth. Instead of choosing sandbox sand, purchase all-purpose fill sand.
Slope your sand layer. It's essential that your screed the sand layer so that you have a level, properly sloped surface for the Brock PaverBase panels to be installed. You can do this by laying two ½" pipes down before pouring the sand. Then, use a straight wooden board to screed the sand along the pipes.
Install the panels. Begin installing the panels by starting along a straight edge of your patio. It's recommended to lay them in a brick-like pattern to ensure stability when the pavers are placed on top. Trim off any edges or curves using a utility knife. The patio pavers can then be directly laid on top of the Brock PaverBase panels and arranged depending on your established design. Afterward, use a broom to spread sand over the patio's surface and into any gaps until they're completely filled.
Tamp the area. Finally, simply use a hand tamp over the entire area to allow further the sand to fall into place, clean off the surface with a leaf blower, and enjoy your new patio!
Do You Need Brick and Stone Patio Installers?
Get free, zero-commitment quotes from pro contractors near you.
Wrapping It Up
Brock PaverBase is an excellent alternative to the heavy, labor-intensive installation of a traditional gravel base. They are also very cost-effective, durable, and easy to install. There's no mess when installing these panels, and it's tough to mess up. So, if you're a beginner within the DIY world, it would be an excellent idea for you to try these out!
Now that you understand the benefits, any associated cons, and how to install these panels, you can decide if this is the type of patio base for your project. Although the panels require some finagling, they can give you the ability to DIY your patio or walkway over a long weekend.
While Brock PaverBase doesn't require you to dig, it's essential that you remember to level the soil that they will be placed on. You may have to dig just a few inches into the ground, but you won't need to rent an excavator or any heavy machinery. However, this installation process is a lot more simple than other paving projects.
Are you stuck on what patio material to use on your project and want to keep costs low? Check out: " What is the Least Expensive Patio Material?"
Related Guides

Jessica Stone
Jessica considers herself a home improvement and design enthusiast. She grew up surrounded by constant home improvement projects and owes most of what she knows to helping her dad renovate her childhood home. Being a Los Angeles resident, Jessica spends a lot of her time looking for her next DIY project and sharing her love for home design.
More by Jessica Stone
Published July 14th, 2020 3:40 PM