151 Views
How Much Does a 20×20 Addition Cost?
December 20th, 2021 3:44 PM
Share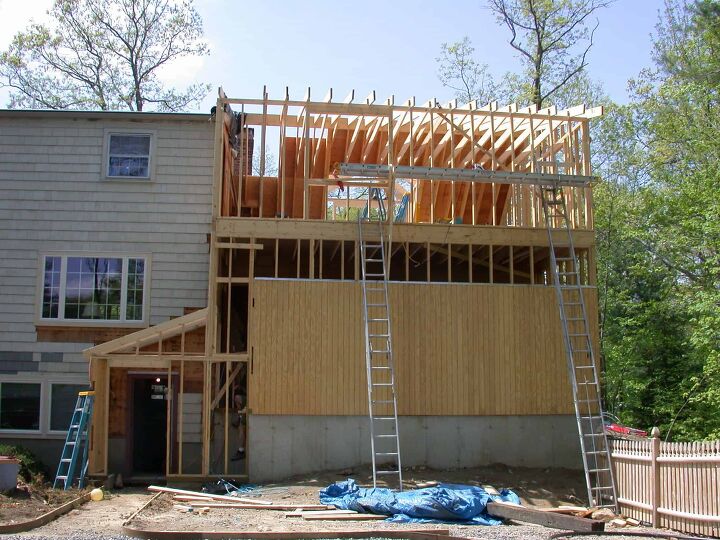 Adding a new addition to your home as a builder-owner is a smart and exciting prospect. An addition of any size adds value, but a 20×20 addition is popular and offers many possibilities. You probably want to jump right into your 20×20 addition, but first, it's important to know how much it will cost.
The average cost of a 20×20 addition is $55,000 for materials, construction, and labor. Homeowners spend an average of $147 per square foot to build a 20×20 addition. Flooring costs an average of $14 per square foot, insulation costs $1.50 per square foot, and electrical work costs $1,900.
There is really no limit to what you can do with a 20×20 addition, if you plan ahead and prepare, that is. Think about how you want to add value to your home with an extra 400 square feet of space. Follow along as we dive into the cost of a 20×20 addition.
Do You Need an Addition or Remodel Contractor?
Get free, zero-commitment quotes from pro contractors near you.
How Much Does a 20×20 Addition Cost?
A 20×20 addition costs between $30,000 and $80,000. The vast difference in potential costs for a 20×20 addition is due to labor and cost per square foot.
Many contractors charge you $85-$210 per square foot for an addition. The type of room that you choose for an addition also affects the cost. Some of the common 20×20 additions include:
Master bedroom
Sunroom
Laundry room
Dining room
Try to talk to several contractors to get quotes for your addition, and you can get the best deal. If you want to add a second story to your home, it costs $100-$500 per square foot due to added complexity and labor.
20×20 Addition Cost Factors
The total cost of your 20×20 addition is determined by several factors and varies based on what you want. Whether you want to add on to your single-story ranch or build up, you can keep costs low.
Labor Costs 20×20 Addition
It is always wise to consider labor costs before you jump into a new addition and start spending money. You have to hire many people to work on addition, and it all adds up pretty quickly. The professionals that will build your 20×20 addition include:
Carpenter
Electrician
Roofer
Painters
Contractor
Plumber (if room requires plumbing fixtures)
In most cases, if you hire a contractor, you pay them directly and then they handle paying the crew. However, that's not always the case, and you will pay between $50 and $400 an hour depending on the laborer.
You'll typically spend between $2,000 and $9,000 on architects alone, and that is only the beginning of an addition.
20×20 Addition Materials Cost
Materials make up a large part of the cost of any home construction, and that remains true for additions. There are several types of materials required for a 20×20 addition, and the costs vary between each one.
| | |
| --- | --- |
| Material | Cost For 20×20 Addition |
| Roofing | $2,000-$20,0000 |
| Electrical Hardware | $1,280-$2,500 |
| Foundation | $1,600-$2,800 |
| Plumbing (including labor) | $5,000-$16,000 |
Besides plumbing, none of the above costs include labor for installation. Roofing materials may only start at $2,000 for a 20×20 addition, but that excludes the $2,500-$3,600 in framing costs.
You can keep material costs lower if your addition does not include plumbing fixtures. Choose cheaper roofing materials, such as corrugated sheets, aluminum, and steel to save on material costs.
Excavation Cost
Excavation is a pricey element of home additions, and its cost depends on the size of the addition. You can spend between $1,200 and $5,000 on excavations for a 20×20 addition.
The excavation itself often only costs $2 per square foot, but that does not include labor. It is common for contractors to charge $50-$200 an hour for excavation to cover costs of labor and the excavator.
That typically comes out to at least $400 of the total excavation cost coming from labor and equipment. However, if you hire a general contractor, they take care of hiring and paying for excavation on your behalf.
Roof Cost 20×20 Addition
Roofs are necessary, of course, but they are also quite costly. Materials and framing alone can cost up to $20,000 for a 20×20 addition. That cost does not include labor, and roofers often carry a rate of $50-$80 an hour.
The roofing material that you choose determines the cost of your 20×20 addition roof.
| | |
| --- | --- |
| Roofing Material | 20×20 Addition Cost |
| Tin | $1,200-$6,000 |
| Corrugated | $400-$800 |
| Asphalt | $400-$600 |
| Slate | $6,000 |
| Copper | $2,800-$3,600 |
Most people choose to match the roof over the addition to the rest of your home's roofing. In that sense, you are limited in what you choose for roofing material. Otherwise, you could have the entire roof redone to match the addition for between $4,500 and $9,000.
Electrical Cost
Electrical work is expensive, but well worth the cost in functionality and convenience. It can cost between $1,200 and $2,600 to wire a 20×20 addition. Sometimes, you can spend roughly the same in electrical hardware, but that's uncommon particularly when dealing with a general contractor.
If you do not use a general contractor and hire an electrician on your own, you will pay $60-$90 an hour. The electrician may need to do electrical work in surrounding rooms, and that adds to the cost.
20×20 Addition Insulation Cost
Insulation is one of the cheaper costs of a 20×20 addition. The materials themselves only cost $1-2 per square foot, and it totals between $400 and $800.
Labor could cost up to $400 for insulation installation. Because insulation can be done in 4-6 hours, it keeps labor costs low. Total insulation costs typically equal between $800 and $1,600 for a 20×20 addition.
Flooring Cost Addition
Flooring costs between $3 and $25 per square foot including both materials and installation. However, there is a vast difference in flooring costs based on the material that you choose. There are several affordable and classy materials that many builder-owners choose.
| | | |
| --- | --- | --- |
| Flooring Material | Cost Per Square Foot | 20×20 Addition Cost |
| Vinyl | $2.50-$8.00 | $1,000-$3,200 |
| Natural Stone | $5.00-$20.00 | $2,000-$8,000 |
| Hardwood | $5.00-$25.00 | $2,000-$10,000 |
| Carpet | $4.00-$11.50 | $1,600-$4,600 |
| Porcelain | $8.00-$22.00 | $3,200-$8,800 |
Your cheapest flooring options are carpet and vinyl. Both materials are widely popular and are easy to clean and take care of. Premium materials like porcelain, natural stone, and hardwood are pricey, but they are worth it in style.
20×20 Addition Painting Cost
It costs roughly $3 per square foot to paint a 20×20 addition. That generally comes out to $1,200 total for painting a 400 square foot space. Painting is essentially one of the cheapest cost factors for an addition, but it is still important.
Look around for painters, because some charge $1-$2 per square foot, and that can save you up to $800. Some professional painters do not charge by the space at all, and instead charge you by the hour. If that is the case, expect to pay between $20 and $80 an hour.
It generally takes up to 10 hours to paint a 20×20 addition.
Addition Cost by Room
The type of room that you choose for your new 20×20 affects the cost. Each type of room varies in construction and materials, which determine the price.
| | |
| --- | --- |
| Room | Cost |
| Kitchen | $45,000-$100,000 |
| Master Bedroom (including bathroom) | $30,000-$100,000 |
| Bathroom | $20,000-$45,000 |
| Living Room | $30,000-$80,000 |
| Bedroom | $10,000-$25,000 |
Do Additions Add Value To a Home?
Yes, additions add value to your home, and you'll be glad you got one when it is time to sell the house. The value of an addition is essentially determined based on the room itself and how valuable it is to buyers.
For example, one of the biggest selling points to any potential buyer is the kitchen. A 400 square foot kitchen addition carries a roughly 55% return on investment. This number fluctuates based on the market, as well as the materials and construction of the addition.
Another major selling point is a master bedroom addition. A master bedroom can add 63% of its value to the selling price of your home. If your addition costs $30,000-$80,000, it could add between $18,900 and $50,400 in value to your home.
---
Related Questions
How much does a second story addition cost?
Adding a second story addition can cost between $100,000 and $400,000. When you add on a second story to a home, you are building up which is complex and expensive. However, if you add a second story addition, it adds 65% of its value to the value of the home.
Do you need a building permit for an addition?
Permits are required for any sort of addition. Failure to obtain a permit can result in heavy fines, penalties, and trouble selling the house down the line. Permits cost as little as $400 and as much as $2,000 or more.
How do you find a good contractor?
Look for accredited contractors. There are many licensed and accredited contractors, and they stake their reputation on the work that they do. Because of that, licensed contractors with many public reviews available are your best bet for a 20×20 addition.
Does an addition need foundation?
Yes, every addition needs foundation generally, unless you are adding a second story. Foundation costs up to $2,800 or more for a 20×20 addition due to its small size.
Do You Need an Addition or Remodel Contractor?
Get free, zero-commitment quotes from pro contractors near you.
Summing It Up
A 20×20 addition costs roughly $30,00-$80,000. It can cost more or less depending on labor, materials, and your contractor. Additions such as master bedrooms and kitchens add serious value to a home and are well worth the investment.
Kitchens, living rooms, and master bedrooms are the most expensive additions that you can get. You can either choose to hire a general contractor to save time and money or hire each professional on your own.
Plan your 20×20 addition by choosing materials that you love and will add value to your home. Keep your costs low by hiring a contractor that is licensed and trustworthy.

Nick Durante
Nick Durante is a professional writer with a primary focus on home improvement. When he is not writing about home improvement or taking on projects around the house, he likes to read and create art. He is always looking towards the newest trends in home improvement.
More by Nick Durante
Published September 24th, 2020 7:49 AM