130 Views
How Much Does A Home Addition Cost In Arizona? (Find Out Now!)
August 26th, 2021 4:21 PM
Share
We're committed to finding, researching, and recommending the best products. We earn commissions from purchases you make using links in our articles. Learn more here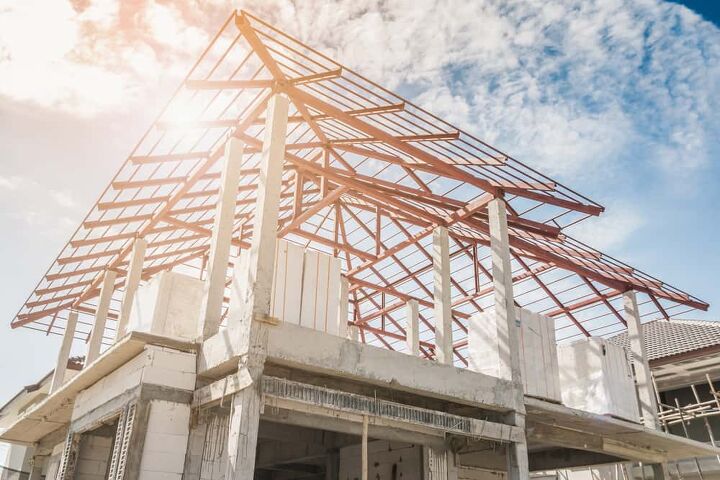 Arizona is a popular retirement destination for many people. In many instances, starting with a new residence involves adding or remodeling a new home. Anyone anticipating a room addition to a home in Arizona can expect to spend an average of $57,461. Location in the state, labor costs, material costs, and the type of addition can affect this average cost.
The average cost of an addition in Arizona is $51,158. Homeowners spend an average of $108 per square foot to build an addition in Arizona, and a 10×10 addition averages $10,649. It costs an average of $15,360 to build a bedroom addition and $65,000 for a master suite in Arizona.
| | |
| --- | --- |
| Home Addition Costs in Arizona | Per Square Foot Costs |
| Minimum | $82.28 |
| Maximum | $130.70 |
| Average | $106.49 |
Do You Need an Addition or Remodel Contractor?
Get free, zero-commitment quotes from pro contractors near you.
Cost Considerations When Adding on to Your Home
When contemplating an addition to your home, there are a host of variables that enter the equation. Calculating a rough estimate is almost as much guesswork for a homeowner as it is a formula. The first step is to decide the size, extent, and type of home addition you are planning. Some of the most popular styles of home additions include:
Sunrooms and sunporches
Bedrooms
Master Bedroom Suites
Bathrooms
Family Rooms
Detached Second Living Areas
When estimating costs for a home addition don't forget to include additional costs that may be related to:
Location
Local building codes and requirements
Style and quality of materials and fixtures
Regional labor costs
Differences in material costs due to geographic location
Architectural or Engineering fees required to meet building inspection requirements
Many homeowners expect to realize a gain in the value of their home after doing a home addition. In many cases, this is true. However, some risks associated with this assumption and failing to consider these risks can cost you money in the value of your home in the long run.
The Cost Per Square Foot for Home Addition
It is always exciting to begin planning a new home addition project. Many homeowners dream of adding a bonus room, new family room, or a more modern kitchen to their home. When faced with estimating costs, the number of variables that enter the equation can be overwhelming. These variables often create a wide range of estimated costs that further confuse the situation.
Average Cost of a Home Addition in Arizona
| | |
| --- | --- |
| Quality and Type of Build | Average Cost |
| Lower Quality or Smaller Builds | $$9,360 |
| Average Addition Cost | $42,596 |
| High-End, Kitchens, or Detached Additions | $130,700 |
The Formula – Calculating Home Addition Cost in Arizona
It would be best if you considered your homeowner calculations as rough estimates only. It is almost impossible for any homeowner to fully grasp the intricacies of cost estimation on even the simplest home addition project. Only after you have made most of the decisions about your project and have consulted with an architect or contractor can you expect to get an exact cost estimate for your project.
We have compiled a range of cost estimates for the State of Arizona. These figures should give you a general idea of the costs you can expect to do the most popular home addition projects. In general, the average costs of a basic home addition in Arizona range from $82.28 to $130.70 per square foot.
Home Addition Costs by Square Foot
| | | |
| --- | --- | --- |
| Square Feet in Addition | Average Low Cost | Average High Cost |
| 200 | $16,456.00 | $26,140.00 |
| 250 | $20,570.00 | $32,675.00 |
| 300 | $24,684.00 | $39,210.00 |
| 400 | $32,912.00 | $52,280.00 |
| 500 | $41,140.00 | $65,350.00 |
| 600 | $49,368.00 | $78,420.00 |
| 800 | $65,824.00 | $104,560.00 |
| 1000 | $82,280.00 | $130,700.00 |
Average Size Room Addition Costs
The function of the space you add to your home can affect the cost of the project tremendously. Using higher quality materials and fixtures in the finish of the room also contributes to higher costs. In most cases, the rule of thumb says that the simpler the construction and finish, the cheaper the addition.
Start your estimates with the basic cost of adding physical space to your home. You can then start estimating additional costs for extra amenities or higher-quality finishes to add those extra touches with this figure. This chart shows the basic cost per square foot for a same-level room addition to your home. We calculate these costs using an average per square foot cost of $106.49.
Room Addition Costs
| | |
| --- | --- |
| Room Size | Average Cost |
| 10×10 | $10,649.00 |
| 10×20 | $21,298.00 |
| 12×12 | $15,334.56 |
| 16×16 | $27,261.44 |
| 20×20 | $42,596.00 |
Functional Home Additions Costs
With the basic cost of your home addition in hand, you can roughly estimate the additional costs based on the function of the room you want to add to your home. Functional area costs include the need for extra plumbing, electrical and HVAC installations. This estimated range of additional costs by room function will help you better estimate your home addition cost.
Room Addition Cost Calculator
| | | |
| --- | --- | --- |
| Room Type | Average Low Cost | Average High Cost |
| Bedroom | $11,848.32 | $18,820.80 |
| Master Bedroom Suite | $68,246.32 | $72,836.50 |
| Bathroom | $20,734.56 | $35,571.31 |
| Sunroom | $9,360.17 | $22,584.96 |
| Family Room | $39,454.91 | $62,861.47 |
| Kitchen | $28,791.42 | $32,936.40 |
| Second Story | $115,047.19 | $265,373.28 |
You should note that in the past 18 months, construction materials cost has risen rapidly. In some cases, the cost inflations have approached 180% during the last eighteen months. Many industry experts expect this inflation to continue for the foreseeable future.
The Basic Bedroom Addition
In Arizona, you can expect the cost of adding an additional bedroom to a grade-level home to range from $$82 and $130 per square foot. For a 12 x 12-foot standard bedroom addition, homeowners can expect the costs to range between $11,848 and $18,872.
Basic costs include the foundation, framing, interior finish, and basic floor coverings. What additional upgrades to the basic cost of a bedroom addition are:
More ornate or higher-quality trim work, millwork, or custom cabinetry
Upgraded floor coverings
Matching exterior finishes to the original home
Custom closet installations or built-ins
Extra electronics, electrical, or plumbing required for amenities
Master Bedroom Suite Additions
A special bedroom addition is the master suite. Many older homes have smaller master bedrooms with no ensuite bath or other common amenities in newer homes. Adding an upgraded master suite to an existing home is a great way to add value to the home.
A new master bedroom with an ensuite bath can change the whole character of your home and create a space that enhances your life and enjoyment of your home. The cost of adding a master bedroom with ensuite facilities is more expensive. The need for new plumbing, electrical and a larger space necessitate more costs.
In Arizona, the average cost of adding a master bedroom with an ensuite bathroom entails the addition of about 500 square feet. The average cost to add a master bedroom and ensuite bathroom can cost between $65,185 and $69,565.
The top-end figure of these estimates can go much higher, especially when adding extra amenities for the plan, such as:
Kitchenettes
Saunas or steam rooms
Larger walk-on showers
Spa tubs
It is not uncommon for a master bedroom addition in Arizona to top the $100,00 mark when several of these specialty items find their way into the plan. However, these types of additions often return 60% of the cost to the home's value.
Bathrooms – To Add or Remodel?
Whether to add a bathroom or remodel an existing bathroom is a good question to ask. In most instances, either one will add value to an existing home Bathroom remodels tend to be much less expensive than the addition of a new bathroom to an existing home.
It is rare for a bathroom remodel to require moving or adding new plumbing, which keeps the costs more manageable. Adding a new bathroom to a home usually involves much more intensive plumbing, electrical, and HVAC additions.
Estimates for the cost of adding a new bathroom addition to an existing home in Arizona range from $19,804 to $33,973. Just like adding a master bedroom with an ensuite bathroom, the overall cost is tied directly to the quality and number of extra amenities you want to add. Additional amenities such as spa tubs or saunas can push the cost well above our top estimate.
Adding a Sunroom
Sunrooms are popular in Arizona. These additions create a space filled with sunlight. Sunrooms feel close to being outdoors without enduring the oppressive summer heat. Sunrooms are useable as family space, entertainment space, or hobby space.
Sunroom additions in Arizona typically cost between $8,940 to $21,570. The cheaper models are usually kit-style addons that don't include any plumbing, electrical. Or HVAC. On the upper end are custom-designed additions that include special HVAC to handle the higher summertime loads and specially insulated glass to reduce heating and cooling costs.
Detached Additions
Rather than add a family room, many homeowners in Arizona opt to add a detached addition to their home. These detached additions range from sheds or barns to full-featured pool or guest houses.
On the less extravagant end, a shed or barn for extra storage or a garage can be relatively inexpensive. The average cost for adding a detached garage-style structure in Arizona is between $33.88 and $43.56 per square foot. The typical two-car garage costs average between $17,617 and $22,651.
Upscale pool house or guest house additions require much more cost consideration. You are building, for all practical purposes, a brand new home on your site. The typical construction costs for new home construction in Arizona range from $125 – $175 or more per square foot. The average pool house in Arizona is approximately 800 square feet and would cost between $100,000 and $140,000.
New Kitchen Space
As trends in home design change, so do many people's requirements for their existing home. Often homeowners want to increase the livable space in their home by adding a new kitchen and converting the old kitchen to a more open entertainment friendly floor plan.
Of all the home additions you may consider, adding a new kitchen is probably the most expensive. Adding a basic kitchen with mid-range appliances, cabinets, and countertops are estimated to cost between $27,500 and $60,038.
If gourmet cooking is your passion, you can count additional costs to build and equip a kitchen to fit your needs. Many specialty kitchen additions easily top the $100,000 range. Many times, extensive remodeling of the old kitchen space is also necessary and creates more costs.
Going Up Instead of Out
Most home additions in Arizona involve adding space on the same level as the original home. There are many reasons for this. Perhaps the most prevalent is the number of older retirees who don't want to climb stairs regularly.
However, there are instances when going up is the only option for adding space to an existing home. Zoning and building ordinances may limit the homes' size on the lot, which forces any additions to remain in the size of the original home. Some lots don't lend themselves well because of the terrain to adding same level additions.
Going up with a second story involves a new set of factors and different costs. In general, adding a second story to an existing home involves the cost of:
Removing the old roof structure
Adding new framework to the original structure to support the additional weight
Adding the second-floor framing
Building a new roof structure
Remodeling the lower floors to include stairs, new plumbing, electrical, and HVAC equipment.
Costs to go up with a home addition rather than out usually run between $109,887 and $253,454. These costs can fluctuate based on the complexity of the new addition, building codes and fire codes, and current costs for material and labor.
Do You Need an Addition or Remodel Contractor?
Get free, zero-commitment quotes from pro contractors near you.
Preparing for a Successful Project
Understanding what you want from your home addition is a key factor in planning a successful project. Working with an architect or home builder ensures that your plan is complete, your estimate is on track, and the project runs smoothly. Adding space to your home can add value and make your home a more inviting and enjoyable place for you and your family.

Upgraded Home Team
We are a team of passionate homeowners, home improvement pros, and DIY enthusiasts who enjoy sharing home improvement, housekeeping, decorating, and more with other homeowners! Whether you're looking for a step-by-step guide on fixing an appliance or the cost of installing a fence, we've here to help.
More by Upgraded Home Team
Published May 4th, 2021 1:44 PM