127 Views
How Much Does a 12×20 Shed Cost?
August 25th, 2021 1:08 PM
Share
We're committed to finding, researching, and recommending the best products. We earn commissions from purchases you make using links in our articles. Learn more here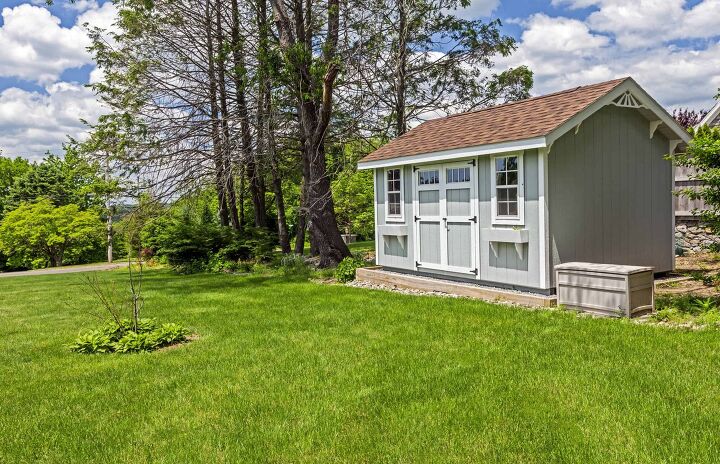 A shed can provide you with a spacious indoor environment to put your extra storage. A 12×20 shed will give you an ample amount of room. Not only could you store your Holiday decoration, but you could even fit a mower and a workbench!
This particular size of the shed is great as an all-in-one type of unit. Need a space for your mower? You've got it. Need somewhere to entertain your woodworking hobby? A 12×20 shed may be perfect for you. So, how much would it cost?
The average cost of a 12 x 20 shed at Home Depot is $3,487. Homeowners spend an average of $175 per window, $1,250 per workbench, $200 on rodent proofing, and $1,300 on shed insulation. Labor costs $40 per hour, and it costs $4 per cubic foot to pour a concrete slab foundation for a 12 x 20 shed.
In this guide, we will break down the pricing elements to help you better understand the costs. This guide will also help you to choose the best type of 12×20 shed that's suited for your needs.
Do You Need to Hire Shed Installers?
Get free, zero-commitment quotes from pro contractors near you.
Examining the Different Cost Factors of a 12×20 Shed
The cost of a 12 x 20 shed can range anywhere from $1,750 to over $18,000. However, the average price is near $3,487.
Pricing Range for a 12 x 20 Shed
Simple
Average
Luxury
$1,750.00
$3,487.00
$18,000.00
In the case of purchasing a shed, you get the quality for which you pay. However, it would be nice to know what these terms mean. What is a simple shed? Realistic expectations for an average shed? What does a luxury shed include?
Simple Sheds
A simple shed is usually made from a cheaper type of plastic. Sometimes you can find one that includes a loft and extra storage space. The additional features depend on the place from which you purchase your shed. It would be great for storing your lawnmower or tools.
However, it is not recommended for the storage of vulnerable valuables as it doesn't provide adequate protection.
Average Sheds
These sheds are usually made from a higher-quality plastic or vinyl. They can also be made of wood. Sometimes they come with shelves, and lofts built-in for more storage room. The average shed has necessary protection against the elements.
The great thing about these is you can get different designs as well, such as a barn. Also, some of them have a minimal amount of insulation to keep your valuables safe.
Luxury Sheds
The luxury sheds offer maximum protection from the elements, as well as plenty of storage space. Some of the luxury types have built-in workbenches, so you don't have to build one yourself.
They offer a variety of designs, everything from a barn to a cottage. Another excellent benefit of these is that they provide insulation. Insulation will help protect your valuables, your tools while allowing you to work comfortably in all types of weather conditions.
The price is also dependent upon the materials that were used to build the shed.
Material Options and Its Costs
The common materials used to build these 12×20 sheds include:
Plastic
Vinyl siding
Wood
Metal
The material you choose for your shed will affect the cost somewhat drastically.
Cost Effect of Materials at a Glance
Plastic
Vinyl Siding
Wood
Metal

$1,750 – $3,500

$2,500 – $6,000

$4,250 – $9,800

$4,000 – $12,000
A plastic shed will cost you between $1,750 and $3,500, with a plastic shed for $3,500, you can expect to have a few extra features such as windows, and extra storage room.
If you choose a shed made with vinyl siding, you can expect to pay between $2,500 to $6,000. Many of the vinyl siding sheds have smart siding. This helps to weatherize your shed, providing maximum protection from wind, rain, and snow.
A wooden shed will run you about $4,250 to $9,800. For this price range, you can expect an ample amount of storage space. These sheds are typically insulated with rodent protection and weatherization.
For the metal sheds, you can expect to pay between $4,000 and $12,000. The benefit of metal sheds is that they take a minimum amount of effort to maintain. These sheds are automatically weather-proof and provide a stable area to store your belongings.
Although with metal sheds, you need to be careful. Certain stores will advertise that the shed is metal, giving you a false impression. Their shed may indeed be aluminum. While this isn't always bad, it may not be suitable for you.
Each material also has cheaper versions, as well as more expensive. You just have to be careful of the material. For instance, with a wooden shed, you could find one made from plywood for $1,800. Whether plywood would suffice would depend on your needs. On the other hand, some are made from oak for around $6,000.
The Cost of Additional Features
Additional features are fantastic for your shed, but what do they cost? These are what can cause your price to go up to $18,000 and above.
Some additional features you can choose for your 12×20 shed are:
Windows
Rodent proofing
Fold-out Work Bench
Loft
Extra Storage shelves
Insulation
While many of these features would be great to have, you could save some money by doing it yourself! If you choose to do it yourself, you will only need to pay for the materials.
Costs of Additional Features

Added to Your Package
DIY

Windows

$100 – $250 per window

$25 – 120 per window

Rodent Proofing

$150 – $300

$75 – $200

Fold-out Work Bench

$500 – $2,000

$200 – $800

Loft

$500 – $1,200

$150 – $400

Extra Storage Shelves

$100 – 300 per unit

$50 – $200

Insulation

$600 – $2,000

$400 – $1,200
The prices reflected in the table above are all dependent upon the quantity of each. For example, if you want the absolute best fold-out workbench, it is going to cost $2,000 or more. However, a simple, spacious workbench will be about $500.
Although, for a workbench, you could purchase a roll-away for $200 at Lowes. Except this will affect the space, you have in your shed. If this isn't a worry for you, then purchasing your own rather than paying labor prices for installation may be a route you want to take.
Also, if you shop around some local stores, you may find lower prices! Such as an Amish shop, or a family-owned customized shed supplier.
Choosing Your Style of Shed
Choosing a style of shed is excellent for all the creative individuals out there. If you want your backyard to be pleasing to the eye, you may want a style different from the typical shed.
Some of the styles include:
Barn
House
Garage
Cottage
Barn and garage-style sheds are the most common types for a 12×20 space. However, if you pay a bit more, you can choose a cottage or house style shed as well.
The price of these styles all depends on the types of materials that are used to build them. The style choice is merely a fun way to enjoy the extra piece of a structure taking up space in your backyard!
Additional Costs to Prepare Your Land
A 12 x 20 shed is a pretty hefty space! That said, you need to have the area on your land in which to install it. To do this, you can either hire a professional or do it yourself. To hire a professional, they usually charge up to $40 per hour for labor. This isn't a bad price if you only have a couple of hours of work to do!
Now, if you want to save money, there are a few steps you need to take.
Step 1: Clear Your Land
Clear the area of debris and belongings. Measure a 12×20 foot area where you want to place your shed, and make sure it's clear of anything that could potentially get in the way.
Step 2: Pave the Area If You Wish
Sheds work best when they are on a paved area. To do this, you will either need to hire someone or do it yourself. A 12×20 shed is equal to 240 sq ft. To hire someone, it will cost about $1,400 to set a 12×20 concrete slab.
Although for the cost of materials alone, it's typically $4 per cubic foot.

To do it yourself, you would need:
A wheelbarrow
A shovel
A trowel
Rebar or mesh reinforcement
Wood for your forms
Although if you chose to hire a professional instead, this would save you from the hassle of back-breaking labor. On the other hand, it would be more expensive.
---
Related Questions
What Can You Fit in a 12 x 20 Shed?
There are so many different things that you can fit in this particular size of the shed. Here are just a few things to name:
Small boats
Wheelbarrows
Motorcycles
Snowmobiles
Small Tractors
Lawn Mowers
A workbench
Tools
Seasonal belongings that you don't need out at the moment
Bikes
Golf carts
The possibilities are virtually endless!
Not to mention the fact that in addition to storing these more substantial items, you may have additional storage depending on the shed you choose. You can store these larger items, and still, use half of it for a woodworking shop with a workbench.
If you have a loft, you can tuck away some other items so that they aren't in the way. Some people even purchase a 12×20 shed to double as a functional mechanic shop.
Can I Use 1/2 Inch Plywood for a Shed Floor?
Yes, you can use 1/2 inch plywood for a shed floor. However, you want to be careful about doing this. The plywood would be ideal for a light-use shed.
This means storage of:
Hand tools
Power tools
Bicycles
However, it would not be an optimal surface to sustain heavier equipment such as:
A riding lawnmower
Tractor
Car
Boat (Unless it's a kayak)
You could lay plyboard on a concrete surface. Except, if you are planning to use your shed as a mechanic shop, the plyboard will soak in the oil and automotive fluids. You cannot clean these out of plywood. Not to mention, plyboard may not go with certain types of sheds.
For instance, if you use plyboard for a plastic shed, that is pretty common. Now, if you use plyboard for a high-quality wooden shed, it's not very appealing. Whether or not you choose plyboard for your shed floor depends on what you plan to do in your shed.
A Few Additional Tips
If you're still unsure about the type of shed you want, get a pen and paper.
Write out several ways of how you envision your shed. A few questions to get you started are:
How much space do you want or need?
What is the climate like where you live?
Are there any features you need such as insulation, or rodent protection?
What is your favorite layout?
Do you want a simple space, or a more complex space?
What do you plan to store in your shed?
What is your budget?
All of these questions are great ones to consider. These are especially important when you're wanting to narrow the choices down.
Do You Need to Hire Shed Installers?
Get free, zero-commitment quotes from pro contractors near you.
Choose the Shed That Best Fits Your Needs
Shopping for a shed can be very overwhelming. Although, it doesn't have to be. Understanding what you will use your shed for will help tremendously. That way, you have a general idea of where to look.
This article cannot tell you what to do. Although, it can help simplify the decision-making process. It also provides you with all the aspects of cost for a 12×20 shed.
What is your ideal shed?

Heather Robbins
Heather is a passionate writer who loves anything DIY. Growing up, she learned everything from home repairs to design, and wants to share her tips with you. When she's not writing, she's usually hiking or searching for her next DIY project.
More by Heather Robbins
Published August 3rd, 2020 3:18 AM