528 Views
How Long Does It Take to Set Up a Double-Wide Mobile Home?
November 2nd, 2021 6:01 PM
Share
We're committed to finding, researching, and recommending the best products. We earn commissions from purchases you make using links in our articles. Learn more here
In the South and Midwest, double-wide trailer homes are a common style of home for many Americans. If you're planning on moving into your very own trailer home soon, you may need to consider how long the set-up process takes. Whether it takes 2 weeks or 6 weeks, let's take a look at how long it takes to set up a double-wide trailer.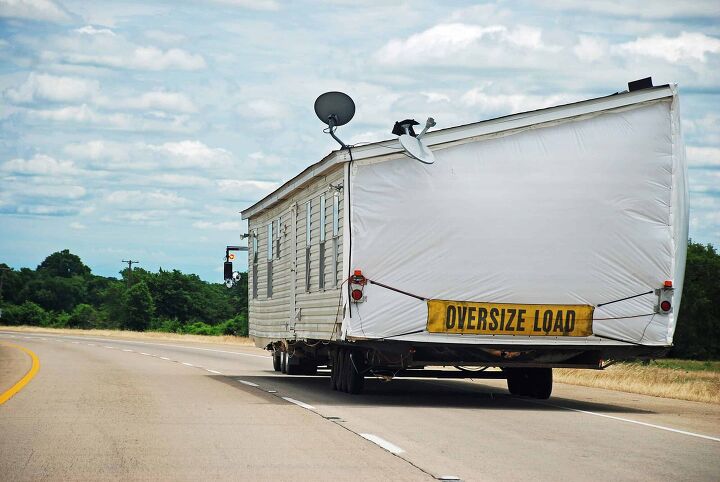 Do you want to own a home, but are you frustrated by high real estate prices? Maybe you've considered buying a mobile home. These economical houses are quick to make but take a little longer to get set up before they're move-in ready.
Before you move into a mobile home, it must be installed correctly for safety. If you're moving to a pre-existing mobile home site, you may be able to move in within 2-3 weeks. If the site needs prepping before the home is delivered, you're looking at a 4-6 week lead time.
Do You Need to Hire Movers?
Get free, zero-commitment quotes from pro contractors near you.
Why Mobile Homes?
Mobile homes, also called manufactured homes, are built off-site and transported to the location where they (and you) will live. While they vary in size, mobile homes are compact and affordable, either as a permanent residence or temporary vacation home.
Hundreds of thousands of people across the USA live in mobile homes. These dwellings provide an affordable alternative to high real estate prices and allow folks to live in safe, comfortable homes.
These prefabricated homes can be made in an incredibly short 2-7 days in a factory. However, it takes much longer than that to deliver and install them.
Types Of Mobile Homes
A single-wide mobile home is the smaller model of prefabricated home. It has a length of 90 feet or less and a width of 18 feet or less. It's transported as one unit, making it relatively easy and affordable.
A double-wide mobile home also has a length of 90 feet or less, but a width of 20 feet or more. It's transported as two units and put together on-site. This makes them a bit more expensive, but well worth it for the extra square footage.
Delivery and Installation of Your New Home
Home Delivery
Your brand new mobile home will be shipped from the factory or dealership to the site of your new home. Keep in mind that the driving route may be longer than what you would drive in a car. There are additional restrictions on oversize loads, including what times they can travel and which roads are wide enough.
To prepare for delivery, stake out the land where you'll place the mobile home. (Literally!)
Place flags or stakes along the perimeter of where you'd like the unit to sit. That way, there's no confusion during drop-off. Otherwise, you may need to hire a truck at your own expense to move it into place.
Choosing a Good Installer
Some dealerships include installation in the price of a mobile home. Check your contract to verify exactly what your agreement entails. You're under no obligation to use their installers. If you find someone else who comes highly recommended, just make sure you clarify before you sign on the dotted line.
When choosing an installer, make sure you find someone licensed, insured, and experienced. It's good practice to get quotes from at least three companies, so you know if someone is trying to overcharge you.
Make sure your installer is certified by HUD (Housing and Urban Development). It's illegal in many states to live in a mobile home that hasn't been vetted by a HUD installer. Sorry DIYers, but this project requires the professionals!
Put It In Writing
Whether your installer is provided through the dealership or someone you contract independently, do your diligence. Get everything in writing: specify exactly what services will be rendered, including any required dimensions or depths. Write out the entire scope of work and be specific.
It's also a good idea to create a mutually agreed-upon timeline for work and payment. This can help manage expectations on both sides and resolve disputes over money and work later on in the process.
Remember that most construction projects go over time and over budget. If you have a hard date you need the home finished by, give yourself a week of wiggle room just to be safe.
Did you know that it's within your power to retain the final 10% of payment until all inspections are passed? That way, you can ensure the contractor finishes the job correctly. This also goes for leaving a messy worksite: don't hand over the final check until everything is truly complete.
Preparing The Site
First, consider whether the site of your new mobile home already had a mobile home on it at some point. If not, you'll likely have to do some extra work to prepare the site. This additional work will add roughly one to two weeks to your build's timeline.
Some companies will do both site prep and installation in one. The project will generally operate more seamlessly if you find one company to do both. If you're moving into an existing mobile home community, the site prep will likely be done already. All you have to do is drop your home in, put it together, and get comfy!
Set the Stage
If you're moving to undeveloped land, you've got a harder task ahead of you than most. You'll need to grade the site and excavate the site before laying a foundation and connecting to utilities.
If the land where you'll be settling in your mobile home is developed, that's a good start. But if it isn't an existing mobile home site, you'll need to create a solid foundation. This is most often done by pouring concrete, but you can also plastic piers.
Before you start any project, make sure you've procured the proper building permits. Also, make sure the land you're building on is zoned for mobile homes. You don't want to do all this work and get an unpleasant surprise or fine later!
Ready, Set, Install
The timeline of the installation process can vary greatly. It can depend on the availability of labor and materials, timeliness of inspections, and the scope of work.
A mobile home that needs the minimum amount of work can be ready in about two weeks. Those with more in-depth site prep can take as much as a month and a half to complete.
When installing a mobile home, here's a general guide of steps for your contractor to consider:
Step 1: Site Prep
Grade the area, level the foundation, and pour concrete, if necessary. Install a moisture barrier, typically made of polyethylene plastic, between the ground and the home. Finally, level the foundation and pour concrete, if necessary.
Step 2: Position Your Mobile Home
When the mobile home is delivered to the site, remove all packing materials. Perform a thorough inspection of the mobile home's exterior, interior, and all appliances or mechanical parts.
Position the mobile home on its foundation, placing the heaviest section first. This may involve a crane, rollers, hydraulic jacks, or other heavy machinery. Block and level the mobile home on its foundation. Next, make sure to align the home's walls and edges.
Step 3: Set, Anchor, and Seal Your Mobile Home
Fasten the two sections of the double-wide together securely according to HUD building code specifications. Backfill the space under the home to the height of the waterproofing material.
Anchor the mobile home to its foundation. This step is critical to weather storms, hurricanes, and tornadoes. If tied down correctly, a mobile home can withstand 110 miles-per-hour winds.
Lastly, seal up the roof of the house, waterproofing the joint between the two halves.
Step 4: Install Necessary Features
Install gutters and downspouts, and install basement stairs if applicable. Next, build steps up to the front door with a handrail to code.
Step 5: Set Up All Utilities and Extras
Hook up all essential utilities, including sewer, water, and power. Don't forget about HVAC and cable, too. Pressure test the water in sinks and bathrooms. Test the power and all appliances to make sure they're in good working order.
Step 6: Finishing Touches
It's time to make your house a home! Finish the drywall and interior trim. There may be stress fractures in the drywall from transportation. Plus, the joint where the two sides have been "married" will need to be finished. Install the carpeting or flooring of choice throughout the unit.
Finally, hang drapes, hardware, and any other fixtures to your liking, and clean the mobile home thoroughly inside and out. Ensure you get rid of any lingering construction mess.
Step 7: Inspection
Hire an independent inspector to check your contractor's work. For a few hundred dollars, you'll have priceless peace of mind about the safety of your home.
As you can see from this list, installing a mobile home is no simple task. You need a crew of professional tradespeople whose time, energy, and expertise ensure that your home is ready for move-in.
Expect the entire process to set-up your double-wide mobile home to last for roughly 21 days, including inspection. If you need to prepare the site first, plan to add another 14 days or so to this timeline.
---
Related Questions
Can you put an addition on a mobile home?
Yes and no. You can build adjacent structures such as a porch or another living space, but you can't attach them directly to the original unit.Of course, you can create a seal between adjoining doors, roofs, siding, and floors to prevent water intrusion. Otherwise, you'd get rained on when going between rooms in your mobile home! But those connections can't be structural or weight-bearing.Make sure you follow local building code and HUD code in framing your addition. You need to make sure it's as secure as your original mobile home!
What Is HUD building code?
In 1976, HUD published the Manufactured Home Construction And Safety Standards. It was a follow-up to the 1974 National Mobile Home Construction and Safety Act. This act regulated the installation of prefabricated homes popularized in the 1960s.This building code still governs mobile home installations today. Instruction manuals for each model will differ slightly, but they all meet these minimum standards.
Do You Need to Hire Movers?
Get free, zero-commitment quotes from pro contractors near you.
Welcome Home!
With a little patience, your mobile home will be safely installed by a team of professionals within a few weeks. Then comes the fun part: decorating, moving in, and making it your own. Welcome to your new (mobile) home!
Related Guides

Stacy Randall
Stacy Randall is a wife, mother, and freelance writer from NOLA that has always had a love for DIY projects, home organization, and making spaces beautiful. Together with her husband, she has been spending the last several years lovingly renovating her grandparent's former home, making it their own and learning a lot about life along the way.
More by Stacy Randall
Published September 28th, 2020 11:05 AM