153 Views
The Top 6 German Knife Brands
July 5th, 2021 9:37 PM
Share
We're committed to finding, researching, and recommending the best products. We earn commissions from purchases you make using links in our articles. Learn more here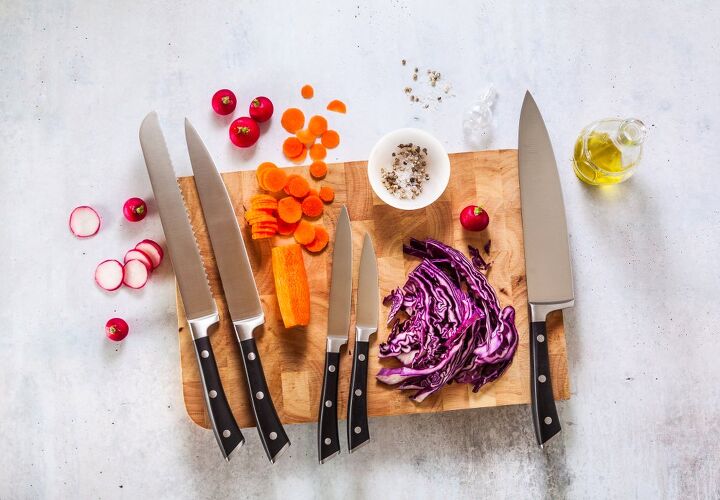 If you've spent some time in the kitchen, then you know how important it is to have high-quality knives. Trying to chop vegetables or carve meat with a dull, low-quality knife just doesn't compare! Here we've gathered plenty of information on the top German knife brands to simplify your search for the perfect knife.
While each of these brands has its own unique approach to knifemaking, they are all considered top German knife brands.
Wüsthof
Zwilling
Messermeister
Boker
Güde
Mercer
As you read on, you'll find that each knife brand comes with various benefits and drawbacks. You'll need to weigh the pros and cons against your expectations to find the ideal knives for your kitchen!
What Are The Top German Knife Brands?
Some of these German knife brands have been around for centuries, and others are relatively new. All of them have extensive product lines and great customer reviews overall. Read on to learn more about the best German knives available for purchase today!
1. Wüsthof

The Wüsthof family has run this top German knife brand for seven generations. Founded in 1814 in Solingen, Germany, Wüsthof has had over 200 years to refine its products and expand its brand. Throughout that time, it's truly cemented its reputation as one of the best cookware brands.
Wüsthof knives are exceptionally high-quality, and many professional chefs swear by them. Gordon Ramsay even uses Wüsthof knives on his online cooking course, which is a true testament to their quality! But considering Wüsthof knives go through a 40-step production process, it's not too surprising.
Product Line
Wüsthof currently features eight different knife lines. These include Aeon, Crafter, Classic Ikon, Ikon, Classic, Epicure, Grand Prix II, and Gourmet. Each of these lines is unique and differs from the others.
Aside from knife lines, Wüsthof also has a variety of single knives available for purchase. The range includes multipurpose knives like cook's knives, Asian-style knives, utility knives, and paring knives. There are also bread knives, steak knives, slicing and carving knives, cleavers and boning knives, and fish and fillet knives.
All Wüsthof knives use an impressive steel formula that contains stainless steel, chrome, carbon, Molybdenum, chromium, and vanadium. This steel formula results in knives that are hard, razor-sharp, and resistant to corrosion.
Customer Reviews
Wüsthof receives overwhelmingly positive reviews. For the most part, customers have nothing but amazing things to say about their Wüsthof knives! But there are a few complaints that come up time and again as well.
The biggest complaint customers have regarding Wüsthof knives is their price. Admittedly, Wüsthof is a bit pricey, but you're paying for true quality.
In addition, a small minority of customers have reported that their Wüsthof knives quickly become dull. For some, this has led to their Wüsthof knives needing to be sharpened more often than expected. Wüsthof recommends sharpening their knives no more than twice each year.
2. Zwilling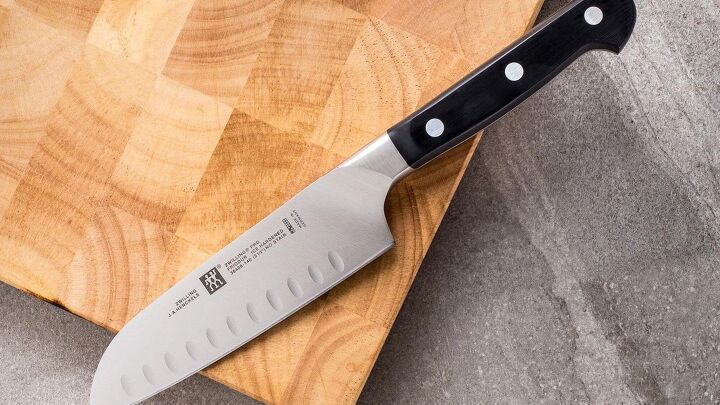 Founded back in 1731, Zwilling has been around for nearly 300 years. This top German knife brand has had plenty of time to make its way to the top! Most of Zwilling's knives are produced in Solingen, Germany, but some are made in Seki, Japan.
Zwilling uses a unique process called SIGMAFORGE to forge its knives from a single piece of solid steel. The knife blades are precision-honed and laser-controlled for durability and sharpness.
Product Line
Zwilling has a huge line of knives that features nearly every type of knife you can think of. There are chef's knives, peeling and paring knives, steak knives, Japanese knives, Santoku knives, bread knives, and prep knives. There are also utility knives, boning and fillet knives, cheese knives, kitchen shears, and scissors.
Customer Reviews
Similar to Wüsthof knives, Zwilling knives receive plenty of praise. Still, there are a couple of small drawbacks to consider. Of course, the price is a bit high, and Zwilling knives wouldn't be considered a budget purchase by any means.
In addition to their high price, some customers have complained about the heaviness of Zwilling knives. The heaviness is likely due to their full-tang construction, in which the metal blade runs down the handle.
Again, similar to Wüsthof knives, some customers feel that Zwilling knives lose their sharp edge too quickly. However, Zwilling knives can be resharpened almost effortlessly, so this shouldn't present too much of an issue.
3. Messermeister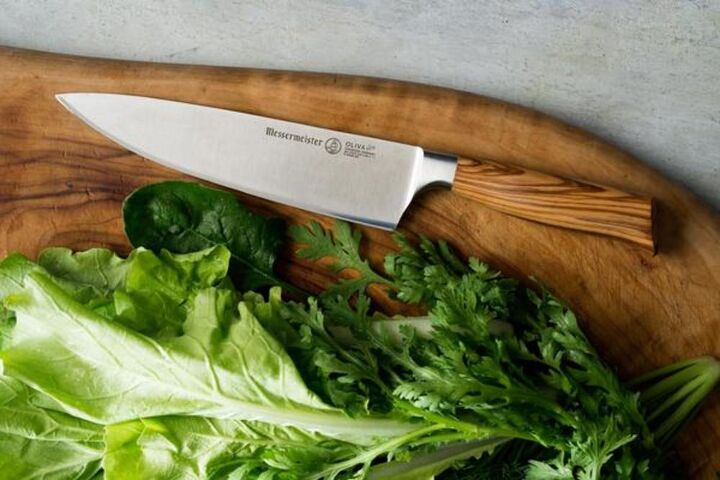 Messermeister may not be as well-known as Wüsthof and Zwilling, but it is also headquartered in Solingen, Germany. The difference between Messermeister and the other top German knife brands is that it hasn't been around nearly as long. In fact, Messermeister was founded just about 40 years ago, in 1981.
Product Line
Messermeister knives are hot-dropped and hammer forged with great attention to detail. With 15 different knife collections to choose from, there's definitely something for everyone! You can also purchase individual knives and create a custom collection depending on your own needs and preferences.
Individual knives available from Messermeister include chef's knives, Santoku knives, paring knives, carving knives, bread knives, and steak knives. You can also choose to purchase fillet knives, boning knives, utility knives, tomato knives, and cleavers.
Customer Reviews
As Messermeister is one of the top German knife brands, it's not too shocking that there are very few complaints from customers. Most customers are thrilled with their Messermeister knives overall. However, they do report that there are a couple of areas where the knives could be a little better.
One area of improvement is in balance. For those who employ a pinch grip hold, they may find that Messermeister knives have a slightly heavy handle. In addition, some customers said that Messermeister knives didn't hold their sharp edge as long as they had expected.
4. Böker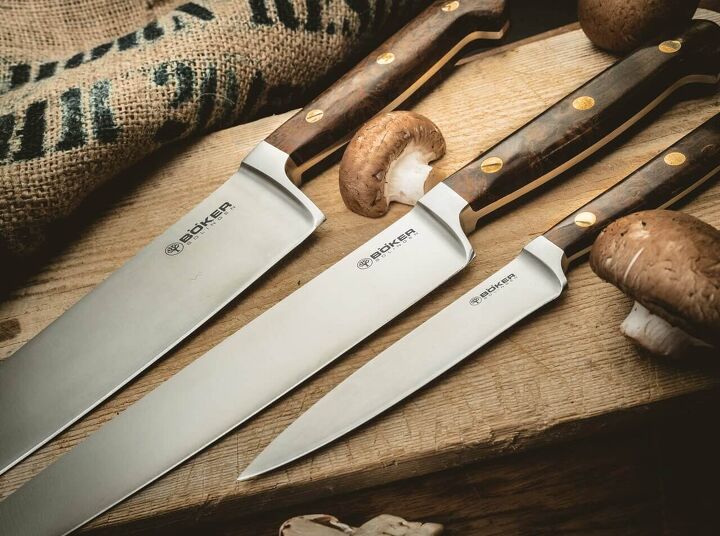 Unlike the other top German knife brands we've already discussed, Böker goes beyond kitchen knives. Founded in 1869, Böker features a wide range of knives, from pocket knives to fixed blade knives to kitchen knives. With over 150 years of experience, this Solingen-based knife brand has proven itself to be top-quality and reliable.
Product Line
Böker has 26 types of pocket knives, 16 types of fixed-blade knives, and 22 types of kitchen knives. With such a vast selection, you're sure to find a knife that checks all of the boxes on your list!
Some of the pocket knives available include Damascus knives, fishing knives, hunting knives, and sailing knives. The fixed-blade knife selection ranges from machetes to daggers to tactical knives and more. Meanwhile, available kitchen knives include chef's knives, bread knives, serrated knives, and many others.
Customer Reviews
Many of Böker's knives are more affordable than the other top German knife brands on this list. However, some customers still complain that the prices are a bit high. Generally, most customers praise Böker knives and especially love their unique, eye-catching designs.
5. Güde
Another top German knife brand headquartered in Solingen, Germany, Güde has been in business since 1910. Güde takes pride in the fact that it has never strayed from traditional knife manufacturing techniques. Each of Güde's knives is drop-forged, and they're grounded and sharpened by hand.
The Güde family has worked tirelessly over four generations to provide the world with some of the best knives created. Interestingly, the Three Palms Trademark that distinguishes Güde's cutlery comes from unknown origins. The exact reason for the use of palm trees has been lost as new generations have come and gone.
Product Line
Fifty-five manual steps go into the production of each Güde knife. Güde has several knife collections, including Alpha, Kappa, and Delta. The Alpha line comes in a variety of finishes that include pear-wood, walnut, olive, and barrel oak.
Keep in mind that each collection contains a huge variety of knives! The Alpha Collection, for instance, has over 40 types of knives to choose from. These range from a hard cheese knife to a paring knife to a steak knife and more.
Customer Reviews
Güde knives are created to be true workhorses in the kitchen, and their customer reviews reflect that. Güde knives are softer than others, which makes them more durable. However, some customers feel that they aren't as suited to delicate tasks as harder knives.
When it comes to price, Güde is not considered a budget brand. Güde knives are created by hand with true quality, and their price reflects that. Therefore, if you're looking for kitchen knives with extremely low prices, Güde isn't likely to meet your expectations.
6. Mercer

Mercer Culinary was founded somewhat recently in 1968, but this top German knife brand has quickly built up its reputation. Mercer knives are made from high-carbon, precision-forged German steel blades. They feature a full tang and incredible balance with their ergonomic Santoprene handles.
Mercer believes in creating affordable knives with amazing quality. According to Mercer, the company's goal is to make cooking enjoyable, easier, and more efficient. Mercer's mission to be more innovative and to problem-solve with its knives has resulted in truly high-quality products.
Product Line
Mercer's product line is extensive, with many different knife collections that you can peruse. With 11 different knife collections and the ability to buy individual knives or sets, there are plenty of options available. Some of Mercer's knife collections include Renaissance, Genesis, Millenia, Praxis, and Ultimate White.
When you pick up a Mercer knife, you'll encounter extraordinary fit, form, and function. These knives were built to be "ChefCentric" and durable. Plus, they come in a variety of colors and designs to mesh with every personality and individual style.
Customer Reviews
Just like the other top German knife brands, Mercer receives overwhelmingly positive reviews. But there is always a downside, even if only a small one. It was necessary to comb through many reviews in order to find a drawback to these high-quality knives!
Mercer is more budget-friendly than the other top German knife brands, so there aren't many customer complaints about the price. However, some customers have reported that the knife blocks that come with sets must be tilted to remove the knives. This means that you cannot easily keep the knife block in a cupboard.
---
Related Questions
Are German or Japanese knives better?
German knives and Japanese knives are suited to different activities. German knives tend to be heavier, thicker, and more robust, making them better for tough jobs. While German knives are considered the true workhorses of the kitchen, Japanese knives are preferred for more delicate work.
What are German steel knives?
German steel knives are knives made from German steel. This type of steel tends to be resistant to cracking and well-suited for lots of cutting and chopping. With German steel knives, you don't need to worry too much about chipping or breaking the blade.
Is German steel good for knives?
German steel is an excellent choice for knives, thanks to its hardness and durability. German steel can stand up to quite a bit of use. It also holds a sharp edge better than other types of steel.

Jessica Allen
With a lifelong passion for writing plus strong enthusiasm for home improvement and DIY projects, joining the team at Upgraded Home was an easy choice. Jessica Allen likes to share helpful information with current and aspiring homeowners. Aside from writing, Jessica loves doing yoga, playing the piano, and dabbling in graphic design.
More by Jessica Allen
Published July 5th, 2021 9:37 PM