1K Views
The Top 10 German Cookware Brands
February 8th, 2022 11:18 PM
Share
We're committed to finding, researching, and recommending the best products. We earn commissions from purchases you make using links in our articles. Learn more here
German cookware offers an affordable luxury to many homeowners. If you're interested in a new set of cookware that provides durability, quality, and other unique features, then German brands are a safe bet. Whether it be Woll, Fissler, Velosan, or Stoneline, let's take a look at the best German cookware brands.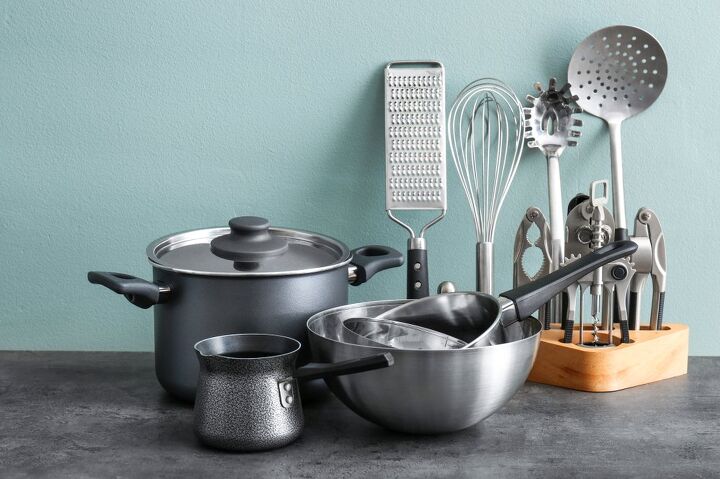 If you're looking for a new set of cookware, be sure to consider some of the top German brands. German cookware is known for its high quality, durability, and unique features. In this article, we'll take a look at ten of the top German cookware brands and their product lines!
Some of these German cookware brands have been around for hundreds of years. Others have popped up within the last few decades. Each comes with its own advantages and downfalls, but these ten are considered the top German cookware brands.
Rösle
Wüsthof
Velosan
WMF
Zwilling
Römertopf
Woll
Fissler
Titanium Cookware Collection
Stoneline
What Are The Best German Cookware Brands?
With so many different German cookware brands to choose from, it's hard to say which is the absolute best! The following ten brands each come with their own perks and benefits.
Rösle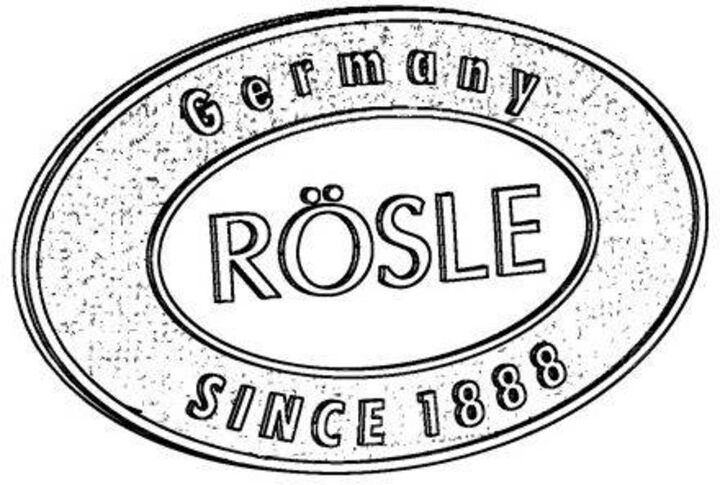 Ever since 1888, Rösle has been producing high-quality German cookware with a huge range of products. The brand carries kitchen utensils, baking tools, knives and cutting boards, measuring devices, and pots and pans.
Rösle is often applauded for its products' design and functionality, as well as for the integrity of the company itself. All of the company's products come with a lifetime warranty.
One complaint Rösle receives has to do with the fact that its products are produced in China. However, they are still made from German designs and German steel. Rösle's products are affordable, but they never skimp on quality.
2. Wüsthof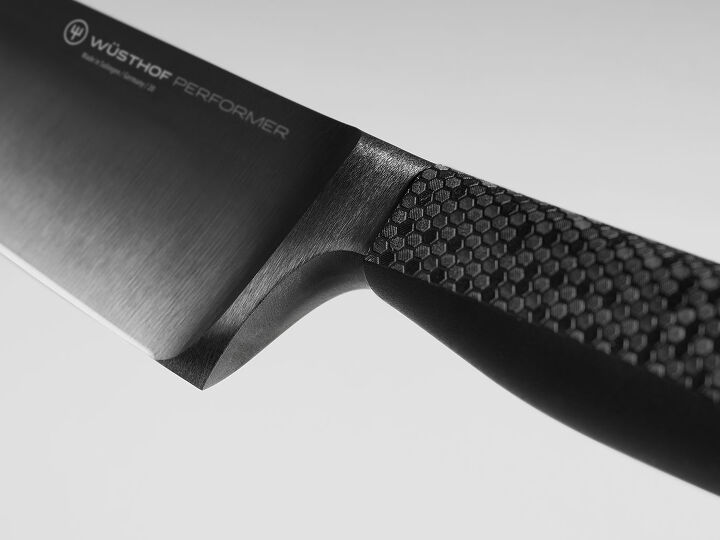 Wüsthof began as a small family business over 200 years ago in Solingen, Germany. In the beginning, the company produced scissors, but today, it's known for its high-quality knives. Four top chefs were involved in the design of Wüsthof's popular Performer series.
You can find a wide variety of knives, knife sharpeners, knife storage, and knife care products at Wüsthof. Customer reviews report that Wüsthof's forged knife blades give them a huge edge over the competition.
Wüsthof's knives are sharp and hold their edge well. They're also elegantly designed, well-balanced, and built to last. However, these knives come at a high price, from $150 for a single knife to over $500 for a set.
3. Velosan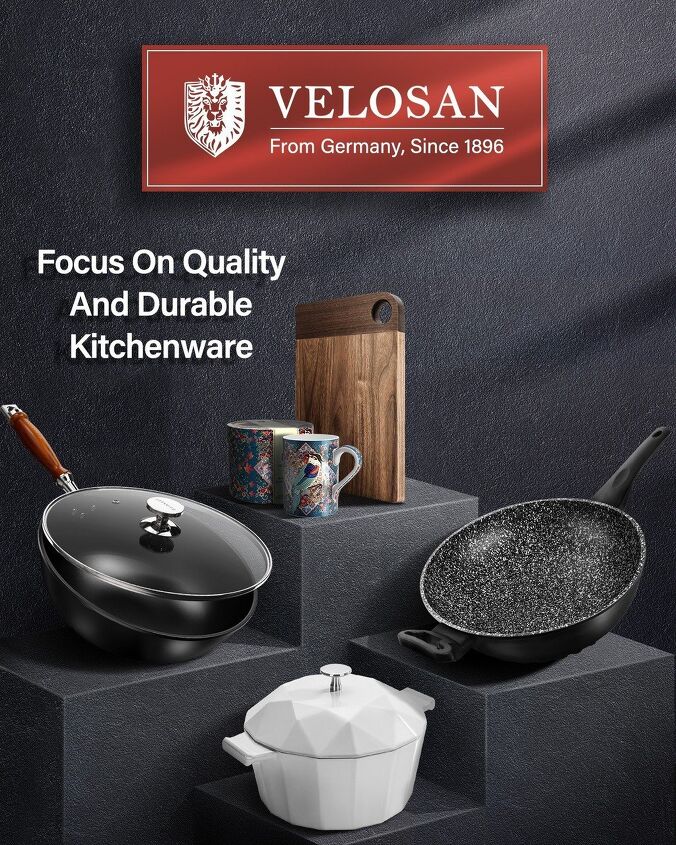 Velosan has been offering high-quality aluminum and cast iron cookware, along with kitchen utensils and cooking knives, since 1896. Traditional workmanship is combined with high-quality materials to create amazing products. Customers describe Velosan pots and pans as "truly non-stick" and love how easy they are to clean.
The coating on Velosan products is 100% PFOA-free, making them safe and sustainable. Ergonomic handles plus a convenient design have made Velosan a favorite among those who enjoy German cookware brands.
4. WMF

WMF has brought pleasure into the lives of its customers ever since 1853. In the beginning, WMF produced silver-plated tableware and serving utensils. But nowadays, this German cookware brand carries products for prepping ingredients and cooking meals as well as dining and drinking.
WMF has a diverse product line, including everything from espresso cups and wine decanters to kitchen gadgets and fondue sets. It's important to note that some products are produced in China, although they still use German materials.
Customers praise WMF products for their durability, sturdiness, and stylish design. The high-quality glasses and cutlery sets are also fan favorites. WMF is considered mid-range when it comes to cost, making it an affordable and financially accessible choice.
5. Zwilling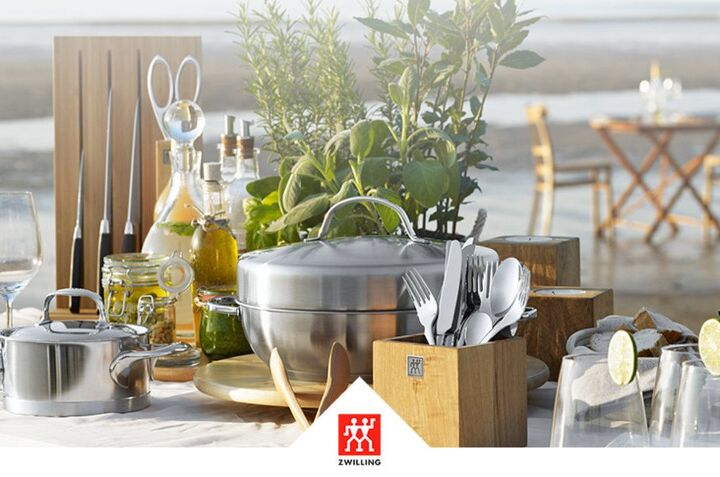 Zwilling started out back in 1731, so this impressive German cookware brand has been around for nearly 300 years! Zwilling carries a variety of products, from knives, saucepans, and skillets to blenders, kettles, and toasters. The company also features multiple kitchen organization solutions and general kitchen tools like cutting boards and kitchen shears.
Zwilling's ceramic pans have tons of positive customer reviews. They're harder than steel, easy to clean, and provide even heating with good heat retention. Other products from Zwilling, such as their knives, are also loved thanks to their feel, balance, and cutting capabilities.
One thing to watch out for is that the handles on Zwilling pots and pans can get very hot. You'll want to have a potholder on hand so that you don't burn yourself when cooking with these products. However, the glass lids and non-drip pouring rims, among other features of Zwilling products, make up for this small drawback.
6. Römertopf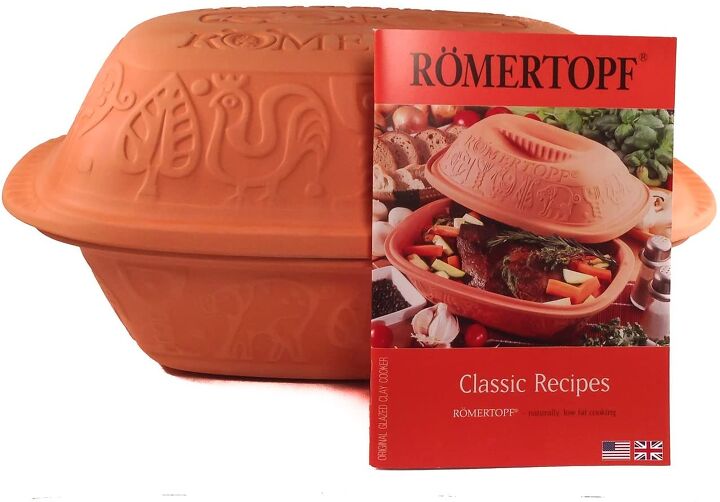 Since its founding over 50 years ago, Römertopf has prided itself on being natural, versatile, and indispensable. Römertopf focuses on the principle of gently cooking food in natural clay cookware. This German cookware brand features a variety of baking pans, frying pans, and barbecue pots.
Reviews reveal that customers love the way their food comes out after being cooked in Römertopf's clay cookware. Plus, this brand's products cook food quickly and are especially easy to clean. Bread-baking enthusiasts are particularly fond of Römertopf's unique clay cookers.
Cooking with clay has many benefits. It produces consistently high-quality results and is easily able to adapt to changing temperatures. Römertopf products are also safe for microwave use, making them even more versatile!
7. Woll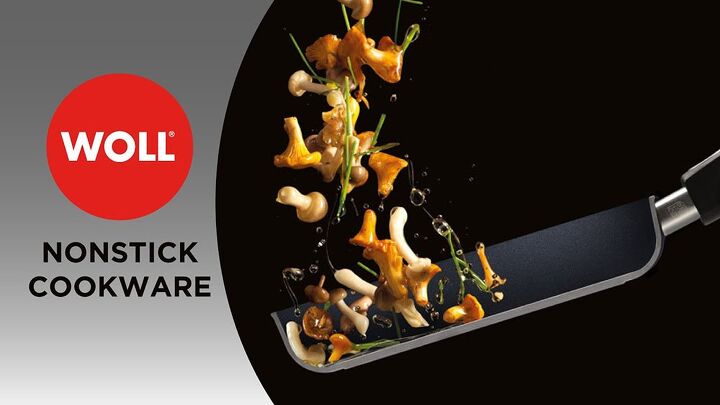 Woll may not have been in the game as long as many of the other brands on the list. But as the German cookware company explains, it's "40 years young." Woll products feature an original aluminum permanent mold casting technique that makes a difference in both quality and cooking results.
The Woll product line includes aluminum, stainless steel, and cast iron cookware. The brand also produces kitchen gadgets and accessories. The CookIt line is made up of redesigned kitchen tools that are heat-resistant and glass fiber reinforced.
The EDGE stainless steel knife line is another great component of Woll's products. These knives are made of the highest-quality German stainless steel, and they're ice-hardened for durability. This results in extraordinary sharpness that will make a clear difference in your ingredient prep and meal cooking processes.
Customers praise Woll products' incredible durability, superior heat distribution, and top-notch heat retention. Although some complain about the prices of Woll cookware, the many years of use make the cost worth it.
8. Fissler

Founded in 1845, Fissler is yet another of the top German cookware brands. Its product line features pots, pans, pressure cookers, knives, and kitchen accessories. Fissler was responsible for the first aluminum pans for electric stoves back in the 1920s.
Fissler's pots and pans feature an all-stove base that can be used on any heating surface without degrading or warping. At one point, Fissler actually produced the world's most expensive pan, which cost over $119,000 US dollars. Today, Fissler is one of the best-known German cookware brands.
Fissler products are considered well worth the cost, thanks to their supreme durability. Customers call Fissler pots and pans heavy-duty, flawless, and easy to clean. Even with such a diverse product line, each and every Fissler product maintains its supreme quality.
9. Titanium Cookware Collection

This German cookware brand is newer to the market (it was founded in 1999), but that doesn't affect its quality. The Titanium Cookware Collection features hand-cast titanium that won't warp and is naturally a non-stick surface.
Titanium Cookware Collection products include pots and pans, griddles, baking sheets, and steamer baskets. Customer reviews reveal that this brand is truly a breakout star when it comes to toxin-free metal cookware.
Products from this brand have earned plenty of praise and are often called timeless investments. Customers especially love that they don't have to use oil with these pots and pans. This makes it easier to cook healthy yet delicious meals at home.
10. Stoneline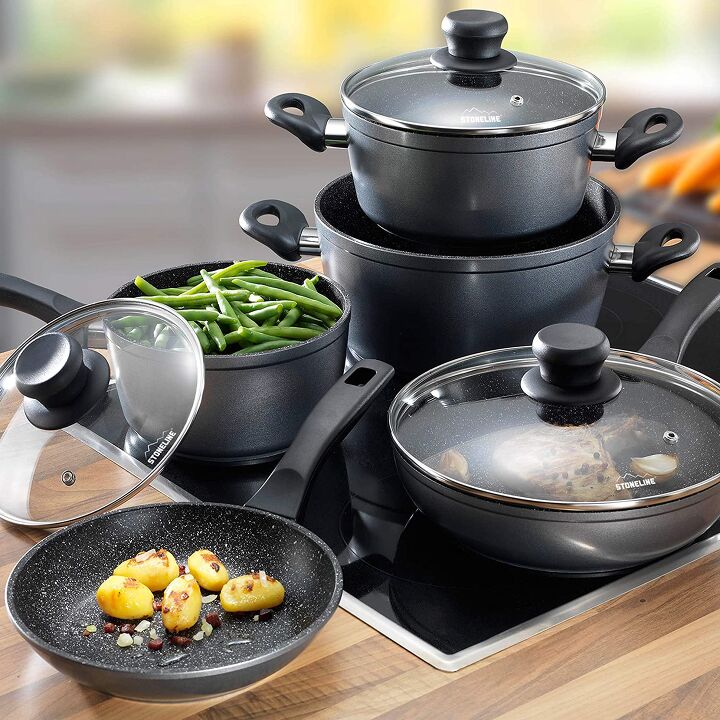 Stoneline is yet another German cookware brand. Its large product line includes pots, pans, roasters, and cookware sets, as well as baking tools, utensils, and knives. These products feature specially-designed Stoneline coating, which is tough, scratch-proof, and has ideal non-stick properties.
This brand is committed to climate neutrality and protecting the environment, which many customers appreciate and admire. Customers rave that Stoneline products have great food release and are easy to clean. Plus, they're lightweight, PFOA-free, easy to handle, and compatible with all cooktops.
It's no wonder, then, that Stoneline has won several awards for best cookware in Germany! Its products are sometimes referred to as the "race cars of cookware," showing just how elevated their quality is. It's a bit more pricey than some of the other brands, but its benefits speak for themselves.
---
Related Questions
Is ceramic cookware safe?
Cookware made of 100% ceramic is completely safe. However, the same cannot be said for ceramic-coated cookware. Oftentimes, this type of cookware hides various toxic materials under its ceramic coating.
Once the not-so-durable coating has begun to wear off, lead, cadmium, and neurotoxic aluminum can often be found underneath. Lead poisoning and exposure to toxic materials can be very dangerous, so this isn't something to ignore. For this reason, be sure to choose 100% ceramic cookware rather than ceramic-coated cookware.
What cookware is made in Germany?
There are many types of cookware made in Germany. The top ten brands include Wüsthof, Zwilling, WMF, Römertopf, Rösle, Woll, Fissler, Titanium Cookware Collection, Velosan, and Stoneline. However, there are many other high-quality German cookware brands out there!
Is BergHOFF cookware German?
No, BergHOFF cookware is not German. The BergHOFF cookware range originated in Belgium and is sold worldwide. Its EarthChef line features products that are non-toxic and free of PTFE and PFOA.
Related Guides

Jessica Allen
With a lifelong passion for writing plus strong enthusiasm for home improvement and DIY projects, joining the team at Upgraded Home was an easy choice. Jessica Allen likes to share helpful information with current and aspiring homeowners. Aside from writing, Jessica loves doing yoga, playing the piano, and dabbling in graphic design.
More by Jessica Allen
Published June 30th, 2021 10:08 AM