571 Views
Bathroom Double Vanity Dimensions (with Drawings)
February 15th, 2022 1:22 PM
Share
We're committed to finding, researching, and recommending the best products. We earn commissions from purchases you make using links in our articles. Learn more here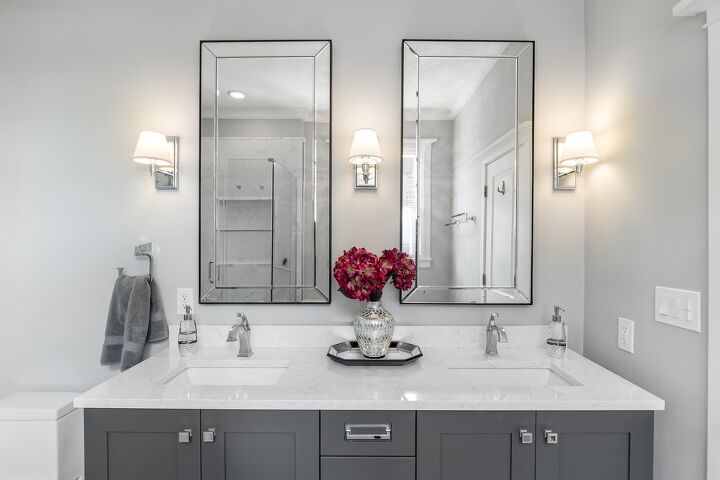 If you share a bathroom with someone, it can get crowded pretty fast. An ideal solution is to use double sinks, but you need to account for double vanity dimensions. Most double vanities are at least twice as large, if not bigger, than a single sink vanity.
The standard size for a double vanity is between 60 and 72 inches in width, although some are 48 inches. If you have a spacious bathroom, you can get a double vanity that is 84 inches wide. The standard height for a bathroom vanity is 32 inches, but some are 36 inches for a more comfortable height. The depth is usually between 20 and 23 inches, with a standard depth of 21 inches.
If you have the room for it, a double vanity can be a life-changer when you share a bathroom. But if you try to squeeze one into a too-small space, you'll end up more cramped than before. So, make sure you have the appropriate room for a double vanity before you decide to add one to your space.
Do You Need A Double Vanity In Your Bathroom?
You might automatically assume that every full bathroom should have a double vanity if you're building a new home. After all, it seems to be a coveted item in homes today among many buyers. However, not everyone needs a double vanity, and it all depends on the bathroom's primary purpose.
If you can swing it when dealing with new construction, it's reasonable to assume your master bathroom should include a double vanity. Likewise, a double vanity makes sense if two bedrooms share any bathrooms. For example, double vanities are almost necessities in Jack-and-Jill bathrooms.
But, what if it's a hall bath that serves a guest room or a downstairs bathroom for guests? In these cases, you might not need a double vanity. These bathrooms are typically smaller, too, so a single vanity is your best bet in a smaller space.
Adding A Double Vanity To An Existing Bathroom
If you're considering adding a double vanity to your existing bathroom, think about how you maneuver on your current space. Do you always have to wait behind your partner to use the sink? Are you struggling to get ready in the morning because you're on top of each other while you brush your teeth and do make-up?
If yes, a double vanity can make things go much more smoothly. It's also a great way to add storage in a space shared by two. But, if you're working with a small master bathroom to begin with, proceed with caution.
Adding a double vanity to a smaller bathroom can end up making the space more cramped. Luckily, there are a variety of sizes of double vanities, so you can choose one that fits best in your space.
Understanding Double Vanity Dimensions
Double vanities typically come in standard widths of 48 inches, 60 inches, 72 inches, and 84 inches. The most common sizes of double vanities fall within the 60 to 72-inch range.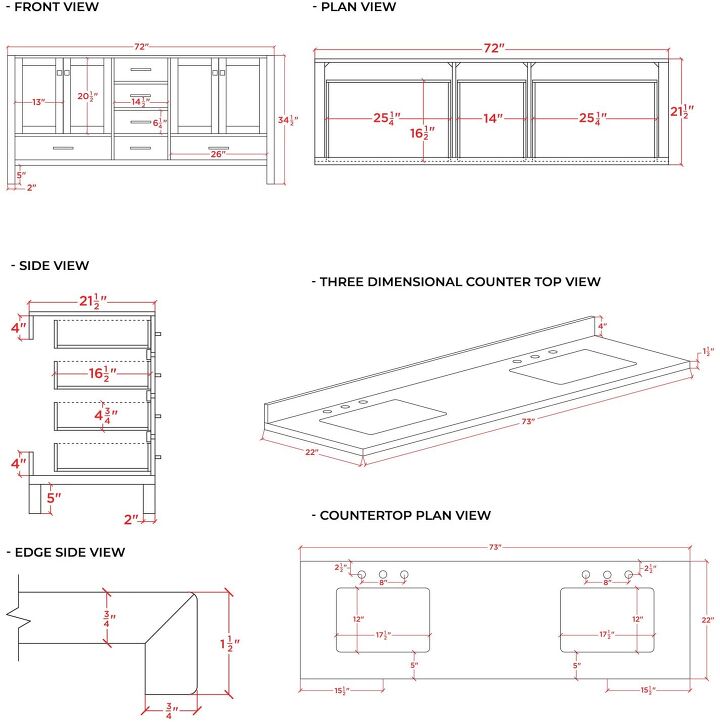 The standard height for a bathroom vanity is 32 inches, but this can often feel low for some people. If you are taller or don't want to lean over as much to use the sink, consider a comfort height vanity. Comfort height vanities are 36 inches from the floor to the vanity top.
The final primary measurement to consider is your vanity depth. Typically, a vanity is 20 to 23 inches deep. The most commonly found vanity depth is roughly 21 inches.
Smaller double vanities measure 48 inches wide, but you can still maximize them with lots of storage. For example, this vanity, although minimal on counter space, features four storage drawers.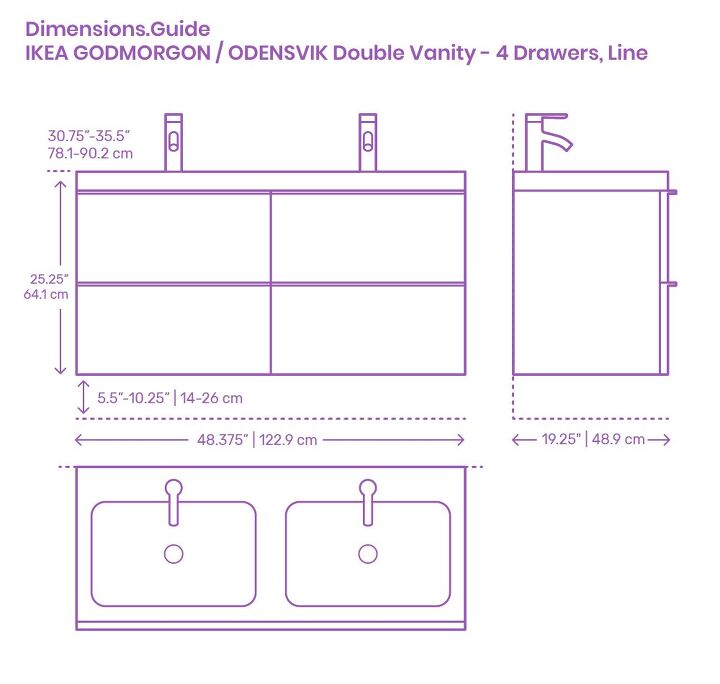 On the flip side, as people are starting to build larger homes, bathrooms are getting bigger too. So, you'll see a lot more 84-inch double vanities popping up in newer homes. These large vanities provide plenty of counter space and storage to spare.
Making Sure Your Sinks Fit In A Double Vanity
The standard double vanity sizes basically spring from standard sink sizes. On average, a bathroom sink is about 20 to 30 inches long and 19 to 24 inches front to back. Oval or round sinks tend to be 16 to 20 inches in diameter.
When incorporating two sinks into your vanity area, there should be a minimum of 20 inches between the centerline of each sink. Also, you should have at least 15 inches from the side wall and the centerline of the sink.
Keeping these measurements in mind, you can see why the usual minimum for a double vanity is 48 inches. But, this size would leave you with very little counter space, or you could opt for smaller sinks.
What If You Need A Double Vanity But The Bathroom Is Small?
If you can only fit a double vanity that is 48 inches or sometimes less, you'll need to compromise. If having two sinks takes priority over counter space, consider installing a double bowl sink.
Double bowl sinks are usually about 40 to 57 inches wide. Or you can also go with something like the idea shown below and use an extra-large sink with two faucets.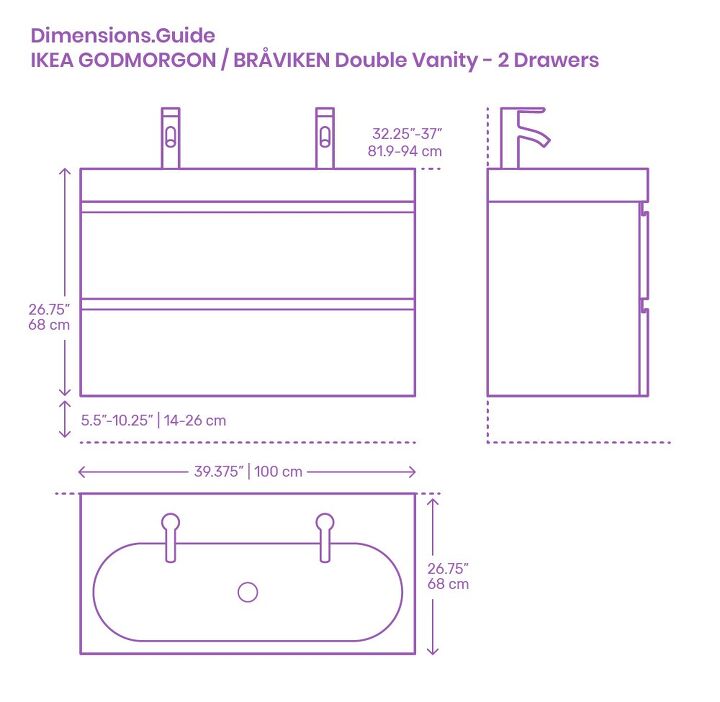 Or you can utilize two separate sinks, but use smaller sinks like bar sinks. Going this route, you can see how two sinks can fit into a 40-inch double vanity. Although this isn't ideal, it's a great option if you're working with two people sharing a tiny bathroom.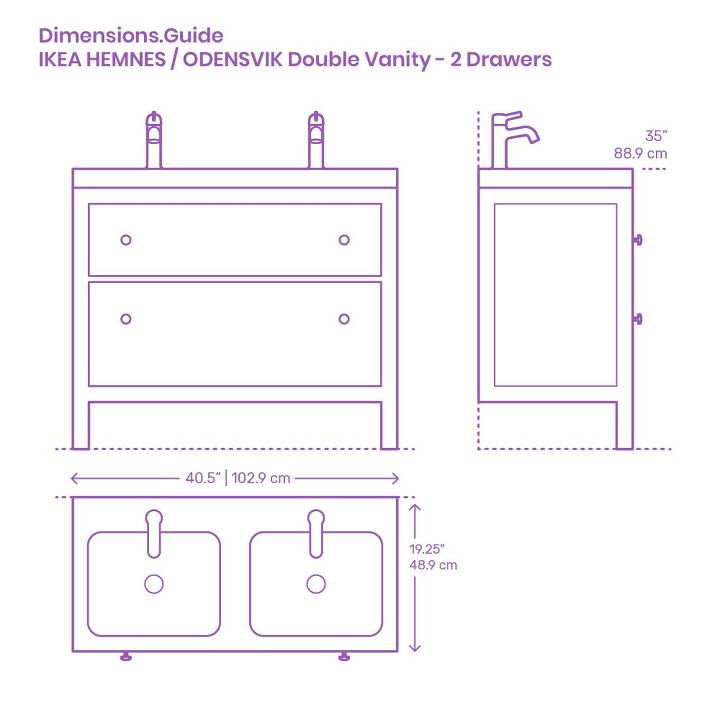 Measuring For A Double Vanity
Choosing the ideal double vanity dimensions for your bathroom includes achieving a delicate balance. The balance between having a vanity big enough without taking up too much space.
When it comes to how much of a footprint your vanity takes up, width and depth are the biggest factors. You want your vanity to suit your needs without overpowering the space. A vanity that's too deep will stick out too far and become cumbersome.
The standard double vanity depth is 21 inches, but you can go smaller or bigger. It all depends on available space and your sink size. Make sure to know your sink measurements before deciding on your vanity, or vice versa.
To get an idea of how large the double vanity footprint will be, measure and tape it out in the space. The tape line will give you a visual, and you can get a sense of how you fit in the space.
Clearance Needed For Double Vanity Dimensions
You need to account for clearance in front of the vanity in addition to the vanity depth. There should be at least 21 inches of clear floor space to maneuver in front of the sink. This minimum is in accordance with the International Residental Code.
However, a minimum of 30 inches is much more ideal. You want to leave room for someone to cross behind you, etc. Additionally, you need 15 inches from the center of the sink to the side wall.
Don't Forget About The Plumbing For Your Double Vanity
Other essential clearances and measurements to consider pertain to the plumbing. Your plumbing lines need to line up with your sinks, otherwise, you'll need to reroute pipes. Moving plumbing lines can get costly and add extra work to your plate.
So, measure between the two plumbing access points to determine your sink sizes. For example, imagine if the two points are 32 inches apart, and you get 18-inch-wide sinks. The centerline of your sinks would be 32 inches apart, giving you roughly 14 inches of counter space between the sinks.
When you add everything together, you would need a vanity at least 60 inches wide to accommodate your sinks.
If you need to add plumbing because you're going from a single to a double vanity, you'll have more options. Adding the second plumbing line allows you to customize your vanity dimensions more.
How Do You Plan To Use Your Double Vanity?
Once you've determined the maximum size of your double vanity, think about the layout. Double vanities come in all different styles. Depending on how you use your bathroom, some styles might work better for you than others.
For example, do you and your partner want more elbow room at your sink? Then you might choose a double vanity with sinks at opposite ends and more counter space in the middle.
If you need lots of hidden storage, you might prefer a full double vanity with cabinets or drawers. But, if you would rather have a place to sit, you might opt for a drop-down vanity. The center counter is lower than the sides with the sinks. The area below the center counter is open, leaving room to keep a stool or vanity chair.
So, look at all of your options for your required double vanity dimensions. Then, think about what will work best for you in your space.
In Summary
You can find double vanities in many sizes, but the most common are 60 or 70-inch vanities. Double vanities usually won't be much smaller than 48 inches and have a standard depth of 21 inches.
Larger homes are starting to incorporate more lavish double vanities, reaching 84 inches. The standard vanity height is 32 inches, but a comfort height vanity that's 36 inches is easier on your back. Plus, it gives you more storage below.
No matter what size you decide, make sure the layout works for you and your bathroom partner. You can find double vanities in many sizes and styles.

Stacy Randall
Stacy Randall is a wife, mother, and freelance writer from NOLA that has always had a love for DIY projects, home organization, and making spaces beautiful. Together with her husband, she has been spending the last several years lovingly renovating her grandparent's former home, making it their own and learning a lot about life along the way.
More by Stacy Randall
Published February 15th, 2022 1:22 PM