319 Views
Clever Ways To Store Clothes Without A Closet
July 17th, 2023 8:20 AM
Share
We're committed to finding, researching, and recommending the best products. We earn commissions from purchases you make using links in our articles. Learn more here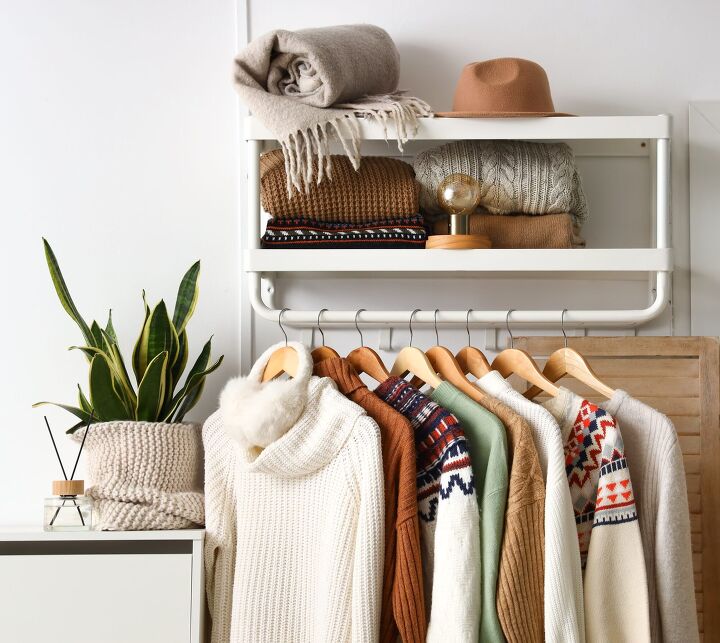 Does your lack of closet space turn your bedroom floor into a clothes storage site? Or maybe you've grown accustomed to piling clothes on any surface you can find, from your bed to the kitchen table. If any of this sounds familiar, a few clever ways to store clothes without a closet are just what you need to take back control of your space.
No closet? No problem. Store clothes in a dresser, use a freestanding clothes rack behind a curtain, take advantage of space under the bed, and hang hooks. Incorporate furniture into your bedroom that features storage or convert a bookcase into a standing closet. Tap into vertical space for extra places to keep clothes.
If your treadmill acts more like a clothes rack than workout equipment, these tips can help. With a few creative storage ideas, you can tidy up your space and fall back in love with getting dressed.
Take Control Of Your Clothing Without A Closet
Just because you don't have a built-in closet doesn't mean you're doomed to having a disorganized wardrobe. You can store clothes in a way that's functional and beautiful without a proper closet. Give these ideas a try to organize your clothes and make getting ready a stress-free experience.
1. Turn A Bookshelf Into A Closet
Use a basic tall bookshelf to create a space for your clothing. The beauty of a bookcase is you can adapt it to suit your needs.
You can leave it as-is with shelves to store shoes, folded sweaters, jeans, bins of accessories, lingerie, or rolled-up T-shirts. Or remove a few shelves and install a clothing rod to include some hanging space for your dresses, skirts, or coats.
Once you decide what you want to store in your new bookcase-turned-closet, determine if you want to keep the items visible or hidden. Depending on your personal sense of style and what you're keeping in your creative closet, you may love the idea of having it on display.
For example, are you a shoe diva, with every color high-heel, and boot imaginable? Then you could turn your shelves into a shoe masterpiece.
Or perhaps use it to display rows of colorful purses, hats, and other accessories. Install hooks on the sides to hang scarves, necklaces, belts, and other items.
But if you prefer to keep things out of sight, all you need are a tension rod and curtain. Place the tension rod at the top of the bookcase and hang the curtain to instantly hide the contents from view.
2. Hide A Clothes Rack
If your room has an available corner, position a freestanding clothing rack and hang a curtain in front. You can hang anything you want on the rack and simply push the curtain to the side when you need to access your clothes.
A corner shower curtain rod makes it super easy to hide a rack in any corner. You could also use a standing, folding screen if you don't feel like hanging curtains. Another option is to hang curtains from a ceiling track across the width of your bedroom to create a false wall.
This latter option works well in rooms that have a long, narrow footprint. It gives you extra space for storage, and it fills what often becomes dead space in a long room. Behind the curtain, arrange clothing racks, shelves, dressers, etc. to create the ultimate walk-in closet.
3. Be Smart With Bedroom Furniture
Don't underestimate the furniture in your bedroom. Get a dresser or chest of drawers for clothes that make more sense folded than hanging. Take some time to sort out what's better off going in a dresser vs. a closet.
When purchasing other furniture for the space, look for possibilities that offer potential storage. For example, a storage bench at the foot of the bed, nightstands with drawers, or a vintage armoire. You could also place a coat rack in the corner to hang your favorite hats, coat, and scarves.
However, don't cram your room with furniture. Be smart about selecting options with storage so you don't need to use too many separate pieces. Make sure you choose items that suit the scale and size of the space.
4. Maximize Vertical Storage Space
Seek out vertical space in your room that can double as extra clothing storage. Think about an over-the-door shoe rack on the back of the bedroom door or a standing mirror jewelry organizer.
Install a shelf above the door to hold baskets for scarves or extra purses. Line a wall with floating shelves for folded sweaters, jeans, and other items, and hang a curtain in front. If the room has tall ceilings, look for taller furniture to store more items.
5. Use Hooks
Install hooks on the wall, the sides of furniture, the back of doors, etc., to hold scarves, purses, hats, jewelry, and more. Depending on what you use the hooks for, they could double as wall art. For example, a beautiful collection of vintage hats looks great, so why not store it in plain sight?
You can even create a shoe wall and hang your shoes from hooks. There's no end to what you can do, depending on your style, design preferences, and available space.
6. Tap Into Under-The-Bed Storage
A lot of people try to avoid storing things under the bed, thinking it's bad Feng Shui. But if you're pressed for storage space, that empty space below your bed is prime real estate.
Get some under-the-bed storage solutions that fit easily beneath your bed. It's a good idea to keep items you don't need to access as frequently here, like seasonal clothing or special occasion wear.
7. Declutter Your Clothes
This tip isn't necessarily a storage solution…or is it? When you don't have as much stuff, you don't need to stress as much about where you're going to put it. Go through all of your clothes and decide what needs to go and what gets to stay.
Keep items that you love, make you feel amazing, and make sense for the life you're living today. Get rid of the rest. Once you know what you actually have, you can decide the best way to organize and store it for your current lifestyle.
8. Use A Spare Room
Okay, this one depends on your overall living situation and available space in your home. But if you have a spare room that's not serving any real purpose, you can make it the walk-in closet of your dreams.
Think about the rooms in your house. Is there one that doesn't get much foot traffic? Maybe a spare bedroom that ended up as a storage pod? Or a home gym that you use once a year on New Year's Day?
Does something pop into your mind? Then this space could become a closet for you. Or perhaps you have a room that you only use sparingly, like a sewing room.
Could you rework the space to turn half of it into a closet space? Hang shelves, bring in a dresser, set up clothing rods, and anything else you need to create a home worthy of your wardrobe.
9. Borrow Other Spaces
Understandably, you don't want your wardrobe spread throughout your whole house, but some pieces make sense elsewhere. For example, hang coats and jackets in the entry closet or an armoire near your front door. Put your bathrobe in the bathroom.
Do you have a home gym? Keep your workout clothes in there. Is there a spare closet in your home office that has some wiggle room? Then use it to stow off-season clothing or specialty clothes.
10. Hang A Ceiling Rod
If you don't have floor space for a standing clothes rack, consider hanging a curtain rod or pipe from the ceiling. If you like the industrial look, this style could work well in your space.
Who Needs A Closet? Not You!
Stop stressing over not having enough closet space and get creative with these storage tips. You can have a beautifully-organized wardrobe that gets you excited to get dressed and ready for the day (or a night on the town).
Don't be afraid to regularly pare down your clothing, donating or tossing items you no longer wear or love. Base your wardrobe on the season of life you're in today, so you don't fill valuable space with what-ifs and one-days.
Related Guides:

Stacy Randall
Stacy Randall is a wife, mother, and freelance writer from NOLA that has always had a love for DIY projects, home organization, and making spaces beautiful. Together with her husband, she has been spending the last several years lovingly renovating her grandparent's former home, making it their own and learning a lot about life along the way.
More by Stacy Randall
Published July 17th, 2023 8:20 AM