5 Views
Can You DIY A Basement Home Theater For Under 5k?
January 31st, 2023 1:44 PM
Share
We're committed to finding, researching, and recommending the best products. We earn commissions from purchases you make using links in our articles. Learn more here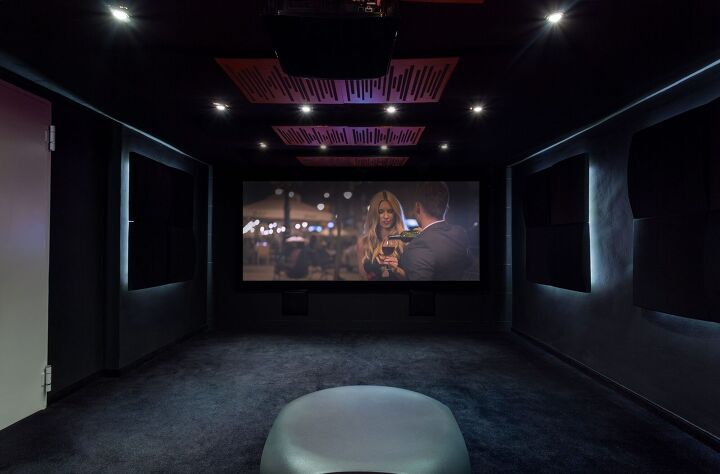 Has a home theater always been a dream of yours? Or perhaps with the explosion of streaming services and more and more movies going straight to these platforms, you find yourself craving a theater experience.
Regardless of your desire, creating a DIY home theater system is easier than ever. But if you are looking to turn your basement into a home theater on a tight budget, you might feel discouraged. You might even wonder if it is possible to create a home theater in your basement for under $5,000.
You can create a quality home theater system in your basement for less than $5,000. To stretch your budget without sacrificing quality, consider a projector instead of a television, and build your own screen. Instead of expensive and complicated speaker systems, opt for a sound bar with a wireless subwoofer and rear speakers. This eliminates most of the difficult installation, and removes the need to purchase an expensive receiver.
Building your own home theater is exciting. Don't let all the complicated technology and the obstacles get you down. Instead of obstacles, try thinking of your options. When you are trying to build a home theater in your basement for less than 5k, it isn't only possible, it is achievable in many ways.
You need to consider what is most important to you. When it comes to building a home theater system on a budget, you can make it happen, but you will have to make some adjustments and alterations to ensure you stay within budget.
Can You Create A Home Theater In A Basement For Under 5k?
You sure can. You can create a home theater for even less than $5,000, but the more important question is can you create a high-quality home entertainment system for $5,000. The answer is still yes, but we have some tips and tricks to get you there with ease, and without sacrificing much quality at all.
When it comes to a home theater system, you have a few things to consider. There is the room itself. You need to make sure it is insulated, aesthetically pleasing, light controlled, and above all — comfortable.
Next there is sound. Sound can be quite daunting for a novice. There are main speakers, subwoofers, rear speakers, Atmos, sound absorption, receivers, and so on. It can seem quite complicated.
And in reality, it kind of is overwhelming — but it doesn't have to be. While you can easily spend the entire $5,000 budget just on audio, we will take you in a different direction that will help you get quality audio without the confusion and steep price.
Lastly, there is the picture. The key to having an epic home theater is crisp, vivid video on a giant scale. That's right, your standard 48" television isn't exactly home theater worthy, but giant televisions aren't cheap. But don't worry, we have a solution for that, too.
What You Need To Create A Home Theater In Your Basement
As you begin your quest to create the best home theater you can for under $5,000, consider all the pieces you need. Bellow we have listed different necessities and options when it comes to building your own home theater:
80" Or Larger TV Or HD Projector
Projection Screen Or TV Wall Mount
Speaker Bundle (including rear speakers, subwoofers, overhead speakers), Or Sound Bar With Wireless Subwoofer.
Audio Receiver 
Apple TV
Reclining Chairs Or Couch Area
Acoustic Panels To Absorb Sound
Universal Remote To Control Video And Audio
Mood Lighting
Consider A Projector Instead Of A Television
One great way to save money without sacrificing lots of quality with your home theater is to choose a projector system instead of a large-scale television. In order for a room to really qualify as a home theater, you need a really large screen. Typically a screen should be at least 80 inches.
If you purchase a quality TV that is 80 to 90 inches, you should plan on paying at least $2,000, and likely closer to $2,500. That would be nearly half your budget, and you haven't even hung the TV on the wall yet.
Instead, consider getting an even larger picture, the same sound, and more with a projector. Yes, you might lose a fraction of HD video quality, but with a quality projector and screen, you will still have great video. Here are some top reasons to consider a projector.
The Wow Factor
Even though projectors have been around for decades, there is still a bit of a wow-factor when you walk into a basement and there is a legitimate video projection screen setup. It is definitely bound to impress your company, if that's something you're after.
Flexibility
It is also much easier to adjust and move a projector than it is to move an 80" television. In fact, many projectors make it easy to adjust focus and angles. If you feel like switching up the layout of the room over time, it is easier with a projection setup.
The Complete Cinematic Experience
Arguably the best reason to go with a projector over a TV is the fact that projectors really complete the movie experience. The goal with a home theater is to bring the movie theater to your home. Projectors do exactly this.
Basements Are Light Controlled
Since you are building your home theater system in your basement you don't have to worry about the main challenge with projection systems: Light control. It should be easy to black out the room and control light without spending much money at all.
The Price Is Right
Choosing a projector instead of a TV of the same size will save you a lot. In fact, while televisions of this size cost an average of $2,500 or so, a high-quality projector is often at least $1,000 cheaper. See below for a couple of our favorite and reasonably priced projectors.
Our Top Projector Pick When The Budget Is Tight:
BenQ HT2050A 1080P Home Theater Projector Opt For A Sound Bar To Save On Installation And Complication. This projector has amazing video quality, easy connectivity and comes in at under $700 when it's on sale.
Top Pick Overall: Epson Home Cinema 3800 4K PRO-UHD 3-Chip Projector with HDR. If you have more money to play with for your projector (it's about $1,700), then go with one of the best projectors out there. The Epson 3800 is the go-to projector of many video and projection junkies, at a more affordable price point.
Consider A Soundbar Over A Complicated Speaker System
You might think you need an advanced speaker system to really emulate the movie theater experience. If your budget is unlimited, high-tech speakers installed throughout the room are a great way to mimic real life surround sound. But speakers have come a long way. In fact, you can get top-performing sound using a soundbar. Not only is the sound great, but there are other reasons you should consider this when building a home theater on a 5K budget.
Eliminates The Need For A Receiver
Receiver's can be quite costly. They are also a bit confusing, and require additional remotes and cords. When you have a soundbar, you no longer need a receiver, since almost the entire system is connected. The only parts that are not, are wireless (the subwoofer and rear speakers). This makes setup and installation a breeze.
Only One Wire
Instead of lots of wiring and wire hiding, a sound bar makes for a sleek and compact package. Best of all, there's really only one wire.
Complement It With A Wireless Subwoofer And Rear Speakers
You might be worried about sacrificing lots of sound quality by going with a soundbar. But lots of new generation soundbars have state-of-the-art sound (see our recommendations below). Additionally, you can pair the soundbar with a wireless subwoofer and rear speakers to add to the theater ambiance.
Saves At Least $1,000 While Streamlining Your Wires And Controls
Tips On How To Build A Basement Home Theater For Under 5k
Create Your Own DIY Spandex Projection Screen
Creating your own projection screen is easy for an avid DIYer. It can save you at least $100, possibly even $200. Best of all you can customize the size and mount it to give it an added prominence and professional feel.
Buy Certain Items Second Hand
Don't feel obligated to buy everything new. Whether it's a floor model subwoofer or two leather chairs that are lightly used, do what you can to lower your costs. Remember that you can continue to improve over time, but creating a quality (not necessarily perfect) basement home theater is the overall goal.
Shop The Sales
When it comes to electronics, you should always shop on sale. Projectors, televisions and sound equipment tend to go on major sales around the time of the Super Bowl, Cyber Money, Black Friday and other hot purchasing times. If you can, plan your purchases around one or more of these sale events. This can save you hundreds, which you can invest elsewhere within the project.
Carpet The Basement If Possible
Adding carpet to the basement helps for several reasons. For one, it makes the home theater nice and cozy. After all, basement floors can be quite cold and unforgiving. More so, carpets act as a great sound absorber. This helps keep the sound from echoing and sounding artificial.
Buy Quality Viewing Chairs Or Couch, Building On It As Budget Allows
Even though most of your money is going towards the sound and video, don't neglect your seating and the ambience. Don't opt for uncomfortable or flimsy furniture. Instead pick a few quality pieces (on sale or even used) and build from there. Don't forget a bit of mood lighting as well.
Wrapping Up How to Install A Home Theater For Under 5K
If you are wondering if you can turn your basement into a home theater for less than 5K, there is good news. It is certainly possible. In fact you can make this dream come true for even less. This of course, is considering that your budget does not include major construction of new walls and such.
If you are looking to save big and fit everything in your budget, consider a high-quality projector instead of a television. Also consider a soundbar and wireless subwoofer system instead of a complicated speaker setup.
Related Guides:

Tom Gaffey
Tom Gaffey is an expert writer who currently resides in Washington D.C. Tom has a passion for real estate and home improvement writing, as well as travel and lifestyle writing. He lived the last twelve years in Hawaii where he worked closely with luxury resorts and event planners, mastering his knowledge of aesthetics and luxury products. This is where he found his passion for home improvement and a keen interest in DIY projects. Currently, Tom resides in Washington D.C, and also working on his debut fiction novel.
More by Tom Gaffey
Published January 31st, 2023 1:35 PM