156 Views
Best Power Tool Brands For DIY And Homeowners
March 18th, 2021 6:21 AM
Share
We're committed to finding, researching, and recommending the best products. We earn commissions from purchases you make using links in our articles. Learn more here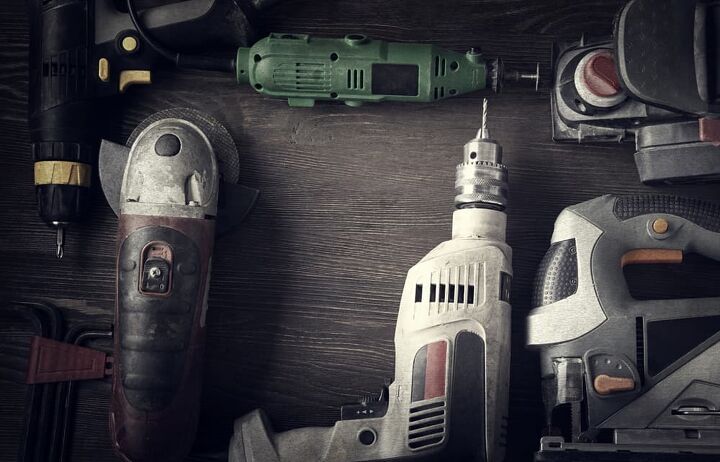 Power tools are an important part of many homeowner's lives, and they're just as important to DIY enthusiasts. Brands such as Ryobi, Black & Decker, Stanley, DeWalt, and Milwaukee have dominated the power tool market for years now. Determining the best power tool brand is difficult for even the most seasoned veteran, but what is the best one out there?
The best power tool brand for homeowners is Black & Decker, but Craftsman follows closely behind with quality tools. Both brands provide a wide variety of tools to choose from as well as generous warranties to back them up. Other brands, such as Makita, Worx, and Festool excel at producing many power tools that fit any situation that a homeowner could find themselves in.
Some power tool brands, such as Ryobi, excel at cordless tools and have their niche. Others, such as Ridgid and Milwaukee, stand to prove that a wide selection of power tools is key to completing projects. In this guide, we will take a close look at the best power tool brands and what makes their products special.
Best Tool Brand For Homeowners
Homeowners can find themselves at a loss when it comes to choosing the best possible tool brand. With so many choices ranging from DeWalt and Makita to Craftsman and Ryobi, it can be difficult to decipher the truly best. Let's take a look at the absolute best tool brand for homeowners, no matter what project you may have in mind.
Black & Decker
Black & Decker is not only a household name, but it is the best tool brand for homeowners. Not only did Black & Decker invent the portable drill, but they've perfected it ever since. Whether you need high-end belt sanders and chainsaws, or lawnmowers and hedge trimmers, they have options for you.
The combination of fair pricing and unbeatable quality is what makes Black & Decker the best tool brand for homeowners. This is exemplified by products such as their 14" 8 Amp Electric Chain Saw and its affordable $59 price tag. Don't let their affordable pricing fool you, however, as Black & Decker's priority has always been quality.
Black & Decker's umbrella involves the company DeWalt, which they own, and their countless options meet any need. One of the company's strong suits is that they produce vacuums, leaf blowers, and workbenches to suit any need around the house. Low prices, a wide variety, and products that are easy to use is why Black & Decker is the best choice.
Best Power Tool Brands
Besides Black & Decker, 14 tool brands have made a splash amongst homeowners, and with good reason. Each tool brand has its unique niche and bag of tricks that have made them as popular as they are. Follow along as we explore the best power tool brands that you should consider looking into for your next project.
1. Craftsman
Craftsman is well worth the $900 million that they were sold for to Black & Decker a few years ago. Perhaps Craftsman's greatest achievement is that you know exactly what to expect with each of their tools: quality. Saws, woodworking tools, drills, and angle grinders are just some of the tools that Craftsman produces.
Craftsman combines affordability with portability, and the perfect example is their V20 20-Volt Max ½" Cordless Drill that costs $117. Their drills are designed so that you can easily change bits, and it's a bonus that they also sell drill bit sets. All of Craftsman's cordless options have excellent battery life and performance.
It's not all power tools with Craftsman, and their hand tools are just as effective. Hand saws, for example, start at just $10 and come in handy whether you're doing woodwork or yardwork. Craftsman also dazzles with their useful hex keys, screwdrivers, and multi-tools that come in handy with household maintenance.
2. Milwaukee
Milwaukee's nearly 100-year history certainly shows in the quality that they put forth with each of their tools. Durability is the name of the game when it comes to Milwaukee, and it's reflected in the price of their tools. This brand may be slightly pricier than say, Worx, but it's worth it when you don't have to replace tools often.
The wide selection of their tools cannot be understated, and they offer 70 drills alone that are all high-quality. Milwaukee also knows that homeowners often need accessories to enhance existing tools or address specific problems. They have you covered in that department as well, and they offer 488 accessories for their tools.
Brushless motors and lithium-ion batteries make their electric power tools stand out amongst the pack. If you want to find a tool brand that is going to last you years to come, then you should consider Milwaukee.
3. DeWalt
Another iconic tool brand, DeWalt, gives the best of both worlds to both homeowners and professionals alike. They sell drills, air compressors, axes, lawnmowers, and more, and they can meet any need around the house. Whether you need to do woodwork, or you simply need to trim your hedges, DeWalt has got you covered.
DeWalt has a lot in common with Black & Decker, which owns the brand, and that includes quality. This brand is consistently highly rated, and they offer any power tool you could think of. Many homeowners say that the DeWalt Atomic 20V Hammer Drill is one of the best drills on the market.
DeWalt appeals to both homeowners and professionals due to the durability and wide selection they offer. Their measuring tools are known for precision, and so too is their beloved Cold Water Gas Pressure Washer. Simply put, DeWalt has a tool for any job, whether you're doing a DIY project or you're a homeowner trying to make some fixes.
4. Ryobi
It probably comes as no surprise that Ryobi made this list, and it's because of the quality and selection. Ryobi tools are instantly recognizable whether you've used them or not due to their iconic green color. Their primary focus seems to be to make tools for homeowners and less so for professionals, but they found their niche.
For example, the Ryobi 14" Brushless Lithium-Ion Chainsaw is perfect for yard work, but not a professional site. That's perfect, however, because the tool performs excellently and has a battery life perfect enough for jobs at home. Ryobi has always found the balance between gas-powered and electric tools, but electric may just be their best offering.
Their lawn and garden tools have always stood out, and their 24" 40V Lithium-Ion Hedge Trimmer is a great example. Mowers, snow blowers, generators, and power washers are other useful tools Ryobi consistently puts out for homeowners. Ryobi earned their spot as one of the top tool brands, and it doesn't hurt they're so recognizable and affordable.
5. Festool
All across Europe, and specifically Germany, Festool is regarded as one of the best tool brands money can buy. It's a bonus that Festool produces products in the United States as well, even if it's a smaller selection. In Europe, Festool's product line is just as expensive as Black & Decker or Ryobi, and it's impressive in the U.S. as well.
For American homeowners, you can find some of the greatest power tool accessories possible from Festool. Their dust extractor and jigsaw accessories make doing work around the house much easier and are produced in the U.S. However, European homeowners have access to high-quality saws, grinders, mixers, and more.
You can also find abrasives and sandpaper that make for perfect tools to help when doing finishes. Festool's primary focus is one power tools, but their line of accessories help you get the most out of their products. If you have access to Festool products, then it is well worth taking a look at their drills, grinders, miter saws, and more.
6. Makita
Similar to Ryobi, Makita is one of the top recognizable tool brands to come out of Japan. With over 100 years of experience in making tools, Makita mastered their craft a long time ago. One thing that Makita is known for more than anything else is its commitment to making affordable tools.
However, Makita has never sacrificed quality regarding its low prices and strong products. Their 18V LXT Lithium-Ion Circular Saw represents their commitment to easy-to-use and affordable tools perfect for beginners and experienced homeowners. It's a bonus that they offer products such as the 18-Volt X2 LXT Lithium-Ion Backpack Vacuum that allow you to easily clean up after working on your project.
Makita is known for their 18-volt line of electric tools, and that's largely due to the battery life. You never have to worry about your batteries dying quickly or taking too long to charge with Makita. Their tools aren't as durable as DeWalt or Ryobi, but they are high quality, affordable, and easy to use.
7. Ridgid
Part of Ridgid's success is that they offer tools for everything from cleaning drains and pressing, to tile work. It can't be stressed enough that Ridgid has a tool for just about any project or problem that could pop up in the house. They are unique in that they offer many HVAC and utility repair tools which come in handy when you own a home.
You won't find much in the way of home and garden tools with Ridgid, but you can remedy household problems with their tools. Their press tools, such as the RP 350 keep convenience in mind with the light fixed to it to make the job easier. Ridgid also offers a variety of warranties that can help instill confidence that they back up their line of tools.
Hand tools are another strong suit of Ridgid's, and their bolt cutters, hand saws, and tile tools are a great example. You can also prevent water damage with their array of air blowers and wet/dry vacuums that they currently manufacture. Ridgid should be your go-to tool brand for HVAC and utility repairs that come up for homeowners often.
8. Skil
Skil has a place in American history as their original circular saw was a major part of construction throughout time. The only difference between the Skil of the past and the Skil of today is that they've evolved each year. Their benchtop, power tools, and home and garden tools are some of the best that money can buy, and they're affordable.
Skil's PWRCORE 40 is one of the most energy-efficient and effective electric lawnmowers on the market. Yardwork got much easier when Skil released their Brushless String Trimmer that proved that electric power tools are as effective as gas. They also provide tools for heavy-duty jobs, such as their 20V Cordless 6.5" Circular Saw that costs only $89.
You can also find mechanical lights from Skil that make it easier, and safer, to work on your project. The Skil 15 Amp 10" Table Saw is just as safe as it is powerful, and the accessibility makes all the difference. You want your tools to be durable, easy to use, and safe, and Skil delivers on all of those fronts.
9. Kobalt
You could call Kobalt the Jack of all trades in the tool world, and you wouldn't be wrong to say so. They provide tools for just about any project that you could take on as a DIY enthusiast or homeowner alike. Kobalt's prices are as low as they are likely because of their inception as an exclusive brand to Lowe's.
Their tools are quite inexpensive and are basic and accessible enough to where they are ideal for homeowners. Case in point, their 24-Volt Max ½" Cordless Drill costs only $99, and with an impressive brushless motor, that's a steal. That may not be as powerful as some Milwaukee drills, but it's more than enough for most homeowners.
Another low-priced and effective tool is their 24-Volt max 24-Volt Max 6-1/2" Circular Saw which is safe and easy to use. Professionals don't necessarily flock to Kobalt, but their high-quality tools have been the choice of many homeowners since the late 1990s. Kobalt is one of many power tool brands offered by Lowe's, but since it is their own, they should be cost-effective and impressive as they are.
10. Bosch
Bosch has a wide selection that any homeowner or DIY enthusiast can appreciate which covers many needs. Even their selection of 12-volt tools is expansive with 50 products currently available in that particular category. Perhaps their strongest offering is Bosch's line of impact drivers, which includes 5 powerful tools useful to mechanics and homeowners alike.
Bosch may not be the go-to brand for huge projects, but their tools are perfect for homeowners. A case in point is their 2 Amp Corded Sheet Orbital Finishing Sander perfect for finishing small projects. Bosch's selection of tools is not as expensive as other brands that made this list, but they make up for it with accessories.
You can find accessories and attachments for miters, jigsaws, drills, grinders, and more from Bosch. European homeowners have access to more tools from Bosch, and that includes home and garden tools. All in all, Bosch is a great tool brand that values quality, customer support, and the importance of accessories for power tools.
11. Metabo HPT
You may recognize the name Hitachi more than Metabo HPT, but they are the same. The name change may have thrown some homeowners off, but rest assured, it does not reflect a drop in quality. Metabo HPT has seen an increase in quality consistently with each new batch of tools that they drop.
Their oscillating, rebar, cutoff, and woodwork tools stand amongst the greats like Black & Decker and DeWalt. Metabo HPT's nail guns, such as the 2-1/2″ Coil Siding Nailer comes in handy for countless home projects, including roof work. One of their best products is the Universal Miter Saw Stand which makes difficult woodwork seem easy, effortless, and even fun.
Metabo HPT has a long line of accessories and attachments that add to the integrity of their already solid products. Circular saw router, miter, and drill attachments are just some of the attachments in Metabo HPT's product line. Get used to the name change, because Metabo HPT is going nowhere and will maintain its impressive quality for years to come.
12. Stanley
Stanley represents another one of the gold standard brands of tools that can be used for countless applications. Of all of Stanley's amazing products, they seem to exceed the most at producing the best hand tools around. For example, the Stanley 14 Oz. Fatmax High-Velocity Hammer only costs $32, but it makes all of the difference.
Another standout is the Magnetic Torpedo Level series which exemplifies accuracy and precision as only Stanley can. Stanley puts just as much attention into their automotive tools as they do their hand tools, and that's saying something. Their 12" Adjustable Wrench can be used to fix up cars, but it's also just as effective for tasks and projects around the house.
Stanley toolboxes, such as their iconic Fatmax Pro Toolbox, are one of their most recognizable products. They are durable without being too heavy and cumbersome that they'd become a hassle to move around. Essentially, all you need is to get your hands on a Stanley tool understand why they are so beloved.
13. Hilti
Hilti may be less well known than Stanley or Makita, but they are well respected amongst homeowners. Their line of power tools and modular support systems are known for being cost-effective while still retaining quality. Hilti also produces construction chemicals, such as foam sealant and concrete repair which pair well with their tools.
As a brand, Hilti exceeds at providing a wide selection of drills, angle grinders, and sanders that live up to their reputation. You get high-quality products with low-end pricing for many Hilti tools, such as the AG 450 7-D angle grinder for $89. Things get pricier with the AG 500-12D, but the $199 price tag is marked by improvements like the soft grip.
One of the most useful tools that Hilti offers is the HIT-HY 200-A adhesive anchor perfect for installing rebar. Hilti is a go-to brand for many homeowners trying insulation work, and their IDP insulation anchor is outstanding. If you want to get the most bang for your buck, Hilti is a brand that values quality as much as fair prices.
14. Worx
Worx is a bit of a Jack of all trades in the tool world, and that's why it's on this list. Whether you are doing home and garden work or are sawing wood, Worx has affordable options for you. Companies such as Milwaukee may have a wider selection, but Worx can go toe-to-toe when it comes to quality.
The Worx BladeRunner Portable Table Top Saw only costs $139, and it exemplifies their attention to detail. Their cordless tools are just as effective as well, and one of the best is the Worx 20V Compact Circular Saw. Worx is known for its garden tools, which include lawnmowers, that are highly regarded and equally affordable.
Drills are another strong suit for Worx, and the 20V Power Share Drill Kit is worth the $129 price. Roof work seems easy when you use the Worx 18 Gauge Nail and Staple Gun, but all of their nail guns are great. Worx deserves its great reputation, and it's a tool brand that you should certainly consider for your collection.
What is the Best Power Tool Brand?
The best power tool brand would have to be a tie between Black & Decker and Craftsman. Both Black & Decker and Craftsman boast wide selections and even more impressive quality. Neither brand has had to deal with the consequences of releasing inferior tools, and that explains their longevity through the years.
Between the two brands, Black & Decker produces more products than Craftsman, but both offer plenty. Comparing either brand is like comparing hard-anodized and stainless steel cookware; they both have their strengths and earned their reputation. With that said, Black & Decker is the best tool brand for homeowners because of the wide variety and consistency.
That's not to say that brands such as Ryobi, Milwaukee, Bosch, and DeWalt are not amazing. It's more a matter of Black & Decker's ability to consistently top themselves with each new tool line. Whether it be lawn and garden tools, drills, saws, or woodworking tools, Black & Decker never disappoints.
Best Tool Brand For DIY
The best tool brand for DIY projects is Milwaukee due to the variety of options that they offer. Milwaukee is great for DIY-oriented builder-owners because their accessories, hand tools, power tools, and safety gear are all amazing. You can also find vacuums and dust extractors which are a must for any DIY project.
Everything from the Brushless Cordless ½" Drill Driver to the M18 16" Fuel Chainsaw is easy to use and consistent. What secures Milwaukee's place as the best power tool brand for DIY is the durability and quality. You need to know that your power tools are built to last for all of your DIY projects for years to come.
Best Cordless Power Tool Brand
The best cordless power tool brand is Ryobi, and Makita follows closely behind. Ryobi has always been at the forefront of cordless power tools, and that has a lot to do with battery life. Cordless power tools are only as effective as their battery life is long.
One of their best options is the Ryobi 18V ONE+ Lithium Chainsaw which boasts a 4AH battery. Ryobi proved that cordless tools are not only quieter, but they can also be superior to gas-powered alternatives. Environmentally conscious, cost-effective, and long-lasting, Ryobi cordless power tools are well regarded for their quality.
Makita also produces some incredible cordless power tools, and it's one of their strong suits. Not only are their cordless woodwork tools incredible, but Makita also makes some of the best cordless leaf blowers. Ryobi may take the cake as the best cordless power tool brand, but Makita has many products that are just as good.
Best Concrete Power Tool
Right now, one of the best and highest rated power tools for concrete is the DeWalt 20V Rotary Hammer. Not only is this rotary hammer powerful and precise, but it reduces vibrations allowing for more control. The brushless motor on this rotary hammer makes it so that you can use the tool for a long time without wearing it out.
DeWalt doubles down on quality with this tool by providing a comfortable ergonomic grip making long sessions easy. Doing concrete work can become difficult and can wear on you, but this rotary hammer combats that. If you had any doubts that DeWalt is among the best power tool brands, then look no further than this rotary hammer.
---
Related Questions
Do power tools use a lot of electricity?
Yes, corded power tools can use a lot of electricity with extended usage, and that's especially true for power saws. Using wet/dry vacuums and air compressors can also increase power bills and consume a high volume of energy. The best way around that is to limit usage or simply switch to using cordless power tools.
How should power tools be stored?
Power tools should be stored safely inside of a shed, or a safe spot indoors such as your basement. It's acceptable to store power tools in your garage as well, but only if they aren't exposed to extreme temperatures. The key is to minimize moisture and humidity to protect them from damage, and that's best done with dehumidifiers.
Can power tools freeze?
Power tools have the potential to freeze, but even if they don't, freezing temperatures can damage them. The combination of the cold temperatures with the humidity and moisture can be a death sentence to power tools. Plastic, metal, and the electrical components of power tools can all be damaged by freezing temperatures.
What power tool brand has the best warranty?
Craftsman offers the best warranty for any tool brand with its free lifetime warranty, but it comes with a catch. The power tool brand doesn't honor the warranty if the tool breaks as a result of the customer misusing the product. Even still, Craftsman is often quick to replace your power tools, and they don't even require that you provide a receipt to do so.
Can power tools get wet?
It is not generally safe for power tools to get wet, and it is advised against by manufacturers. Using power tools in the rain specifically can cause a risk of damaging the tools and even electrocuting yourself. Some cordless drills are considered safe for underwater use, but only for a few minutes at a time.
What Did We Learn?
Craftsman is the best power tool brand in general, and Black & Decker is the best tool brand for homeowners. Black & Decker is ideal for homeowners because of the ease of use and wide selection available for many projects. Other brands, such as Ryobi and Makita, can claim the title of the best cordless power tool options on the market.
Milwaukee is the best tool brand for DIY due to the vast selection and project-specific tools in their catalog. Between the woodwork and concrete tools and accessories, Milwaukee has a tool and solution for any imaginable DIY project. Other brands, such as Ridgid and Worx, also have a wide enough selection that you can find tools for any project you have in mind.
Whether it be Metabo HPT, Bosch, Stanley, or Skil, you have countless options for high-quality power tool brands. It's ultimately a matter of your personal preference, experience level, and what project it is that you need the tools for. Consider the project that you are going to tackle, and explore these power tool brands to find the right one for you.

Nick Durante
Nick Durante is a professional writer with a primary focus on home improvement. When he is not writing about home improvement or taking on projects around the house, he likes to read and create art. He is always looking towards the newest trends in home improvement.
More by Nick Durante
Published January 1st, 2021 6:00 PM