253 Views
Why Does Xfinity Stream Keep Freezing? (Possible Causes & Fixes)
December 2nd, 2021 11:37 AM
Share
We're committed to finding, researching, and recommending the best products. We earn commissions from purchases you make using links in our articles. Learn more here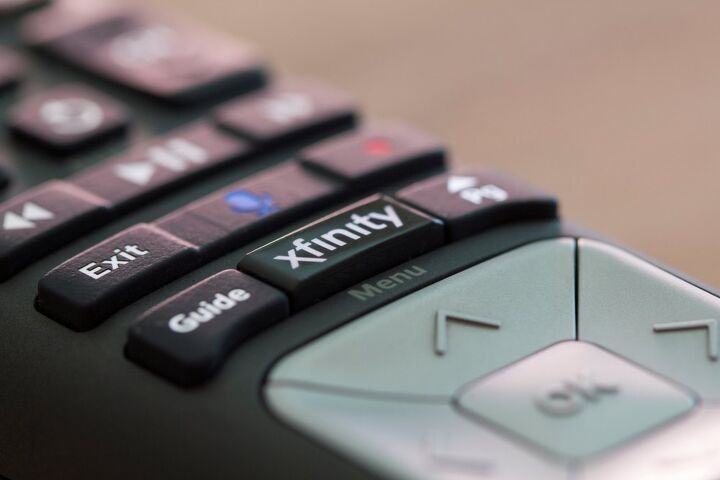 So, you aren't home but need to watch the season finale of Yellowstone- no big deal when you have the Xfinity Stream app. However, it suddenly keeps freezing on your phone, and you can't help but wonder why this is happening to you (and of all times, right now!).
If your Xfinity Stream app keeps freezing, it's commonly the result of poor internet connection. Ways to combat this include switching devices, closing other apps, securing your TV cables, and updating the Stream app. Ensure you're using a supported streaming device by consulting the list below.
Follow along to get to the bottom of why your Xfinity Stream app is freezing. We have some recommendations to restore the app!
Do You Need TV or Home Theater Accessory Repair?
Get free, zero-commitment quotes from pro contractors near you.
What Is Xfinity Stream?
Xfinity Stream is an app that lets you broadcast cable TV on your computer or mobile device. It allows you to watch TV shows, movies, and other content in real-time, as well as countless OnDemand options.
To access this service, you must have an Xfinity Internet subscription and be actively connected to WiFi or a 3G/4G network. Xfinity Stream allows a maximum of 2 devices on each account to stream simultaneously.
Downloading this app is simple! Just go to the application store of your chosen phone or tablet (iTunes for Apple devices and Google Play for Androids). Then, sign in to your account using your Xfinity username and password.
Why Does Xfinity Stream Keep Freezing?
Your Xfinity Stream is most likely freezing as a result of poor internet connection. Nothing is worse than watching a show and having it continue to pause/ load on you. It's totally frustrating, especially when it happens for no reason.
Whether your internet connection is spotty or can't establish a signal at all, it's going to seriously impact the quality of your streaming experience. That being said, we have some thoughts.
10 Ways to Fix Xfinity Stream (& Keep It From Freezing)
If you run into a bind and are eager to use Xfinity Stream without it freezing, there are a few practices to improve your Internet connection ASAP.
Here are the top ten ways to fix your Xfinity Stream App:
Delete and redownload the app
Restart your streaming device
Switch streaming devices
Update the app
Update your streaming device
Check your WiFi connection
Close all other open apps
Secure your TV cables
Relocate the TV power cable to another outlet
Clean your streaming device screen/buttons
We'll get more granular below!
Fix #1: Delete and Redownload the App
The quickest way to get your Xfinity Stream app working again is by deleting and reinstalling it on your TV. Additionally, you can do the same on your phone or tablet if that's where the problem began.
Don't worry; all of your settings will stay intact when you reinstall the application! Although, you will have to log back in, so have your account information handy.
This quick refresh for the app should help get rid of any residual bugs or glitches in the system.
Fix #2: Restart Your Streaming Device
Sometimes, restarting your streaming device will stop Xfinity Stream from freezing up. To do this- power cycle your TV, phone, or tablet.
Power down the device.
Wait 60 seconds.
Turn your device back on.
This 3-minute process is a necessary first step when any electronics are acting up.
Fix #3: Switch Streaming Devices
Maybe your phone just doesn't like you today- but in all seriousness, switching devices can fix your freezing problem.
If your electronic device isn't cooperating, the issue might lie with the streaming service itself. Certain devices, like Huawei branded phones, are not accepted by Xfinity to stream their data. Furthermore, not all device models meet the minimum hardware requirements for the Xfinity Stream app.
The devices Xfinity Stream does run on are compatible:
Amazon Fire TVs
LG Smart TVs
Roku TVs and other equipment
Samsung Smart TVs
Apple devices (Mac, iPhone, iPad)
Kindle Fire tablets
Androids
As long as you have Xfinity internet services, you can use any of the devices listed above. Don't forget to make sure that you are connected to WiFi or have 3G/4G cell service!
Note: Any tablet, smartphone, or Fire TV device running Android 4 or earlier is not supported by Xfinity.
Fix #4: Update the App
An outdated Xfinity Stream app can result in freezing and glitches of all kinds. To prevent this from happening, you should always have the most up-to-date version of every app.
You can find out if your app needs an update by visiting the App Store or Google Play. In addition to any new features or security patches, an update can fix a myriad of issues and make your viewing experience much more enjoyable.
So, how do you update your Xfinity Stream app? We'll use the iPhone as an example since they're the most widely used.
Go to the 'App Store.'
Click on the profile icon (top right).
Scroll down to 'Pending Updates' or 'Upcoming Automatic Updates.'
If you have automatic app updates enabled on your phone, you'll be able to see when the Xfinity Stream app will have a new version available (if it's coming soon).
Otherwise, you can update the app manually by selecting the 'Update' button next to the Xfinity Stream icon.
Fix #5: Update Your Streaming Device
Have you been putting off the software update on your phone for months?
There's a chance your Xfinity Stream app is up to date, but your streaming device might not be. Be sure that you have the most recent product updates for both of these devices to prevent freezing.
Most electronics will perform automatic updates at night when you aren't using your device (as long as it's plugged into a charger). Otherwise, you can manually complete it during the day.
Fix #6: Check Your WiFi Connection
It sounds simple, but confirming that you have a good internet connection means everything for your streaming capabilities.
If you're using the Xfinity Stream app and it starts to freeze, don't forget to check your WiFi signal!
Fix #7: Close All Other Open Apps
If you have an older device, it's likely that having too many apps open at once will lead to your Xfinity Stream freezing.
Initially, this is a sign of low RAM (Random-Access Memory). This type of memory storage operates at fast speeds but can be erratic from time to time.
Therefore, try closing out of all other open applications and tabs before viewing shows on Xfinity Stream.
Fix #8: Secure Your TV Cables
Does your TV screen freeze every time you touch it?
In most cases, this is a disconnection issue- however, sometimes it can be as simple as touching the wrong part of your television, which leads to tugging on the TV cables.
To ensure this is not your problem, use cables with enough slack (but not too much that it causes power dilution), and check their connection security every couple of months.
Fix #9: Relocate the TV Power Cable to Another Outlet
If you're using Xfinity Stream on your actual TV and are still experiencing crashes or freezing, it's time to check your power outlet. Sometimes, moving the TV's power cable to a different place will fix crashing for good!
Also, eliminate surge protectors. They can weaken your power source and cause problems with achieving an internet signal.
Fix #10: Clean Your Streaming Device Screen/Buttons
Last but not least, your Xfinity Stream might be freezing due to excessive dirt or grime on the screen or buttons of your device.
We recommend cleaning all of your screens with a microfiber cloth every so often to eliminate residual dust particles. You should also be wiping down any remotes or buttons regularly and after spills.
Not only does this practice help to eliminate germs from your home, but it also preserves each electronic device. If your 'Pause' button is caked with dirt, it may be the culprit causing a frozen Xfinity Stream.
---
Related Questions
Is Xfinity Stream free?
Technically, Xfinity Stream is free- there's no additional charge for using its Services. However, to watch via Stream, you must have a valid Xfinity Internet subscription.
Does Xfinity Stream have all of the Harry Potter movies?
All 8 Harry Potter movies are now located on Peacock and Peacock Premium, which are available to all Xfinity Flex, Xfinity X1, and Xfinity Video customers.This is provided that you have a subscription to their:
Internet or Digital Starter TV
OR an equivalent/ greater package
Why does my Xfinity Stream app have an audio delay?
Your Xfinity Stream app is exhibiting the following behavior: There is a significant delay between the time video appears on your TV and the time corresponding sound is played through your soundbar.
To resolve this issue:
Verify/disconnect the SAP/MTS switch on the TV, DVD, or VCR.
Confirm the 'Default Audio Track' option in the video device's guide if the problem persists.
Last but not least, double-check that the HDMI cord is firmly connected to both the TV and cable box.
Do You Need TV or Home Theater Accessory Repair?
Get free, zero-commitment quotes from pro contractors near you.
Final Thoughts
Xfinity Stream is a digital streaming service that provides various channels and content- with no additional cost to you (well, as long as you have an Xfinity Internet plan).
However, as many of us know, the internet can be notoriously finicky at times and cause your Stream app to freeze or lag. To fix this problem, we recommend checking your WiFi connection before trying anything else!
If there are too many open apps on your device (especially if it's an older one), try closing them all out. It can also help to move the power cable of your TV elsewhere, in case there's an issue with the outlet.
Lastly, maintain your remotes and device screens by wiping them down every so often!

Emily Carr
Emily is a copywriter with over five years of experience in crafting content for the home renovation and remodeling industry. She loves house projects, whether it be painting a room or tweaking small design elements to transform a space. Her favorite aesthetic is french modern because of its clean lines and airy feeling! When not writing, Emily loves to travel and check out architectural details all over the world.
More by Emily Carr
Published November 9th, 2021 2:58 PM