103 Views
Where Does Pest Control Spray In Apartments?
October 24th, 2021 7:22 PM
Share
We're committed to finding, researching, and recommending the best products. We earn commissions from purchases you make using links in our articles. Learn more here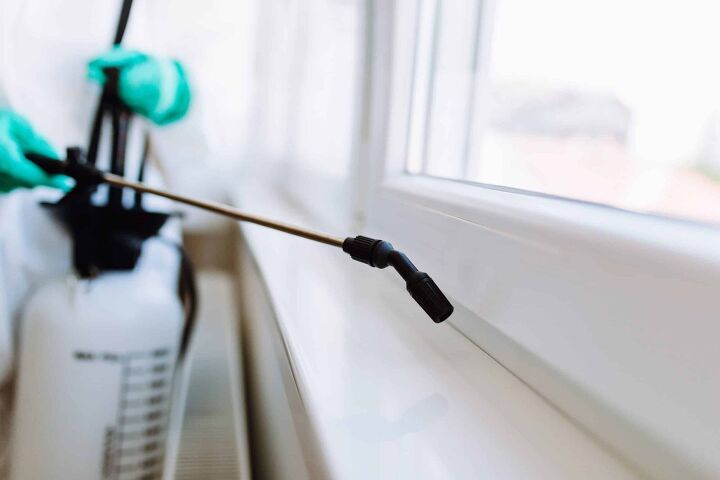 When you live in an apartment, it's difficult to prepare for services like pest control. Unlike homeowners, you likely won't have the convenience of talking with pest control beforehand. You may have to rely on secondhand information from your landlord.
For apartments, your exterminator will spray inside the perimeter of each room for preventative pest control. For active infestations of cockroaches or ants, they will place bait traps and spray in areas that the insects have been spotted. However, they may fumigate an entire apartment for bed bug and termite infestations.
In this apartment, we'll give you an idea of what to expect from a pest control visit. We'll tell you where pest control is most likely to spray, and how to prepare your apartment.
Do You Need Pest Control Services?
Get free, zero-commitment quotes from pro contractors near you.
Preparing Your Apartment for Pest Control
There are different procedures for each type of insect extermination. Your landlord or the pest control company should inform you of the areas they will focus on. Here's a general guideline of what to expect from each type of treatment:
Preparing for Cockroach and Ant Treatment
These pests are dealt with similarly. Pest control will usually place bait traps in areas that the creatures have been spotted.
Remove everything from the kitchen cupboards and cabinets. Ants and cockroaches typically invade the kitchen, since they're mostly looking for food. Your pest control technician will need to get in these areas to spray and place their bait.
It might also be helpful to leave a note for them to make sure they have firsthand information. Let them know where you have seen the pests, and about how many times you have seen them there. Document any areas that you do not want them spraying.
How to Prepare for Flea Treatment
If you're dealing with fleas in your apartment, you'll need to perform certain steps before pest control arrives. Either your landlord or the pest control company should speak with you before they arrive to inform you. These steps will help to maximize the effectiveness of your home's flea treatment.
Here's what usually needs to be done to prepare for a flea treatment:
Step 1: Remove all toys, clothes, pet food, etc. from floors in every room. Make sure small areas such as crawl spaces are easily accessible.
Step 2: Cover and store any food products, dishes, or utensils that are exposed.
Step 3: Wash or replace your pet's bedding.
Step 4: Sweep and mop your hardwood, tile, and linoleum floors
Step 5: Vacuum every carpet and rug, even under and behind beds and furniture
Step 6: Remove all pets from the home during application and make arrangements to vacate the apartment for several hours.
How to Prepare For Termite Removal
This treatment requires significant preparation. Here's what you will likely be asked to do to prepare for termite treatment:
Step 1: Remove any food items that are not sealed from your home. Even products in the refrigerator and freezer. This includes human food, pet food, tobacco products, and medication. Items that are sealed in plastic, glass, metal, or in cans can remain.
Step 2: Dry goods contained within cardboard boxes or in bags should be removed, even if they haven't been opened yet.
Step 3: Remove mattresses (like crib mattresses) that have been sealed in plastic or remove the waterproof covers. The plastic on these items can hinder the effectiveness of the treatment.
Step 4: Remove all plants from the inside and outside of your apartment to prevent damage.
How to Prepare For Bed Bug Treatment
Bed bug treatment requires the most extensive preparation. It may feel like you're packing to move out in some rooms. But keep in mind that each step should be followed completely to prevent recurrence of infestation, and of future treatments.
If the pest control company thinks your apartment is not adequately prepared, they might leave and plan to come back another time. Here's what you will need to do:
Step 1: Pull all furniture away from the walls and baseboards by 2 feet.
Step 2: Take mattresses and box springs out of the bed frame and lean them up against the wall.
Step 3: Take everything out of bookshelves, dressers, and nightstands and put them in plastic bags in the center of the room.
Step 4: Takedown any pictures, mirrors, or any other décor hanging from the walls. They may want to inspect them for possible treatment.
Step 5: Remove all of your clothing from dressers and closets. Wash any clothing that can be laundered. Use the highest temperature settings possible when washing and drying. Put everything in fresh plastic bags and place them in the center of your room when you're finished.
Step 6: Vacuum all carpets, rugs, baseboards, bed frames, couches, chairs, and any other upholstered furniture. Vacuum your mattresses, including every crevice or button.
Be aware that depending on the severity of the infestation, you might possibly have to dispose of certain pieces of furniture.
What to Expect from a Routine Maintenance Spray
If you're home when pest control arrives, tell them about any issues with pests you have been experiencing. Leave a note with this information if you have been told to leave the apartment.
The technician will start by walking around your apartment, spraying the perimeters of each room. They'll be paying close attention to the areas where pests usually hideout. They will spray those areas, look for signs of infestation, and act accordingly.
How Long Should I Stay Out of My Apartment?
The most common logistical question of having pest control come is "When can I come back home?" Sometimes it's tricky to plan for everyone to stay away from home, particularly if you have pets or young children.
The amount of time you will need to leave for depends on the type of infestation, and how extensive the treatment is. The pest control company could tell you to stay away for anywhere from a couple of hours to a couple of days. Leaving for days is usually only the case for bed bugs or termites.
What are the Risks of Pesticides in My Apartment?
While it is a major inconvenience to have to evacuate during treatment, keep in mind that it's for you and your family's safety. Although pesticides are not as dangerous to humans as they are to insects, there are risks when you don't follow certain precautions.
Here are some potential health risks of pesticide exposure, according to the Environmental Protection Agency:
Irritation to the eye, nose, and throat
Damage to the central nervous system and kidneys
Increased risk of cancer
Symptoms of exposure include:
Headache
Dizziness
Muscle Weakness
Nausea
Chronic exposure can lead to damage to the liver, kidneys, endocrine, and nervous system. Individuals with pre-existing conditions such as asthma and pregnancy should take extra care to follow all of the precautions.
Do You Need Pest Control Services?
Get free, zero-commitment quotes from pro contractors near you.
---
Related Questions
Is pest control safe for my dog?
For less severe infestations, sometimes your pet won't even need to leave the apartment. However, they will need to be kept away from any treated surface until it dries. For this reason, you may decide it's easiest to remove them until it's safe for them to roam freely at home.
How often does routine pest control happen?
If your apartment uses a pest control company for regular treatment, it is usually performed on a quarterly basis. You can probably expect to see pest control every 2-3 months.

Kathryn Flegal
Kathryn is a craft aficionado who loves writing about DIY home improvement projects. When she's not writing, she loves reading, listening to musicals, and playing with her kids.
More by Kathryn Flegal
Published September 22nd, 2020 2:49 PM