296 Views
When Does HomeGoods Restock?
June 2nd, 2023 2:56 PM
Share
We're committed to finding, researching, and recommending the best products. We earn commissions from purchases you make using links in our articles. Learn more here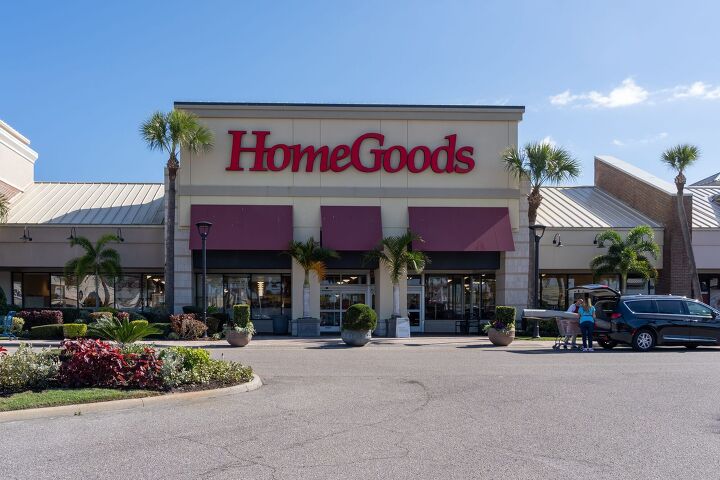 If you get a rush every time you enter HomeGoods, you might already know exactly when to snag the best deals and find unique items. But what if you can't find what you're looking for to complete your latest home design dreams? When does HomeGoods restock so you can get your hands on that prized bookend or cushy throw pillow set?
Restocking days at HomeGoods vary based on the store location, but most stores restock at least once a week, typically Monday evenings. Busier locations might receive new shipments multiple times a week, putting new items on the shelves daily. To determine your favorite HomeGoods location's restocking schedule, ask the staff directly. It's also possible to sign up for store alerts.
Planning out your shopping endeavors around stores' restocking days can be a great way to score some fantastic items. If HomeGoods is your go-to place for satisfying your shopping itch, then check out these tips for getting a heads-up on new merch.
When Does HomeGoods Get New Shipments?
There's no specific day that all HomeGoods stores receive new shipments, but many appear to receive new merchandise on Mondays. Therefore, a lot of restocking happens Monday evenings, making Tuesdays the best day to find new items.
But depending on the store location, this day can vary. If the location is a busy one, then they likely get new shipments several days a week. For example, a popular HomeGoods store might receive shipments on Monday, plus Wednesday, Friday, and even Saturday.
Other bustling stores might get shipments up to five days a week. If your favorite HomeGoods is one of the busier locations, you could see new items on the shelves every day. But location isn't the only thing that influences the restocking days at HomeGoods.
Things That Can Affect When HomeGoods Restocks
In addition to the location, several other things influence when HomeGoods restocks. Primarily, after the store's location, item popularity and supply chain conditions affect when your HomeGoods receives new shipments. Employee shortages could also affect how quickly you see new items on the shelves.
Popularity Of Items And Seasonality
There might be a higher demand for certain products during various seasons, like holiday decorations or patio furniture. Therefore, during these times, HomeGoods typically increases the number of days they receive shipments, but only on specific items.
This increase in restocking is to answer a higher demand for specific products. If there's no increase in demand, you won't likely see any additional shipment days.
Supply Chain Issues
In some cases, HomeGoods may need to adjust its shipment frequency because of issues beyond its control. For example, supply chain problems, shipping delays, suppliers going out of business, etc., affect how often a store gets new items.
When things like this occur, you might find it challenging to find specific items. However, HomeGoods usually does its best to find alternatives and offer a variety of products to its customers.
Employee Shortages
In some areas, stores may be desperately looking for more employees. If a location faces an employee shortage, this could result in items taking a while to make it onto store shelves.
For example, the shipment might still arrive on a Monday evening. However, if there aren't enough HomeGoods employees to stock the shelves, the process could take a few days. In this situation, you may notice a few new items the next day, but the rest show up the following day or throughout the week.
How Can I Know When My Local HomeGoods Gets New Items?
You can't base your HomeGoods restocking days on another store's schedule. So, how do you know when your favorite location gets new stuff?
Ask The Store Manager And Employees
The best way to find out when your specific HomeGoods restocks is to talk to the staff at that location. Ask a manager when they typically receive new shipments and when they'll get their next shipment.
If you're looking for specific products, whether it's a particular vase or a set of bed sheets, chat with the employees. Ask employees when they expect to see more of these items on the shelves. Since they're the ones restocking and keeping track of inventory, they'll have the best idea of when new things will arrive.
Sign Up For Store Alerts
Stay updated about upcoming new arrivals at your favorite HomeGoods by downloading the HomeGoods app. Through the app, you can view various products as they arrive in the store.
The app lets you set your preferred location. Therefore, you know you're seeing the products that arrive at your store and not one five states away.
Another way to receive store alerts is by signing up for the HomeGoods newsletter to receive updates via email. These updates include information about new arrivals, store news, and upcoming and current sales. You can sign up via the store's website by scrolling toward the bottom of the page and entering your email where prompted.
Follow HomeGoods On Social Media
Like and follow HomeGoods on Facebook and Instagram to see the latest restocking updates and new arrivals. The company's YouTube Channel is also a good source for getting eyes on the latest products as well as helpful design tips.
When Are The Best Times To Shop At HomeGoods?
Once you know your favorite HomeGoods store's restocking days, the best time to get dibs on the new stuff would be the day after. However, when should you go to enjoy the most pleasant shopping experience?
A popular recommendation from avid shoppers is to go to the store during the late morning or early afternoon. These hours are when the majority of people would be at work. Of course, if you're also at work during this time, then you may need to swing by when you get off.
However, generally, Tuesdays through Fridays are less busy than Saturdays and Sundays. Don't want to deal with in-store shopping? You can always do your shopping from the comfort of your own home through the HomeGoods website or app.
What If You Can't Find What You're Looking For At Your Local HomeGoods?
You find out your store's restocking days. You show up the next morning to get the elephant lamp you had your eye on, but it's not there. Either your location didn't get those during their latest shipment, or ten people got there ahead of you and bought every last one (hey, it could happen).
Don't despair. Is there another HomeGoods within driving distance of your favorite location? Different stores receive different items in their shipments. Ask an employee to call the other location and see if they have the item in stock. If so, head on over and pick up your treasure.
If there aren't any HomeGoods nearby, what about a Marshalls or T.J. Maxx? These stores are sister stores to HomeGoods, all under the same larger company, TJX. Marshalls and T.J. Maxx carry similar merchandise to HomeGoods, so the item you're looking for could be at one of these places.
A Final Look At When HomeGoods Gets New Items
A popular restocking day for HomeGoods is Monday evenings since many locations receive shipments on Mondays. Therefore, you can expect to see new items on the shelves on Tuesdays. But shipment days vary from location to location, so your best bet is to ask the staff at your particular store.
Busy locations likely have multiple days they receive shipments, and you could find new things every day. Signing up for store alerts and setting your preferred location in the app will give you a heads-up about new arrivals. If all else fails, shop online to find exactly what you're looking for or check nearby locations.
Related Guides:

Stacy Randall
Stacy Randall is a wife, mother, and freelance writer from NOLA that has always had a love for DIY projects, home organization, and making spaces beautiful. Together with her husband, she has been spending the last several years lovingly renovating her grandparent's former home, making it their own and learning a lot about life along the way.
More by Stacy Randall
Published June 2nd, 2023 2:56 PM