254 Views
What Color Goes With A Camel Couch? (Find Out Now!)
August 31st, 2022 11:50 AM
Share
We're committed to finding, researching, and recommending the best products. We earn commissions from purchases you make using links in our articles. Learn more here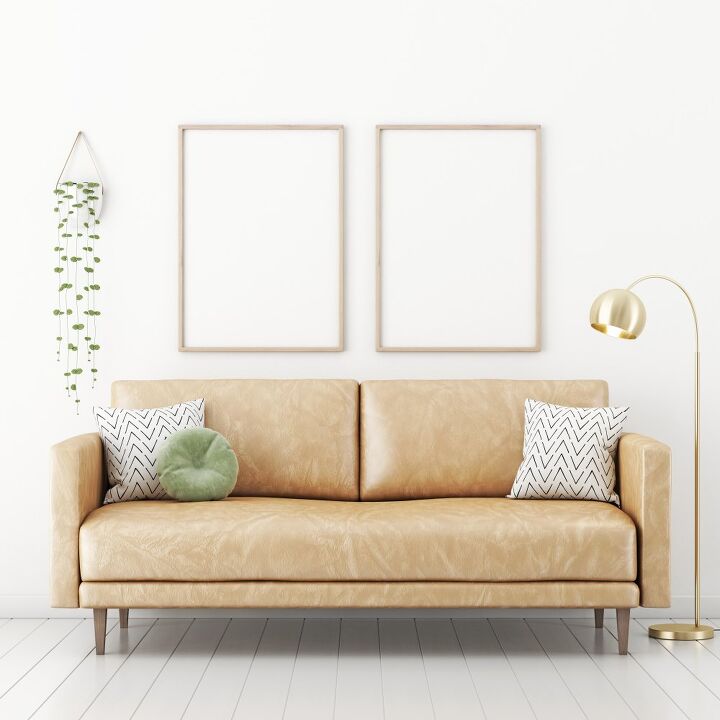 "Camel" is a word that most people associate with an animal more than a color, however, that's starting to change. This color is known for being a sandy beige-brown with hints of golden yellow. It's a gorgeous color, and it's become a smash hit with furniture makers. Now that camel couches are hitting major design magazines, people are starting to look for ways to get all matchy-matchy with their couches. So, what colors fit the bill?
Camel is a neutral color, which means that it can technically work well with virtually any type of color. However, there are some colors that are better than others. They include:
Beige
Off-Whites
Blues
Pink
Rusts
Green
This beautiful desert-inspired shade is taking the design world by storm. So, why not join in the fun? We've got all the coordination advice you'll ever need.
Do You Need an Interior Decorator?
Get free, zero-commitment quotes from pro contractors near you.
What Are The Best Colors To Go With A Camel Couch?
Camel couches are pretty slick, but it's still important to get the most of your couch's rich color by getting a color that works well with it. Let's take a look at some of the better options.
Beige
Beige is just a little lighter, and a little less yellow than camel. This makes it a perfect neutral to pair with your couch. It gives your home a monochromatic look, but with a catch. While most monochrome looks tend to have a cool, heavily stylized look, this pairing gives you a warm and homey appeal. It's effortlessly chic.
Most people love to pair beige with camel, if only because it just naturally makes sense. It's the easiest, least risky thing you can do in terms of interior design.
Off-Whites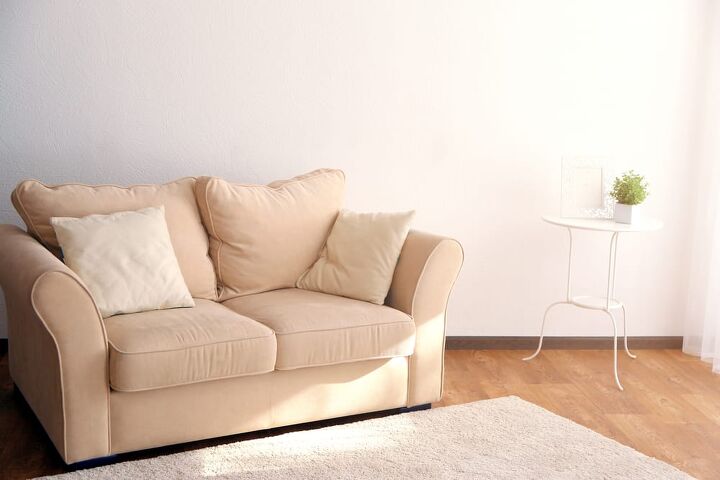 Are you looking for a minimalist look? Stick to off-whites and cream accessories around your sofa. These are super-light shades that help flaunt the golden and sandy tones of a good camel couch. Along with being a universally flattering pair of neutrals, off-white and cream tend to help brighten up a room that would appear dark otherwise.
This is a good go-to if you are looking for a way to make a room appear larger. It also works if you enjoy Scandinavian "hygge" stylings and minimalism.
Blues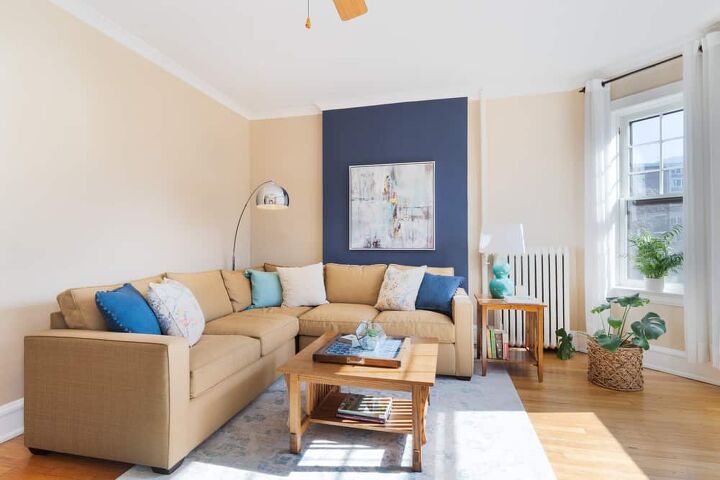 Most people assume that camel is a color that should stick to warm, desert-y motifs, but this is not true. Blue turns a camel couch-filled room into a nice, oceanic place to hang out. To get a little more dimension to your room, make sure to vary the shades of blue a bit. It's an absolutely beautiful way to turn your home into your own exotic oasis.
It's worth noting that many exotic lands are known for their love of blue, white, and beige. A good example of this would be Greece, as well as Morocco. It's a chic look that works well with global styles.
Pink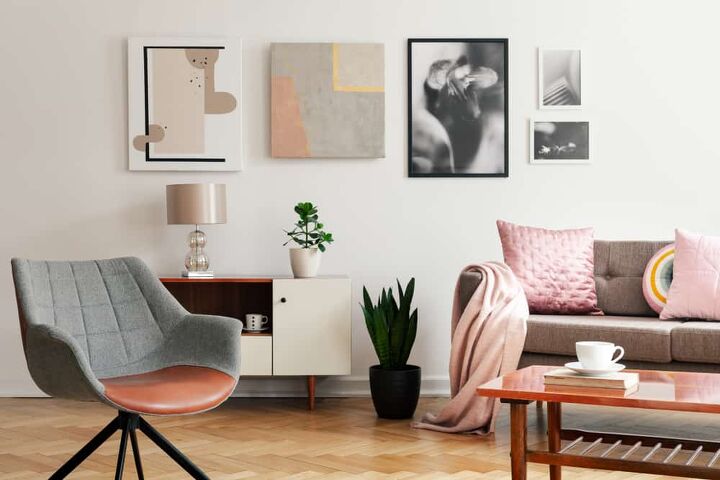 In this picture, we see a color combo that's increasingly popular. Dark camel-beiges with a side of millennial pink. The pink actually helps tone down the yellow in this camel couch, but also keeps things looking warm. Pink is an incredibly trendy color right now, especially if you are looking for a way to add a feminine or Southwestern touch to a home.
If you go for this choice, adding deeper color wood accents can look amazing. Of course, going for a classic light birch is also a great option.
Rusts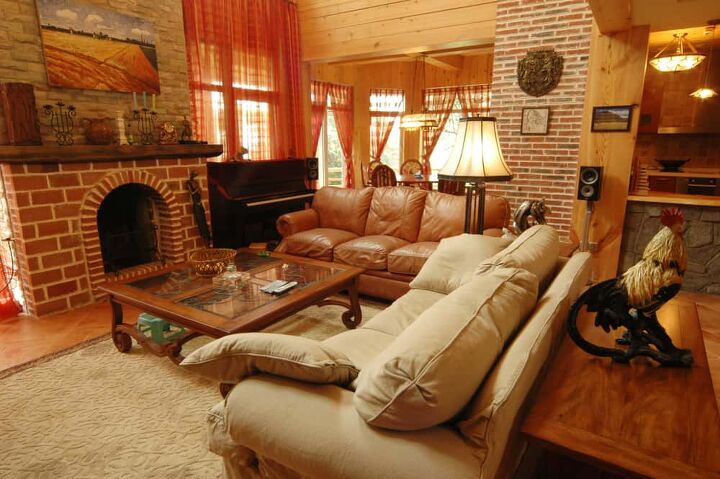 If you're a fan of rustic or Western decoration, you will find a good design ally in rusty colors like the ones featured in the photo above. Rust works as a perfect complement to the warm yellow undertones of camel couches. As you can see in this photo, all the brick accents and ruddy metal touches are actually balanced out by the creamy, lighter tones of camel.
With all that said, rust can be a bit overwhelming in large quantities. A better option for most people is to get a nice throw pillow or a blanket to add to your sofa setup. Or, if you want to get artsy, getting a nice abstract painting can be a better way to keep things balanced.
Green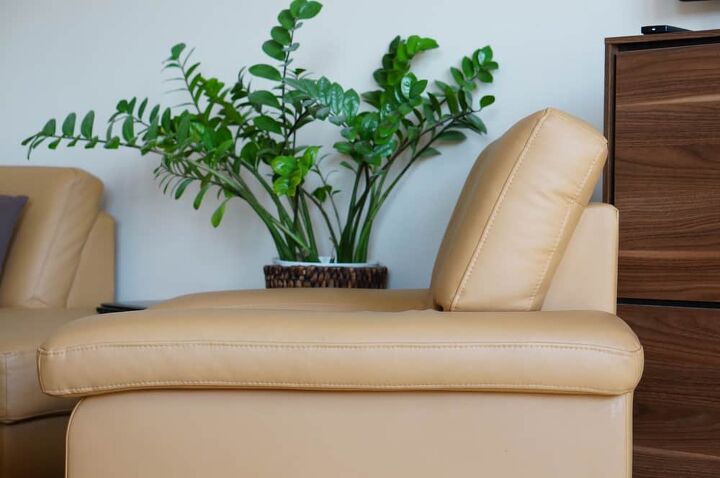 At the end of the day, camel is a very distinct shade of beige. It's warm, but it's still an earthy color. That's why most other earth-centric colors tend to work well with it. Green is one of those colors. This picture above shows how elegant a splash of green (via a potted plant) can look when paired with a camel sofa.
Of course, you don't have to get your green from plants to make this look work, nor do you have to have a blue background. A throw pillow in almost any shade of green will work wonders with your new couch.
What Decorative Styles Go Well With Camel Sofas?
Camel couches and sofas are remarkably versatile, especially since camel is actually a neutral color. This makes them a good choice for most interior design styles you'll find. Much like with colors, some styles are more appropriate for this couch color than others. The best styles for a camel couch include:
Scandinavian. Scandinavian decor is famous for using light neutrals to make a home brighter, cozier, and larger. This makes it work remarkably well for camel couches. It'll fit right in!
Mediterranean. Whether it's a fine Italian home, a Spanish villa, or a place that looks like it's right off the shore of Mykonos doesn't matter. What matters is that most Mediterranean decoration styles tend to focus on sandy beiges like camel. This makes it a good choice for people who want a Euro flair.
Western/Rustic. Do you love the idea of hanging out in a luxury cabin in the woods? If so, you'll love the idea of chilling out on a camel-colored couch while you're wrapped up in a flannel blanket. Camel has a way of unleashing your inner cowboy when it's paired with the right accessories. This would look perfect in a rustic basement!
Southwestern. Considering that camel is a color that's inspired by colors found in desert creatures, it comes as no surprise that themes surrounding the American Southwest rock this shade. In fact, it might be the OG reason why most designers got into camel couches.
Modern. Most modern interior designers have embraced neutral couches with wide-open arms. Camel couches fit squarely into that description. Since it works with all colors, it also can work with whatever decor you choose to add…even if it's a Murakami statue.
Contemporary. Contemporary is a good term to use when you talk about the generic "all-American" home style that you see in most peoples' houses. Much like modern and rustic looks, it's heavy in warm neutrals like camel.
What Styles Don't Work Well With Camel-Colored Couches?
It's pretty rare to find a style that struggles with this golden sandy color. However, there are some themes that don't go with it simply because camel is a slightly dull neutral or because this type of color wasn't featured in the time period that the style had. Some good examples of these styles include Baroque, Rococo, and Victorian interior design.
Obviously, most people aren't going to have gold-clad Rococo as a part of their home. So this is (kind of) a moot point for the vast majority of people out there.
Do You Need an Interior Decorator?
Get free, zero-commitment quotes from pro contractors near you.
---
Related Questions
What are most camel-colored couches made out of?
Though camel couches might have a connotation of being made out of camel skin, it couldn't be further from the truth. Most camel couches and sofas are made of leather, faux leather, or something along the lines of canvas. In other words, you should be able to expect to find a couch of this color in whatever material you want.
What kind of couches last the longest?
Couches that have a solid hardwood base are the ones that have the longest durability in terms of structure. When it comes to the actual material's wear and tear, genuine leather tends to be the best choice for your couch. If you want to go for a vegan option that lasts long, microfiber and canvas can both work well.When searching for a long-lasting material, take a look at how many "sits" the material is rated for. This will tell you how many times the material will be able to withstand being sat on before it shows serious signs of wear and tear. Most quality manufacturers will be able to tell you the durability of the couch material they offer.
What colors work well with a tan sofa?
If you have a tan (not camel) sofa, then you will need to have colors that help balance it out. Aside from white and light neutrals, which make the tan couch the darkest item in the room, you can try bold colors. Some good examples of shades that work well with a tan couch include cherry, maple, navy, and forest green.Tan is dark enough to work well with rich colors. It's regal like that. As long as you balance it with at least one lighter color, you should be good to go.
Is buying a used couch a good idea?
In most cases, buying a used couch is a terrible idea. Couches do not last forever, which means that you will be inheriting wear and tear from the last guy. Besides, having a used couch means that you might end up picking up certain lifeforms along with it. Many people have bought used couches, only to discover that they had mold or a bed bug infestation that came with it.Trust us when we say that new is the best way to buy your couch.
More Related Guides

Ossiana Tepfenhart
Ossiana Tepfenhart is an expert writer, focusing on interior design and general home tips. Writing is her life, and it's what she does best. Her interests include art and real estate investments.
More by Ossiana Tepfenhart
Published April 15th, 2021 9:13 AM