177 Views
What Color Curtains Go With Red Couches? (Find Out Now!)
December 19th, 2021 3:46 PM
Share
We're committed to finding, researching, and recommending the best products. We earn commissions from purchases you make using links in our articles. Learn more here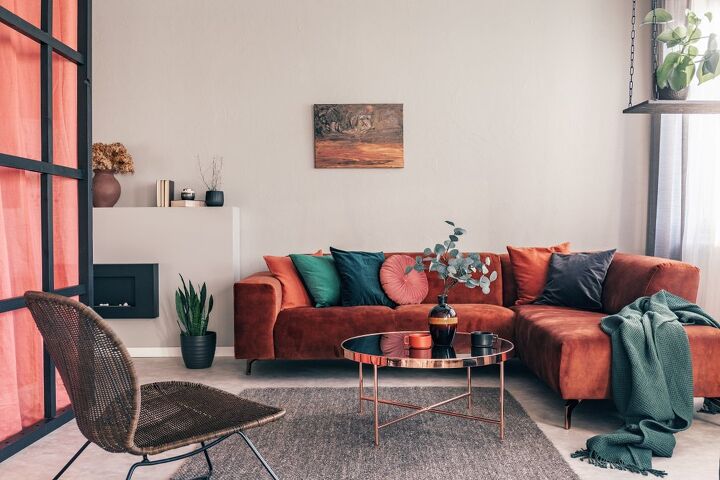 An oversized red couch often feels like it belongs on a sitcom set, but that's not always the case. Red couches are a statement item meant to help draw attention to your living room and add a welcoming warmth to your home.
As you can imagine, a color as bright and bold as red can be hard to match. This brings us to today's topic: the best curtain colors for a red couch.
As one of the boldest colors of the rainbow, red couches often work better with curtains that can match or tone down the colors. This means that rich fall colors such as gold, orange, and red tend to be the best match. If you want to go for a more modern take, grey, white, brown, and black are good options.
Having a red couch means that your work is cut out for you as far as decorating goes. This article is dedicated to helping you get some gorgeous curtains for your equally gorgeous couch.
Do You Need to Hire an Architect or a Builder?
Get free, zero-commitment quotes from pro contractors near you.
The Best Curtain Colors For Red Couches
Getting a red couch is a lot like getting a sports car. It's the kind of purchase that draws attention. Don't you think it's time to figure out how you can work your color schemes?
Red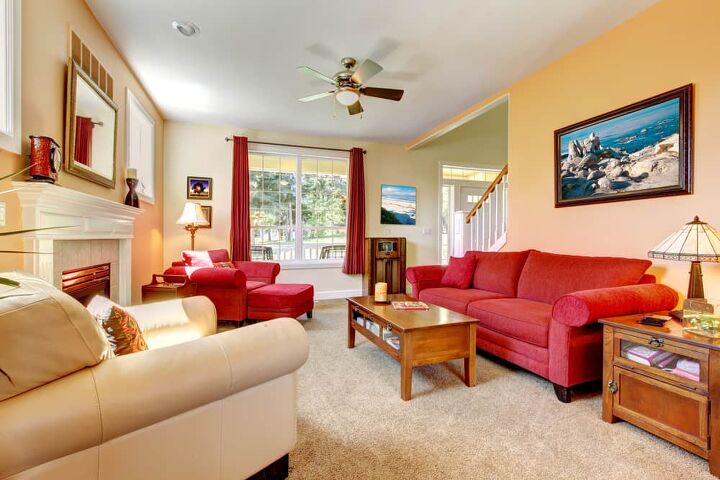 Red on red? Oh my, yes. This look is a great way to make sure that you stick to the red theme of your home's makeup, and that's a great thing for people who enjoy this ruddy color.
When you pair red curtains and couches, you end up with a monochromatic or highly coordinated appearance that just plain works.
The red-on-red look can be pretty intense, so if you want to get a room outfitted with it, make sure to have a neutral that can balance it out.
Cream, beige, or white are the best options as far as a balancing color goes. If you pick this curtain color, don't be surprised if your room starts to look a little peachy or pink!
White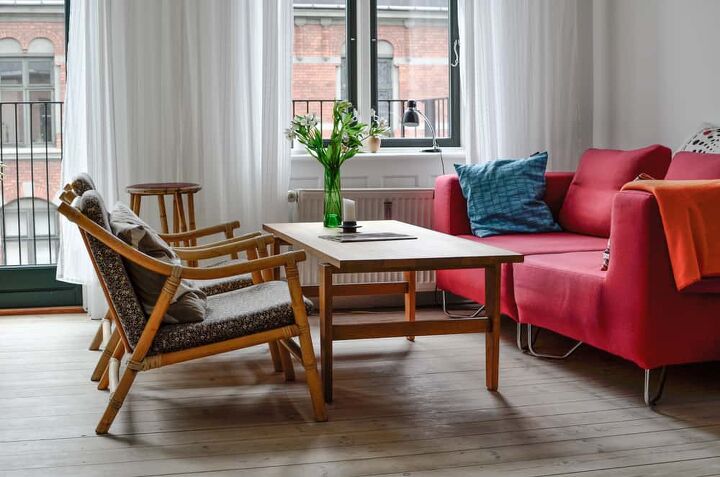 Ooh, la la! White is always a good choice for bright and bold colors. Needless to say, people adore having it as an accompaniment for a red couch.
It works simply because white helps bring in light and can act as a softening color to a red couch. White helps add brightness and openness to your room, which is a must for a red couch.
Like with all other colors, white's neutrality makes it a good match for red. When white curtains enter a room with a red couch, you can expect it to have a nice, modern look.
With that said, it's also possible to work this color combination in more traditional and contemporary setups.
Grey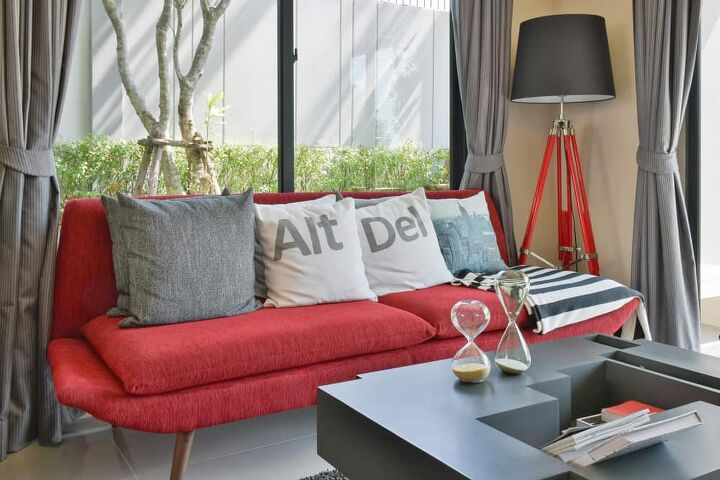 Grey is in the spotlight these days, especially regarding its role as an accessory color. When paired with red, grey gives a room an edgy, modern look.
If you're a fan of the hip, modern, and trendy vibe, then you will love this look. Some might even call it a masculine vibe. Of course, there's a right way and a wrong way to do this pairing.
Many grey curtains on the market have a blue, green, or purple tint to them. Do not choose those curtains!
You want to get a true grey, which is strictly black and white. Otherwise, your grey will contrast too much or look a little strange against the couch.
Gold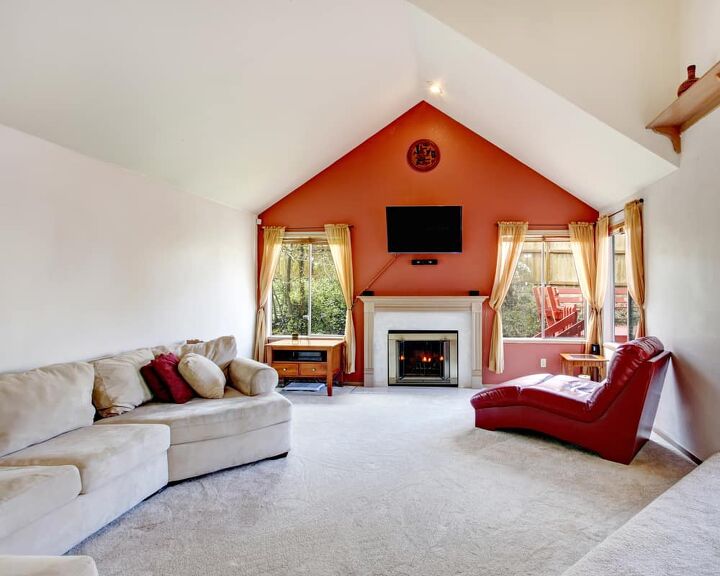 Yellow and gold curtains are unique whenever you pair them with red. It's one of the most common combinations you'll see in interior design magazines, too.
The reason why is simple. Yellow, much like red, is a warm color. It works to help add a level of coziness that most people want to feel when they're chilling at home.
The warm undertones are ideal for people who love the idea of curling up on a couch with a cup of hot cocoa.
It's also a color scheme regularly found in royal homes, so if you want something regal and sophisticated, this curtain color can work pretty well. The bottom line? It's all in the decorations you choose.
Orange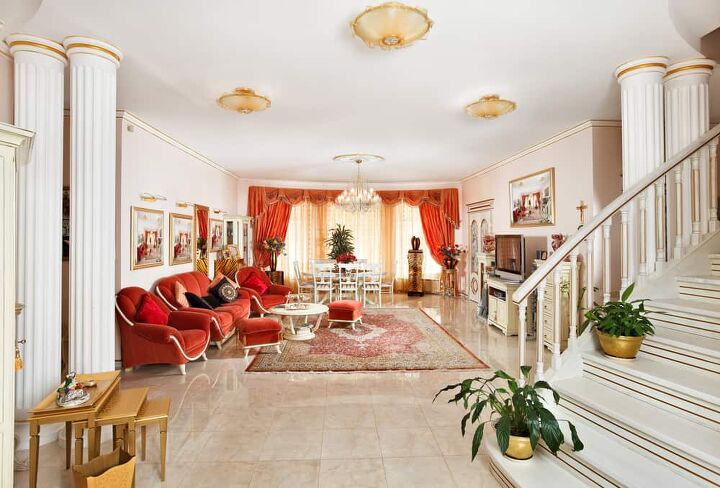 Considering that yellow and gold both act as staples for curtain choices for people who own a red couch, it's not surprising that red and orange work well together, too.
After all, orange, yellow, and red is all complementary colors to one another. In most situations, orange and red work together to add a toasty autumnal touch to a room.
Obviously, this isn't always the case. In this photo, we see a home that's decked out in a luxury baroque style.
Here, the orange takes away focus from the sofa and chairs. This gives the room an area that pulls the eyes towards it and also adds a burst of action. People often forget that orange can be a very luxurious color. This inspo, hopefully, gave you a good reminder.
Brown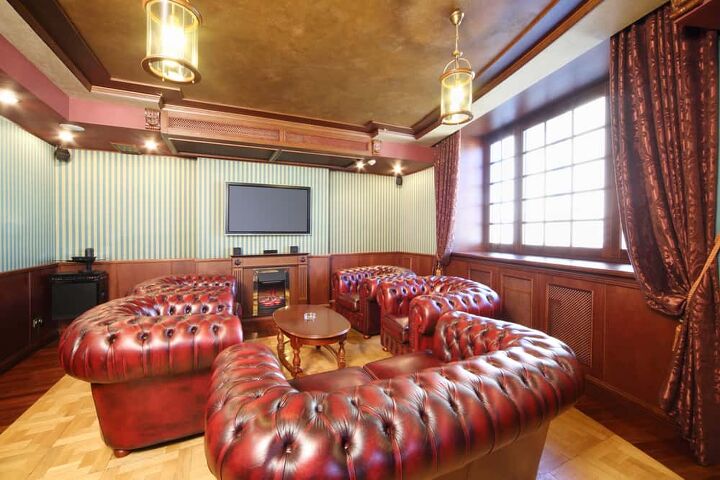 Following along the line of the autumnal colors, we're going to take a look at brown. Brown curtains are a good choice for people who want to get a very old-school, Great Gatsby ambiance in their home.
Of course, this is a pairing typically left for office studies, Ivy League halls, and classic British country clubs. It's just that decadent.
If you want to go for brown curtains, then it's essential to make sure that you have a room that's well-lit enough for this. While this is a beautiful color combination, it can make rooms look dark and dingy if not pulled off well.
If you want to get an additional color in this scheme, we suggest yellow or green. It goes with the scholarly look that red and brown affords.
Black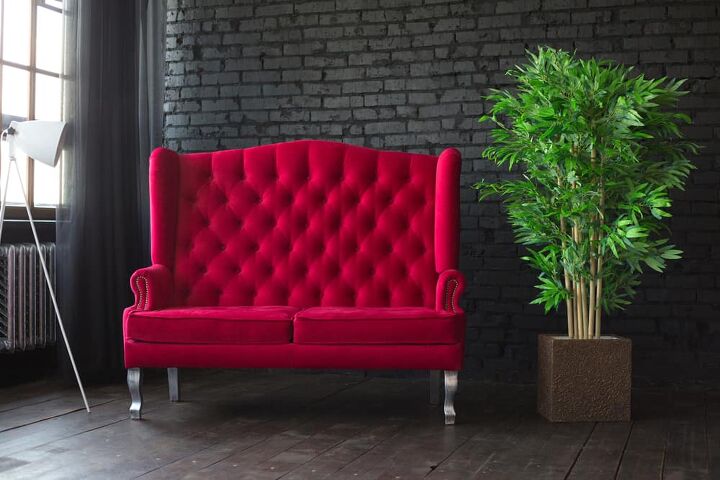 Want to dial up the drama? Take a look at grabbing a pair of black curtains to pair with that red couch. Most couch colors do not look too good with black curtains, but red does.
This is because black is dramatic enough to stand up against the high pigment of red. It's meant to be attention-grabbing to the point that it can act as a buffer for the high energy that red offers up.
This is not a color combination for the faint of heart. It's the kind of color combination that's often seen in Hollywood maximalist homes.
It's glamorous and edgy. If you are not looking for a combination that's glitzy to the point of vampy, you might want to pick a different curtain color.
Is Red A Good Color For A Couch?
The most common color for a couch is currently blue, but that doesn't mean that red's a bad pick. Red couches deliver a luxurious warmth to a home.
Since red is a color that's known for energizing a room, it works well in living rooms that have tons of visitors. Along with that, most people see red as a color that welcomes people in a home.
If you are a fan of upbeat rooms or high levels of coziness, a red couch can be a good choice. However, a red couch isn't a panacea for design problems.
In order to get the best possible results for your home, you need to outfit your room with colors that complement or enhance red.
Do You Need to Hire an Architect or a Builder?
Get free, zero-commitment quotes from pro contractors near you.
---
Related Questions
What does the color red mean for a room?
Red is a color that is commonly linked to warmth, welcoming, and a little bit of passion. As an uplifting color, red can act as a confidence booster.Oddly enough, this is a color that can be both energizing and relaxing, depending on the lighting that surrounds it. Bright lighting tends to turn red into a lively color, while the soft yellow light will lull people in the room to sleep.If you want a room to act as a meeting place for friends or as a place to relax, having a splash of red is a good idea. It's a very versatile color!
What rug colors go well with a red couch?
There are a lot of different rug colors that you can use to pair with a brown couch. Red, white, dark brown, and cream are some of the most popular options.However, you can also find plenty of homes that pair red couches with yellow or orange rugs as well. A good rule of thumb would be to match the carpet and curtains when coordinating with your couch.
What accent colors go well with red? 
You have quite a few accent colors that you can use at your disposal. The more popular accent colors that you can use to bolster your red couch's look include white, black, cream, and yellow.Looking for a challenging accent color for your home? It is doable. Some folks who want a more striking contrast can also opt for sage green or even a faded blue.However, these colors rarely look good in practice—though they are capable of being coordinated in theory.

Ossiana Tepfenhart
Ossiana Tepfenhart is an expert writer, focusing on interior design and general home tips. Writing is her life, and it's what she does best. Her interests include art and real estate investments.
More by Ossiana Tepfenhart
Published May 5th, 2021 11:13 AM