196 Views
What Color Curtains Go Well With Turquoise Walls? (Find Out Now!)
November 16th, 2021 3:38 PM
Share
We're committed to finding, researching, and recommending the best products. We earn commissions from purchases you make using links in our articles. Learn more here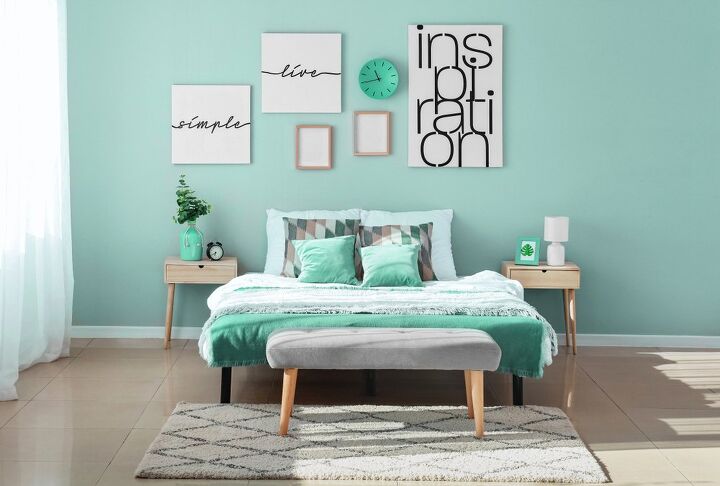 Turquoise is one of those colors that everyone seems to enjoy. It's oceanic, has a pretty blue-green twist, and also has a gorgeous glow to it that makes your room look incredible. Studies also show that turquoise rooms can help calm people down, making this color ideal for bedrooms and bathrooms. Trying to find curtains for this perennially popular wall color can be tricky, though…
For turquoise walls, you will want to use colors such as white, cream, or blue curtains. This will help give the sun a nice, soft cast into your room, making it look more open and spacious. Some other colors people love are pink, green, and yellow-brown if you're looking to go bolder.
If you're a fan of turquoise, then you have a ton of curtain color options that you can use to make your room look amazing. Don't you think it's time you got a dose of our inspiration for your remodeling project?
Do You Need to Hire an Architect or a Builder?
Get free, zero-commitment quotes from pro contractors near you.
Is Turquoise A Good Color For Walls?
Turquoise is a great color for walls, and not just because it's so pretty. Unlike most other non-neutral colors, turquoise never really goes in or out of style. It's a mainstay in the interior decorating world primarily because it is so flexible in terms of decorating styles. People are naturally wired to see blues, greens, and turquoise as soothing. So, why wouldn't you want to have this as a wall color?
There are plenty of different ways that you can incorporate turquoise walls into a home's interior design. Most people prefer to use this color as a bathroom, bedroom, or living room color. However, it can work for virtually any room that you could imagine. Offices are touting turquoise in increasingly high numbers. Even kitchens are getting in on the trend!
The Best Curtain Colors For Turquoise Walls
Due to the naturally light veneer that turquoise has, most of the curtain colors that you can pick will involve enhancing the airy vibe that it gives. Check out our top curtain color picks below…
White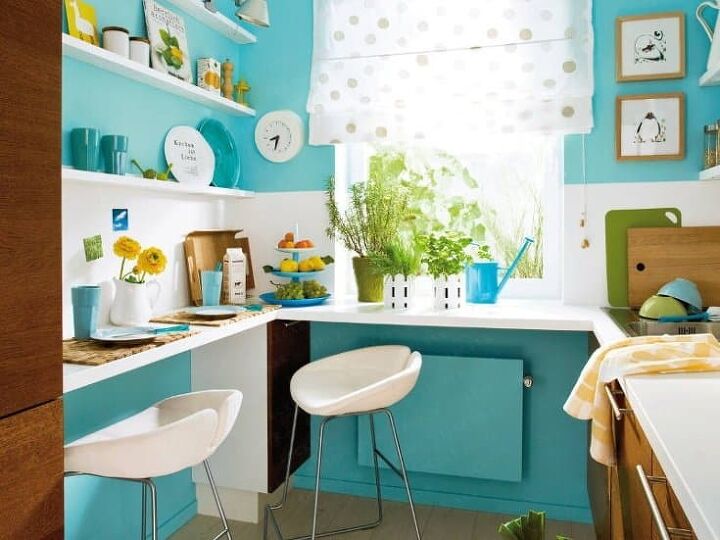 Few curtain colors can emphasize turquoise's airy side like white, which is why this is the most popular color for curtains. White works well for expanding the room and improving the overall flow of a place with tons of turquoise. It gives the entire room a feeling that's reminiscent of the ocean, sailboats, as well as a bright sky.
Unsurprisingly, this color combination is particularly good for people who want to make sure that they want to make their room look extra spacious. If you want to add an extra color to your room's decoration motif, then this is the best color to choose. As a neutral color, white works with everything!
Cream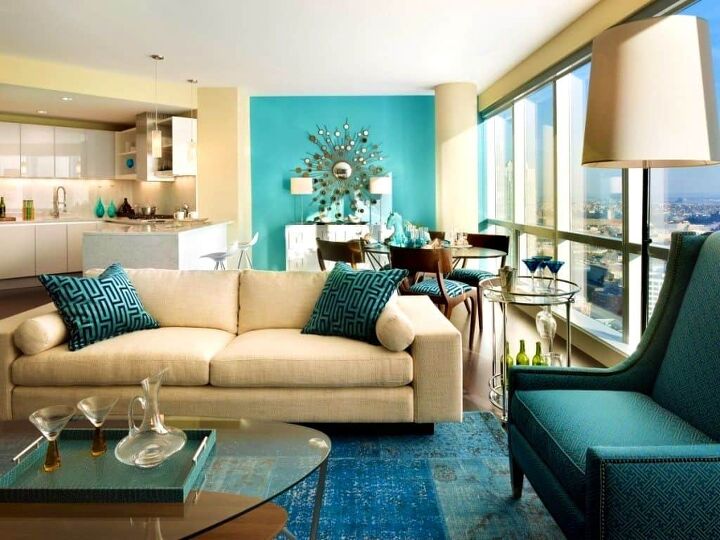 Most people have a soft spot in their hearts for the beautifully beachy look that cream and turquoise offer when they're paired together. Cream's charm is easy to see. The lightness of the color means that you will have the same room-expanding properties of white with a dash of extra warmth. Many folks tend to feel like cream gives a room an extra sunny touch.
Cream's yellow undertones work well with turquoise, giving it a harmonious appearance. Meanwhile, the yellow in the curtains will also help the blue stick out a little bit more. Since cream and turquoise tend to mesh so well together, most people want to use this combination for living rooms, sunrooms, and bathrooms. It's a gorgeous, gender-neutral look.
Yellow-Brown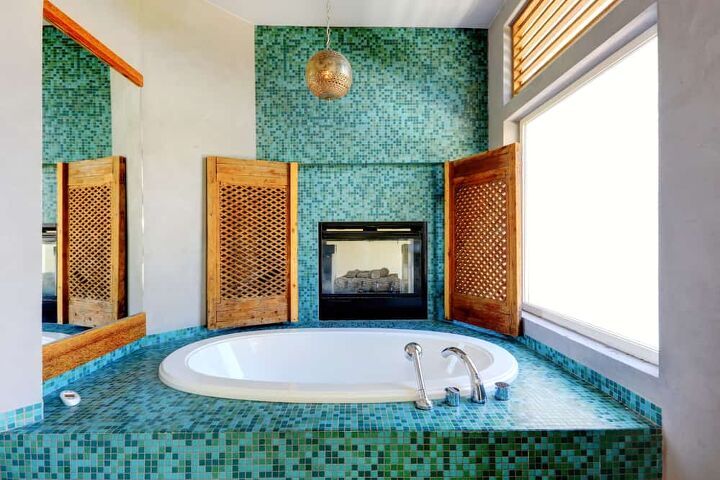 Yellow-toned curtains make a good choice for rooms with lots of turquoise, primarily because both colors have a golden undertone to them. This color combination is excellent for bathrooms, since it works well with exotic layouts and mosaic tile murals. This was a classic color combination in Moroccan homes throughout the better part of the past couple of centuries.
If you want to get super unique with this look, you can take a cue from what this designer did. Rather than opt for cloth curtains, they ended up choosing wooden "curtains" instead. The golden hue of the wood helps enhance the mood and gives the entire bathroom a spa-like quality. Of course, similar color cloth curtains can also work in a pinch.
Pink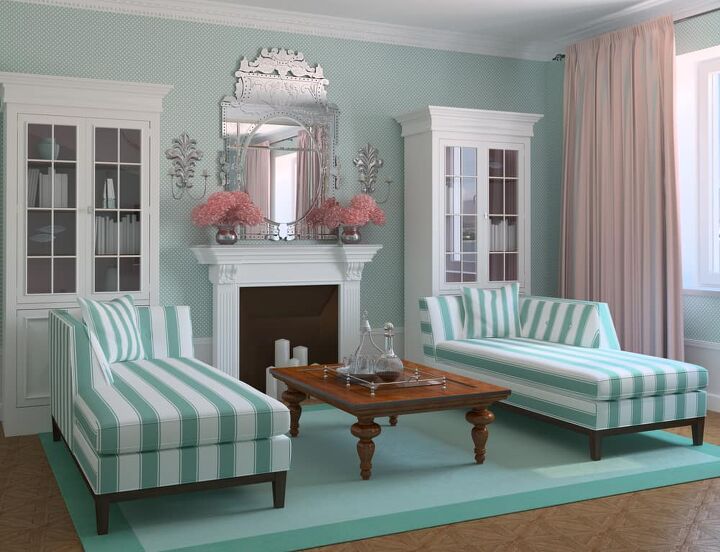 Turquoise is a naturally soft color, which is why it's a popular pick for women who want to add a feminine touch to a room. Few colors can help enhance the softness of turquoise like pink. The rosy tone of pink adds a pop of color and contrast to your home. Since pink is a lighter color, it also won't overwhelm a room, either.
Pink and turquoise are a classic color combination for beach homes in Miami. They also tend to work well in young girls' rooms, playrooms, and she-sheds. If you love amping up the girliness of a specific room, rely on pink curtains. It's a surefire way to give you the feminine touch that you want.
Blue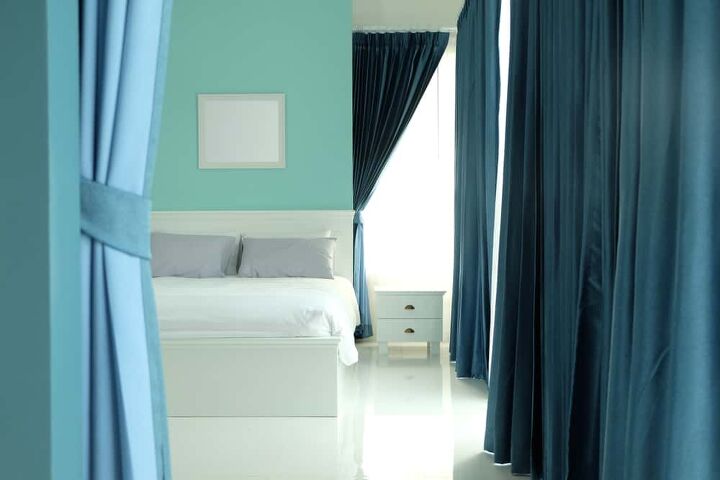 Blue and turquoise are an excellent pairing for homeowners who want to add an oceany touch to their room. In fact, this dynamic duo is one of the most commonly cited color combinations found in coastal homes and luxury beach houses. The two colors give your room an interesting gradient look, especially if your room is a lighter shade of turquoise.
Though blues are always a good pick, they often tend to work best when layered or accented with additional similar colors. Some of the most common colors to use as accents on your blue curtains include teal (like the shade pictured above), grey, and light green. The idea behind this look is simple. It helps mimic the look of ocean waves.
Grey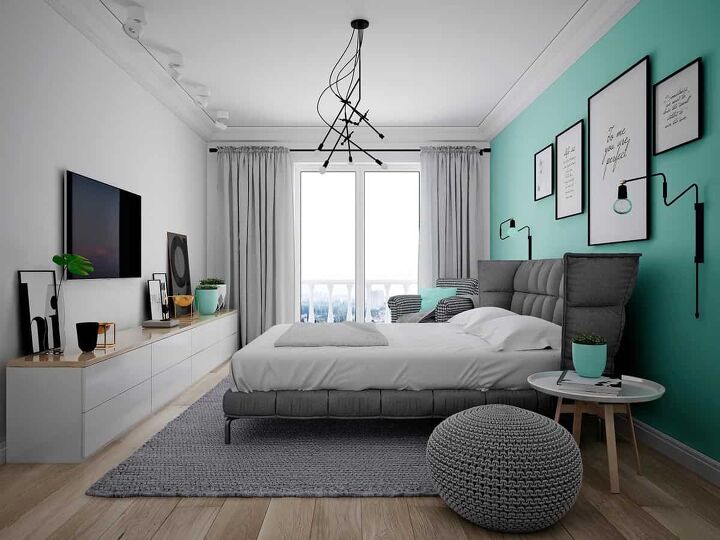 We couldn't have a complete list of good curtain colors without the inclusion of everyone's favorite modern, hip, and trendy neutral. Grey is in, and it's exceptionally popular as a pairing for turquoise rooms. It's easy to see why. Grey doesn't have any warm tones to it, which means that it acts as a harmonious match for blues across the color spectrum.
If you want to make sure that you keep your home feeling like a sanctuary of serenity, then grey works well. It's a calming neutral that encourages restfulness and relaxation. Light greys are generally better to use than dark greys with this color, since darker shades can overwhelm turquoise. At the very worst, deep dark greys can make a room look dreary.
Green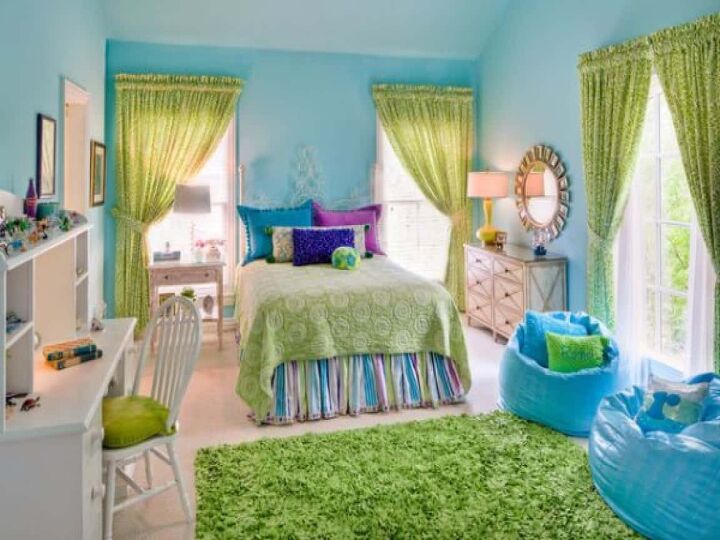 Funky and fresh green works well for turquoise rooms in need of a lively and upbeat ambiance. Since the overall yellow base of green tends to add a brightening factor, most people find turquoise rooms with green curtains to have a fairly cheerful ambiance. This makes it a great choice for a kid's room as well as a popular color scheme for people who enjoy tropical decorations.
Since this color scheme has a lot in common with aquatic scenes, it also happens to be a popular choice for people who like to outfit their rooms with coastal decor. That's just the way turquoise tends to work. It makes life a total beach. If you want to add a more adult vibe to this color pairing, consider adding grey as a tertiary color. It's a remarkably calming approach to turquoise!
Do You Need to Hire an Architect or a Builder?
Get free, zero-commitment quotes from pro contractors near you.
---
Related Questions
Is green a good color for a bedroom?
Green is an excellent color for any room that requires you to relax and calm down. The human mind associates green with nature, food, and relaxation. As a result, green rooms have a subconscious calming effect on us. Considering that most of our sleeping is done in the bedroom, it's easy to see why interior designers suggest green as a bedroom color.The most popular bedroom colors in the green family include sage green, mint green, and forest green. However, virtually any shade of verde you choose will have this beneficial perk.
What are complementary colors for turquoise?
When it comes to the color wheel, complementary colors are on the opposite side of the color in question. This means that the "official" complementary colors for turquoise are coral, pink, and orange. The exact complement will depend on how much yellow and blue are in the turquoise that you choose.Knowing complementary colors can help you attain an elegant, coordinated look for your room. These colors will offer a healthy contrast that doesn't clash, but rather, improves the ambiance. It's worth pointing out that pinks and corals are ideal for giving your home a slightly more feminine touch.
Is turquoise a warm or a cool color?
Believe it or not, it can be both. It all depends on the shade of turquoise in question. Turquoises that have a high level of yellow will be able to pull off a room-warming effect. Meanwhile, turquoises that have a more muted shade tend to err on the cooler side of things. At times, how the color looks can also rely on the additional colors in a room. Greys cool down most turquoise, while cream will ramp up the warmth of the room.

Ossiana Tepfenhart
Ossiana Tepfenhart is an expert writer, focusing on interior design and general home tips. Writing is her life, and it's what she does best. Her interests include art and real estate investments.
More by Ossiana Tepfenhart
Published May 7th, 2021 10:32 AM