1.1K Views
25 Different Types of Gutters (The Complete List)
August 30th, 2022 10:42 AM
Share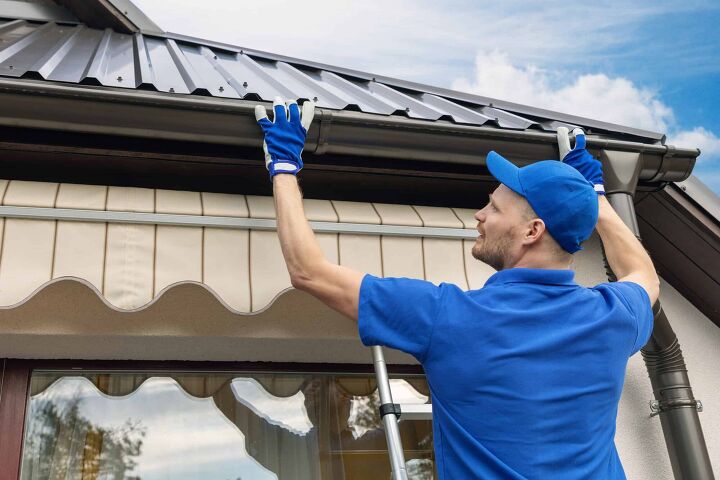 The best type of gutter for your home is the one that quickly and effectively directs the water away from your foundation and guards your siding from water damage. All other considerations come down to looks and pricing. Fortunately, gutters come in a variety of shapes, sizes, colors, and prices to fit your particular budget and aesthetic desires.
Generally speaking, gutters will collect debris, leaves, and dust. However, once rain starts to fall, they quickly spring into action and collect the water coming off of your shingles. Your gutters then quickly send the water down a horizontal path to a drainpipe and, ultimately, away from your property. By doing this, this relatively simple devices save both your foundation and siding from significant damage.
If you're currently on the hunt for the proper gutters and downspouts for your home, you might be feeling a little overwhelmed. In fact, the wide range of options when it comes to types of gutters can be challenging to navigate. However, that's where we come in! The most common types of gutters include k-style gutters, half-round gutters, and fascia gutters, when it comes to shape. Whereas, when it comes to material, gutters can be found made of everything from copper to galvanized steel to vinyl to aluminum.
Continue reading for our comprehensive guide on all of the types of gutters you have to choose from to protect your home from water damage. We'll break them down based on shape, material, size, construction, colors, and more!
Do You Need Roofing, Siding, or Gutter Installers?
Get free, zero-commitment quotes from pro contractors near you.
Does My Home Need Rain Gutters?
Before we dive into all of the various types of rain gutters, it's important to first determine whether or not your home actually needs them. Although most homes do, there are a few exceptions to the rule. If you're wondering if your home needs rain gutters, consider the follow:
Does your roof lack an overhang or only have a few inches of one? If this is the case, it's highly likely that water will collect against your foundation. This will lead to damage of the flowerbeds near your foundation, the foundation itself, and can also cause water to pour on individuals as they enter or exit your home. Therefore, if this scenario applies to you, your home does need gutters.
Do you have a sharply peaked roof that has a 12-inch (or larger) overhang? If so, naturally, rainwater will flow down to the ground and away from your home, as opposed to running straight down and accumulating by your foundation. Therefore, in this situation, gutters might not be entirely necessary.
Is your home entirely surrounded by concrete – whether it be driveways, walkways, or patios? If this is the case, rain gutters might be considered optional. The concrete around your home serves as a barrier between rain runoff and your foundation.
Do you live in an arid climate? If so, you may be able to opt out of installing rain gutters entirely, as they simply are not necessary.
If, based on the information above, you've determined that your home needs rain gutters, continue reading to find out which type you should have installed.
Seamless vs. Sectional
When it comes to construction, rain gutters come in two basic varieties: sectional (seamed) or seamless. Within each of these categories there are a number of other designations for colors, materials, and shapes. However, let's first explore the differences between sectional gutters and seamless gutters.
Sectional Gutters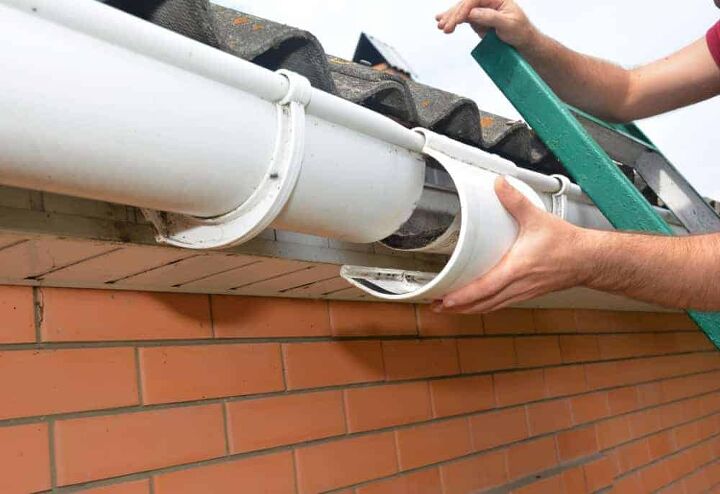 Also referred to as seamed gutters, sectional gutters come in 10-foot long sections that are affixed to your home's fascia board using hangers. They are installed by either snapping them together with joiner pieces or by overlapping each individual section. These types of gutters often come in different lengths, which are trimmed down to fit the specifications of your home.
Sectional gutters are the ideal choice for DIYers, as they are relatively simple to install. So long as you have an extra set of hands, and a sturdy ladder, you should have no troubles installing sectional gutters on a modest-sized home over the course of a weekend. They are also the most economical option, as if one section becomes damaged it can be easily removed and replaced without disrupting the rest of the gutter system.
These types of gutters are available in vinyl or metal and can be found at nearly any home improvement center. They can also be special ordered in copper, but will cost considerably more than other alternatives.
Pros of Sectional Gutters
Cost-effective option.
Widely available at most home improvement stores.
Easy to install for the average do-it-yourselfer.
Sections can be swapped out individually when they fail, without impacting the rest of the system.
Cons of Sectional Gutters
Come in fewer colors and styles than the alternative.
Seams must be sealed regularly to remain effective.
Susceptible to leaks.
Vinyl sectional gutters do not offer the option of being painted.
Seamless Gutters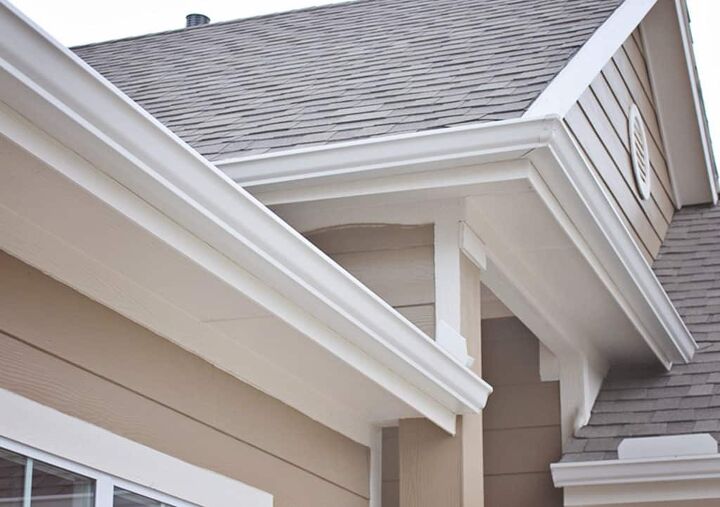 For a smoother appearance, minimal leakage, and more color options, seamless gutters are the ideal choice. They are, as the name indicates, made of just one piece of material, as opposed to multiple sections connected together. The only joints in seamless gutters exist at the corners and the downspouts. With no seams along the length of the gutter, it is literally impossible for leaks to occur at the mid-point.
However, it's important to note that leaks can still happen at the corner joints and over the top of the system. Opting for seamless gutters helps to maintain the smooth horizontals of your roofline. They are also the best option for matching your home, as the aluminum seamless gutters come in over 50 color variations.
One of the main drawbacks to seamless gutters is the fact that they cannot be created nor installed by the average DIYer. As a result, you can expect them to cost much more to install than sectional gutters, due to the outside labor required. However, when you enlist the help of professionals, the installation process is relatively quick.
If one part of your seamless gutters becomes damaged or fails, the entire length is impacted. Therefore, the entire length will need to be replaced or you can have the section cut out and replaced independently. Regardless, repairs and replacements are much more complicated and costlier with seamless gutters than sectional gutters.
Pros of Seamless Gutters
Fewer seams results in fewer leaks from occurring.
Sleeker appearance.
Custom fit to the specifications of your home.
Cons of Seamless Gutters
More expensive than sectional gutters.
Not suitable as a DIY project.
More challenging to replace and repair sections than other alternatives.
Rain Gutter Shapes
When categorized based on shape, gutters come in three main styles: half-round gutters, K-style gutters, and custom-built fascia gutters. Though, European and Victorian ogee gutters are another, less-common, option that can offer a distinctive look for your home. With that said, let's take a look at the five different rain gutter shapes.
1. Half-Round Gutters
Put simply, half-round gutters are shaped like a tube that is cut directly in half. If you're in the market for a type of gutter that will add to your home's curb appeal without being too gaudy, half-round gutters might be the choice for you. They tend to have a very traditional appearance and look great on homes that have a particular architectural design.
Half-round gutters are commonly found on homes that were built before 1960. In fact, if you live in an older neighborhood, your homeowners' association might require this type of gutter. Aside from aesthetics, half-found gutters are a very effective choice for carrying water away from your home. However, it's important to note that their open, trough-like shape makes them susceptible to clogs from leaves and debris. As a result, it's very common for homeowners to install leaf guards alongside half-round gutters.
Also, the curved sides of these types of gutters don't allow for them to rest flush against your roof's fascia boards. Instead, half-round gutters typically require brackets to hold them in position. They come in a range of materials, making it easy to customize them to your liking. As an added bonus, half-round gutters can be cut easily to fit the size of your home and there are also hidden hanger options to conceal how they are connected to your home.
2. K-Style Gutters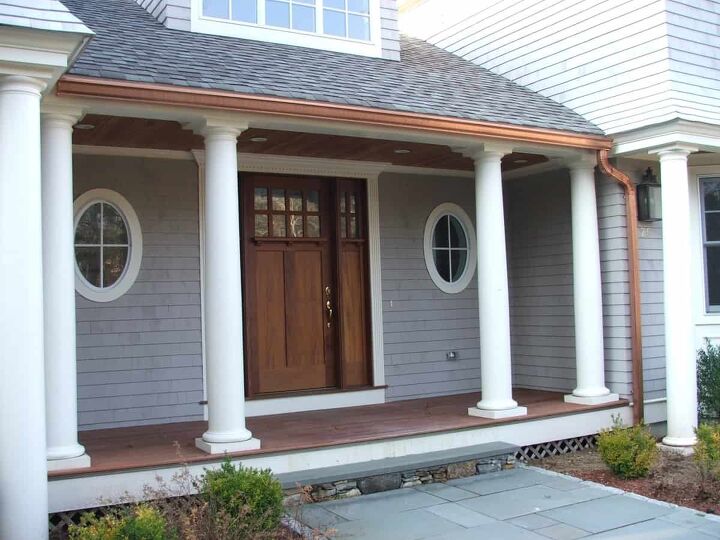 K-style gutters are the most common type of gutter found on homes that have been constructed within the last 50 years. However, they are also being installed on older homes as a replacement for old gutters. K-style gutters get their name from the shape, as it resembles the letter 'K' when observed from the side.
Unlike half-round gutters, k-style gutters can be installed flush against the fascia board. The flat back allows you to nail the gutter directly to the board, without the need for brackets or hangers. Perhaps the biggest draw for these types of gutters is their decorative front side, which looks similar to crown molding. In fact, many homeowners enjoy the look of these types of gutters. K-style gutters also come in a wide array of materials and sizes, and can also be installed seamless.
Additionally, the flat base and straight, outwardly angled sides of K-style gutters allow them to carry more water than their half-round counterparts. As a result, K-style gutters are the ideal choice for those who live in particularly rainy climates. One of the main downsides to these gutters is that they tend to be more difficult to clean than half-round gutters. Their inner angles are more prone to collecting rotting debris.
3. Fascia Gutters
Unlike half-round gutters or K-style gutters, fascia gutters do not come in sections that can be attached together, resulting in seams that are prone to leaks and corrosion. Instead, fascia gutters are built custom to your home using a long stretch of aluminum material. They are commonly installed on homes that do not have preexisting fascia boards, as fascia gutters act as both a gutter and a fascia board.
Fascia gutters are notoriously pricey and require professional installation. You can expect to pay nearly twice as much for these types of gutters as K-style or half-round gutters. Depending on the size of your home, you could end spending hundreds of dollars to have fascia gutters custom built and installed.
However, these gutters offer a very seamless look for your home, while also preventing water damage and keeping pests from entering through your rafter tails. Although fascia gutters aren't typically installed when you already have fascia boards on your home, they are a great option for folks who may still be in the middle of their home's construction.
4. European Gutters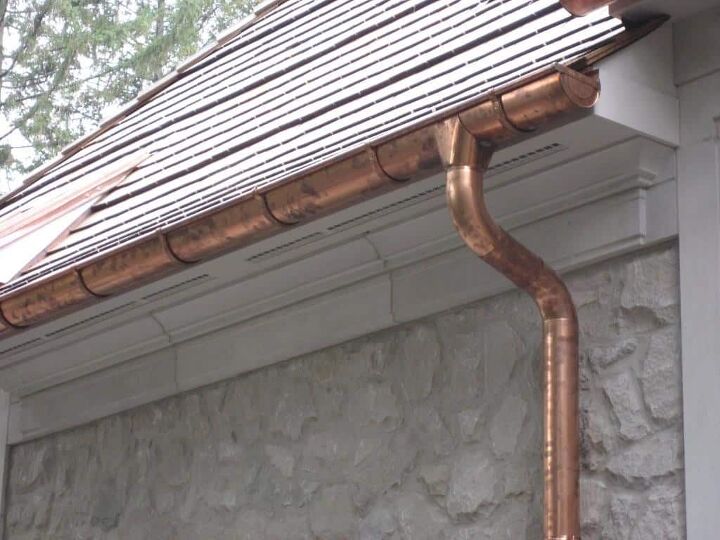 European style gutters, or euro-gutters as they're often referred to, are a type of half-round gutter. The major distinction between traditional half-round gutters and European gutters is that the gutter bead turns outward (as opposed to inward) and is attached using a half-round hanger. Also, the gutter miter (or, the fittings that connect to gutter sections at the corner of the roof) do not have seams and have smoothly-rounded end caps.
The main reason that homeowners choose European style gutters over other alternatives has to do with aesthetics – especially when you opt for the wildly popular copper variety. Copper is a very common material used in the construction of euro-gutters. These gutters offer a distinctive look from the moment they are first installed with their penny gloss, to when they start to wear and display that famous copper patina.
European gutters are also known for being durable in extreme conditions, as many are made from steel, zinc, thicker aluminum, and the above-mentioned copper. The downspouts that attach to European gutters must be full-round, meaning they offer a wider circumference and opening that contributes to an efficient flow of water on particularly rainy days.
Finally, European gutters are less likely to be the home of rats, squirrels, birds, mice, and other pests. The design is far less accommodating that other gutter alternatives, such as the 90-degree angles found in K-style gutters.
5. Victorian Ogee Gutters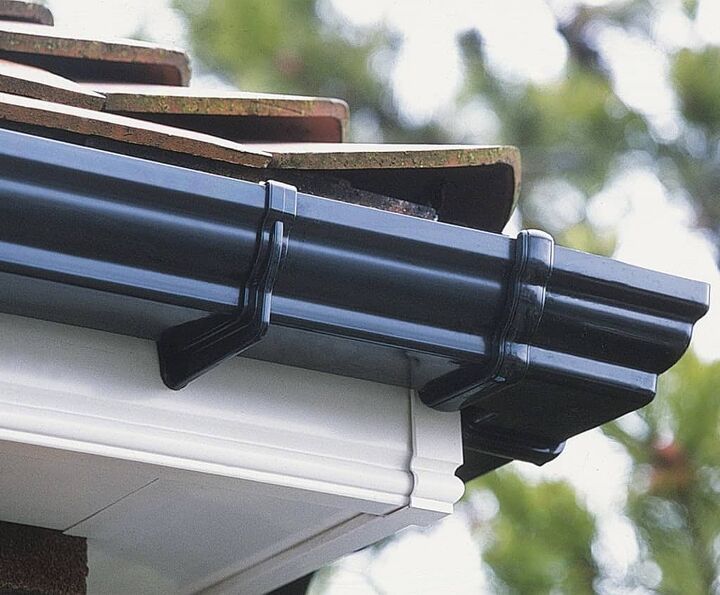 Victorian ogee gutters are a popular choice for those looking to achieve a different look for their home. Commonly referred to as "Old Gothic" gutters, these types of gutters are more about aesthetics than function. The style is based on cast-iron gutters that were very popular in the 19th century. Victorian ogee gutters are best suited for traditional style homes – especially Victorian homes. However, with the proper styling, these types of gutters can look great on nearly any type of home.
The gutters themselves are relatively shallow, meaning they have a limited capacity for holding water. As a result, they tend to work best on smaller homes and in areas that don't experience a significant amount of rainfall. Additionally, Victorian ogee gutters must be custom made, as you won't be able to find them readily available at your local home improvement center.
Rain Gutter Materials
Now that you have a better understanding of how gutters are characterized based on their shape, let's take a look at the various materials they can be made out of. Although wood was once a very common material for building rain gutters, as you might guess, wood's susceptibility to weathering and rot caused the industry to seek out more durable options. In fact, you may still find wood gutters on significantly old or historical homes.
However, most of the rain gutters built today will be constructed out of vinyl, steel, zinc, copper, and aluminum. K-style and half-round gutters can be found in all of these materials, while fascia gutters are only made out of aluminum, European gutters are usually made of copper, and Victorian Ogee may be aluminum, copper, galvanized, or galvalume.
1. Aluminum Gutters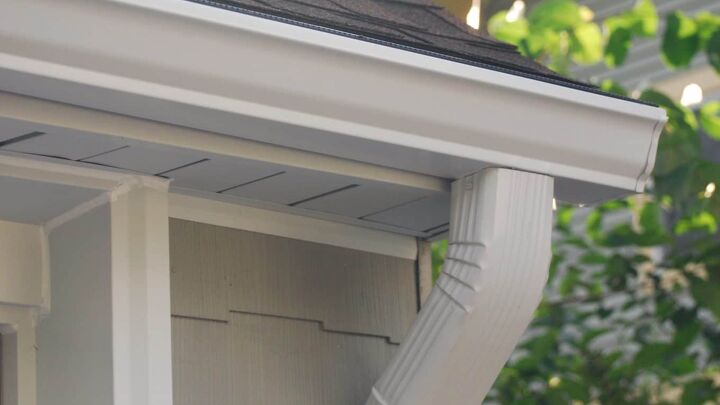 Whether they are seamless or sectional, aluminum is the most popular material used in the construction of rain gutters. Their popularity has to do with the fact that they are incredibly lightweight, which makes them very easy to install. Not to mention, they are resistant to corrosion so you won't have to worry about rust impact the overall appearance of your gutter system. You'll also have no troubles matching your gutters to the rest of your home's color scheme, as they come in a wide range of colors and can also be painted.
Aluminum gutters are available in three thicknesses: .025 inch, .027 inch, and .032 inch. As you might expect, the thinnest aluminum is the most cost-effective option. However, it is susceptible to bending or denting. Whereas, the thickest option is slightly more expensive and often worth the price, especially if you live in areas that experience heavy snowfall.
These types of gutters are widely available at most home improvement centers in 10-foot long sections, making them ideal for DIY installs. To put things into perspective, you can expect to pay between $2 and $3 dollars a linear foot for K-style aluminum gutters when installing them yourself. If you elect to have them professionally installed, you'll likely pay about twice as much.
Pros of Aluminum Gutters
Not susceptible to rusting
Simple install
Lightweight
Comes in a wide range of colors and can be painted to achieve desired look
Resistant to weather
Lifespan of up to 25 years
Cons of Aluminum Gutters
Thin variation can bend or dent
2. Vinyl Gutters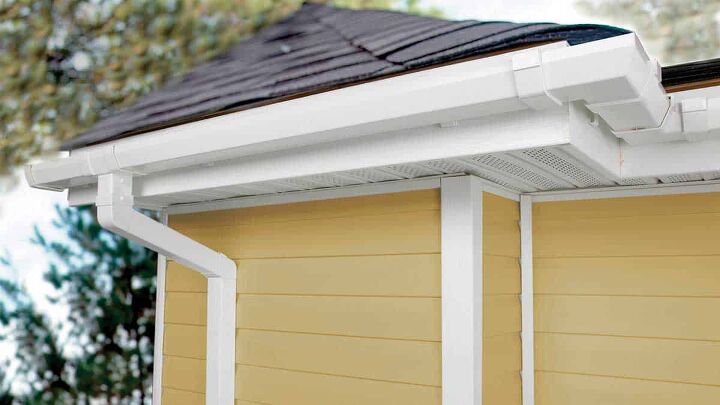 Vinyl is the least expensive material and considered the easiest to install yourself. Like aluminum, vinyl gutters are incredibly lightweight. When it comes to installation, they are relatively easy to cut to size and snap together almost effortlessly. Vinyl gutters are made out of a strong plastic that is resistant to bending, denting, and corrosion. This makes them ideal for areas that experience heavy rainfall throughout the year.
Though, it's important to note that vinyl is considered the least durable of all the gutter materials. With that said, you can still expect to enjoy about 20 years' worth of use out of vinyl gutters in a climate that isn't too harsh. Another drawback to consider is that this material will fade over time, especially when exposed to frequent direct sunlight.
Vinyl gutters can be found in a couple of different colors, and also offer the ability to be painted to match your home's exterior. If you plan to DIY the install of your vinyl gutters, you can expect to pay between $1 and $2 per linear foot for the K-style option. Whereas, you'll likely pay up to $5 a linear foot to have the same gutters professionally installed.
Pros of Vinyl Gutters
Lightweight material
Most inexpensive gutter material option
Offers easy installation for the average DIYer
Not susceptible to corrosion or rust
Won't experience damage caused by salty climates
Cons of Vinyl Gutters
Will become brittle in harsh climates – cracking in intense heat and hard freezes
Color will fade when exposed to harsh sunlight
Susceptible to cracking if a ladder is propped against them
3. Zinc Gutters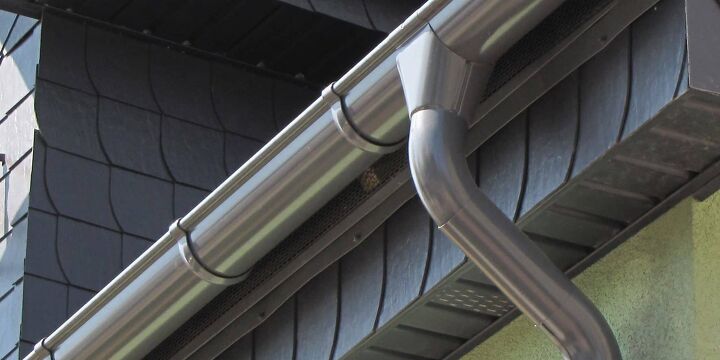 Although zinc gutters are known to be expensive, they are considerably durable and resistant to weathering, corrosion, and warping. While they can be an investment, they will often last twice as long as aluminum gutters – approximately 50 years (slightly less if you live near the ocean or somewhere else with salty air). When zinc gutters are first installed they appear as a dull gray color but overtime they develop an appealing patina.
These gutters are constructed out of zinc with traces of both copper and titanium. They are left unpainted and, unlike other alternatives, require professional installation. This has to do with the fact that the ends and joints need to be welded in order to be installed properly. Oftentimes, zinc gutters are primarily seen on high-end or historic properties.
Due to their durability and aesthetic appeal, you can expect to pay a premium for these types of gutters. Zinc gutters range between $10 and $22 per linear foot to have professionally installed. Unless you are particularly handy and familiar with welding, you should not attempt a DIY install with these rain gutters.
Pros of Zinc Gutters
Incredibly long-lasting
Resistant to rusting, fading, and warping
Forms a gorgeous patina over time
Cons of Zinc Gutters
Highly expensive
Not ideal for DIY installation
Relatively intolerant to salty air or acidic overflow from cedar-shingled roofs
4. Steel Gutters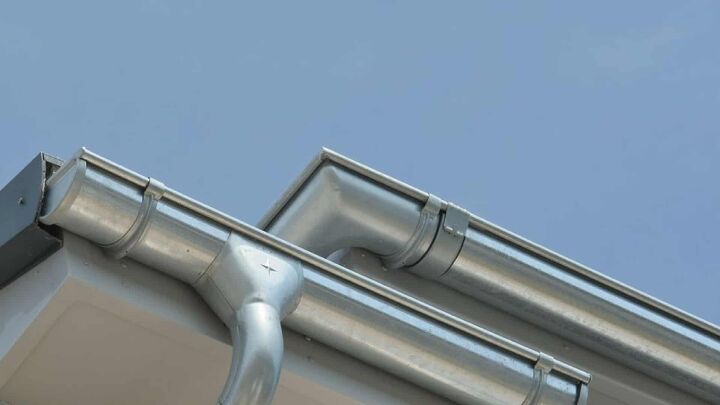 When compared to aluminum gutters, steel gutters are more durable – especially in areas that experience severe weather. In most cases, you'll find that steel gutters are galvanized as this helps to enhance their resistance to rust. Though, oxidation will still occur around the 10 to 15-year mark. Rain guards can often help to extend the lift of any type of gutter; however, they are a necessity with galvanized steel rain gutters. Soaked masses of accumulated leaves and debris will speed up the oxidation process.
Stainless steel, another steel gutter option, will not rust but is much more expensive than the galvanized variety. Additionally, steel gutters are particularly heavy, which makes them unsuitable for DIY installation. To have galvanized steel gutters installed professionally you can expect to pay between $8 and $10 a linear foot. For stainless steel, you'll pay approximately twice that amount.
Pros of Steel Gutters
Extremely strong
Withstands all types of weather conditions and climates
Can be painted
Cons of Steel Gutters
Susceptible to rusting (except stainless steel)
Not suitable for DIY installation
Considerably heavy and difficult to haul
5. Galvalume Steel Gutters
Galvalume is another steel variety that is coated in a combination of zinc and aluminum. What results is a considerably strong metal gutter that is resistant to corrosion and damage. Galvalume gutters are built by dipping steel into liquid aluminum and zinc. Because of this, these types of gutters are a specialty variety that you can only obtain from a professional.
When it comes to choosing between galvalume and galvanized steel for your rain gutters, you must consider where you live. Though they are generally very similar, galvalume steel gutters will outlast galvanized steel in terms of standing up to various weather conditions. In some areas, it has been proven that galvalume gutters last nine times longer than their galvanized counterpart.
6. Copper Gutters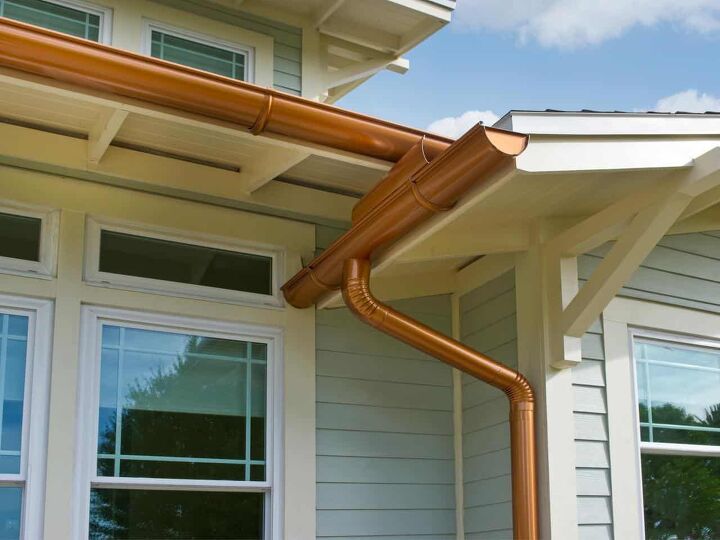 Copper gutters offer a very unique, stunning look when initially installed. However, over time that distinctive shine will fade away to form a greenish patina. Copper is a very sought-after material for rain gutters and many homeowners enjoy the weather-worn look, as they feel it adds to the old-world aesthetic.
Additionally, copper is known to be incredibly durable and resistant to any weather condition – from the coldest freeze to the most intense heat. Though, these benefits come at a price as copper is that most expensive type of rain gutter material available. It is also not suitable for DIY installation. Copper is primarily used on high-end and historical homes.
When properly installed, welded, and maintained, copper rain gutters can last up to a century. To have copper gutters professional installed, you can expect to pay between $15 and $15 a linear foot.
Pros of Copper Gutters
Stunning shine that turns into a greenish patina over time
Painting not required
Withstands all types of weather conditions
Will not warp or rust
Cons of Copper Gutters
Highly expensive
Not ideal for DIY installation
Rain Gutter Sizes

Both the type and size of rain gutters that you purchase must be able to withstand the amount of rainfall your home gets each year. When it comes to rain gutters sizes, there are two standard sizes: five-inch gutters and six-inch gutters. These dimensions refer to the width of the gutter, or the distance from your fascia board to the edge of the gutter.
Let's take a look at each of these in detail to understand which might be best for your home.
1. Five-Inch Gutters
In most situations, a 5-inch rain gutter will be sufficient enough to handle annual rainfall for the large majority of homes throughout the United States. K-style gutters are the most common type of gutter found in this size. If you live in an area that experiences more rainfall than average, you might want to consider add oversized or additional downspouts to your gutter system. This will help improve drainage and ensure that water is efficiently being driven away from your home.
2. Six-Inch Gutters
Although 5-inch rain gutters are often considered the standard for residential gutter systems, many homeowners are upgrading to the 6-inch option. Six-inch gutters are considered 'oversized' and while they're only an inch bigger, they can handle approximately 40% more water. The oversized downspout that is required to be installed with these size gutters is also meant to handle more debris that passes through it, reducing the risk of clogs.
In general, 6-inch rain gutters are recommended over 5-inch gutters if you have a larger roof. Also, if your roof has a steeper pitch, 6-inch gutters will be able to handle the quicker runoff of water. Gutters can be found in even larger sizes – 7- and 8-inch sized gutters. However, these are usually only installed on industrial or commercial properties and are not suited for residential homes.
If you're ever unsure about what size gutter your home needs, it's best to consult a professional to guide you in the right direction.
Rain Gutter Colors
Today's rain gutters are designed to complement or blend into both the color scheme and architectural style of your home. Choosing the right color can add curb appeal, value, and a finishing touch to your property. The gutter colors you have to choose will largely depend on the type and material that you select. For example, copper and steel are unpainted and don't come in any additional colors. Whereas, vinyl and aluminum gutters come in a range of color options.
With that said, let's take a look at some of the common color variations for rain gutters:
1. White Shades
White gutters including almond, ivory, herringbone and linen hues are often found on homes that have lighter-colored siding and exterior walls. They offer a neutral look, blending into your home's exterior rather than adding to its appeal. In the image above, white gutters were installed on a home painted a greenish hue, which offers a bit of contrast.
2. Brown Tones
Like white, brown is a neutral shade that can work well on nearly any roof – including homes with dormer windows and roofs with traditional pointed lines. Brown can be used to match closely to your home's trim around the doors and windows, or to match your home's exterior color. These colors will work perfectly with most types of architectural styles as well, from contemporary to traditional, and even rustic.
3. Red and Green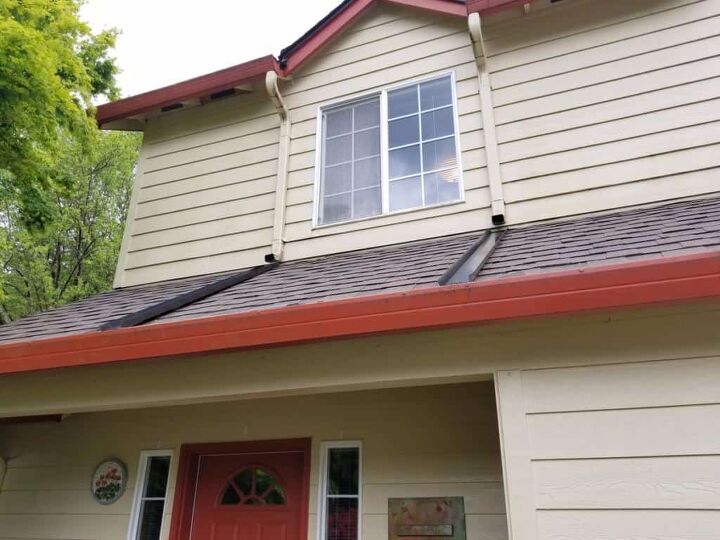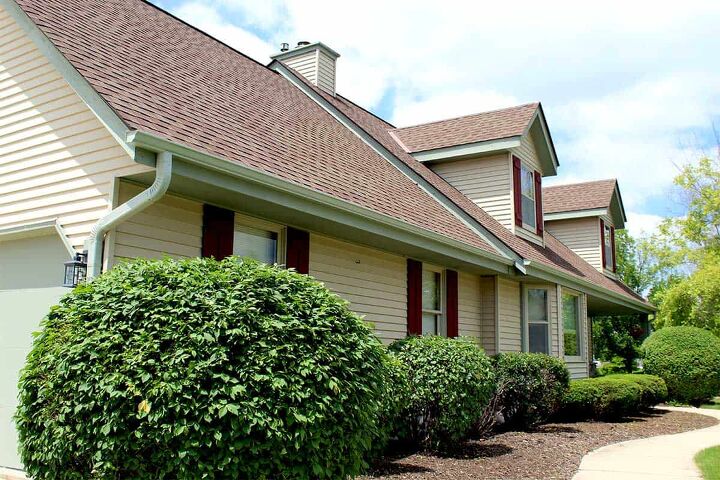 The most common red tone found on gutters is a dark Colonial Red that looks great on any red brick home. It also works well with red tile roofs that are commonly seen in southwest architecture. Or, red gutters can be chose to match your home's trim.
Similarly, a green shade might be the ideal choice for homes with a similar trim color. This includes window frames and doors that are painted in a dark green hue. The images above show red and green gutters in action.
These are both very bold choices for rain gutters colors, but can offer a distinctive look for your home and tie your whole property together.
4. Gray and Blue
Traditional Cape Cod style homes usually have light gray gutters with slate or black colored roofs. Though, black gutters are also an option for these types of homes. Dark blue (almost gray), on the other hand, is a great choice for complementing a gray or dark blue roof and home.
Do You Need Roofing, Siding, or Gutter Installers?
Get free, zero-commitment quotes from pro contractors near you.
Rain Gutter Accessories
Aside from types, materials, sizes, and colors, you also have a number of rain gutter accessories to choose from, based on the needs of your home. These include:
Gutter guards: Depending on your needs, gutter guards can be an aluminum hood or a mesh screen. They are essentially a debris barrier that attempts to block the majority of leaves, trash, and debris from collecting in your gutters. In general, gutter guards are recommended on all types of gutters to enhance the efficiency of your system. They will also help make annual cleanings of your gutters much easier to manage.
Gutter cleaning tools: Whether you have gutter guards or not, you're going to need some type of gutter cleaning tool to ensure that your gutters remain free of debris. There are a number of methods and tools that can be used for cleaning out your gutters including climbing up onto a ladder and using a scooper to physically remove debris, staying on the ground and using a hose extension, or even a pressure washer attachment for ease and efficiency.
Conductor heads: Often referred to as a "gutter leader" or "rain leader," a conductor head is essentially a funnel that is installed at the top of downspout. Its purpose is to control the flow of water and keep run off to a minimum. They give downspouts more time to drain during instances of especially heavy rainfall. Conductor heads come in a variety of sizes and shapes, but they all serve the same purpose.
Downspout brackets: These devices are used to attach your downspout to the wall, which protects them from wind. You'll also find downspout brackets in a variety of shapes and sizes, all serving the same function. In fact, many come in decorative finishes and designs to add a bit of flair to your gutter system.
Gutter splash guard: It's not uncommon for homes to have problems with water splashing up and over the gutters. To correct this issue, splash guards can be installed on existing gutters to redirect splashed water back into the gutter.
Rain chains: Aside from being a popular alternative to traditional gutter systems, rain chains are often used to direct water from the gutter to the ground below. They are aesthetically pleasing, and work well for homes that have deep overhangs and experience lower amounts of rainfall per year.
---
Related Questions
Are gutters necessary?
Rain gutters are necessary to protect your roof and prevent soil erosion. Water can damage your home's foundation if you don't have rain gutters. You can protect you soil beds and plants with gutters because they prevent water from rolling off of your roof and onto the ground.
Do gutter guards work?
Gutter guards can help reduce the risk of harmful clogs in your gutters. You can help keep debris out of your gutters throughout the year with gutter guards, but they can't prevent debris from entering the system completely.

Jessica Stone
Jessica considers herself a home improvement and design enthusiast. She grew up surrounded by constant home improvement projects and owes most of what she knows to helping her dad renovate her childhood home. Being a Los Angeles resident, Jessica spends a lot of her time looking for her next DIY project and sharing her love for home design.
More by Jessica Stone
Published March 2nd, 2021 9:55 PM