710 Views
3-Bedroom Vs. 4-Bedroom Home Value: What Is The Difference?
August 2nd, 2021 3:39 PM
Share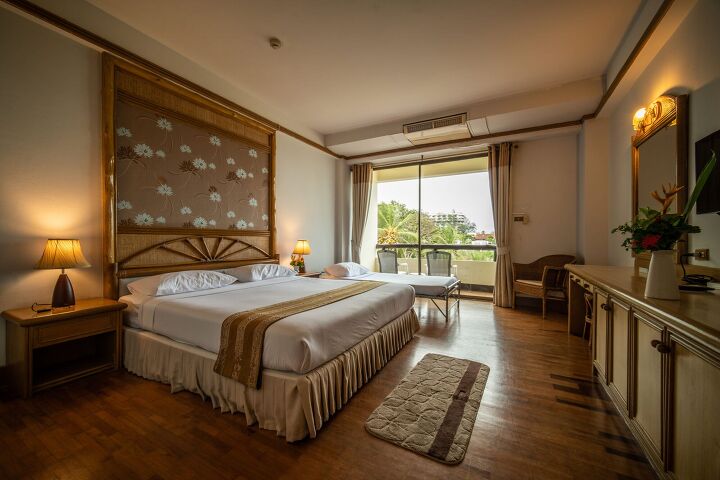 At what point does it make more sense to steal space from the fourth bedroom in your home to take advantage of that additional square footage? Or, perhaps you're considering squeezing in a fourth bedroom in an attempt to raise the value of your home.
To phrase things a but little differently, what is the difference in terms of home value for a three-bedroom vs. a four-bedroom with the same square footage? According to research collected by Laura Abramson from Keller Williams, it makes a marginal difference to convert a four-bedroom home into a three-bedroom home when the home is on the smaller end of the spectrum. However, there is a threshold in home size where a fourth bedroom can offer a premium.
Ultimately, the value of a 3-bedroom vs. a 4-bedroom home comes down to the square footage, as not all square footage is created equal. It largely depends on what you plan to do with the additional space. A buyer may see a lot of value in a larger master bedroom or a second-floor laundry room. Whereas, buyers may see little value in the fourth bedroom being converted into a custom closet if there was already adequate closet space to begin with.
With that said, let's take a deeper look at the differences in terms of value between a three-bedroom and four-bedroom home. We'll also explore how much value an additional bedroom can bring to a home in general.
Do You Need to Hire an Appraiser?
Get free, zero-commitment quotes from pro contractors near you.
How Much Value Does An Extra Bedroom Add?
Many property investors begin by adding a second, third, or possibly even fourth bedroom to the home that they are flipping. Of course, this move depends on the size of the property and the investor's budget. However, you might be wondering why they do this and is it a smart move to make?
Well, real estate experts claim that adding a new bedroom to a house could increase the overall value of the property by as much as 15%. This can make a major difference in the final asking price for a home. In fact, for every bedroom added onto a property, the homeowner or investor can see the property value increase by as much as $30,000 to $50,000.
While this may be what real estate experts estimate, the actual increase in value will depend on the specifics of your particular real estate market. So, there isn't really a one-size-fits-all answer. In fact, the only true way to know how much you will expect to get for an extra bedroom is to speak with a local experienced realtor. With that said, here are some considerations you should make before adding an extra bedroom to your house to increase value.
Consider the Location
Where your home is located is a major factor in deciding whether or not an additional bedroom is worth it. Knowing what the buyers in your area are looking for will help narrow down your decision. In many cases, adding a storage room or office is a better course of action and also requires less money and labor. This can free up space in the bedrooms, allowing the rest of the house to feel less crowded.
Loft Bedroom Conversion
Although many homeowners attempt to expand their homes by converting excess spaces into bedrooms, this often has a 50-50 chance of adding value. For instance, some people might love the idea of a finished basement bedroom, while others may not see any value in it at all. However, the attic or loft in your home is usually a great place to start when you want to add an extra bedroom.
Depending on the design of your house, converting a loft into a bedroom may be as easy as adding in a staircase or as complex as rebuilding walls. The most important factor in this type of conversion is to ensure that the height of the ceiling is appropriate for a livable space. Attic space is usually a very useful bedroom space, provided that you can stand and it is easily accessible via a permanent set of stairs.
The cost to convert a loft or attic space into a bedroom will depend on the location, scope of the project, and the real estate market, though it'll likely be somewhere between $12,000 and $50,000. When compared with the average cost of constructing an extra bedroom from scratch – starting at $57,000 – a loft bedroom conversion is a more cost-effective option.
Quick Tip: Keep in mind that a renovation project like this will likely require licenses, permits, and permissions from local building code and HOA. Never avoid this step because without meeting the right codes, the loft or attic space may not be allowed to be listed as a bedroom and all your hard work will be null and void.
Bumping Out
When a home addition is done by "bumping out," this means an attachment is added onto the side of the house which could allow additional space for another bedroom. In most cases, both the foundation and the roof can be extended in order to accommodate a bump-out. When these renovations are well-planned, they can look natural and add an extra bedroom that increases the value of your home.
Three-Bedroom vs. Four-Bedroom Home Value
Not all square footage is created equal. While you might expect that the more bedrooms you have, the higher the selling price of the home. However, this isn't always the case. The question of whether a three-bedroom home or a four-bedroom home has a higher property value comes down to the square footage and how it's used.
On paper, a four-bedroom home may sound more valuable, but the three-bedroom home could have a larger living room or possibly a bigger master suite – which is very desirable among potential buyers and makes it a contender for the four-bedroom. In order to provide a more accurate analysis, the following charts compare average sale prices of 3-bedroom vs. 4-bedroom homes, based on size, in Livingston County, Michigan.
Homes in 1,200 to 1,499 Square Foot Range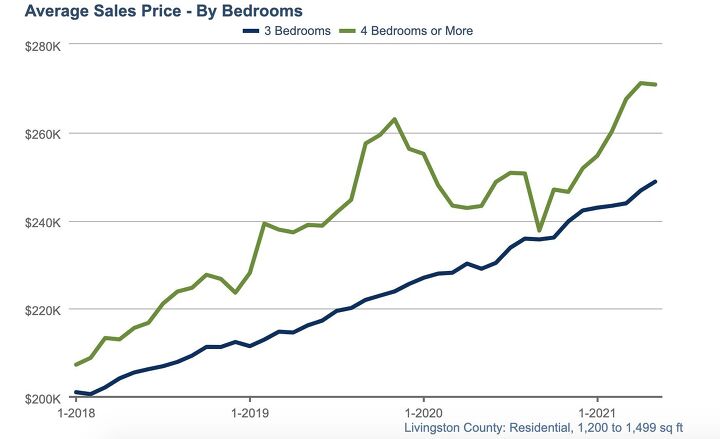 Homes in 1,500 to $1,749 Square Foot Range
Homes in 1,750 to 1,999 Square Foot Range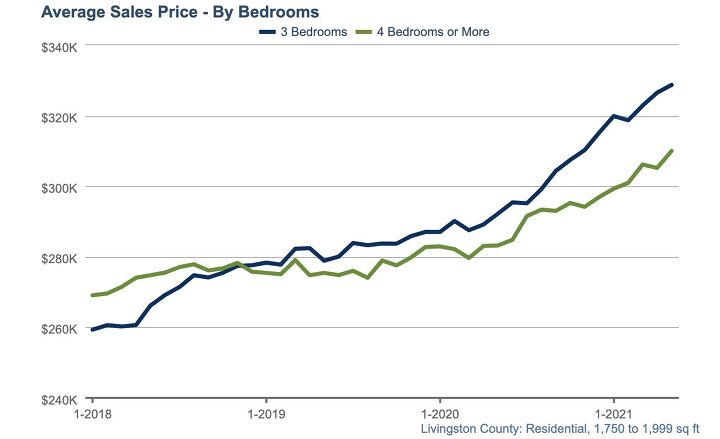 Homes in 2,000 to 2,199 Square Foot Range
Homes in 2,200 to 2,399 Square Foot Range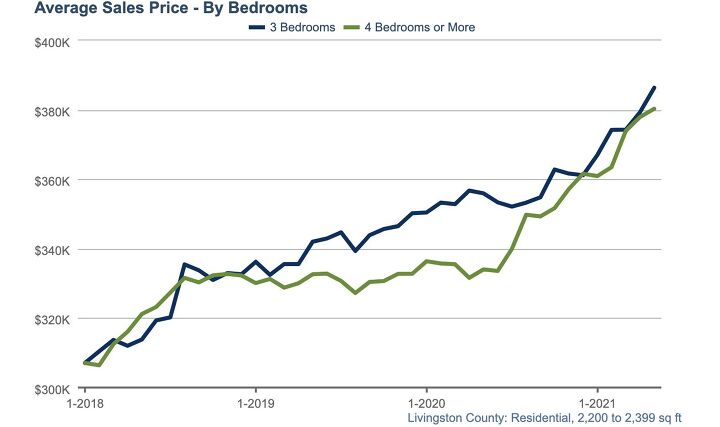 Homes in 2,400 to 2,599 Square Foot Range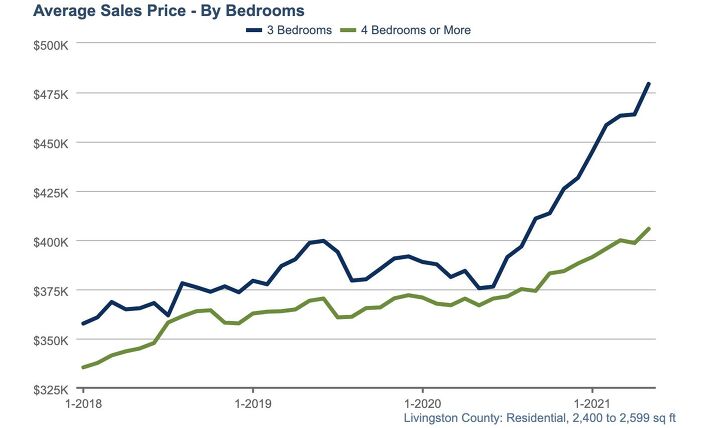 Homes in 2,600 to 2,799 Square Foot Range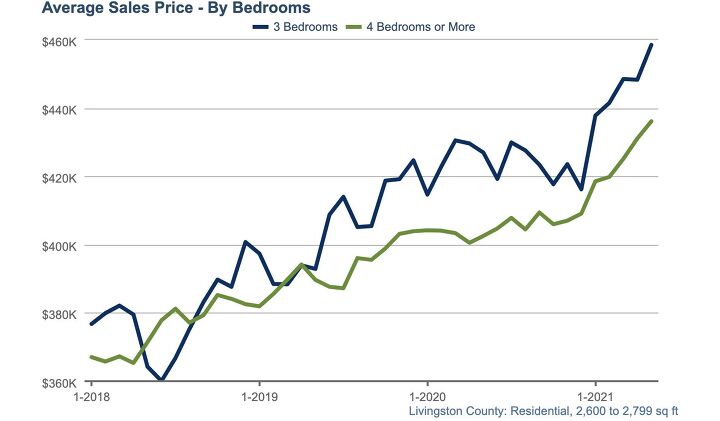 Homes in 2,800 to 2,999 Square Foot Range
Homes 3,000+ Square Feet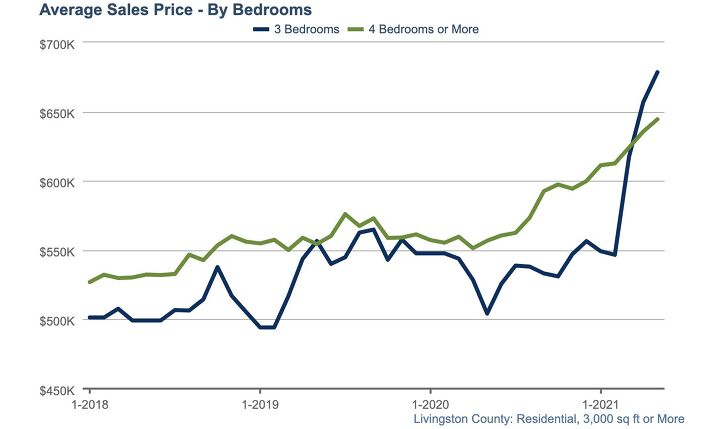 Additional Considerations
Again, there really isn't a one-size-fits-all answer for whether an extra bedroom will contribute to a higher value. Here are some additional considerations to keep in mind before your next home improvement project:
More is typically better. More bedrooms are often better for value since a house with more bedrooms is more marketable to potential buyers.
Each additional bedroom diminishes the value. Generally speaking, the added value of additional bedrooms tends to diminish with each bedroom. In other words, the value difference between a one-bedroom and two-bedroom is more significant than the value difference between a three-bedroom and a four-bedroom home.
Home layout. It's not uncommon, especially when you examine the charts above, for a three-bedroom home to sell on par with a four-bedroom because of the layout of the house. Consider a 1400 square foot three-bedroom home and a four-bedroom home with the same square footage. While one home obviously has more bedrooms that make it sound more valuable on paper, the three-bedroom could have a bigger living room or feel roomier in general.
If you're thinking about adding an extra bedroom to your house or converting your fourth bedroom into something else, it's best to speak with an experienced realtor before you begin any work. For a home that is already small as it is, adding an extra bedroom could create tiny bedrooms that are undesirable from a potential buyer's standpoint.
It can be expensive to furnish a 3-bedroom house. Whereas, a small four-bedroom home could greatly benefit in terms of space from being demoted to a three-bedroom.
Do You Need to Hire an Appraiser?
Get free, zero-commitment quotes from pro contractors near you.
Other Home Improvement Options
Generally speaking, some home improvement projects are more valuable than others. If your goal is to add value to your home easily and quickly, you may want to consider making changes to other areas of your home before you start building new or knocking down walls. Some other home improvement options to consider include:
Kitchen Upgrades. Kitchen extensions and upgrades are ranked as one of the most popular home renovations among buyers. The kitchen is often seen as the heart of the home and it's usually the first space that homebuyers pay attention to. Another reason that kitchen upgrades are such a common renovation is that they can add a ton of value to the home. Experts suggest that investors and homeowners could recover between 50 and 80% of their renovation expenses in after repair value by upgrading a kitchen.
Bathrooms. Oftentimes, the number of bathrooms is a crucial selling point for a home. When done right, it's possible to an additional bathroom or two without having to alter the square footage of the property. In fact, a half bathroom can be squeezed into a space as small as 3 by 6 square feet. Experts claim that a half bath can increase the value of a home by over 10%, while a full bathroom can drive up the value by roughly 20%.
Deck Installations. It's important not to neglect how impactful the exterior of a property has on potential buyers. Curb appeal isn't just something that real estate agents talk about for fun, it carries some serious weight. With smaller properties that don't have a lot of wiggle room for changing layouts or making major interior changes, exterior renovations and projects like landscaping and deck installations can be very effective at increasing property value. In fact, deck installations could see the homeowner or investor recouping as much as 75% of the initial cost.
Related Articles

Jessica Stone
Jessica considers herself a home improvement and design enthusiast. She grew up surrounded by constant home improvement projects and owes most of what she knows to helping her dad renovate her childhood home. Being a Los Angeles resident, Jessica spends a lot of her time looking for her next DIY project and sharing her love for home design.
More by Jessica Stone
Published June 9th, 2021 1:40 PM