267 Views
How To Make Your Home Look More Expensive
July 12th, 2023 7:18 AM
Share
We're committed to finding, researching, and recommending the best products. We earn commissions from purchases you make using links in our articles. Learn more here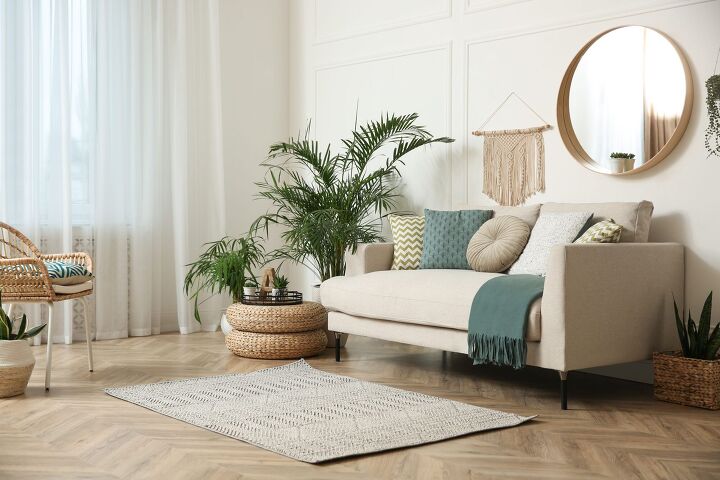 Do you dream about having a home that looks and feels like a million bucks, but your budget has other plans? If you have a champagne taste on a beer budget, you've come to the right place. Use these tricks to make your home look expensive without spending a lot of money.
Layer window treatments and hang curtains high and wide, avoid matched furniture sets, and mix materials for a luxe look. Bring upper cabinets all the way to the ceiling, swap out product containers with decorative bottles, and paint doors a contrasting color. Little changes like using screwless wall plates, plush towels, and adding a rug under the bed elevate your space.
Use these tips for making your home look expensive to give it a rich, inviting look without breaking the bank. Try them all, or pick and choose, depending on what areas you feel need the biggest change.
24 Easy And Affordable Tips To Make Your Home Look Expensive
Do you need a design boost in the bedroom, a touch-up in the kitchen, or more luxury in the living room? Maybe your bathroom needs a bit more pizazz, or you want a few simple changes to bring your home to the next level. This list is a great place to start for adding style and substance to your home without draining your wallet
1. Layer Window Treatments
Use multiple window treatments to provide a richer look and more functionality. For example, use roller shades or blinds for privacy with drapes on either side of the window.
Get a double-curtain rod to hang a set of sheers that you keep closed and curtain panels that frame the window. When hanging curtains, hang them high and wide to add height to the room and provide a more luxurious look.
2. Double-Up On Curtain Panels
Custom drapery gives your home a rich, elegant look with its gathered appearance and fullness. But custom curtains are expensive. Get the same look for less by doubling up on standard panels.
For example, if your window is 36 inches wide, don't settle for two 18- or 24-inch panels that barely cover the window. Instead, buy four panels (two for each side), so you can maintain the rippled, full look when you close the drapes.
3. Stack Home Decor And Style In Threes
Arrange home decor like a pro by thinking in threes and stacking accessories. The items don't need to be super expensive or fancy. It's all in the styling and arrangement.
You could place a bud vase and statuette on top of a tray. Or, place a candle and a decorative bottle on top of a stack of books.
4. Use Runners
When deciding on rugs and floor coverings, don't forget about runners. These versatile pieces add texture and visual interest to narrow spaces like hallways, kitchens, and entryways.
Runners also add warmth and plushness, which instantly adds a feeling of elegance to your home. Keep them in place easily with an appropriately sized rug pad or carpet tape.
5. Layer Rugs And Bedding
A trick many designers use to add interest and texture to a room is layering rugs. Instead of one large rug, consider layering a smaller rug on top of a larger one with a bit more pop or pattern.
Or switch it up and use a more vibrant rug as the base with a neutral rug layered on top. Just make sure the two styles complement each other and don't fight against each other visually.
Layering bedding also adds an upscale look to your room. Fold a blanket back on top of your duvet, or add a throw blanket across the foot of your bed. In the summertime, achieve the same feel and look using lightweight fabrics.
6. Put A Rug Under The Bed
Instantly create a sense of luxury and warmth in your bedroom by placing a large rug under your bed. It looks great and gives your room a cozy vibe. Even if you have carpet in the bedroom, you can layer a rug on top, depending on how thick your carpeting is.
You could place a large rug completely under your bed or nightstands. Or, start the rug about five inches from the edge of your nightstands so only two bed legs are on the rug.
Don't want to purchase a huge rug (it gets expensive)? A popular placement is roughly one-third of the way under your bed and extending beyond the sides and foot of the bed.
7. Use Multiple Furniture Pieces To Mimic One Large Piece
Oversized furniture pieces look expensive (and often are costly). You can get the same look for less by using multiple pieces next to each other to give the illusion of a larger piece. To hide seams, arrange decor pieces, like trays, books, etc., over the areas where the two pieces meet.
8. Pay Attention To The Shape Of Your Dining Table And Lighting Fixture
Use a lighting fixture above your dining table that mimics the table's overall shape. If you have a round table, a round fixture might look best. If you have a rectangular table, consider a more rectangular fixture or two round fixtures that take up the same amount of visual space.
9. Don't Skip Planning
Professional designers work with a plan and see how things look on paper before bringing it to life in the space. Start with a plan before buying furniture and accessories, painting walls, and moving items around the room. Test out colors, take measurements, and consider the overall concept.
10. Add Plants And Greenery
Plants and greenery add life and vibrancy to a space and give your house an instant design boost. Even high-quality faux greenery can do the trick if you have a black thumb. If you're not a fan of fake plants, go with easy options like dried pampas grass or dried lavender.
11. Use Frames With Mattes
Give your wall art an upgrade with the simple addition of matted frames. You can purchase mattes at craft stores and home decor stores. Using matching mattes and frames is a great way to give an eclectic assortment of photographs and art a more uniform, expensive look.
12. Embrace Wall Sconces And Picture Lights
Elevate your lighting with the addition of wall sconces and picture lights. These items bring an updated design element and functionality to your space.
If you can't spring for hard-wired fixtures, there are plenty of plug-in styles available. Then use cord covers and paint them to create a seamless look.
13. Add Dimmers On Lighting
Dimmers are a super affordable, simple way to make your home look and feel more expensive. Dimmers allow you to create various moods with your lighting instead of getting stuck with one harsh, bright light throughout your space. If you can't install a dimmer, try a smart dimmer plug.
14. Use Various Textures And Mix Materials
Mixing materials and using various textures help add warmth, layers, and luxury to your space. Aim to use three different materials in one room. For example, you can try a leather couch, wood side tables, and a metal floor lamp.
In addition, layer on various textures through throw pillows, a plush blanket, rich drapery, and woven rugs. Using different materials instead of making everything match is an excellent way to achieve an expensive, designer look.
15. Get Rid Of Clutter
Decluttering your home doesn't cost you anything. Go through each room and get rid of excess stuff, including home decor pieces.
Keep kitchen countertops clear except for things you use every day and be intentional with how those items look. Take a look at a space after you design it and then edit it, removing a few pieces to avoid things getting overly busy.
16. Paint Interior Doors A Contrasting Color
If you're in the mood for a little painting, consider choosing a contrasting color for your interior doors. Instead of matching the doors to the trim, this alternative gives your home a bold, rich look and makes a statement.
17. Avoid Designing With Themes
Decide on what you want the overall feel for a space to be and design it without being too literal. For example, if you want a coastal vibe, don't load up the room with seashells, anchors, and nautical decor. Instead, choose colors and textures that help mimic the same feel of the style you're looking for.
18. Get Rid Of Wrinkles
Wrinkled sheets, duvets, and drapery look shabby (and we don't mean shabby chic). Give your home an instant face lift by banishing wrinkles from bedding and curtains. A quick pass with a steamer will do the trick.
19. Bypass Matched Furniture Sets
Skip the completely matched furniture sets you see in the store. Instead, mix in heirloom pieces, your favorite thrifting finds, or other unique pieces. This design-do gives your home a more high-end, curated look, and it's a better way to showcase your personality.
Think outside of the box for what you use as a nightstand. Remove the attached mirror from a large dresser and hang a vintage one above instead. Use different style dining chairs in similar colors in your breakfast nook.
20. Switch Over To Screwless Wall Plates
Swap out switch plates and outlet plates with screwless styles. This is a quick, easy, inexpensive flip that creates a more polished look that feels more high-end.
21. Bring Upper Cabinets To The Ceiling
In the kitchen, bring the upper cabinets all the way to the ceiling. Depending on how much space there is, add a cubby cabinet or piece of molding or trim to hide the gap. This tip also makes it easier to clean, since dust can't collect on top of your cabinets.
22. Overfill Throw Pillows
This is an easy, simple trick that gives life to tired, floppy pillows. Go up one size on your pillows or down one size in your throw pillow covers to give them a fuller look. In other words, if you have a 20-inch pillow, get an 18-inch cover.
23. Get New, Plush Towels In The Bathroom
It's good practice to routinely swap out your bath towels when they start to lose absorbency or wear down. Plus, new, plush towels make your bathroom feel more spa-like and luxurious.
24. Hide Product Labels
This hack is brilliant for making your home look more expensive. Get decorative dispensers and bottles for your hand soap, olive oil, and any other products with a label. Instead of seeing bright, garish product labels, you'll see pretty containers that don't detract from your design.
Give Your Home A Rich Look For Less
The beauty of these tips, besides how beautiful they'll make your home look, is that they're easy to do. Even better, you don't have to spend tons of money to put these changes in place. With a few thoughtful tweaks and touches, your home will look and feel more expensive (and your wallet will thank you).
Related Guides:

Stacy Randall
Stacy Randall is a wife, mother, and freelance writer from NOLA that has always had a love for DIY projects, home organization, and making spaces beautiful. Together with her husband, she has been spending the last several years lovingly renovating her grandparent's former home, making it their own and learning a lot about life along the way.
More by Stacy Randall
Published July 12th, 2023 7:18 AM