234 Views
Easy Ways To Create A Cozy Bedroom
August 25th, 2023 8:45 AM
Share
We're committed to finding, researching, and recommending the best products. We earn commissions from purchases you make using links in our articles. Learn more here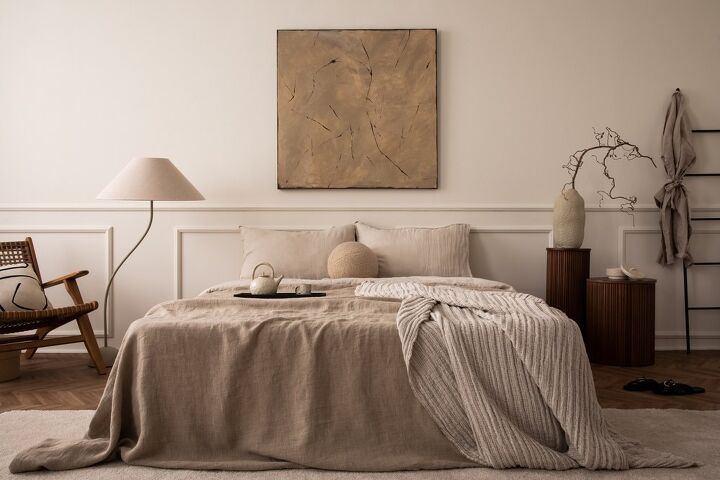 Your bedroom should be where you relax and feel at peace. So why do you feel on edge whenever you go in there? Or maybe the space feels plain and basic, instead of giving you that cushy hotel vibe you want. Creating a cozy bedroom is only a few easy steps away, so stop losing sleep over it.
Opt for more subdued, soft colors and layer in textures and natural materials. Plush bedding and rugs add warmth, and dimmable lighting lets you set the right mood. Get rid of clutter and utilize proper storage to keep surfaces clean and tidy. If space allows, incorporate a seating area. Plants and flowers add an elevated finishing touch.
Take your bedroom to the next level with these quick steps you can easily do in a weekend. You'll reap some sweet benefits, including a calm sanctuary, better sleep, and maybe even an improvement in the romance department (ooh la la!).
10 Tips To Cozy Up Your Bedroom
Depending on your bedroom's current look, you might skip some of these tips, or do them all. Pick and choose the ones you feel make the most significant impact in your space. Above all else, do what feels right to you. After all, it's your room, so it should be something you love.
Your bedroom is where you start and end your day, so you need to feel good about it. The goal is to breathe easy every time you put your head on your pillow at night and when you wake up each morning.
1. Choose Subdued Paint Colors
Colors have a profound effect on how people feel. Some colors might make you feel excited, while others can be downright depressing. Studies of color psychology point to green providing a sense of contentment and blue giving a sense of relief.
Softer colors in shades of blue or green work well in a bedroom as do deeper moody blues, like Benjamin Moore's Mysterious. Neutrals, ranging from almost white to smoky gray are other excellent choices that add a relaxing feel to a room.
Pick up a few sample jars of your favorite colors at your local paint or home improvement store. Try them out at home by painting some large squares of posterboard and hanging them on the wall with painter's tape.
Doing it this way lets you move the samples around the room to see the color in different lighting and from various angles. It's worth taking time to choose your color, so you don't have any regrets after painting the room.
2. Mix In Natural Materials
Incorporate natural materials throughout the space and mix up your pieces instead of going with matching furniture. For example, you might use a wooden dresser, a woven headboard, lovely cotton pillows, and a plush wool rug.
Your bedroom is the last place you want to feel cold, lifeless, and boring. Using various materials and textures keeps your bedroom from being one note and falling flat. It also adds personality and life to the space and an overall inviting presence.
3. Layer Lush Bedding And Pillows
Imagine a posh hotel and you'll likely imagine a bed with plump bedding and cushy pillows. It makes you want to jump under the covers and settle in for a luxurious sleep. Why shouldn't your bed at home give you the same feeling?
Use soft, high-quality sheets to have that "ahh" moment when you get into bed. Layer on a plush duvet (with a removable cover, so it's easy to wash and change out looks). Then casually drape a soft, textured throw or blanket across the end of the bed.
When it comes to pillows, find a balance between too few and overloading your bed with them. Play around with a few arrangements, including your sleeping pillows and a few extras for a lush look. But don't go crazy and end up having to take 30 pillows off the bed every night.
As a side note, take a couple of minutes to make your bed every morning. You might have nightmares about your mom always nagging you to make the bed, but it makes such a big difference. It's a great way to set the stage for the rest of your bedroom.
4. Add A Rug
Bid farewell to bare floors in the bedroom. Place a large rug under the bed, or put runners on either side and at the end of the bed. A rug adds warmth visually and physically. And it feels so much nicer to put your feet on something cozy in the morning.
5. Elevate Your Bedroom Lighting
Do more than a basic ceiling light or table lamp. Place several light sources in your bedroom for different tasks and moods. Install dimmers on your lights to create a softer glow when you want it.
Popular locations for lighting are the bedside tables, an overhead light, a dresser lamp, or a floor lamp near a seating area. Depending on your room's layout and size, you'll have multiple options.
Play around with a few ideas and choose what works best. Remember to consider how you use the space so that the lighting is also purposeful.
6. Incorporate A Sitting Area
If you have room for one, add a sitting area in your bedroom. Doing this instantly elevates the space and adds a cozy component. In a large room, you may be able to create an entire nook with a loveseat, chair, and table.
In a smaller space, a comfortable chair and small side table in a corner adds a nice touch. Another option is a beautiful bench at the foot of the bed. But, if you're working with a small space, don't force the seating. Not having a sitting area looks better than an over cramped space.
7. Put Your Things Away
This is the simplest step and it doesn't cost you anything. Like your mom used to say, "Pick up your room." There's nothing cozy about piles of clothes all over the floor and clutter crowding every surface.
When you get undressed, fold or hang your clothes. If you take your shoes off in your bedroom, put them away. Don't have a place for your things? First, declutter your closet and other spaces. Then, get clever with clothing storage so you have spots for your stuff.
You can put sweaters in a storage bench, roll up T-shirts in an over-the-door shoe rack, etc. If there are random items collecting in your bedroom that don't belong there, put them where they belong.
At the end of each day, devote a few minutes to tidying up your space. It will keep your bedroom looking neat, and it will also create a more peaceful place for you to sleep.
8. Organize The Things You Don't See
Have you seen those cartoons where the character hurriedly cleans up a room by sweeping everything under the rug or stuffing it into a closet? The room looks nice, but it's only a matter of time before your hidden clutter trips you or cascades down over your head.
For a truly peaceful, cozy bedroom, organize the places you don't see. Fold the clothes in the drawers, tidy up the items behind the closet door, etc.
9. Don't Neglect Under The Bed
Some people swear by not storing things under your bed, claiming it's bad Feng Shui. Others say, if you need the space, use it. How you decide to utilize (or not use) the space under your bed is up to you. But no matter what, keep it clean.
Don't forget to pass a Swiffer or mop under there. Keep in mind, if you do store things under the bed, choose containers that you can easily remove. Then you can routinely clean under there. Dust and debris collect under the bed, and when things are there, it tends to multiply.
10. Sprinkle In Some Greenery
Fresh plants and flowers are always a welcome touch to any room. Your bedroom will feel brighter, fresher, and cozier with greenery in there. If you really don't have a green thumb, there are some great faux choices out there.
Try places like Afloral or even Amazon. But remember, if going faux, don't forget to fluff your foliage when you take it out of the box. Also, you need to clean artificial flowers to keep them looking their best.
A Cozy Bedroom Equals Sweet Dreams
You don't need to throw tons of money at your bedroom redo. To achieve a cozy restful retreat, start simply by clearing out clutter and cleaning the space. Add some fresh flowers or plants, a cozy rug, and some plush bedding.
Soft colors and varied lighting choices help you maintain a calm, cozy vibe. A fresh paint job using soft, subtle colors is an inexpensive way to make a big change. You can easily pull off these tips in a weekend, and you'll be having sweet dreams before you know it.


Related Guides:

Stacy Randall
Stacy Randall is a wife, mother, and freelance writer from NOLA that has always had a love for DIY projects, home organization, and making spaces beautiful. Together with her husband, she has been spending the last several years lovingly renovating her grandparent's former home, making it their own and learning a lot about life along the way.
More by Stacy Randall
Published August 25th, 2023 8:45 AM