224 Views
Tandem Garage House Plans (with Drawings)
August 28th, 2021 2:00 PM
Share
We're committed to finding, researching, and recommending the best products. We earn commissions from purchases you make using links in our articles. Learn more here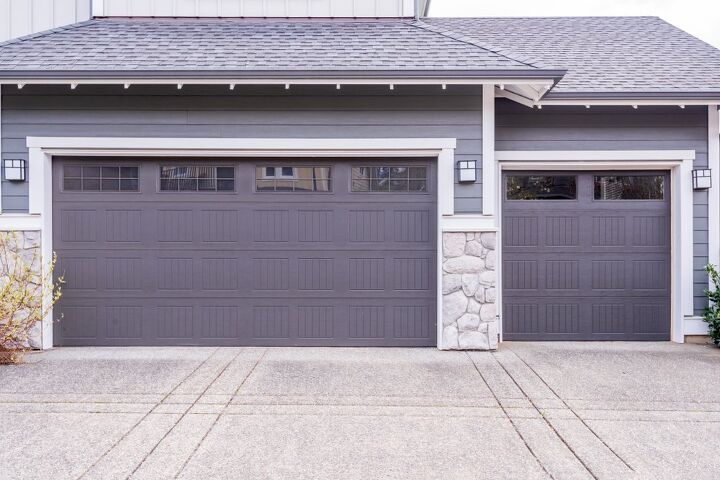 When shopping for a new home, garage space can be a major consideration, especially if you have multiple vehicles. Whether you've got a thing for classic cars or every family member has their own ride, consider a tandem garage. Use this as a guide to evaluate your space and determine the best garage style for you and your family.
Tandem garages are typically 38 feet in depth, typically designed to fit two cars, one behind the other. However, tandem garages come in several different styles that can fit much more than two cars. They can have an extra side space for a third car or double bays that accommodate four to six cars.
What Is A Tandem Garage?
A traditional tandem garage is a garage that houses cars one behind the other, vertically, instead of horizontally. These garages are perfect when there is not enough width to build a standard double garage.
However, another good reason for a tandem garage is if you have multiple cars that you want to keep protected. If you have the width, you can build a larger tandem garage that can fit three, four, or more cars.
One key consideration is that tandem garages usually just have one door to enter and exit. This can cause a car to get stuck if there is another one behind it. Sometimes, there will be a door on each side of the garage, but only if the driveway layout allows.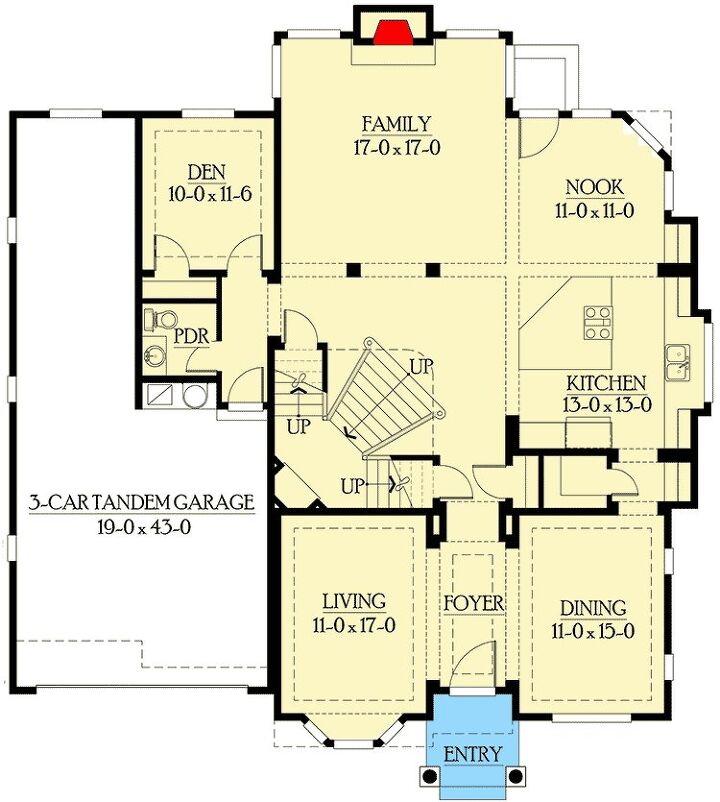 Types of Tandem Garages
Two of the most common types of tandem garages are the two-car and three-car tandem garages. These can be incorporated into many different types of homes and settings. The actual garage dimensions can vary depending on the type of home and its size.
Two-Car Tandem Garage
A two-car tandem garage allows for two cars to be parked in a line, one behind the other. A two-car tandem garage is the width of an average one-car garage with double the length, allowing for two cars.
This type of garage can have one point for entry and exit or two points. Sometimes, the space is used for one car and storage. Other times, two cars will occupy the space.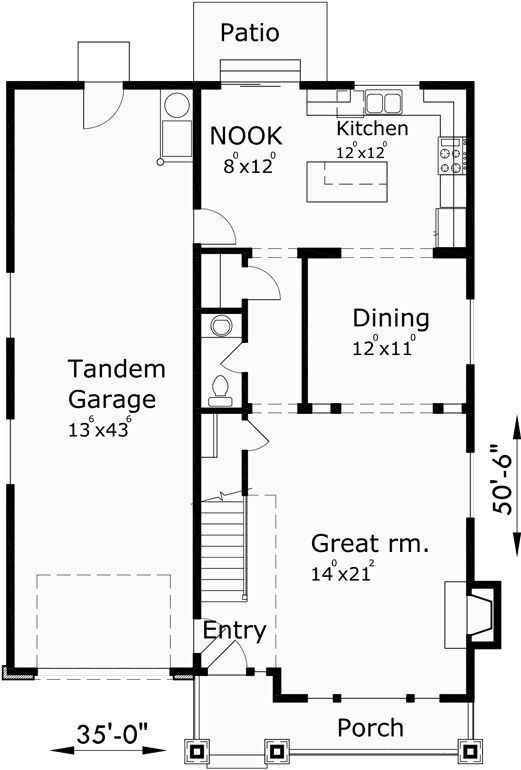 Three-Car Tandem Garage
A three-car tandem garage looks similar on the outside to a traditional two-car garage with two cars placed horizontally. To add space for the third car, one side of the garage is deeper.
You can also use three-car tandem garages as two parking spaces and a storage or workspace. This type of garage can have multiple doors. Like the two-car tandem garage, it can also have one or two entry and exit points.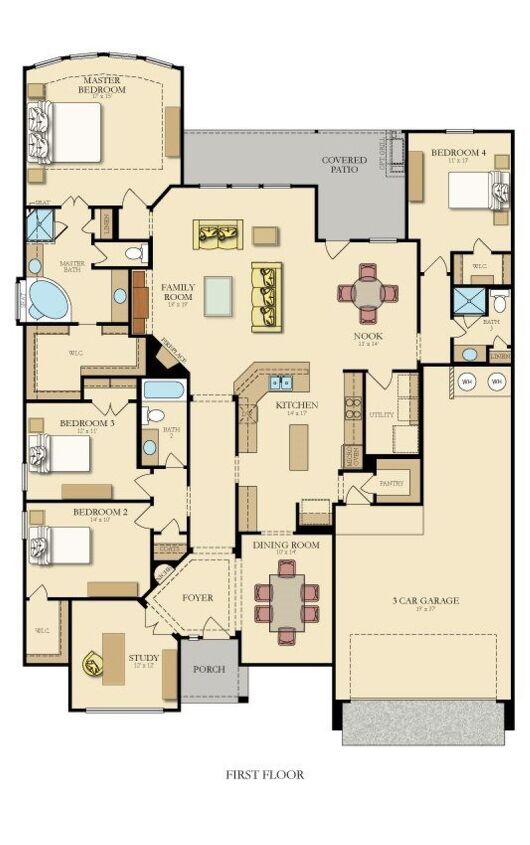 Four-Car Tandem Garage
A four-car tandem garage is double the size of a two-car tandem garage. It has the width, depth, and length of two vehicles. This is typically the largest size tandem garage that you will find in any traditional home.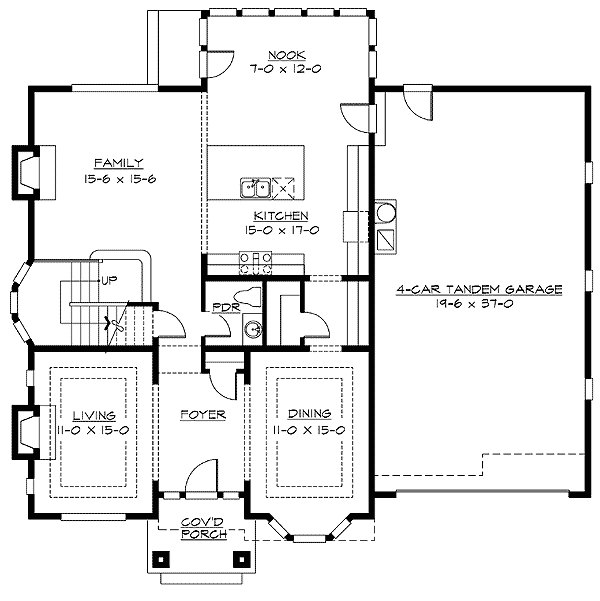 Pros And Cons Of A Tandem Garage
As with most aspects of building a home, there are pros and cons of a tandem garage.
Advantages Of A Tandem Garage
If you're thinking about incorporating a tandem garage into your house plans, the benefits can be appealing. Tandem garages are great for narrow spaces. If you need a two-car garage, but the width is unavailable, a tandem garage is a good option.
A tandem garage also saves space which can increase profits. With less space being occupied, only one garage door is in view. This is more aesthetically pleasing than multiple garage doors.
Disadvantages Of A Tandem Garage
There are some disadvantages to incorporating a tandem garage into your house plans. The biggest drawback is that the cars are parked behind each other.
There is typically only one point of entry and exit, which means your car can get blocked in. You can add a second entry point, but this is more expensive.
If you're trying to sell your home with a tandem garage, it may not be as easy. Some people specifically avoid houses with tandem garages because of the difficulty with parking.
Average Garage Sizes
Garages are classified by their size. In addition to tandem garages, there are also single-car garages, double-garages, and three-car garages.
Single-Car Garage
A single-car garage can only fit one vehicle. This allows for enough room for the driver and passengers to open the doors and move around the car. A single-car garage usually has a total area of 162 square feet to 384 square feet, so it doesn't require much space.
The most significant disadvantage with a single-car garage is that there is not much storage. If you want to use your garage for more than storing your car, you may want to consider a larger option.
Double-Car Garage
A double-car garage is also known as a two-car garage. A double-car garage can hold two cars parked side-by-side. These garages can have two separate doors or a single door to get your vehicles in.
A two-car garage is usually 9 to 14 feet wide by 18 to 22 feet long. This is a good option if you have an SUV, truck, or van. If you want some extra space for a workshop, a two-car garage is also a good option.
Two-car garages can't always accommodate families with two large vehicles, such as a truck and an SUV. In order to fit those vehicles comfortably, you may want to consider a three-car garage.
Three-Car Garage
The average size of a three-car garage is usually 32 feet wide by 22 feet deep. There are also larger three-car garage options.
These are roughly 36 feet wide by 25 feet deep. Other options are 38 feet wide by 26 feet deep and 40 feet wide by 30 feet deep.
A three-car garage is excellent for families with children that drive. In addition to holding three vehicles, there is more room for storage, workspace, a man cave, children's playroom, or home gym. A downside is that three-car garages require a lot of space to fit on your lot.
Other Types of Garages
When building a new home or adding a garage, the first step is to choose the type of garage you want. There are several things to consider, such as detached or attached, the number of garage doors, material, size, and function.
Before you select the garage you want, familiarize yourself with the different types of garages available.
Choosing the type of garage you want will depend on your needs. Below you can find other types of garages in addition to one, two, and three-car garages.
Apartment Garage
An apartment garage can give you more space. This type of garage has space above the garage, sometimes known as a bonus room. Adding an apartment garage can increase the value of your home due to the additional space.
Some people rent out the extra space above their garage. If you have college-aged children, the apartment above the garage can give them a sense of independence while living in the home.
Colonial Garage
Colonial garages are modeled after 18th-century outbuildings. Colonial garages compliment older-style homes because they match the architectural style of the house. These garages usually feature rectangular or square windows, masonry, stacked timber, or stonework.
Workshop Garage
A workshop garage can accommodate more than just your vehicle. This is a single-story garage that can store your cars as well as other items. The workshop garage is great for someone who has hobbies or a home business that needs additional space.
If you enjoy working on home improvements, DIY projects, or need space to keep tools, a workshop garage is for you.
SUV Garage
An SUV garage allows you to park a small to medium-sized SUV in your garage comfortably. An SUV garage requires more room than your typical car would need, but not as much room as a pickup truck.
An SUV garage has walls that are 9 to 10 feet high. The garage door openings are 9 feet wide by 8 feet tall.
Compact Garage
A compact garage is the smallest type of garage available. This garage is suitable for lots that don't have much room for a typical detached garage. A compact garage is big enough to be functional but small enough to fit in a tight space.
---
Related Questions
How much does it cost to build a garage?
The average cost to build a garage attached to your home is $49 per square foot. Detached garages will typically cost the most to build. A detached garage can cost as much as $70 per square foot. Building a one-car garage can range from $7,500 to $14,200. The cost to build a two-car garage ranges from $19,600 to $28,200. If you want to build a three-car carriage, expect to pay $28,200 to $42,700.
What's the difference between an attached and detached garage?
The difference between an attached and detached garage is relatively straightforward. An attached garage is connected to the house directly, so there is access from the home to your vehicle or storage. Attached garages aren't often climate-controlled, so they can be chilly during the winter months, but insulation can solve this problem.A detached garage is disconnected from the home and can be placed anywhere on your property. You can add a breezeway that connects from a detached garage to your home's roof. The breezeway can be enclosed to help you avoid weather when going into the house, or you can leave it open.

Stacy Randall
Stacy Randall is a wife, mother, and freelance writer from NOLA that has always had a love for DIY projects, home organization, and making spaces beautiful. Together with her husband, she has been spending the last several years lovingly renovating her grandparent's former home, making it their own and learning a lot about life along the way.
More by Stacy Randall
Published August 28th, 2021 2:00 PM