451 Views
20-Ft Wide House Plans (with Drawings)
October 22nd, 2021 10:26 PM
Share
We're committed to finding, researching, and recommending the best products. We earn commissions from purchases you make using links in our articles. Learn more here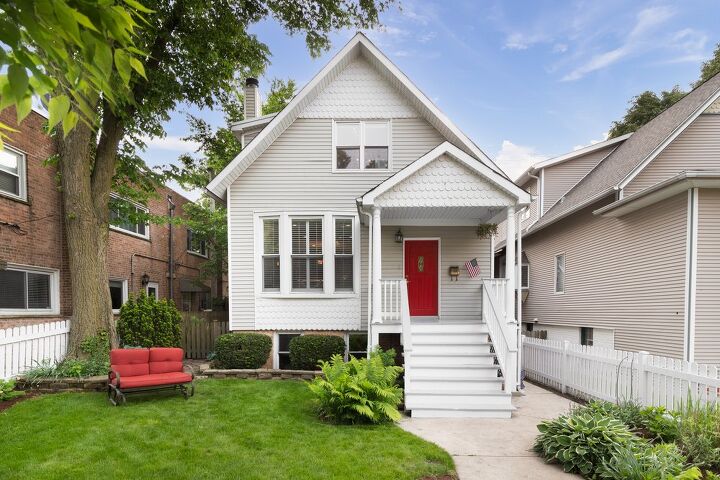 There are skinny margaritas, skinny jeans, and yes, even skinny houses, typically 15 to 20 feet wide. You might think a 20-foot wide house would be challenging to live in, but it actually is quite workable. Some 20-foot wide houses can be over 100 feet deep, giving you 2,000 square feet of living space.
20-foot wide houses are growing in popularity, especially in cities where there's an increased need for skinny houses. This width makes having a home on a narrow lot (common in cities) extremely doable. The total square footage depends on the depth, anywhere from 20 feet to over 100, and the number of floors.
You could live in a 20' x 20' tiny house with only one floor and 400 total square feet. Or you could have a two-story 20' x 90' home and end up with 3,600 square feet. Now you can start seeing how you can fit a lot more than you think in a 20-foot wide house.
Why Build A 20-Foot Wide House?
The odds are high that if you build a 20-foot wide house, it's because you have to. Perhaps you're working with a narrow lot that sets your maximum home width at 20 feet. Or, it could come down to budget and the size of house you can afford to build.
If the restriction is solely your lot size and you need a larger home, you would build up. If budget is your main concern, then you might opt for a more tiny house experience. Or, it could be a combination of the two, and you opt for a two-story home that's about 30 feet deep.
No matter the reasons, if you're working with a house that maxes out at 20-feet wide, the layout is important.
Considerations When Designing A 20-Foot Wide House
When you have a 20-foot width to play with, you can end up with some large rooms. For example, a 20' x 20' room is very spacious. However, it all depends on your available depth and the number of rooms.
A narrower home will mean smaller or fewer rooms. But, if you opt to add a second story, you could have larger shared spaces downstairs and all bedrooms upstairs.
Whichever way you decide to layout your house, start with the essentials–a place to sleep, eat, and use the bathroom. Once you know where those rooms will be, you can play around with any spare space.
Extra space might go to a laundry room, office, walk-in pantry, or playroom. If your house is more of a tiny house, then you'll only be squeezing in essentials.
A Single-Story 20-Foot Wide House
Assume you have an overall depth of just over 50 feet in a single-story, 20-ft wide house. This gives you just over 1,000 square feet to play with. You need to fit a kitchen, living room, 3 bedrooms, and 2 bathrooms and would like a laundry area, too.
In this example, your layout might look something like this floorplan from Durango Homes. The kitchen, dining, and living areas combine into one open shared space to make them all appear larger.
A kitchen island helps add separation while providing extra seating and an additional place to enjoy meals. A guest bath is in the middle of the home, opposite one of the bedrooms.
Further down the hall are the laundry room and another bedroom. All of these areas share the 20-foot width of the home, making them somewhat smaller rooms.
However, the master bedroom and ensuite take up the home's back end, allowing this retreat the full 20-foot width. This setup still allows for a more spacious master and multiple bedrooms.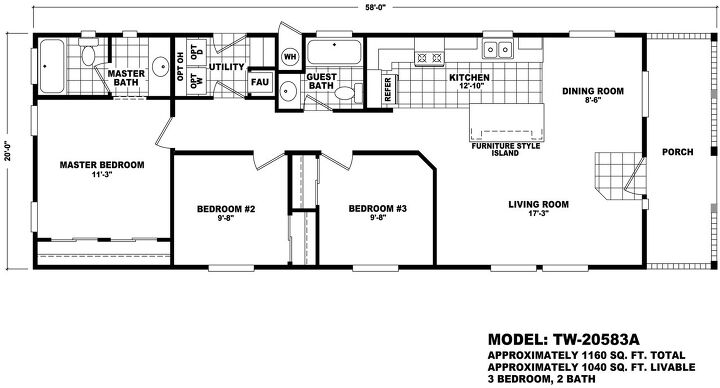 A Two-Story 20-Ft Wide House
If you decide to build a two-story 20-ft wide house, you can possibly fit more bedrooms or extras. In this example, this 20-foot home is about 36 feet deep. Since it's two stories, the overall livable square footage is about 1,400.
This home also has three bedrooms but fits an additional bathroom for a total of three. There's also a separate lounge area upstairs. The addition of porches, verandas, and a terrace add to the openness and provide extra space.
One thing to note is in this plan; the kitchen is somewhat closed off. This could be a personal choice for some. However, if you wanted a more open feel, you could make the kitchen and living area one large space.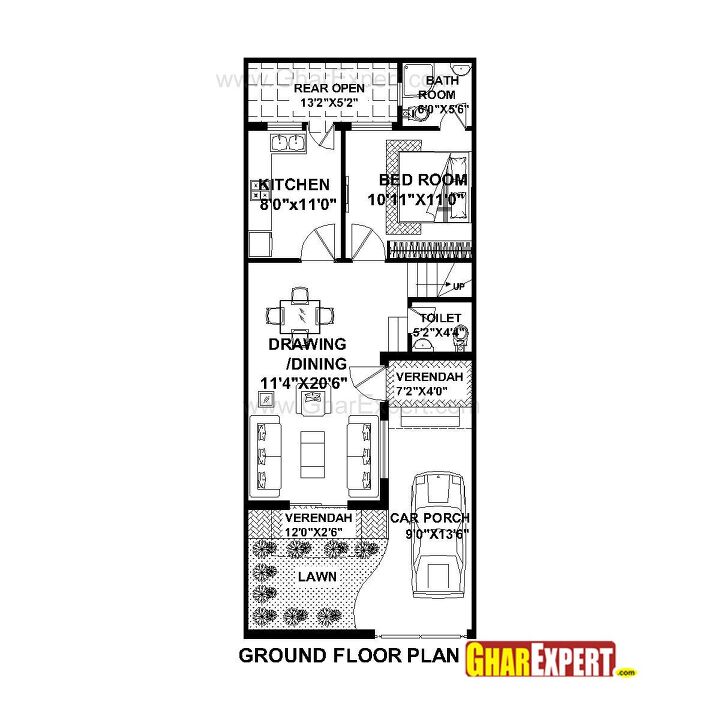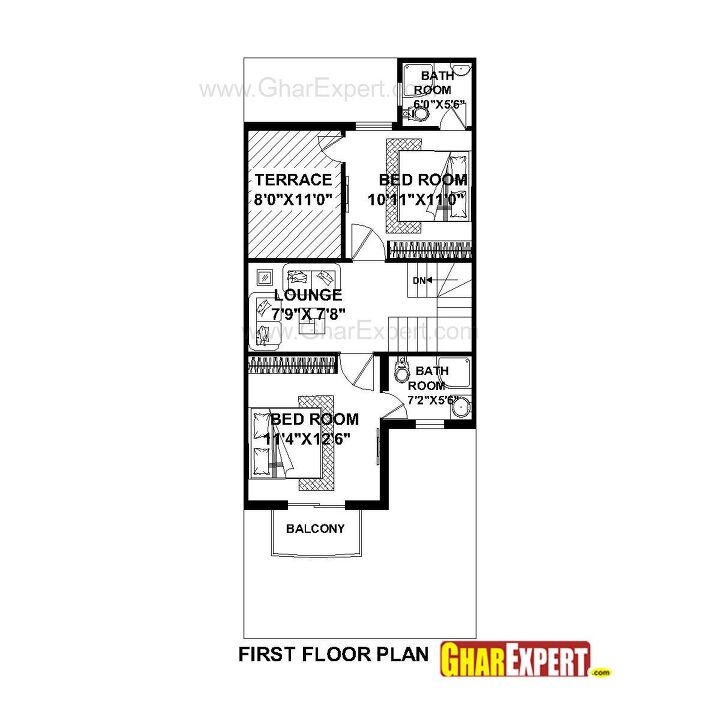 20-Ft Wide Houses In A Multi-Dwelling
Another popular place to find 20-foot wide homes is in multi-dwelling units, like fourplexes and triplexes. These buildings typically feature several homes in a row connected to each other.
So, you can have an overall building size of 3,000 square feet with three 20-ft homes within it. In these types of setups, you'll usually find two-story units.
The kitchen and living area are typically on the bottom floor, and the top floor would be similar to below. All of the bedrooms are upstairs, along with a washer and dryer closet and two bathrooms.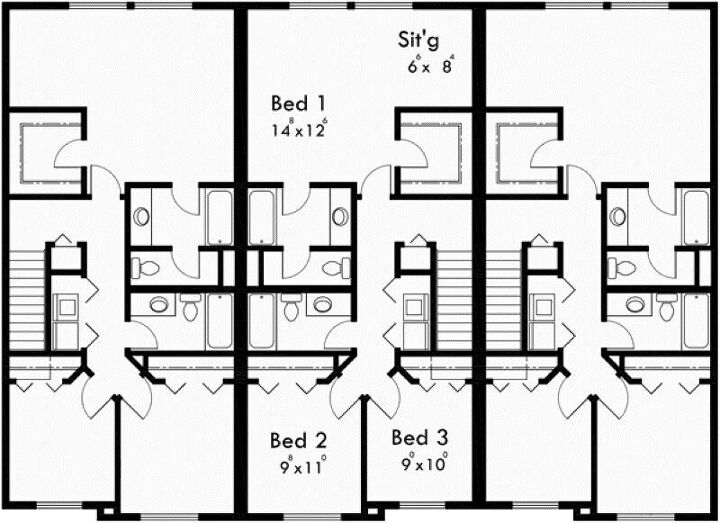 How Should You Size Rooms in a 20-Foot Wide House?
The room sizes in a 20-ft wide house should be what you would expect in a wider home. After all, you still need adequate space within each separate room and area. Builders typically allocate a certain percentage of a home's overall square footage to each room.
So, you can use these percentages to give you a rough idea of your individual room sizes. But, when planning your layout, remember some rooms may be narrower and longer to accommodate the overall 20-ft house width.
According to the National Association of Home Builders, these percentages vary based on your home's size. The percentages look at small homes (under 2,000 sqft) and large homes (over 3,500 sqft).
These examples will look at a small 20-ft wide house that is 20-ft deep and totaling 400 square feet. Next, an average-sized, two-story 20-ft by 60-ft home, totaling 2,400 square feet. And, finally, a larger 20-ft wide home, measuring 100-feet deep and two stories, for a grand total of 4,000 square feet.
Based on the recommended percentages, your room spacing might look something like this.
Average Space Allocation in a Single-Story 20′ x 20′ Home

Room
Percentage of Square Footage
Total Square Footage
Bedroom/Sleeping Areas
29.8%
119.2 sqft
Bathroom/Bathrooms
11.4%
45.6 sqft
Kitchen Area
14.7%
58.8 sqft
Breakfast Nook/Eat-In Area
3.1%
12.4 sqft
Living Room Area
24.3%
97.2 sqft
Laundry Area
3.5%
14.0 sqft
Other Finished Spaces/Storage Areas
13.2%
52.8 sqft
TOTAL
100%
400 sqft
Average Space Allocation in a Two-Story 20' x 60' Home

Room
Percentage of Square Footage
Total Square Footage
Master Bedroom
13.1%
314.4 sqft
All Other Bedrooms
16.7%
400.8 sqft
Master Bathroom
6.5%
156.0 sqft
All Other Bathrooms
4.9%
117.6 sqft
Kitchen
12.7%
304.8 sqft
Breakfast Nook/Eat-In Area
3.1%
74.4 sqft
Dining Room/Living Room
16.1%
386.4 sqft
Family Room/Library/Etc.
9.9%
237.6 sqft
Laundry Room
3.5%
84.0 sqft
Entry/Foyer
2.5%
60.0 sqft
Other Finished Spaces
11.0%
264.0 sqft
TOTAL
100%
2,400 sqft
Average Space Allocation in a Two-Story 20' x 100' Home

Room
Percentage of Square Footage
Total Square Footage
Master Bedroom
9.2%
368.0 sqft
All Other Bedrooms
17.3%
692.0 sqft
Master Bathroom
5.2%
208.0 sqft
All Other Bathrooms
6.6%
264.0 sqft
Kitchen
10.5%
420.0 sqft
Breakfast Nook/Eat-In Area
3.4%
136.0 sqft
Dining Room/Living Room
5.8%
232.0 sqft
Family Room/Library/Etc.
9.8%
392.0 sqft
Laundry Room
3.5%
140.0 sqft
Entry/Foyer
3.2%
128.0 sqft
Other Finished Spaces
25.5%
1,020.0 sqft
TOTAL
100%
4,000 sqft
Obviously, you can tweak these numbers to accommodate your specific lifestyle. However, this provides you a general idea of room sizes that would work in a 20-ft wide house.
---
Related Questions
Are there special restrictions to consider if you build a small house?
It all depends on where you're building. Some building codes state a home must be a specific minimum size, which can vary significantly in some states. For example, some states require new homes to be at least 1,000 square feet. In other cases, there may be stipulations on room sizes and so forth. If you're planning to build a new house, it's vital to know the local building codes no matter the size. Ensure you work with a reliable and professional contractor that will stay on top of all code restrictions and permits.
How wide is a single-wide mobile home?
Single-wide mobile homes, on average, are 18 feet wide. The typical depth is 80 feet. But mobile home sizes can vary, typically ranging from 66-80 feet in length and 14 to 18 feet wide.You'll usually get about 500 to 1,200 square feet of living space in a mobile home. You can expect to find one to two bedrooms and one to two bathrooms. In comparison, double-wides can be 36 to 42 feet wide, but some might be shallower. You can find some that are about 28 feet deep, with others over 75 feet long.
Related Guides

Stacy Randall
Stacy Randall is a wife, mother, and freelance writer from NOLA that has always had a love for DIY projects, home organization, and making spaces beautiful. Together with her husband, she has been spending the last several years lovingly renovating her grandparent's former home, making it their own and learning a lot about life along the way.
More by Stacy Randall
Published August 27th, 2021 2:16 PM