204 Views
Ranch Style House Plans With Open Floor Plan (with Drawings)
December 23rd, 2021 10:27 PM
Share
We're committed to finding, researching, and recommending the best products. We earn commissions from purchases you make using links in our articles. Learn more here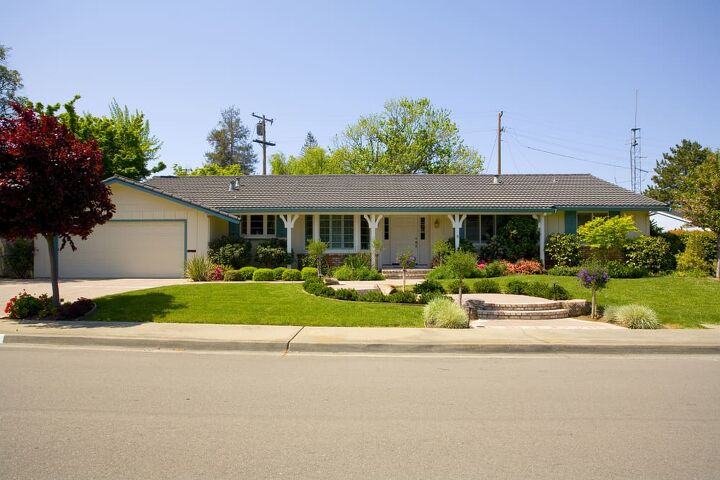 The ranch-style home came to be in the 1920s, and by 1950, this house style was very popular. This style home accounted for nine out of 10 new homes in America, and every region gave it their spin. Take a closer look at what defines ranch style house plans with open floor plans and how the style has evolved over the years.
Ranch-style house plans feature open floor plans with a one-story layout and usually include an attached garage. Most ranch-style homes are L-shaped or U-shaped, with sliding glass doors that open to the porch making it easy to bring the outside in. Some examples of Rancy style house plans are suburban ranch, California ranch, and split-level ranch homes.
What Is A Ranch Style House?
Inspired by North American Spanish colonial architecture, people built ranch houses to battle the Southwestern heat. True ranchers, known as "ramblers," built the homes, but the style became popular after World War II. After the war, soldiers were looking to settle down with their families and favored the ease of construction and customization.
Traditional ranch-style houses are single-story homes with an open layout and designated patio area. These homes often feature long, low-pitch rooflines and large windows along the front of the house. Most ranches are rectangular, but you can also find them in a U-shape or L-shape.
Most ranch-style houses don't feature a second floor, but they do have finished basements. The basement can serve as an additional floor to increase the overall space in the home. You can also transform the basement into a media room, home gym, or additional bedrooms.
However, the major feature of a ranch style house plan is the open floor plan concept. The sprawling layout helps even small ranch-style houses appear much larger than they actually are.
Types Of Ranch Style House Plans With Open Floor Plans
Depending on where you are located in the United States, ranch-style homes will slightly differ. There are five types of ranch-style homes. The ranch styles are California Ranch, Suburban Ranch, Split-Level Ranch, Raised Ranch, and Storybook Ranch.
California Ranch Style House
The California Ranch style house was designed and built by California architect Cliff May in 1932. The California Ranch draws inspiration from the Arts and Crafts Movement and has similar aspects to bungalow-style homes.
California Ranch homes have one story and are very low to the ground. To integrate with nature, there is typically a patio in the center of the L or U-shaped home. The interior layout is casual and informal, and you'll always find the yard at the center of the property.
This ranch home is roughly 1,734 square feet. It also includes an attached two-car garage and a walk-out patio that helps integrate the indoors and outdoors.
The master is located opposite the home from the other bedrooms, providing some privacy. The home also features an indoor laundry room for convenience.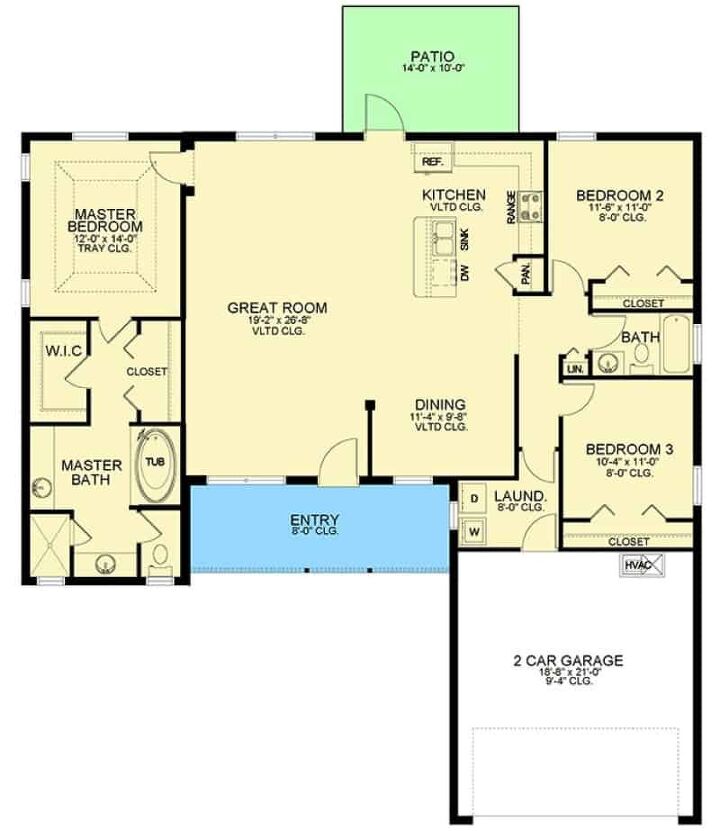 Suburban Ranch Style House
The Suburban Ranch house became popular at the end of World War II. This ranch has an open floor plan but is smaller than typical ranch-style homes. However, the Suburban Ranch is more simplified compared to the California Ranch and constructed on a concrete slab.
Because of the open layout and single story, there are not many interior walls. The Suburban Ranch can be asymmetrical, L-shaped, or U-shaped. Like the California Ranch, the Suburban Ranch features an attached garage at the front of the property.
Suburban Ranch homes have low-lying gable roofs with dutch doors and diamond-shaped window panes. Here's an example of a small rectangle ranch. This home also separates the master bedroom from the other bedroom, and it has an indoor laundry room.
However, this particular home does not have a patio on the floorplan, but you could easily add one to help create that integration with the outdoors.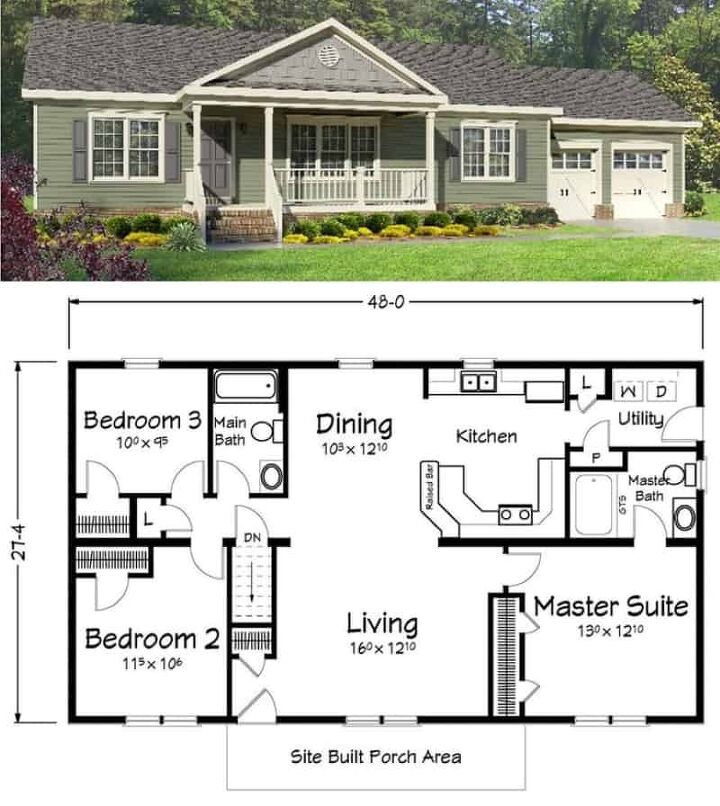 Split-Level Ranch Style House
The Split-Level Ranch is similar to the Suburban-style ranch when comparing the asymmetrical exterior designs. However, the split-level ranch is unique from other ranch style house plans because it has three stories.
The front door opens directly into the living room, and the staircase leads to the bedrooms on the second and third floors. When you think of a Ranch style house, you generally don't picture more than one story.
Three levels of living space means more square footage and more space than other ranch-style homes. You can find a built-in garage in split-level ranch-style homes with multiple attics and ample storage space.
The exterior can be L-shaped or have a rectangular orientation. Deep eaves and low-pitched roofs are common with split-level ranches. Large windows are always the focal point of split-level ranch-style homes.
Raised Ranch Style House
The Raised Ranch style house has a low-lying pitched roof with large windows at the top of the house. Natural light is abundant on the entrance floor with side windows and a large main window above the entrance door.
A Raised Ranch house's design features upstairs and downstairs living areas. When you walk into a raised ranch, the front door opens directly to the staircase. You then have the option to go upstairs or downstairs.
The upper floor has a living room, small kitchen, and dining room. The garage and basement are usually on the lower floor beneath the kitchen and living room. The raised ranch-style house has multiple rooms in a small space over several floors, typically three bedrooms and two bathrooms.
Storybook Ranch Style House
The Storybook ranch is unlike any other ranch-style home. It is named Storybook ranch because it has a fairytale-like exterior. The brick or stone ranch has tall and narrow windows, diamond-shaped, double pane windows, decorative trim, and exposed rafters.
The ranch is asymmetrical and usually has one or two stories. The steep, gabled roofs have rolled eaves and thatched shingles. You'll find small and cozy rooms in the towers of the Storybook ranch next to the decorative chimneys.
Here is an example of a sprawling ranch, with about 4,300 square feet.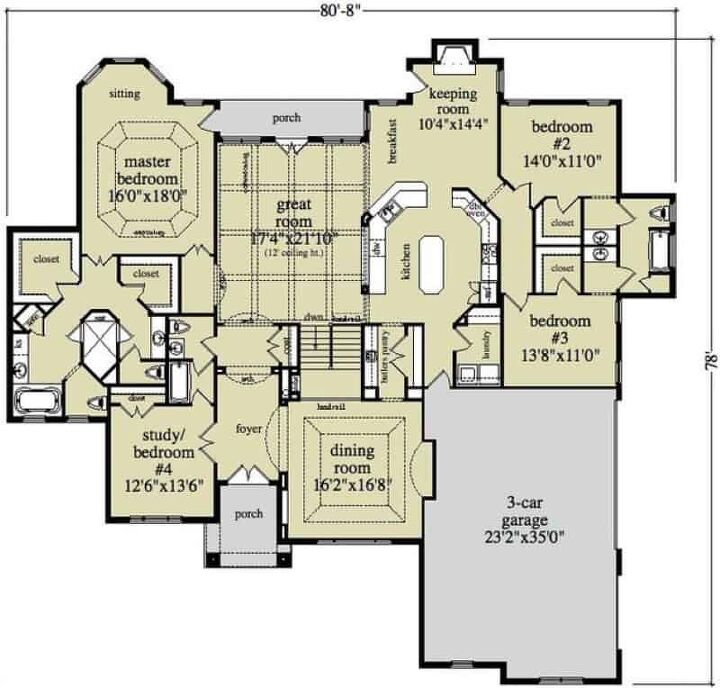 Indoor And Outdoor Features Of Ranch Style House Plans
Ranch-style houses are typically single-storied homes with low-pitched roofs, wide eaves, and have L-shaped or U-shaped floor plans. The horizontal layout combined with long and narrow hallways contributes to the open floor plan. These homes value natural light from sliding glass patio doors and large windows.
Long profiles that are extremely close to the ground are a standard feature across the ranch-style house. Ranch-style homes typically feature local, natural materials like brick, which can benefit the local economy. There are minimal interior and exterior decorations inspired by Spanish Colonial-style homes.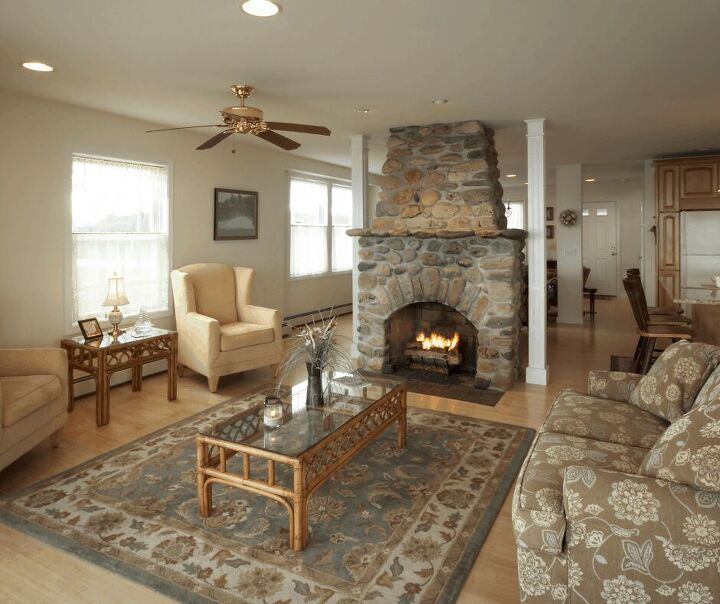 Attached garages are common throughout ranch-style homes and can double as a children's play area. The dining room always combines with a living room, with the kitchen separate from both. Basements are typically fully functional, often used as a laundry room or an additional storage area.
Many Ranch-style homes also feature walk-out patios to create a seamless transition from the indoors to the outside. You can pour a concrete patio, create one with pavers, or use a low-lying deck. Then, a sliding door or French doors would typically open out to this area to make it easy to access and create a flow from inside to the yard.
Advantages Of Ranch Style House Plans
Ideal for Those With Mobility Issues
Ranch-style houses are ideal for those who are elderly or who have mobility issues. These houses usually only have a single floor without a staircase. Ranches are the perfect style homes for those who need to easily maneuver from one room to another.
Safety
Ranch-style homes are easy to escape in case of a fire. Because there is only one story, it is easy to escape the house through a window. Furthermore, the house is built very low to the ground, so there would be no issues trying to exit the house.
Ranch-style homes are great for families with young children because they do not have staircases. Keeping an eye on children when everyone is on the same floor means you can reach them quickly if necessary.
Ample Interior Space
Ranch-style houses can have ample interior space. There are no staircases that take up space, which can save hundreds of square feet in the home.
Plenty of Natural Light
Ranch-style houses typically have naturally bright interiors. Ranch-style homes have great airflow and natural light throughout the home. Large windows and sliding glass patio doors can also contribute to the flow of natural light in the house.
Easy to Maintain
Ranch-style homes are easier to maintain because there are no additional floors. When everything is on one floor, maintaining the house becomes less of a hassle. Cleaning additional upstairs rooms or painting the upper part of the house is never an issue.
Additionally, repairing a ranch-style house is more manageable as well as less expensive as there are no load-bearing walls. Adding an extension to the house is cheaper because the design is in line with the rest of the house.
Disadvantages Ranch Style House Plans
Less Privacy
Because all the rooms are at street level, most people can see inside of the house. Window coverings are always an option but can be expensive and prevent natural light from coming into your home.
Only One Level
Most ranch-style homes are only one level, so you can essentially only build horizontally. If you want to add on to your existing home, you will need to purchase more land. However, the exception is if you go with a split-level ranch.
Smaller Yards
Ranch-style homes can sometimes have smaller yards because they require so much interior space. If you have a growing family or value outdoor space, this may pose a problem for you.
---
Related Questions
How many bedrooms does an average ranch-style house have?
On average, a ranch-style home ranges from 1,500 to 1,700 square feet. The size will vary based on the space available and the local housing market. Ranch-style homes can also be as large as 2,500 square feet in some locations. Living areas are separate from bedroom areas and typically divided by a long hallway. Because of the large size, most ranch homes can fit up to three or four bedrooms. Smaller ranch-style homes may fit fewer bedrooms, but the living areas will still be larger. 
What is the average cost to build a ranch-style house?
The cost of a ranch-style house will vary depending on where it is built and the home's size. The average cost to build a 1,700 square foot, three-bedroom ranch house is $340,000. This would include a patio as well as a single-car garage. On average, most ranch-style houses will range in price from $196,000 to $625,000. The minimum cost in the US to build a ranch-style house is $182,000. The most expensive ranch-style house built in the US would be $675,000. Compared to other style large homes, ranch-style homes seem to be overall less expensive than other luxury homes.
More Related Guides

Stacy Randall
Stacy Randall is a wife, mother, and freelance writer from NOLA that has always had a love for DIY projects, home organization, and making spaces beautiful. Together with her husband, she has been spending the last several years lovingly renovating her grandparent's former home, making it their own and learning a lot about life along the way.
More by Stacy Randall
Published April 19th, 2021 3:35 PM