366 Views
The Safest Neighborhoods In Tulsa: 2022's Ultimate List
June 3rd, 2022 4:15 PM
Share
We're committed to finding, researching, and recommending the best products. We earn commissions from purchases you make using links in our articles. Learn more here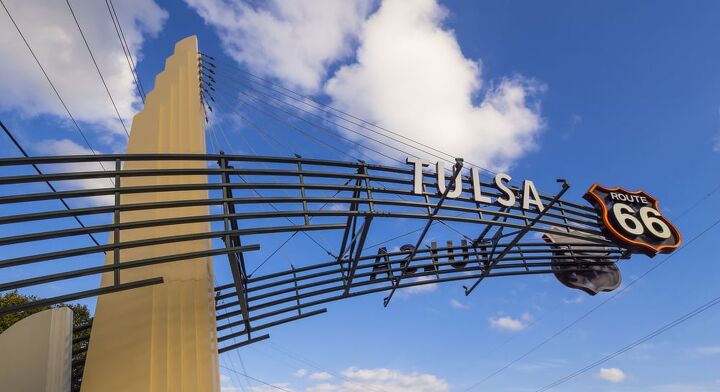 Tulsa, Oklahoma lies along the Arkansas River and is surrounded by rolling grassland and towering oak trees. Its location offers something incredible for those who are looking to escape the extreme weather of both summer and winter. However, there's something that holds people back from visiting this city – the soaring crime rate.
The crime rates in Tulsa are 152% higher than the national average. Based on statistics, your chance of becoming a victim of a crime in Tulsa is 1 in 16. Despite this data, however, locals believe that Tulsa is pretty safe.
The safest neighborhoods in Tulsa are mostly found in the northside, eastside, southside, and westside parts of the city. However, keeping your valuables hidden from sights and locked away is still recommended.
Do You Need to Hire Movers?
Get free, zero-commitment quotes from pro contractors near you.
10 Safest Neighborhoods in Tulsa
| | |
| --- | --- |
| Rank | Neighborhood |
| 1 | Maple Ridge |
| 2 | Riverview Historic District |
| 3 | Brookside |
| 4 | Owen Park |
| 5 | Cherry Street |
| 6 | Lortondale |
| 7 | Pearl District |
| 8 | Downtown Tulsa |
| 9 | Utica Square |
| 10 | Swan Lake |
Check out the list below to know the safest neighborhoods in Tulsa. To come up with this list, we considered the crime rate reports in each neighborhood and these are the ones with the least crimes in Tulsa.
1. Maple Ridge
Median Home Price: $439,000
Average Rental Rate: $900
What it's known for: Mainly a middle-class neighborhood, close to everything, and a great sense of community.
Located in the heart of the Midtown area, Maple Ridge is one of the safest neighborhoods in Tulsa. Not only the safety it offers to its residents, but another reason many homebuyers choose to move here is also the location.
Maple Ridge is close to everything you might probably need in a city. At the same time, it offers that intimate suburban feel in a close-knit community.
Living here will provide you with quick and easy access to Brookside, Downtown, Cherry Street, as well as Tulsa's extensive trails system. And of course, more places to discover and enjoy.
2. Riverview Historic District
Median Home Price: $234,000
Average Rental Rate: $543
What it's known for: Mainly a middle-class neighborhood, the area is attractive to people who are love historic architecture.
Another neighborhood that made it to our list is Riverview Historic District. Those who are living in this neighborhood have a great advantage of living close to the River Park and Downtown Tulsa.
This neighborhood is made of a mixture of single-family homes, condominiums, and old but well-maintained apartments. So, if you're planning to move to Riverside Historic District, rest-assure that you'll never run out of housing options.
And unsurprisingly, Riverside Historic District features a collection of historic apartments that were built in the earlier parts of the 20th century. So, if you're someone who loves anything ancient and classic, you'd love this place.
If you are a family with kids, this neighborhood is also great for you because of the schools located within and around this area.
3. Brookside
Median Home Price: $228,297
Average Rental Rate: $1,125
What it's known for: Younger, upscale neighborhood for those who enjoy drinking and nightlife, and also a foodie who love eating out
If you are looking for a place where you can have an exciting nightlife, there's no better place to be than Brookside. If you love your drink, you will love the martini and wine bars everywhere.
While the sun is still out, there are many boutiques, galleries, coffee shops, restaurants, and specialized antique stores for you to explore. Brookside is a neighborhood known for being a fun, safe place to shop and explore on foot or bicycle.
Despite being an active and fun neighborhood, the noise levels in Brookside are exceptionally low, as the residential streets are generally very calm. Parks are not well-distributed, which makes it occasionally difficult to get to them. This being said, there are some public green spaces nearby for residents to visit like Hawthorne Park.
Going to the closest grocery store is easy on foot. And while there is not an elementary store in this neighborhood, there are still some located nearby.
4. Owen Park
Median Home Price: $209,000
Average Rental Rate: $725
What it's known for: Great for those who love history, and close to the center of the city.
Next on our list is Owen Park. This neighborhood is tucked by its strong residential character, rolling hills, and narrow tree-lined streets. The neighborhood of Owen Park is located just northwest of downtown Tulsa, detached from the central business district of the city.
Owen Park is not only a residential neighborhood but also a historic district in the city of Tulsa. Its borders are the municipal Owen Park on the east, Edison Avenue on the north, the Keystone Expressway on the south, and Zenith Avenue on the west.
5. Cherry Street
Median Home Price: $289,000
Average Rental Rate: $650
What it's known for: Young families, shoppers, and those looking for art and culture.
If you're looking for another neighborhood with a calm atmosphere, then go for Cherry Street. Even though this neighborhood doesn't have any public green spaces, you can still find parks to go to nearby.
With more than 20 restaurants and galleries in the neighborhood, Cherry Street is a lively shopping, dining, and arts district. This neighborhood offers something for everyone when it comes to local business and entertainment.
Cherry Street is accessible to the northern midtown area. This neighborhood also has a great selection of collectibles and antiques and incredible homes that offer many old-world charms.
And despite its active entertainment scene and proximity to the railway line, this area is fairly quiet on the whole. There is not a lot of street noise or city clamor.
6. Lortondale
Median Home Price: $199,900
Average Rental Rate: $895
What it's known for: Also known for its historic neighborhood, community swimming pool, and close-knit community.
Lortondale is another historic neighborhood in Tulsa. Its residence enjoys the sight of mid-century modern homes, friendly social events, two neighborhood pools, and of course, the great mid-town location.
The neighborhood of Lortondale was designed in the early 1950s and was built between 1954 and 1957. The homes were designed by local Tulsa architect Donald Honn and built by developer Howard Grubb.
The Lortondale was the first subdivision in Tulsa to have a private, developer-built neighborhood swimming pool. The private pool is still operational and is also open to residents outside of Lortondale for the paid membership fees.
7. Pearl District
Median Home Price: $424,000
Average Rental Rate: $1,452
What it's known for Popular among young professionals and those who are into eccentric culture and dining opportunities.
What used to be a rundown neighborhood in the eastern part of the city has now become a polished area of Tulsa called Pearl District. This neighborhood has also become a popular hotspot among young elites.
Pearl District has become a hotspot for the young elite of the city and is well-known as a major cultural center of Tulsa. If you want to live in a neighborhood with bars and restaurants, then this area would be great for you.
This is perfect for those who want a safe place in Tulsa and enjoy that "city" scene. Anyone living here will surely appreciate the city's skyline and the hustle and bustle of this urban place.
8. Downtown Tulsa
Median Home Price: $136,967
Average Rental Rate: $728
What it's known for: Young professionals, fans of entertainment and classical arts.
Located in the northwest quadrant of the city proper, the downtown neighborhood is home to a lot of scenic Art Deco buildings. The architectural footprint of this area makes it an appealing destination with a character all its own.
With a booming nightlife and the Tulsa Ballet, Tulsa Performing Arts Center, Symphony Orchestra, and Opera, Downtown Tulsa is a hub of fun and entertainment in the city. Downtown Tulsa has thick neighborhoods, each of which has its own character.
This is where people work, live, and be entertained. So, if you want to live in a place where everything happens, this is the place for you.
9. Utica Square
Median Home Price: $239,000
Average Rental Rate: $950
What it's known for: High-end restaurants, excellent school selections.
Utica Square is a prime Midtown Tulsa location. With chic shopping, world-class dining, and safe neighborhood surroundings, this is one of the best places to live in Tulsa. Furthermore, Cherry Street, Brookside, and Downtown Tulsa are all a few minutes away.
If you are a family of kids, you will be happy to know that there are several top-of-the-line private and public schools around the area. The quiet, tree-lined streets will give you a scenic feeling all through all four seasons. You'll just fall in love with homes here that are centrally located in the best part of the city.
10. Swan Lake
Median Home Price: $272,533
Average Rental Rate: $1,850
What it's known for: Middle-class residential area, great home selection.
Last, but not least, is Swan Lake. This middle-class residential area is a haven for many families. It has single-family homes, apartment buildings, and some duplexes and is still considered a highly regarded residential area with a high occupancy rate.
The neighborhood has made frequent use of the bird as a decorative theme from the time when architect Joseph Koberling added a swan into the facade of his French Eclectic-style stone house in 1944. Plaques, statuary, and planters are featuring the graceful bird show the continuing sense of identity and coherency of this historic neighborhood.
Overview on Crime in Tulsa
With a crime rate of 66 per one thousand residents, Tulsa has one of the highest crime rates in the US. Your chance of becoming a victim of a crime in Tulsa is one in 15.
Tulsa has the highest crime rate than any other place in Oklahoma. No wonder why Tulsa is always present on lists of the most dangerous cities in the US.
Annual Crime Rate in Tulsa
Violent
Property
Total
Number of Crimes
4,295
21,958
26,253
Crime Rate
(per 1,000 residents)
10.72
54.80
65.52
The violent crime rate in Tulsa is one of the highest in the country, among communities of all sizes. Violent crimes tracked included murder, rape, and non-negligent homicide, armed robbery, and serious assault.
Tulsa Violent Crimes
| | | | | |
| --- | --- | --- | --- | --- |
| | Murder | Rape | Robbery | Assault |
| Report Total | 60 | 422 | 830 | 2,983 |
| Rate per 1,000 | 0.15 | 1.05 | 2.07 | 7.45 |
The United States Violent Crimes
| | | | | |
| --- | --- | --- | --- | --- |
| | Murder | Rape | Robbery | Assault |
| Report Total | 16,214 | 139,380 | 282,061 | 807,410 |
| Rate per 1,000 | 0.05 | 0.43 | 0.86 | 2.47 |
So, Is Tulsa Safe?
Like most other cities the size of Tulsa, there are areas in this city that are considered unsafe. And if you will use the FBI data on crimes being committed in Tulsa, then will tell you that Tulsa is an unsafe place.
Forbes Magazine has named Tulsa one of the most dangerous cities in the US. The study combined FBI crime statistics with data from deadly car crashes. Tulsa ranked number six on the list; Oklahoma City came in at number nine.
However, if you're asking someone who has experienced living in the city, they will likely tell you that YES, this is a safe city.
What Are the Bad Areas to Avoid in Tulsa?
Based on the list, you can tell that there are good neighborhoods in Tulsa, despite its bad reputation. But of course, just like any other city in the world, there are bad cities you need to be aware of.
North Tulsa is an area that many homebuyers avoid in Tulsa. Its reputation is one of the high crime rates, poverty, drugs, and gangs makes people avoid it.
East Tulsa is another area you want to avoid in the city. The area is also known for crime and drugs. This area is known as "Little Mexico" as there are a lot of authentic Hispanic stores and restaurants in the neighborhood, but as well as cartels, illegal immigrants, and human trafficking.
Do You Need to Hire Movers?
Get free, zero-commitment quotes from pro contractors near you.
Race Segregation in Tulsa
Tulsa is a highly segregated city. North Tulsa is home to 17% of the city's population, holds 41% of the Black population. A lot of census tracts in northwest Tulsa are more than 80%, Black.
Over 35% of the population of North Tulsa lives in poverty compared with 17% in the rest of the city. Throughout the city, the Black poverty rate is 34% while the white poverty rate is 13%.
The unemployment rate is 12.2% in North Tulsa and 5.7% in the rest of the city. The unemployment rate for Black Tulsans is more than twice the rate for Caucasians in Tulsa.
Related Articles
Cyril Balahadia
Coming from a family of woodcarvers, Cyril has always been fascinated with wooden interiors and home decorating. While she followed the path of writing as her career, her interests in home improvements still remain.
More by Cyril Balahadia
Published March 6th, 2021 7:38 AM