272 Views
What Are The 6 Safest Neighborhoods In Tallahassee, FL?
December 17th, 2021 6:23 PM
Share
We're committed to finding, researching, and recommending the best products. We earn commissions from purchases you make using links in our articles. Learn more here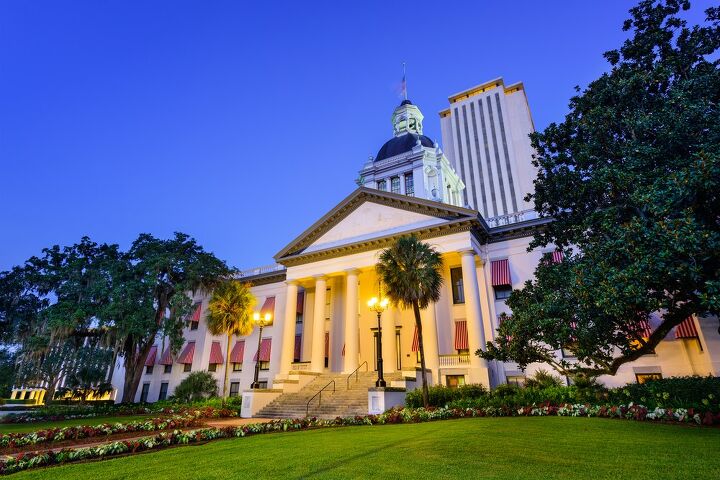 The Sunshine State is one of the top retirement destinations in the United States. Besides being the capital of Florida, Tallahassee is one of the most popular college towns in the entire country! Home to Florida State and Florida University A&M, Tallahassee is the perfect city for those looking to balance suburban and urban living. One of the more popular cities along the Gulf Coast, this vibrant college town is known for an average of 231 days of sunshine a year.
The safest neighborhoods in Tallahassee, Florida include Midway, Levy Park, Southwood, Betton Hills, and Woodville. Northeast Tallahassee's safe and affluent neighborhoods include Killearn Estates and Killearn Lakes which are also significantly lower in crime rates than the rest of the city. With crime rates dropping every year, Tallahassee is one of the safest cities in Florida and these neighborhoods lead the way in safety.
Often referred to as the Goldilocks of Florida— not too big, not too small— Tallahassee has less than half a million people living in the metro area and around 200,000 residents in the city proper. In the center of the Florida panhandle, Tallahassee is within easy driving distance to a plethora of natural, historical, and cultural attractions.
With everything conveniently close, Tallahassee residents don't have to worry too much about long commutes or backed up traffic. With a good mix of small neighborhoods and bigger communities, Tallahassee has something to offer every type of resident.
Do You Need to Hire Movers?
Get free, zero-commitment quotes from pro contractors near you.
6 Safest Neighborhoods in Tallahassee
Tallahassee living will cost you, on average, 4% less than the national average. The housing market continues to be on the rise, offering affordable housing all across the board. Whether you're apartment hunting or looking to purchase your forever home, Tallahassee has a plethora of safe and secure neighborhoods to choose from.
With Tallahassee, you get a small-town feel in a mid-sized town. While petty crime can be a problem due to its status as a college town, most areas of Tallahassee are safe. However, no matter where you live, it's always best to be prepared and have situational awareness.
Crime is definitely something to consider when looking for a new place to live — check out these five neighborhoods to find one that fits your lifestyle and will make you feel safe.
1. Midway
Population: 22,035
Median Income: $59,367
Crime per 100K: 13.8
Unemployment Rate: 5.6%
Undoubtedly, Midway is the safest place to live in Tallahassee. Only a thirty-minute drive from the Tallahassee Metro Area, Midway is a great place for families. Most residents own their homes outright and have no plans to move any time soon. With Midway, you can have one foot in the college town of Tallahassee and one foot out. This rural community skews more liberal and is welcoming of all types of lifestyles.
If you're looking for a quiet place to settle down and start a family or if you're looking for a retirement community, this suburb of Tallahassee is a great place to settle.
2. Levy Park
Population: 753
Median Income: $47,935
Crime Rate per 100K: 696.6
Unemployment Rate: 33.8%
Levy Park is located right in the center of the city, adjacent to the city's popular Lake Ella. West of North Street and south of Tharpe Street, Levy Park is the perfect neighborhood for budding families.
Because it's so close to Lake Ella, one of Tallahassee's hidden gems, the community is busy on the weekends. Its central location allows residents easy access to the downtown area where there are plenty of restaurants, shops, and galleries to choose from.
Levy Park is a close-knit, "it takes a village" type community. Residents come together to grow and maintain a community garden and are often out and about on the weekends hosting and attending various potlucks. If you're looking for a neighborhood where everyone knows everyone, Levy Park is the place for you.
It's important to keep in mind, however, that Levy Park has more crime than other neighborhoods featured here. Its central location means that many walks of life converge and when that happens, crime tends to spike.
3. Southwood
Population: 20,866
Median Income: $94,332
Crime Rate per 100K: 553.2
Unemployment Rate: 11.3%
An established neighborhood, Southwood is great for residents with children. There are several top-rated schools in this area including Florida State University School K-12 and Scottsdale Academy. Located in Tallahassee's southeastern corner, Southwood is only a seven-minute drive to the downtown area.
A bit pricier than some of the other neighborhoods in Tallahassee, Southwood is perfect for multiple child households who are looking to settle in for the long haul. The average cost of a home in this area is around $226,000.
Lush, gorgeous, and full of extracurricular activities, residents of Southwood can meander through 1,000 acres of open green space day in and day out.
4. Betton Hills
Population: 22,029
Median Income: $65,949
Crime Rate per 100K: 422.6
Unemployment Rate: 5.25%
Right outside of Tallahassee's Midtown, Betton Hills is one of a few neighborhoods with an HOA. Taking care of the surrounding nature is important to residents of Betton Hills, especially since they boast an impressive number of mature oaks, long-leaf pines, and magnolia trees.
In fact, the neighborhood is home to 5 carefully maintained Parks:
Winthrop Park—13 acres of tennis and basketball courts, soccer and baseball fields
Guyte B. McCord Park—19.4 acres of green space, home to the Betton Hills Community Garden, unfenced dog park, and several hiking and biking rails
Harriman Circle Park—8 acre preserve with a pond and various wildlife
Chittenden Park—1.5 acre park is home to an extensive rose garden
Betton Nature Center—6 acre park with a fire pit and walking trails
Whether you like to hike, play baseball, or wander through rose gardens, Betton Hills will have something for you.
Tallahassee's Famed Canopy Community
The community of Betton Hills is surrounded on all sides by towering trees, making it an arborist's dream locale. Known as a "canopy community", Betton Hills residents are very eco-friendly and boasts a community-wide passion for any and all things tree related. It is on the more affordable end of the housing market with the average home cost being in the ballpark of $218,000
One thing to take into consideration, however, is its proximity to the downtown area. Betton Hills has more crime than other neighborhoods in Tallahassee, mostly when it comes to automobile break ins.
5. Woodville
Population: 2,642
Median Income: $43,417
Crime Rate per 100K: 1,259
Unemployment Rate: 5.3%
If you're not into the college town feel, Woodville might fit the bill. Perfect for first-time homebuyers this quaint little community is the perfect mix of suburban and rural. Houses run around $113,000, which is a huge draw for young couples and singles looking to purchase their starter home.
There are plenty of great restaurants in and around Woodville, most within walking distance. Residents can spend a Friday night dining on fresh caught seafood and then head to the outdoor amphitheater for some live music.
6. Northeast Tallahassee
Population: 31,597
Median Income: $80,902
Crime Rate per 100K: 423
Unemployment Rate: 4.7%
By far one of the safest regions of Tallahassee, this region is home to several affluent and low-crime neighborhoods. Living in Northeastern Tallahassee, you can almost forget you're living in a college town. Home to four of the five safest parts of the city, you won't think twice about walking your dog in the dark or accidentally leaving your car unlocked overnight.
Killearn Estates and Killearn Lakes
Two of Northeastern Tallahassee's best neighborhoods are Killearn Lakes and Killearn Estates. Here, you can live everyday like you're on vacation. Originally established in the 1980s, this gated community boasts thousands of homes and is one of the more prolific neighborhoods in Northeastern Tallahassee. A few amenities include:
5 Lakes w/ docks
Golf Course
3 parks
Sports Fields
Pool and Tennis Clubs
A lot of Tallahassee's movers and shakers live in this area of town, so don't be surprised if you're rubbing elbows with the mayor at your local cafe! Living in the Northeastern section of Tallahassee will allow you to experience everything the city has to offer. Downtown Tallahassee is just a quick 20-minute drive down the I-10. Really, you get the best of both worlds by living in Northeastern Tallahassee.
Do You Need to Hire Movers?
Get free, zero-commitment quotes from pro contractors near you.
Summing It Up
While Tallahassee may rank as one of the more crime-ridden cities in the United States, the city has its safe and secure pockets. Violent crime has never been a real problem for Tallahassee residents, and overall crime continues to drop.
Any of these five noteworthy neighborhoods will give you the sense of security needed to feel comfortable. As with any new locale, it's important to familiarize yourself with local law enforcement and emergency services.
Related Guides

Paige Hanawalt
Paige is an elementary school librarian with a passion for writing. Her hobbies include reading an exorbitant amount of fantasy, slowly teaching herself to draw, and home decor. While she isn't the most talented artist or interior designer, what she lacks in skill she more than makes up for in enthusiasm. When she's not curled up with a book, you can certainly find her curled over the keyboard.
More by Paige Hanawalt
Published October 11th, 2021 8:20 PM