141 Views
What Are The 7 Safest Neighborhoods In Fort Lauderdale, FL?
December 17th, 2021 6:22 PM
Share
We're committed to finding, researching, and recommending the best products. We earn commissions from purchases you make using links in our articles. Learn more here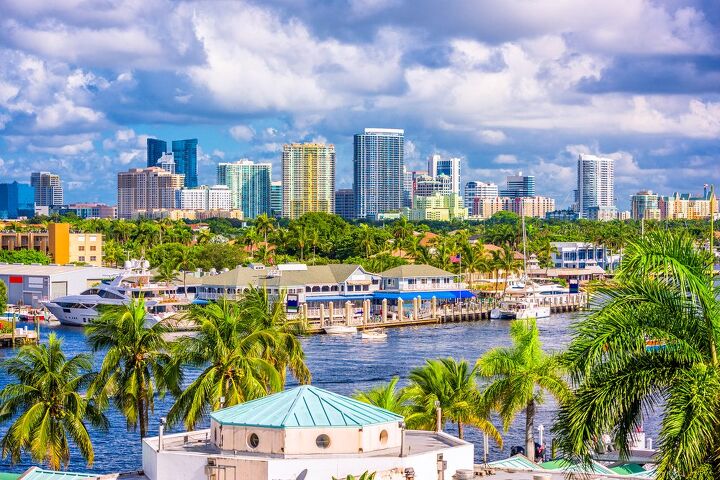 With an estimated population of more than 186 thousand residents, Fort Lauderdale is the eighth largest city in Florida. It is fondly called the "Venice of America" because gorgeous homes line the picturesque canals that run through the city and into the Atlantic Ocean.
Fort Lauderdale's geography has an easily navigable layout. Going to a destination means passing a myriad of scenic inland waterways with a Florida-perfect view: tropical vegetation, manicured lawns, and yachts – lots of them! Home to tens of thousands of vessels, Fort Lauderdale also earned the "Yachting Capital of the World" moniker.
The safest neighborhoods in Fort Lauderdale, FL are Harbor Drive, Breakwater Surf, and Lauderdale Harbours. Each of these communities boasts crime rates lower than the national average, low unemployment rates, and high-income levels. While there is a distinct feeling of well-being among many of the locals all across Fort Lauderdale these 3 neighborhoods lead the way in keeping their residents safe.
Do You Need to Hire Movers?
Get free, zero-commitment quotes from pro contractors near you.
7 Safest Neighborhoods in Fort Lauderdale, Florida
Fort Lauderdale offers an outstanding quality of life. The city boasts a semi-tropical climate, world-famous beaches, and an array of cultural, entertainment, and educational amenities.
If you are considering the city and wondering about its suitability to you and your family, here are the safest neighborhoods we discovered using reliable data and credible words from residents.
1. Harbor Drive
Population: 8
Median income: $85,200
Unemployment rate: 0%
Crime Safety Grade: A+ (safest)
Due to its exclusivity, nothing much is known about the Harbor Drive neighborhood except that it has virtually no crime at all. With only 8 residents from 4 households, Harbor Drive is practically the most peaceful and safest neighborhood in Fort Lauderdale.
Of course, this exceptionally high-security level comes with a price. While the median income in the neighborhood is at more than $85K, 42% of the residents in Harbor Drive have six-figures income. It is worth the price though. Based on reviews, Harbor Drive is ranked as the number 1 neighborhood in Fort Lauderdale with A+ grade on amenities and crime safety while having a livability score of an outstanding 94/100.
2. Breakwater Surf
Population: 33
Median Household Income: $51,648
Unemployment rate: 0%
Crime Grade: A+ (safest)
Another neighborhood that prides itself with an A+ grade in crime safety is the Breakwater Surf. Like Harbor Drive, there is very little crime in this area.
Located at the southern tip of Fort Lauderdale, Breakwater Surf Club is considered a gem among the city's waterfront communities, for being tranquil yet accessible. The neighborhood is conveniently located minutes away from Fort Lauderdale and has views of the ships passing through in the evenings and mornings.
Neighbors are mostly starting families and couples without children yet. Expect a highly educated neighborhood with residents mostly working in business, management, and legal industries. About 100% of the residents have finished high school while 33% hold a bachelor's degree, and 23% have completed graduate school.
Breakwater Surf's amenities are also graded A+ — the community has tennis courts, a clubhouse, privacy for its residents, maintenance of premises, and 24-hour security.
3. Lauderdale Harbours
Population: 544
Median income: $57,542
Total crime per 100K people:  1,562
Unemployment rate: 2%
Crime Rate: A- (total crime is 37% lower than national average)
The population density in Lauderdale Harbours is 86% lower than Fort Lauderdale's. So, if you covet solitude, you may want to try this neighborhood.
This does not mean that you are isolated though. In fact, living in Lauderdale Harbours makes everything more accessible:
8 minutes to downtown Las Olas Blvd
10 minutes from the ocean
10 minutes to the Fort Lauderdale Airport
30mins to 40mins away from Miami or South Beach
As one of its long-term residents said: "I live on SE 13th Street in Lauderdale Harbours, which is technically a block or two south of the border with Rio Vista. I like where I live. Why? Well, it is closer to everything pretty much… All in all, I love it here!"
Lauderdale Harbours is a single-entry three island group with deep wide river canals. It is a serene and quiet subdivision with a mixture of 1950's one story homes and brand-new luxury homes. If you decide that a waterfront neighborhood is not for you, you can find many charming off-the-water homes in Lauderdale Harbours.
4. Rio Vista
Population: 2,354
Median income: $89,600
Total crime per 100K:  2,249
Unemployment rate: 1%
Crime Grade: B+ (lower than 10% of the national average)
One of the oldest communities in Fort Lauderdale, Rio Vista is a historic neighborhood situated next to downtown Fort Lauderdale. Its name means "River View" in Spanish. With mature tree-lined streets, sidewalks, and unique architecture, you'll fall in love with the beauty of this community.
"Lovely neighborhood to live in. Neighbors are extremely friendly and are always greeting my family and I when we go for a walk. We feel safe walking here even if we go individually," says one resident.
Rio Vista is a moderate-income neighborhood with mostly middle-income residents. This neighborhood has a higher income than 42.5% of the neighborhoods in America.
Rio Vista is also growing more popular with both young and adult professionals. Not only will you have a new great home at a great value, but you will also have endless activities to enjoy. The neighborhood enjoys arts, entertainment, and nature with many parks, a yacht club, waterfront bars and restaurants, as well as gyms and a golf course.
5. Las Olas Isles
Population: 863 (438 households)
Median income: $106,600
Total crime per 100K:  2,465
Unemployment rate: 1%
Crime Grade: B+ (total crime is 1% lower than national average)
City meets the sea in this exclusive waterfront neighborhood referred to by locals as Las Olas Isles. It is only minutes away from Fort Lauderdale downtown and just a short walk or bike-ride away from Fort Lauderdale Beach.
Las Olas Isles consists of Hendricks Isle, Isle of Venice, Nurmi Isles, Seven Isles, and Riviera Isles —all which are located off the popular Las Olas Boulevard.
The Las Olas Isles are world-renowned with their premium location in the heart of the "Yachting Capital of the World". These are impressive multi-million-dollar, waterfront estates with royal palm-lined streets. The area's standard scenery? Unobstructed, breathtaking view of the Atlantic Ocean and of course, the picturesque line of mega yachts.
One of the key indicators of a good neighborhood is the feedback from its own residents. In a survey, around 40% of residents in Las Olas Isles said that they feel extremely safe in the area whether it's night or day.
6. Harbor Beach
Population: 1,564
Median income: $85,200
Total crime per 100K:  2,204
Unemployment rate: 1%
Crime Safety Grade: B (total crime is 11% lower than national average)
Lover of the sea? Harbor Beach might be the one for you!
Harbor Beach is part of the barrier island also referred to as Fort Lauderdale Beach.
Many homes in this neighborhood are waterfronts with private dockage to accommodate yachts and sport boats. Here, you can have direct and open access to the ocean.
The exclusive, gated neighborhood has sprawling estates with a mixture of traditional, Mediterranean, and contemporary architecture. Neighbors in Harbor Beach are wealthy, making it among the 15% highest income neighborhoods in America.
More than 1.7% of residents here are living with a same sex partner. This has a greater concentration of same-sex couples than 95.8% of U.S. neighborhoods. Meanwhile, 45.6% of its residents are married.
This beautiful and exclusive area is conveniently located within minutes to fine and casual dining, private schools, golf courses, shopping, and other establishments.
7. Sunrise Intracoastal
Population: 1,080
Median income: $84,200
Total crime per 100K:   2,460
Unemployment rate: 2%
Crime Grade: B (total crime is 3% lower than national average)
Sunrise Intracoastal is a small, amiable peninsula neighborhood in east Fort Lauderdale.
The community features a mixture of single-family, condos, and attached-style homes that vary in budget and style.
If you are considering Sunrise Intracoastal, you can choose from waterfront or dry lot properties that are within walking distance from the Galleria Mall, as well as several dining and entertainment options. Among the many leisure activities that residents can do is visit George English Park, where they fish, kayak or bike along the trails, and play on the basketball and tennis courts. There is also a pavilion, picnic areas, and a recreation center.
Homeownership in Sunrise Intracoastal is at 84% (33% higher than the US average) with a community described as fun-filled and kid-friendly. Kids can enjoy proximity to highly rated schools like Bayview Elementary School, as well as Sunrise Middle School and Fort Lauderdale High School. Meanwhile, parents can quickly commute 15 minutes to Downtown Fort Lauderdale for work.
Do You Need to Hire Movers?
Get free, zero-commitment quotes from pro contractors near you.
Summing It Up
With Fort Lauderdale having picturesque canals that run through the city, most of the safest neighborhoods here are exclusive, luxurious communities that offer both waterfront and dry lot homes.
Once known as a tourism-based economy, Fort Lauderdale now has a diverse range of industries, including marine, manufacturing, finance, insurance, real estate, high technology, avionics/aerospace, film and television production. This diversity offers solid employment opportunities and also allows the city the budgets necessary to fund safety.
As much as the real estate appears impressive, life in Fort Lauderdale doesn't want for glamour. Through the cooperative efforts of residents, businesses, and local government, Fort Lauderdale offers the best of both worlds – an attractive business environment and an outstanding quality of life as a safe place to live, work and raise a family.
Related Guides

Paige Hanawalt
Paige is an elementary school librarian with a passion for writing. Her hobbies include reading an exorbitant amount of fantasy, slowly teaching herself to draw, and home decor. While she isn't the most talented artist or interior designer, what she lacks in skill she more than makes up for in enthusiasm. When she's not curled up with a book, you can certainly find her curled over the keyboard.
More by Paige Hanawalt
Published October 11th, 2021 8:33 PM