54 Views
Top 9 Richest Neighborhoods In San Antonio
June 3rd, 2022 10:49 AM
Share
We're committed to finding, researching, and recommending the best products. We earn commissions from purchases you make using links in our articles. Learn more here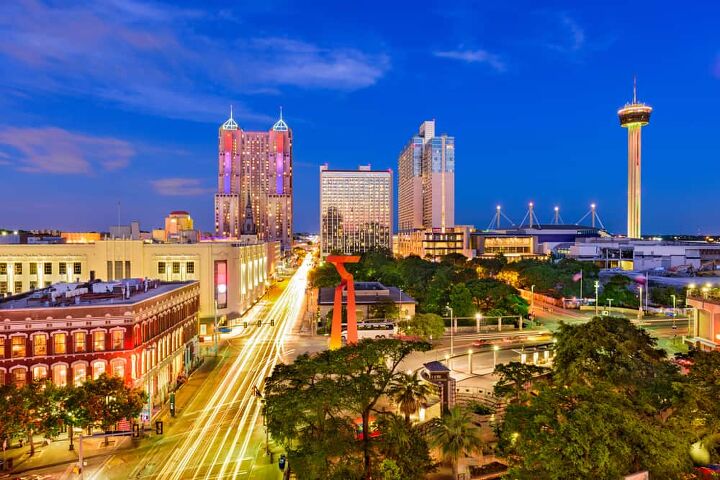 San Antonio is such a gorgeous city known for its host of wealthy neighborhoods, some of which celebrities such as Shaq and Kyle Rote call home. But, what is it like to live in these neighborhoods? Which ones are the wealthiest in San Antonio?
The top 9 wealthiest neighborhoods of San Antonio include:
Cordillera Ranch
Olmos Park
Terrell Hills
Anaqua Springs Ranch
Bentley Manor
Waterford Heights
The Dominion
Champions Ridge
Let's take a look at what each of these neighborhoods has to offer, as well as the different housing markets, so you can get a feel of what it's like to live in these majestic places! What are you waiting for?
Do You Need to Hire Movers?
Get free, zero-commitment quotes from pro contractors near you.
Why Move To San Antonio's Richest Neighborhoods?
One of the most significant benefits you'll have when moving to one of San Antonio's wealthiest neighborhoods is that you have access to successful people. In other words, you can ask a mentor for guidance and assistance by walking up to his or her front door.
It is often a fact that successful business people or entrepreneurs had mentors and guidance that is the most common characteristic. Your admiration and respect should be their goal, and a good mentor will hold you accountable for your business and life decisions.
The middle class does not typically have mentors since their stereotypical belief is that one works to live. Living to work is the mindset of the new rich, which makes them different from the old rich. Therefore, living in a wealthy neighborhood might mean that your neighbors can assist you to step into a role that you'll be able to take on so you can remain in the community.
How Much Does It Cost To Own A Home In The Richest Parts Of San Antonio?
The cost will differ depending on the area; however, the average price to own a home in the wealthiest parts of San Antonio comes in at about $1,350,000. The lowest range was about $600,000, and the highest was well over $2,225,000.
San Antonios Top 9 Wealthiest Neighborhoods
Let's take a look at the top wealthiest neighborhoods of San Antonio:
1. Cordillera Ranch
Median Home Value: $989.9K
Home Price Per Sq Ft: $300
Population: 1,200
Average Household Income: $190,000
Cordillera Ranch is a luxury master-planned community spread across 8,700 acres of unrivaled Texas Hill Country splendor. This community was intentionally designed to strike a balance with the ancient rolling hills. The crystal clear waters of the Guadalupe River and the passage of time have carved out this oasis.
The homes in Cordillera Ranch are known for their incredible views of the crystal-clear Guadalupe River as it meanders through limestone valleys. In addition to the above amenities, Cordillera Ranch residents have access to a world-class golf course, a spa and fitness center, a tennis and swim club, and a rod and gun club.
There is also an English and Western riding club, and the community offers supervised skeet shooting, fishing, and canoeing down the Guadalupe River and equestrian activities. Cordillera Ranch is one of the most expensive neighborhoods in the San Antonio area, with homes starting in the mid $500,000's and going well into the millions.
2. Olmos Park
Median Home Value: $775K
Home Price Per Sq Ft: $261
Population: 2,000
Average Household Income: $167,667
In addition to its high-end homes, Olmo's Park is noted for its tree-lined streets and historic feel. Centrally located in San Antonio, just 4 miles northwest of downtown, the community has easy access to the Alamo Heights Independent School District, golf courses, and a wide array of shopping and dining options.
The now incorporated city developed in the 1920s as a wealthy suburb of San Antonio. It has been ranked as the second richest area of Alamo City. Trees shade elegant and timeless estates along the streets.
3. Terrell Hills
Median Home Value: $854.9K
Home Price Per Sq Ft: $266
Population: 5,300
Average Household Income: $175,913
The upscale community of Terrell Hills is one of a handful of iconic neighborhoods in Central San Antonio. In a peaceful setting just minutes from top restaurants, schools, and attractions, this suburban community sits just five miles from downtown.
The community's exclusivity can't be found in its modern marvels or guarded gates as with many exclusive neighborhoods. But those features are deeply ingrained in the community's history. As a matter of fact, since the first home was built in Terrell Hills, many local and national celebrities and notable figures have moved here too!
4. Alamo Heights
Median Home Value: $647.2K
Home Price Per Sq Ft: $284
Population: 8,374
Average Household Income: $132,313
With a long history of being viewed as an upscale neighborhood in San Antonio, Alamo Heights is known as an affluent community throughout the area. Alamo Heights consists of housing ranging from modest craftsman-style homes to elegant Mediterranean-style estates. Its homes quickly sell for over $100 more per square foot than other parts of San Antonio.
There aren't many homes in Alamo Heights that are over 1,000 square feet for under $200,000. In addition to an excellent school district, Alamo Heights features a community garden, rotary club, Little League, dog park, and member-only pool. Additionally, Alamo Heights residents have convenient access to golf courses, country clubs, shopping, and San Antonio's Cultural Corridor.
5. Anaqua Springs Ranch
Median Home Value: $220K
Home Price Per Sq Ft: $243
Population: 998
Average Household Income: $140,000
There is a master-planned gated community known as Anaqua Springs Ranch located northwest of San Antonio, known for its hill country setting and expansive estate lots. It is a 920-acre development of estate lots for sale.
Located in a field of spectacular limestone bluffs and lush wooded ravines that wind along the Leon Creek waterfalls and springs, this environmentally protected community sits in striking contrast with its rugged surroundings. In Anaqua Springs' Ranch, the homes are designed in a "Euro-Texan style," combining modernity and tradition.
Homes in this neighborhood are constructed by one of the several approved builders utilizing native limestone, other rocks, and stacking. Featuring magnificent custom homes complemented by large home sites, the Anaqua Springs properties sit in a breathtaking landscape that creates a visual masterpiece like no other.
6. Bentley Manor
Median Home Value: $1.1M
Home Price Per Sq Ft: $287
Population: 386
Average Household Income: $145,896
Bentley Manor is a premier community adjacent to Shavano Park in northern Bexar County, one of San Antonio's well-regarded communities. It is located approximately 12 miles from downtown San Antonio. Luxury homes, close proximity to major employers, and easy access to the Medical Center have made this ultra-private community a favorite among executives and medical care providers.
A gated and guarded community with varying types of architecture, single-family homes, garden homes, and estate homes- considered luxury properties – are all unique to this gated and guarded community. '
As many of the homes were former Parade of Homes properties, many of them have upscale features such as designer kitchens, luxurious master bathrooms, fine stonework, custom windows, audio and security systems, lavish landscaping, and other fine qualities.
7. Waterford Heights
Median Home Value: $1M
Home Price Per Sq Ft: $284
Population: 7,101
Average Household Income: $124,088
Located within The Heights at Stone Oak, Waterford Heights is one of San Antonio's newest luxury home communities. As one of the city's fastest-growing areas, Stone Oak is located far in the north of the city.
Many are flocking to Stone Oak Heights, and even fewer can afford Waterford Heights. Even though the area is highly coveted, only a handful are able to live there. Each home is nearly one million dollars or more, and the homeowners association requires that every house be at least 4,500 square feet.
Luxury is the hallmark of these magnificent- to one-and-a-half-acre estate homes. In addition to the playgrounds, tennis courts, soccer fields, sand volleyball courts, and sports courts, the community offers residents various amenities.
8. The Dominion
Median Home Value: $814.5K
Home Price Per Sq Ft: $222
Population: 2,241
Average Household Income: $150,885
A mere mention of "The Dominion" alone implies luxury…and with a collection of homes that most people call the most expensive in San Antonio, it's clear why. Many celebrities who live in San Antonio call The Dominion their neighborhood of choice because it has been a premier luxury neighborhood for decades.
What is the reason? A golf course, a country club, a golf course with swans, and multiple guarded entrances comprise the Dominion. This members-only club features an Olympic-sized pool, a tennis court, seven dining venues, and an Olympic-sized golf course.
Several sub-sections within the community range from affordable houses on the golf course to expansive mansions worth upwards of $12 million. Everyone has access to the luxury lifestyle that the Dominion is known for, right at their fingertips. Take a look at the pros and cons of living in McKinney, Texas.
Do You Need to Hire Movers?
Get free, zero-commitment quotes from pro contractors near you.
9. Champions Ridge
Median Home Value: $1.2M
Home Price Per Sq Ft: $212
Population: 858
Average Household Income: $156,016
Champions Ridge is undoubtedly one of the most desired neighborhoods in far north San Antonio, where expansive hilltop homes line Stone Oak Road. San Antonio's Champions Ridge is not only one of the most sought-after neighborhoods and has a history of celebrities living there, but it is also home to some of the wealthiest residents in the city.
You will have access to the exclusive Club at Sonterra, where you can enjoy championship golf courses, award-winning gourmet dining, 25 tennis courts, and a swimming pool. There are homes with prices ranging from $600,000 to nearly $4 million.
---
Related Questions
Is San Antonio an excellent place to live?
Compared to its state and national counterparts, San Antonio has a lower unemployment rate. Despite the drought, the city saw job growth of 3% (approximately 30,000 new jobs) between 2016 and 2017. San Antonio is the perfect place to live and work for Millennials looking for affordable rent.
What is the safest part of San Antonio?
Helotes was identified as the safest city in the San Antonio area in a new FBI report released earlier this month. Uniform Crime Reports, published by the federal agency, compile data on violent crime, such as murders, rape, robberies, and aggravated assaults.
What is a good salary in San Antonio?
It is usual for a person to earn around 115,000 USD per year in San Antonio. The average salary ranges from 29,100 USD (the lowest) to 513,000 USD (the highest). In addition to housing, transportation, and other benefits, this is the average yearly salary.
Related Articles

Heather Robbins
Heather is a passionate writer who loves anything DIY. Growing up, she learned everything from home repairs to design, and wants to share her tips with you. When she's not writing, she's usually hiking or searching for her next DIY project.
More by Heather Robbins
Published June 1st, 2021 7:32 AM