112 Views
Queen Size Air Mattress Dimensions (with Drawings)
October 22nd, 2021 9:28 PM
Share
We're committed to finding, researching, and recommending the best products. We earn commissions from purchases you make using links in our articles. Learn more here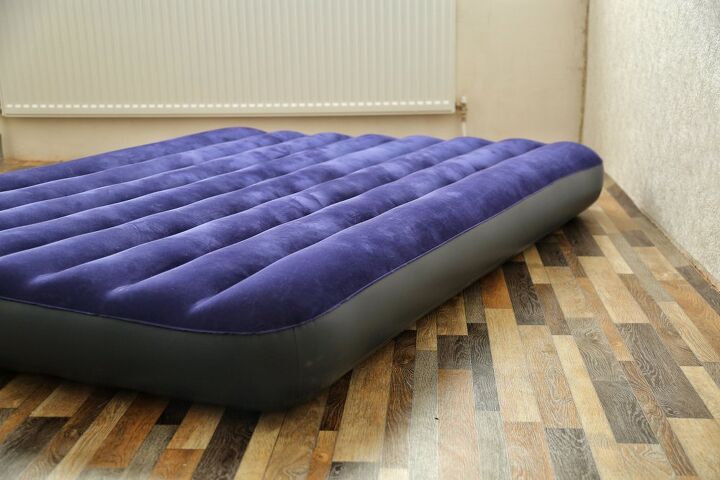 An air mattress offers an excellent solution for camping, sleeping space for guests, or as a temporary solution when moving. Depending on how you plan to use it, several styles are available, ranging from basic to super-deluxe. Plus, you can find air mattresses in the same sizes as standard beds, including a queen-size bed.
A typical queen-size air mattress is 60 inches wide by 80 inches long, the same as a standard queen bed. A basic air mattress is about 7 to 9 inches thick, but you can find multiple styles of air beds. Some deluxe air mattress models and those with built-in pumps can reach closer to a height of 25 inches.
A queen-size air mattress can provide adequate comfort and support, but you need to carefully consider several factors. At the top of your list should be how often you plan to use the air mattress. Plus, in what situations will you use the air mattress, and who will sleep on it the most?
Dimensions of Different Queen Size Air Mattresses
Typically, air mattresses come in the same sizes as standard beds, including twin, twin XL full, queen, and king. Therefore, a queen-size air mattress is the same size as a regular queen mattress. This makes a queen air mattress approximately 60 inches wide by 80 inches long.
However, there can be slight variations depending on the brand, quality, and other features. You might have an air mattress that is just one or two inches wider or shorter than the average. But, you'll find the most significant variation in the thickness of the mattress.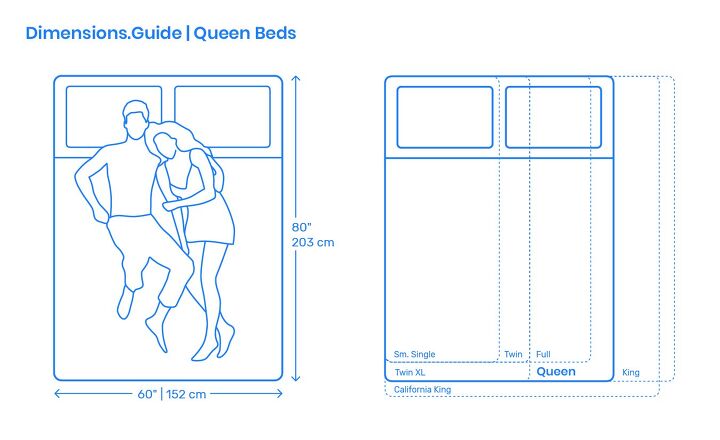 Air Mattress Options: A Quick Glance
That's why it's always a good idea to know exactly what your plans are for your air mattress. For example, will you place the air mattress on an existing bed frame of some sort? If so, the basic thickness can work just fine, especially if you won't use it often.
Usually, a basic air mattress is about 7 to 9 inches thick when fully inflated. But, what if you plan to use your air mattress more often or put it directly on the floor? In these cases, opting for a double-thick air mattress is wise, usually about 18 inches tall when inflated.
Still, what if you want to set up an air mattress as a more semi-permanent solution, like in a spare bedroom? If you have no existing bed frame and you only have the air mattress, consider a stand-alone model. These air mattresses are usually about 24 to 25 inches tall and can typically remain inflated.
As you can see, there are a bunch of options when it comes to queen-zie air mattresses. Here's a closer look at some of the most popular ones.
A Basic Queen-Size Air Mattress
For a no-frills, temporary solution, you can select a basic air mattress. A basic mattress is roughly 60 inches wide by 80 inches long and approximately 9 inches thick. You can typically inflate an air mattress this size in about two minutes or less with a high-speed pump.
Air mattresses of this thickness are a good solution for kids since they are lower. If your kids fall out of bed, they won't hurt themselves. If you're placing it on a bed frame, it's also an excellent option to keep it from getting too tall.
Another scenario in which a basic height air mattress works is when space is at a premium. For example, if you're in a smaller tent with little headroom, you don't want your mattress too tall.
Keep in mind, if you're putting your mattress directly on the ground, make sure to put a tarp underneath. This can help protect your mattress.
If you're in a tent, then you should have a ground cover underneath your entire tent. In this case, it's still helpful to lay an extra blanket or sheet underneath your air mattress.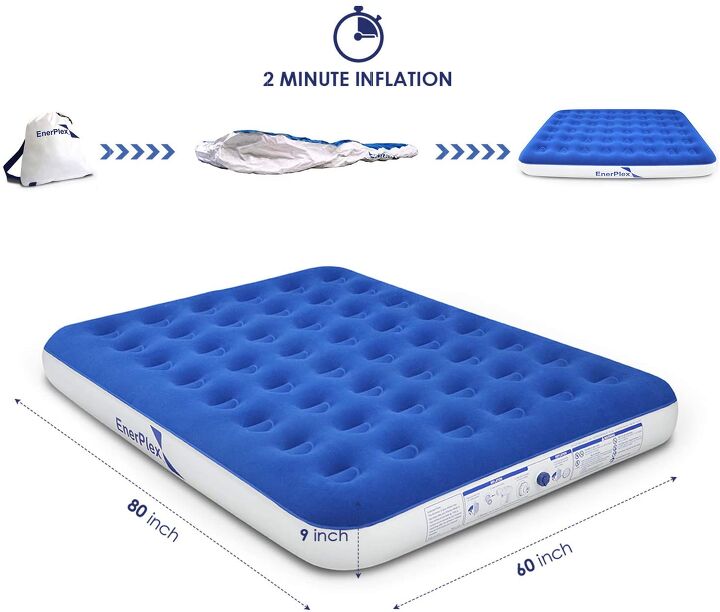 A Thicker Queen-Size Air Mattress
If you plan to place the air mattress directly on the floor, going a bit thicker is better. Not only will a thicker mattress provide more comfort, but you won't feel like you're sleeping on the floor. A taller mattress will still share the same approximate width and height of a basic air mattress.
For example, this one is 78 inches long by 60 inches wide. However, it is double the height at 18 inches thick. Other thicker mattresses can measure between 15 and 20 inches tall.
Remember, when selecting your bedding for your taller air mattress, get deep-pocket sheets. Dep pocket sheets typically fit mattresses that are closer to 15 inches tall or higher. Carefully read the dimensions on whatever sheets you choose for your air mattress.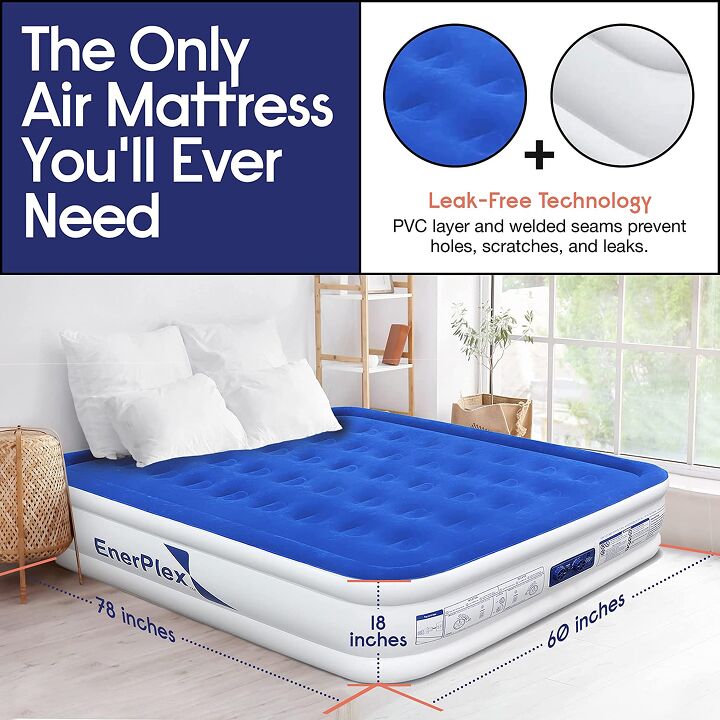 A taller mattress might take a bit longer to fill, depending on the pump. For example, an 18-inch mattress will inflate in about 4 minutes. However, the mattress above features a powerful built-in pump that can inflate and deflate it in two minutes.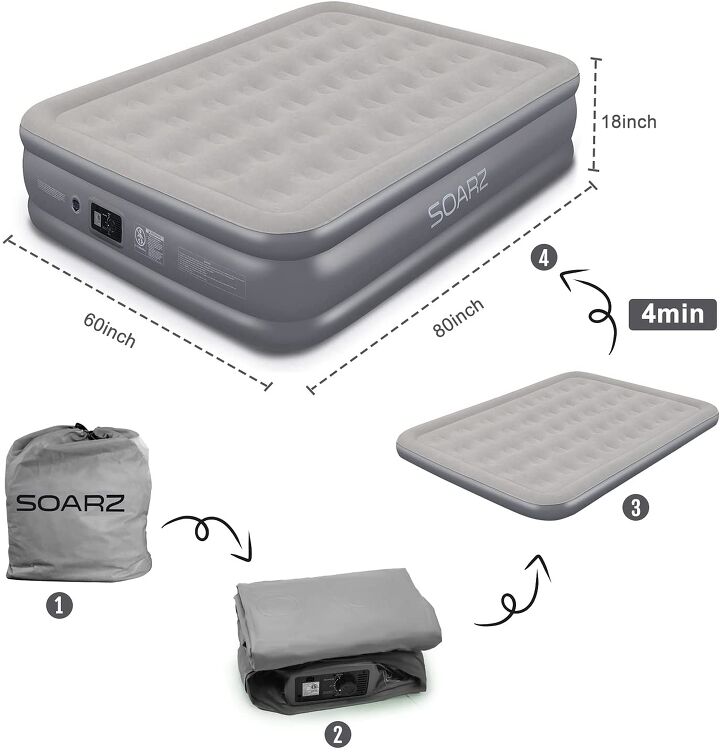 Extra Tall Queen Air Mattress
Some air mattresses are up to 24 to 25 inches tall and can work as a stand-alone bed. These air mattresses typically feature a special pump that constantly monitors the air pressure. This way, you never have to worry about waking up on a deflated air bed.
If you're looking for a semi-permanent solution for a roommate, frequent guests, or other situations, this is an option. You don't have to purchase an expensive bed frame and bulky mattress.
Instead, simply set up the extra-tall air mattress and dress it as you would a regular bed. You'll have an instant bedroom in no time.
Most of the time, looking at it with bedding, you would never know it's an air mattress. These queen size air mattresses still measure roughly 60 inches by 80 inches. And, as with many air mattresses, no matter the thickness, can handle a weight of up to 600 pounds.
Air Mattresses with a Frame
There are also air mattresses that come with an attached frame. The frame unfolds by itself as the mattress inflates. Typically the mattress is about 7 to 9 inches.
However, the whole unit is 24 inches tall. This can help provide extra support and give the illusion that the mattress is a standard bed. If you have room in a camping situation, it can also help keep you higher off the ground (and warmer).
When you deflate the mattress, the frame can fold up easily and pack away in its own carry case. This particular mattress with an attached frame weighs 55 pounds and has a weight capacity of 550 pounds.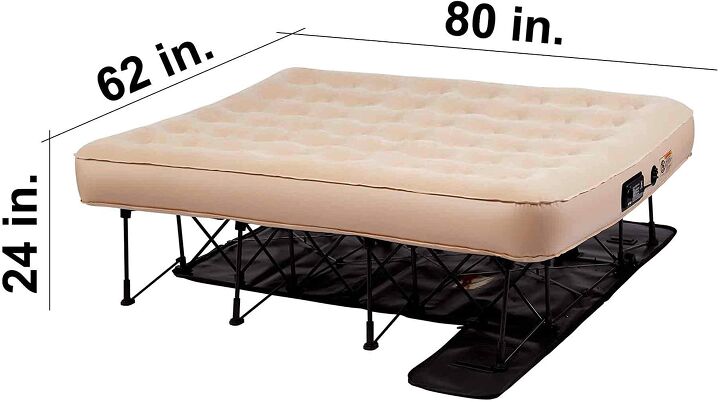 How Much Does a Queen Size Air Mattress Weigh?
You might think because an air mattress is full of air, it doesn't weigh much. Well, of course, it weighs nothing close to a standard mattress. However, it's still essential to be aware that air mattresses still possess some weight.
Most of the time, you handle an air mattress when it's in its deflated state. Consider how much it weighs when it's folded up, and you're moving it into position, etc. Some queen air mattresses weigh about 11 to 12 pounds, while others weigh closer to 17 to 20.
Air mattresses with more built-in features, like cord storage and pumps, tend to weigh more.
---
Related Questions
What type of pump do you need to inflate an air mattress?
A standard pump will inflate your air mattress, but it's worth paying attention to the pump's quality. A good, high-speed pump can inflate a queen size air mattress in about two minutes. If you opt for a cheaper pump, it could take you twice as long if not longer. You also want to consider things like the pump's noise level and if it comes with different nozzles. Make sure it has the right attachments for your particular air mattress. Most of the time, an air mattress will come with an appropriate pump. Other models feature pumps built-in to the unit, making them super convenient. Pumps can range from about $10 to $25, making them a cost-effective purchase.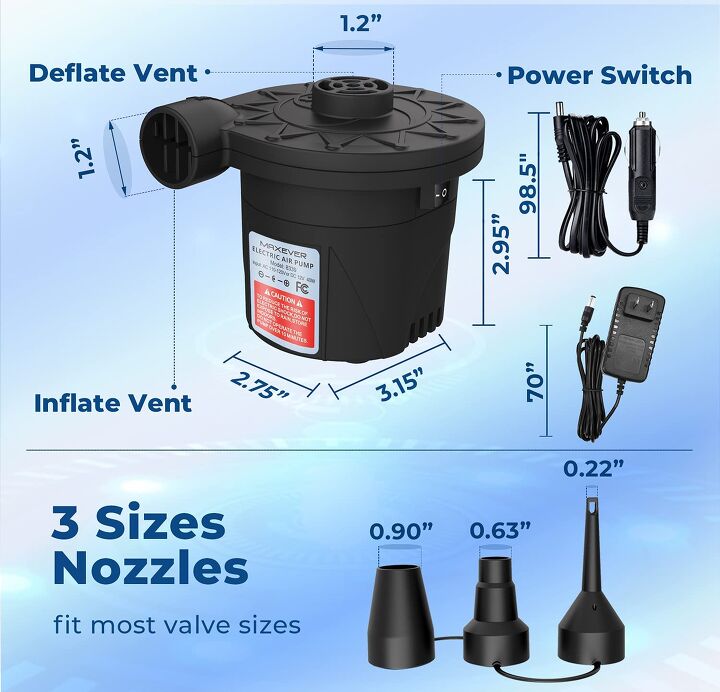 What are some extra considerations when selecting an air mattress?
Besides the size of your air mattress, you'll want to consider several other vital components. Make sure your mattress features strong material that is tear and puncture-resistant. You also want to ensure it has strong seams to avoid unwanted leaks.
Your air mattress should be waterproof and suitable for indoor and outdoor use if you plan to take it camping. Decide if you'll use a separate pump or if you want a mattress with a built-in pump. If the pump is built-in, does the mattress feature cord storage?
Some air mattresses come with a carry case to make them easy for transport. You should also pay attention to what type of support the air mattress offers. Some feature coil-spring technology that offers ideal support; others come with attachable pillow tops, etc.
Finally, you always want to look at how all the features stack up against the price. Air mattresses can cost anywhere from $50 to $200 or more. If you plan to use your mattress often, it's worth splurging on one that can withstand frequent use.

Stacy Randall
Stacy Randall is a wife, mother, and freelance writer from NOLA that has always had a love for DIY projects, home organization, and making spaces beautiful. Together with her husband, she has been spending the last several years lovingly renovating her grandparent's former home, making it their own and learning a lot about life along the way.
More by Stacy Randall
Published July 27th, 2021 4:23 PM