196 Views
What Are The Pros And Cons Of Moving To South Carolina?
December 29th, 2021 11:11 AM
Share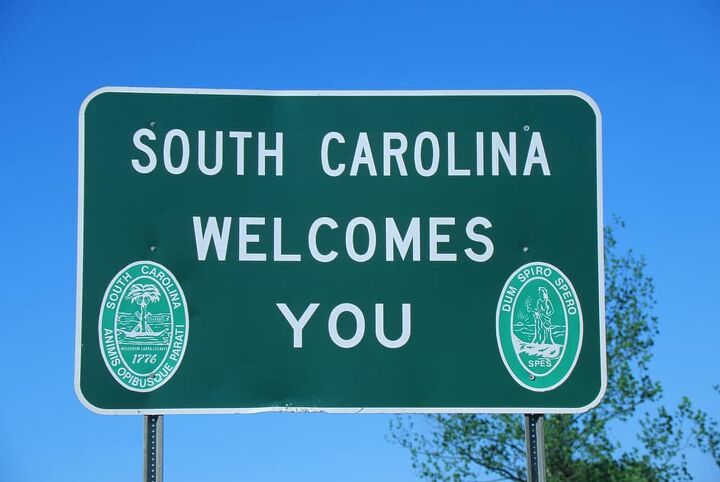 Every state has its ups and downs. When it comes to deciding where you will move to, it is essential to know the good and the bad. There are plenty of reasons to move to the Palmetto State, but what exactly are the pros and cons of moving to South Carolina.
South Carolina features mild winters, a rich history, beautiful scenery, southern hospitality, and a growing economy with attractive tax breaks. However, the state also has a high cost of living with hefty sales and income taxes, scorching summers, and chances for severe weather. You'll also find tons of outdoor activities, but be on the lookout for pesky animals like alligators and mosquitoes.
South Carolina is one of the most popular places for tourists and makes plenty of income during the tourist season. It's also a top choice for young folks starting out or college kids. Before you decide if this is the place for you, take time to learn the pros and cons of South Carolina.
Do You Need to Hire Movers?
Get free, zero-commitment quotes from pro contractors near you.
The Pros And Cons Of Moving To South Carolina
Just like with anywhere you plan to move, you'll face some upsides and some downsides. So, it's essential to consider both before you make your final decision. The important thing is to make sure the pros for a certain place outweigh the cons, then you know it's a contender.
There is a wide variety of benefits when it comes to moving to South Carolina. From the low gas and property taxes to the fantastic weather. They also have plenty of job opportunities and good schools for the kids.
However, South Carolina also has some extremely hot summers. And you will likely end up dealing with some pretty nasty weather conditions, like hurricanes and flooding.
But, don't jump to conclusions and make your decision just yet. There are plenty of pros and cons of moving to South Carolina that you need to check out first.
The Benefits Of Moving To South Carolina
1. South Carolina Has Great Weather Most of the Year
South Carolina is known for its mild winters and pleasant weather most of the year. The temperature ranges from 60 to 65 degrees in the wintertime but does get up to 90 to 95 during the summer. It's warm and beautiful most of the year in South Carolina, making it excellent beach weather. But, the beaches are not all about getting into the ocean.
Sometimes it is nice to enjoy the scenery and peaceful feeling that comes with sitting by the seaside. Plus, it's the perfect weather to stretch out by the shoreline somewhere with your favorite book.
And, if the beach isn't your thing, no problem. In the fall, the leaves change color, creating a magnificent display from October to November. A day drive through the area offers plenty of beauty, and the pleasant weather also makes it nice for a stroll.
Here's an overview of the average temperatures in South Carolina by month.
| | | |
| --- | --- | --- |
| Month | Highest Temperature (°F) | Lowest Temperature (°F) |
| January | 59 | 37 |
| February | 60 | 40 |
| March | 69 | 46 |
| April | 76 | 53 |
| May | 83 | 61 |
| June | 88 | 69 |
| July | 91 | 73 |
| August | 89 | 72 |
| September | 84 | 67 |
| October | 71 | 56 |
| November | 69 | 47 |
| December | 61 | 40 |
2. South Carolina Has Low Gas Tax Rates
South Carolina is one of the cheapest states for fuel taxes, including diesel, coming in at roughly 20% below the national average. This makes it less expensive for you to get around in your car and, overall, more convenient. On average, the taxes you pay toward each gallon of gas will be 20.75 cents.
This is considerably less than gas tax rates in surrounding states. For example, Georgia has a gas tax of 31.6 cents per gallon, and North Carolina's is 34.3 cents per gallon. In addition to low gas taxes, South Carolina doesn't raise the tax frequently. Although the state raised the gas tax in 2018, that was the first increase in nearly 30 years.
3. South Carolina Has Low Property Taxes
Although you will pay a higher sales tax, property taxes are much lower in South Carolina. In fact, South Carolina's fifth for lowest property taxes in the country, with an average of 0.57% of your home value.
This would mean the average homeowner spends about $850 in property taxes annually (after the homestead exemption). This is lower than most of the surrounding states, which can be beneficial when budgeting for your home expenses.
4. South Carolina Offers Many Job Opportunities
If you have ever been to South Carolina, you know there is always something to do. This is especially true in the summertime. Therefore, finding a job in South Carolina is often easier than in other states.
As of November 2021, the unemployment rate in South Carolina is 3.7%. This is lower than the national average of 4.2%, and it actually is showing a trend for decreasing each year. It makes the list of the 20 states with the lowest property rates ( New Hampshire holds the number one spot with a rate of 1.8%).
The automotive and aerospace industries are robust in South Carolina, primarily because it's home to big companies like Boeing, BMW, and Volvo. There is also a strong military presence here as well, with one of the largest US military bases, Shaw Air Force Base, in Sumter, South Carolina.
5. South Carolina Boasts Plenty Of History And Activities
There is a reason why 15 to 18 million people visit South Carolina in a year. There is always something to do. Whether it be sightseeing or having a blast at a water park, there are always exciting activities around every corner.
With plenty of activities comes plenty of tourists. Tourists will visit year-round, but the expected (and busiest) time would be in the summer. Below is a glimpse at some of the various attractions in some of the major cities. These sights and entertainment options attract tourists and new residents year after year.
| | | | |
| --- | --- | --- | --- |
| City | Annual Visitors | Tourist Attractions | Population |
| Charleston | 7.3 million | Folly Beach, Island of Palms County Park | 138,458 |
| Myrtle Beach | 14 million | The Boardwalk, Broadway at the Beach, Plenty of Restaurants | 35,760 |
| Hamilton Head Island | 2.5 million | Beaches, Art Galleries, Orchestra | 39,721 |
| Greenville | 5.5 million | Jones Gap State Park, Greenville Zoo, Lower Wildcat Falls | 71,171 |
| Columbia | 3.5 million | Riverbanks Zoo, Historic Columbia, Columbia Museum of Art | 133,031 |
You can find numerous opportunities for hiking, fishing, biking, and boating. Or, play a few rounds with friends on one of the world-class golf courses.
For history buffs, tour Fort Sumter, built in the 1800s, or stay in the state's oldest city, Charleston, which offers plenty of charm. The Charleston Historic District showcases architecture from the 18th century.
There are also numerous art galleries, museums, concerts, and more throughout the state
6. South Carolina Has Beautiful Scenery
South Carolina features an array of landscapes that come together to create breathtaking views and beautiful scenery. You can enjoy the beaches as you gaze at the barrier islands, or stroll through a quaint coastal town like Port Royal.
Or, take a dip in the ocean at Myrtle Beach as you soak in the sun, or simply enjoy a drive through the rolling hills. If you head west in the state, you'll be in the gorgeous Blue Ridge Mountains, where you can hike, find a crystal-clear creek, and listen to the sounds of nature.
Or, stay in central South Carolina to enjoy a picnic by Lake Marion or Lake Murray, near Columbia. The point is, no matter why you like to explore the outdoors, South Carolina has something for you.
7. South Carolina Is A Great Place To Retire
If you're ready to sit back and enjoy your golden years of retirement, you might want to consider South Carolina. In addition to the other pros of living in The Palmetto State, you'll also enjoy some nice tax breaks.
For example, social security income isn't taxed in South Carolina, and seniors can also take income deductions for other types of retirement income. Older residents also enjoy additional tax exemptions on income depending on their age and financial status. So, you'll definitely want to consult with your tax pro to take advantage of each benefit.
Plus, if you decide you want to go back to school post-60, the state offers reduced tuition programs for older residents.
8. South Carolina Residents Are Friendly
There's certainly a warm and friendly vibe in this state, full of Southern charm and hospitality. Residents are ready and willing to lend a helping hand to fellow residents and visitors.
The Cons Of Moving To South Carolina
As expected, there are always cons to any decision you make. The average income in South Carolina is lower than the national average, and there is a higher sales tax. Not to mention, there's an increased chance of hurricanes and flooding in South Carolina.
So, make sure to balance the pros and cons of South Carolina carefully by taking it all in before you make a decision.
1. Average Income In South Carolina Is Lower Than The National Average
South Carolina's median annual household income is $45,033, roughly $20,000 lower than the average salary in the US. This is nothing to sneeze at and factors big when weighing the pros and cons of South Carolina.
Here's a glimpse at how your income would compare to some other states.
| | | | |
| --- | --- | --- | --- |
| State | Annual Salary | Monthly Salary | Weekly Salary |
| South Carolina | $45,033 | $3,753 | $866 |
| Virginia | $71,564 | $5,963 | $1,490 |
| New Jersey | $79,363 | $6,613 | $1,653 |
| New York | $72,108 | $6,009 | $1,502 |
| Montana | $69,307 | $5,358 | $1,339 |
2. South Carolina Is Prone To Hurricanes and Floods
Although South Carolina is known for its good weather and summer attractions, it's not without risky weather conditions. These risks include hurricanes and even flooding during the rainy season.
On average, South Carolina gets about 30 hurricanes a year. Out of the 30, 5 of them are categories 3 through 5. This is due to being so close to the coastline and having storms brew over the ocean.
During spring and autumn, South Carolina gets more precipitation than usual. In the springtime alone, South Carolina can average about 45 inches of rain. This will ultimately lead to flooding, which could damage property.
3. South Carolina Has A Higher Sales Tax
Statewide, citizens of South Carolina pay a 6% sales tax. The sales tax applies to food, clothing, alcohol, or any other item aside from gas and property. Depending on what city you live in, you might pay more.
Most cities in South Carolina have raised the sales tax since they had the option. However, the minimum amount of sales tax is 6%.
But, when you start backing on the extra sales tax in various cities, you can expect your sales tax to be closer to 7 to 9%. This makes quite a difference eon your budget's bottom line, especially if you like to shop.
| | |
| --- | --- |
| City | Sales Tax |
| Charleston | 9% |
| Columbia | 8% |
| Conway | 8% |
| Anderson | 7% |
4. South Carolina Has A High Income Tax
South Carolina features a progressive tax system, so the more you make the more taxes you will pay. The tax brackets range from 0 to 7%, but the threshold for the top rate of 7% starts at just $15,400. Plus, these amounts apply whether you're filing as a single taxpayer or married filing jointly.
So, you'll be taxed the lower percentages on your first $3,000, $9,000, etc., but then, anything you make over $15,400 will be taxed at 7%.
5. South Carolina Does Have Extremely Hot Summers
Although South Carolina's beautiful weather is one of its strong suits, summer can be brutal. During the summertime, it tends to get hotter than in most places, and the humidity goes up as well. June, July, and August are the hottest months of the year, with a high of 95 degrees.
The nights are cooler, but even then, the temperature sits in the 70s. It's never ideal for sitting around sweating and miserable. So, when summer rolls around, staying inside during the hottest part of the day is your best bet.
5. South Carolina Is Home To Lots Of Alligators And Pesky Critters
You might expect alligators to be a problem in Florida, but not South Carolina, right? In actuality, many places in South Carolina are home to alligators that roam freely.
If you are from North Carolina, you may be used to seeing deer on the road. Well, that is nothing compared to coming across an alligator on your way to work.
The state also has its fair share of mosquitoes that can be a pain to deal with. So, when going outside use lot of bug spray and be aware of any critters that might be nearby.
---
Related Questions
What is the cost of living like in South Carolina?
The overall cost of living in the state is below the national average. However, in some areas, it's higher, mainly utilities and healthcare costs.The median home price is $223,400, which falls below the national median price of $291,700. If you decide to rent, you'll pay an average of $852 for a one-bedroom and about $1,279 for a three-bedroom.The minimum wage in South Carolina is $7.25; the lowest an employer can pay a non-exempt hourly employee. This means most of your convenience stores and retail stores will pay you $7.25 an hour. However, there are plenty of seasonal jobs that offer above the minimum wage. That is a good thing to remember if you are a college student. Especially if you live off-campus and won't be going home for summer vacation. The median income in South Carolina for a single person is $24,222 and for a household is $45,033.
What is the crime rate in South Carolina?
Most of the cities in South Carolina have a relatively low crime rate when it comes to dangerous acts such as rape or murder. However, when it comes to more minor offenses such as burglary or breaking and entering, the crime rate increases. Cities with a higher population count typically have a higher crime rate due to having more citizens. 
What college opportunities are there in South Carolina?
There are plenty of opportunities when it comes to choosing a college in South Carolina. Whether you want to take classes at a community college or a university, South Carolina has an option for you. Universities in South Carolina consist of Clemson University, the University of Charleston, and the University of South Carolina. You can also take the route of community college with Northeastern Technical College or Carolina Central Technical College. 
Do You Need to Hire Movers?
Get free, zero-commitment quotes from pro contractors near you.
What Did We Learn About The Pros And Cons Of South Carolina?
Overall, the pros and cons of living in South Carolina are pretty even. It is a beautiful place to live, but it is also an expensive place to live. It is also a highly-populated area, but that also depends on what city you decide to call home.
Although it might be costly and have some downsides, don't forget the positives. South Carolina has ample opportunities when it comes to food, entertainment, and relaxation. It's all about just knowing the ups and downs so you can make the right choice for yourself.
The Pros And Cons Of South Carolina, At A Glance:
Mild winters
Low gas tax and property taxes
Lots of activities, history, and culture,
Beautiful scenery
Great place for retirees
Job opportunities
Friendly residents
Summer can be hot
Hurricanes and flooding
Nasty critters
High income and sales tax
Income below the national average
Related Articles

Stacy Randall
Stacy Randall is a wife, mother, and freelance writer from NOLA that has always had a love for DIY projects, home organization, and making spaces beautiful. Together with her husband, she has been spending the last several years lovingly renovating her grandparent's former home, making it their own and learning a lot about life along the way.
More by Stacy Randall
Published January 1st, 2021 6:00 PM