11 Views
What Are The Pros And Cons Of Living In San Diego?
April 27th, 2021 4:43 PM
Share
We're committed to finding, researching, and recommending the best products. We earn commissions from purchases you make using links in our articles. Learn more here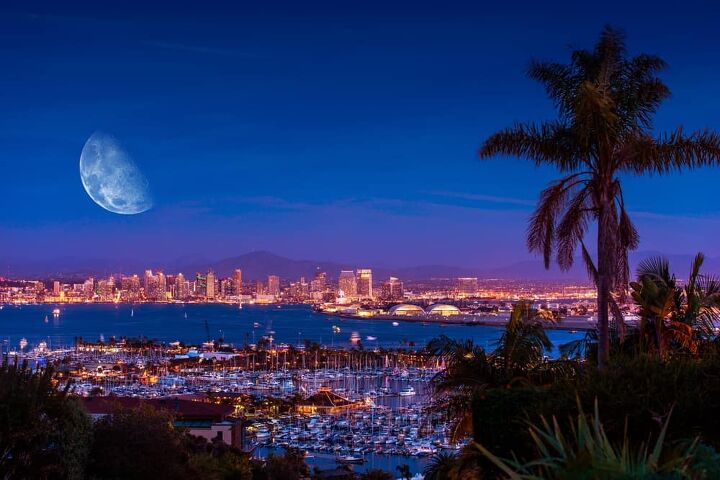 You might assume since San Diego is known as "America's Finest City," it must be the best place to live. Not to mention, roughly 1.5 million people call it home, making it the 8th largest city in the world. But, like any city, San Diego has both pros and cons when it comes to living there.
If you choose to live in San Diego, you'll enjoy lots of fantastic benefits. Located along southern California's coast, the city features great weather, lots of outdoor activities, and various exciting cultural experiences. But, you need to prepare for some downsides, like a high cost of living, traffic, and other transportation issues.
San Diego is a relatively young city that is growing rapidly, although it's known as California's birthplace. The city was the first place European explorers investigated along the west coast. If you think you might want to live in San Diego, get to know the ups and downs first.
Living in San Diego is an amazing experience, but many people might not find it to be the perfect situation for them. This article will help you weigh out the pros and cons of this hot real estate market.
Do You Need to Hire Movers?
Get free, zero-commitment quotes from pro contractors near you.
What Are the Benefits of Living in San Diego?
Almost perfect weather year-round, excellent public schools, and ample entertainment opportunities make San Diego an attractive place to call home. Here's a closer look at the city's many benefits.
1. Great Weather
You pretty much never have to worry about the weather throwing a monkey wrench into your plans. San Diego County has some of the best weather there is, with a pleasant 75 degrees almost year-round. Even in winter, it might get chilly at night, but it hangs around the low 70s during the day. Plus, you rarely have to deal with rainy days.
2. Public Schools Are Some of the Best in the State
If you have kids in school, San Diego County features some of California's best public schools. This town has five of the best school districts in California, and is currently ranked as one of the best places for education in the United States. In fact, several San Diego school districts are in the top 100 for the state (out of over 1500).
These districts include the Elevate District, Old Academy K-8 Charter District, and Del Mar Union Elementary. Want to keep the kids close for college? Not a problem at all. It's worth noting that San Diego is a city that features three different colleges: San Diego State University, the University of San Diego, and the City College of San Diego. Several more exist within an hour's drive outside the city.
3. Tons of Outdoor Experiences
San Diego is an outdoor lover's dream, with beautiful beaches, hiking, biking, over 80 golf courses, and more. Whether you want to relax with a book or hit the waves with a surfboard, there's a beach for you. Some of the top beaches in the county are Mission Beach, La Jolla Shores, and Pacific Beach.
San Diego's beaches are famous around the world, and rightfully so. They have gorgeous clear water, clean sand, and plenty of fun for everyone involved. Since the weather is warm year-round, the beaches are also one of the most popular attractions during all four seasons. It's a surfer's dream.
Plus, there are a lot more opportunities for outdoor fun beyond the beaches. San Diego is an active city, with plenty of biking and hiking trails.
One of the most amazing things is the different environments you can enjoy. You can hike the mountains one day, surf the beaches the next, and end up biking near the desert. A few popular places for hiking and biking are Torrey Pines Hiking Trail and the Los Penasquitos Canyon Preserve.
4. Family-Friendly City
In addition to all of the fabulous ways to explore the great outdoors, San Diego has countless family-friendly options. Take the kids to the world-famous San Diego Zoo or Legoland California for ultimate fun. Or, the whole family can enjoy spending a day at SeaWorld or touring one of the many children's museums.
5. Rich with Culture and Events
Many cities try to prop themselves up with some small museums and somewhat cool performances, but not San Diego. This is a city that is recognized throughout the United States as one of the biggest arts scenes in the country. It's not unusual to hear about top music groups, major art names, and featured fashion designers to stop by San Diego during their tours.
San Diego has something for everyone, showcasing Balboa Park, the USA's largest urban cultural park. The park features an extensive collection of art galleries, museums, the Old Globe Theater, and a zoological park.
You can also find lots of entertainment, from live symphonies to inspiring operas and various events. San Diego hosts things like horse races, live bands, sporting events, and much more throughout the year.
6. Fantastic Food Choices and Craft Beer
When a city rests right along the Mexico border, it's basically a given that you'll find incredible Mexican cuisine. But, with over 7,000 restaurants, you can find all sorts of mouthwatering goodness in San Diego.
There is a multitude of culinary experiences to discover, with frequent deals and exciting flavors. Plus, you can wash down your food with unique beers from over 100 licensed craft beer producers. San Diego boasts a vibrant beer culture, with eclectic bars, top-notch breweries, Beer Week, and the International Beer Cup.
7. Diversity
San Diego, if nothing else, is a wonderful place for people who treasure diversity. Like many other Cali cities, this town is a major melting pot where you will be able to find people from all walks of life. Around 41 percent of all San Diego residents speak a second language at home, making it a great place to learn about other cultures.
| | |
| --- | --- |
| Racial Identity | Percentage |
| White | 42.3 |
| White Hispanic | 22.7 |
| Asian | 16.6 |
| Black Non-Hispanic | 6.4 |
What Are the Cons of Living in San Diego?
Of course, San Diego isn't without its faults, but that's true of any city. Here's a peek at the cons of living in San Diego.
1. San Diego Has a High Cost of Living
Like many other California cities, San Diego doesn't offer a low cost of living. US News and World Report ranked it as one of the most expensive places to live in the United States. In fact, San Diego claimed the number five spot on the list.
The median home price in San Diego is $643,104. Of course, like many cities, it's all about the location, so you can find a broad range of list prices. For example, if you opt to live closer to the coast, you'll pay much more than if you live inland.
Here's a quick glimpse at how prices in San Diego compare to the national average. (And while the grocery bill may seem comparable, it's worth noting that locals eat out a lot).
| | | |
| --- | --- | --- |
| Item | San Diego | United States |
| Average Rent | $2,581/month | $1,078/month |
| Average Electric Bill | $138/month | $115/month |
| Groceries | $313/month | $148-$310/month |
| Gasoline | $3.16/gallon | $1.90/gallon |
| Internet | $75/month | $66/month |
| Median Home Price | $643,104 | $342,000 |
| Average Household Income | $103,655/year | $65,710 |
| Median Household Income | $75,456/year | $68,703 |
2. Lack of Pro Sports
When it comes to sports, San Diego is only home to one professional sports team, MLB's San Diego Padres. The city was home to the NFL's Chargers for 50 years before the team moved to Los Angeles. Of course, unless you're a die-hard sports fan, this probably isn't a big deal-breaker for you.
3. San Diego Really Doesn't Have Seasons
While one of San Diego's biggest pros is its weather, this brings with it a downside, a lack of seasons. If you enjoy a blustery fall, snow sports, or just crisp winter air, you won't find them here.
However, San Diego is only about 150 miles from Big Bear and about 400 miles to Mammoth Mountain. So, you can find ways to satisfy your need for winter action and cold temps.
4. Limited Historic Sites
San Diego is known as the "City in Motion," thanks to its energetic vibe, but also it's still growing! The city is fairly young, which means history buffs won't find many historical sites to explore. However, there are a few historic buildings in the downtown area.
5. Traffic and Parking Can Be Troublesome
Plenty of neighborhoods in San Diego are walkable; however, the overall city is spread out. This means most residents own a car, which translates to traffic. Plus, the public transportation system isn't as vast as that of other major metropolitan cities.
Therefore, you can typically expect traffic and spending some time looking for parking. It's best to allow extra travel time no matter where you're heading, whether by bus or car. Many residents end up getting a motorcycle or scooter to make getting around easier.
6. Airport Is Not What You Would Expect in a Big City
San Diego has one of the smallest airports for a major city, with just one short runway. However, it's one of the busiest runways in the world, making flying to and from San Diego expensive. Many locals end up driving to LAX if they plan to fly somewhere.
7. Rough Job Market
A common turn of phrase in San Diego is, "Getting a job here is easy, getting a decent one is hard." It's true. Studies show that getting a full-time job is extremely difficult here, even with the current unemployment rate of 8.3 percent. Many San Diegans struggle to find well-paying jobs that make living here affordable, especially if they do not have professional degrees.
Oddly enough, the top employer in San Diego isn't a private sector. Rather, it's the military. That is followed up by a large swath of different services job, including those in international trade and tourism. So unless you want to enlist, you might want to start brushing up on another language.
8. The Stingrays
If you're a fan of the beach, you better be careful to shuffle your feet while you're in the water. Most beaches in San Diego (particularly Black's Beach) have a higher risk of stingrays. If you accidentally step on a stingray, you will likely receive an excruciatingly painful sting. Major allergic reactions can happen, and it's easy enough to end up with a very dark red or even purple sting point.
When going in the water around San Diego, keep an eye out for sting rays and know when to signal over a lifeguard. It may save your life.
---
Related Questions
How is the crime rate in San Diego?
San Diego is considered safer than 23% of US cities, averaging just 34,000 crimes a year. While that might seem high, the city's crime rate is lower than the state's average.Here's how your chances of being a victim in San Diego stack up against California and its other large cities.
| | | |
| --- | --- | --- |
| Place | Violent Crime | Property Crime |
| California | 1 in 224 | 1 in 42 |
| San Diego | 1 in 263 | 1 in 51 |
| Los Angeles | 1 in 132 | 1 in 39 |
| San Francisco | 1 in 140 | 1 in 18 |
| San Jose | 1 in 228 | 1 in 39 |
| Sacramento | 1 in 152 | 1 in 30 |
Are there any major colleges or universities in San Diego?
San Diego is home to several major colleges and universities, including the University of California and San Diego State University. It's also home to Springfield College and Bethel Seminary San Diego.
Is San Diego more expensive than New York City?
Nope! Believe it or not, San Diego is approximately 25 percent cheaper than the Big Apple on average. However, you shouldn't pack your bags just yet. While the rent, food, and transit expenses are noticeably cheaper than what you would get in New York City, the pay rates are not as high.
Studies revealed that you will get paid 10 percent less on average for a similar job in San Francisco. With that said, it's still a better quality of life for most people, at least financially speaking.
Is San Diego a safe city?
Absolutely. Studies revealed that San Diego has one of the lowest crime rates in the nation for a city of its size. The police here might appear to be laid back, but they are absolutely tough on crime. Due to the excellent efforts from the local police department as well as the overall chilled culture, San Diego is considered to be one of the safest large cities in the United States.
Is San Diego's job market going to improve?
The crystal ball says yes! Currently, the city of San Diego is seeing a massive influx of big tech companies. For locals, this means more jobs, better salaries, and more demand for qualified workers than ever before. Along with major healthtech companies, the city recently clinched a contract with Amazon.
The major online retail company is expecting to hire several hundred more workers at their San Diego base soon. What other companies will be following Amazon's lead remains to be seen.
Do You Need to Hire Movers?
Get free, zero-commitment quotes from pro contractors near you.
What Did We Learn?
Overall, San Diego is a great place to live, with pros that far outweigh the cons. As long as you don't mind some traffic, and limited seasons and pro sports, there really aren't many drawbacks.
The city has terrific weather, ample entertainment opportunities for all ages, and endless outdoor activities. It's a great place to visit and can also be a wonderful place to call home.

Stacy Randall
Stacy Randall is a wife, mother, and freelance writer from NOLA that has always had a love for DIY projects, home organization, and making spaces beautiful. Together with her husband, she has been spending the last several years lovingly renovating her grandparent's former home, making it their own and learning a lot about life along the way.
More by Stacy Randall
Published January 1st, 2021 6:00 PM