17 Views
What Are The Pros And Cons Of Living In San Antonio?
June 25th, 2021 7:35 PM
Share
We're committed to finding, researching, and recommending the best products. We earn commissions from purchases you make using links in our articles. Learn more here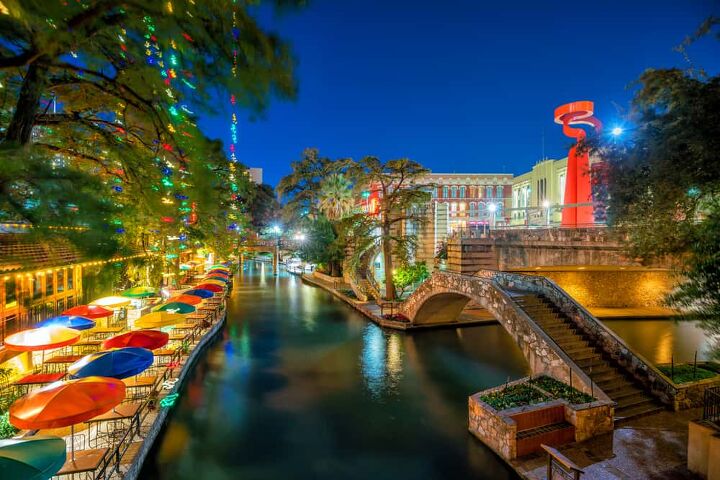 Alamo City, River City, Mission City; no matter what you choose to call it, San Antonio possesses a unique spirit. Featuring incredible food, a rich history, and exciting entertainment opportunities, it's no wonder over 1.5 million people call it home. But, even a city that seems to have it all can have downsides, but does the good outweigh the bad?
San Antonio is the proud home of the famous Alamo, the beautiful River Walk, and the NBA's San Antonio Spurs. It also boasts a diverse culture, vibrant entertainment scene, mild winters, and a small-town feel despite being a big city. However, ongoing construction, brutal summers, and an overload of tourists can take a toll.
San Antonio is the second-largest city in Texas and one of the fastest-growing cities in the USA. Tons of new residents flock here each year; could you be one of them? Before you decide to hang your hat in Alamo City, it's a good idea to know the pros and cons.
Do You Need to Hire Movers?
Get free, zero-commitment quotes from pro contractors near you.
The Benefits of Living in San Antonio
There's certainly no denying that San Antonio has a great deal of positive things going for it. You can always find something to do, a fabulous meal to enjoy, and incredible sights to see. Here's a closer look at some of the main pros of living in San Antonio.
1. There's a Low Cost of Living in San Antonio
San Antonio has a lower cost of living that is roughly a little over 10% less than the national average. Compared to the state of Texas, San Antonio's cost of living is about 4% less than other major cities.
The most significant cost of living difference is home prices. In most categories, San Antonio comes in less than the national average, with the exception of natural gas prices.
Item
San Antonio
United States
Texas
Median Home Cost

(as of June 2020)

$244,900
$342,000
$310,000
Median Rent
$925/month
$1,0788
$1,091/month
Utilities – Electricity
9.24¢/kWh
$11.67¢/kWh
$11.36¢/kWh
Utilities – Natural Gas
$21.59 $/Mcf
$18.41 $/Mcf
$21.75 $/Mcf
Utilities – Water
$72.38/month
$102.68/month
$87.73/month
Gas
$1.81/gallon
$2.19/gallon
$1.90/gallon
Groceries
$143-$300/month
$165-$345/month
$148-$310/month
Internet
$55/month
$66/month
$58/month
Transportation
$238/month
$255/month
$240/month
As we noted earlier, San Antonio is a tourist hotspot. Folks from all over the country head to the city in order to get a closer look at its many attractions. Because of that, many assume that San Antonio is a city with a high barrier of entry in terms of expenses. They assume that having a sizable bank account is a prerequisite for living there. That is not the case though.
Starting with housing, the median price for a new home in San Antonio is $175,000. That's significantly lower than the median number for the United States which stands at $231,000.
You can save money on more than just your new home though. Other cost of living expenses such as essential goods, utilities, and transportation are also affordable in San Antonio. Even if you're comparing San Antonio only to other Texas cities, it still remains a more affordable place to live in.
2. As a San Antonio Resident You Don't Pay Income Tax
Texas is one of just a handful of states that doesn't collect any state income tax. Therefore, you can expect a bit more in your pocket each payday.
3. Strong Commitment to the Military
If you're a member of the military, you'll find discounts and benefits galore in San Antonio. The city is extremely proud of its history and remains very committed to the military. One of the USA's largest military bases, Joint Base San Antonio, calls the city it's home.
4. San Antonio Has Mild Winters and Pleasant Weather Most of the Year
The climate in San Antonio is relatively mild most of the year. From October through May, you can enjoy some pretty pleasant weather. Therefore, when winter rolls around, you can often get by with just a light jacket. There's also very little rain and hardly any snow, so residents enjoy about 220 days of sunshine.
| | | | |
| --- | --- | --- | --- |
| Month | Low in Degrees F | High in Degrees F | Average Rain Days |
| October | 61 | 83 | 7 |
| November | 51 | 72 | 8 |
| December | 44 | 65 | 9 |
| January | 41 | 64 | 7 |
| February | 46 | 68 | 7 |
| March | 53 | 75 | 9 |
| April | 60 | 81 | 6 |
| May | 67 | 87 | 9 |
5. San Antonio Combines the Big City with a Small-Town Feel
If you want to live in a big city without losing the charm of a small town, then San Antonio has you covered. The city offers ample opportunities for big-city fun, but there are just as many ways to experience a laid-back vibe.
Within a ten-minute drive, you'll find yourself in the fabulous Texas Hill Country. Surrounding San Antonio are also numerous small towns like Fredericksburg and New Braunfels, featuring great walkability, shops, and small-town charm.
6. San Antonio Is Rich with Diversity
San Antonio was established in 1718, making it one of the oldest cities in Texas. With that long history comes lots of different people from many places. You'll find several cultures present, including Mexican, German, and Southwestern influences.
This eclectic assortment of cultures shows through in the food, music, architecture, and more. It's a big part of what makes San Antonio such a special place.
You can never have enough free weekends in San Antonio. There are just so many great places to visit there and you'll want to make time to see all of them.
Let's start with the River Walk. Take a seat in one of the barges found in the River Walk and tour the city that way. Even if you're a long-time resident of San Antonio, seeing it that way remains a special experience.
More Places to Visit
Visitors to the River Walk can also enjoy a hearty meal while touring the city on the barge. Feast on San Antonio's flavorful cuisine as you marvel at the many historical sites found throughout the city. The Arneson River Theater also treats River Walk visitors to excellent shows regularly.
Speaking of historical sites, there are so many of them that are worth visiting in San Antonio. Check out the San Antonio Missions National Historical Park to learn more about the city's religious roots. You can even turn seeing the different missions into your entire day by planning a hike to see all of them.
Additional historical sites that are worth visiting include the San Fernando Cathedral and the Spanish Governor's Palace. Of course, we cannot forget about The Alamo if we're talking about must-see spots in San Antonio.
The Japanese Tea Garden and the Natural Bridge Caverns are additional locations that residents must see in person. Remember to visit those places if you've already checked the historic sites off of your list.
One last place we want to highlight is The Pearl District. The Pearl District is basically where you need to go if you're searching for good food. Whether you're looking to buy fresh ingredients or enjoy restaurant dining, The Pearl District has you covered.
7. San Antonio Has Amazing Entertainment Opportunities
There really is no end to entertainment options in San Antonio. Whether you want to spend the day channeling your inner child at Six Flags or SeaWorld or explore the museums.
There's also the world-famous River Walk, complete with all kinds of shopping, eating, and nightlife opportunities. San Antonio has an amazing zoo, the NBA team, the Spurs, and of course, the Alamo. Plus, there are also several other missions worth exploring that speak to the area's rich history. You can also enjoy lots of outdoor activities, like hiking and biking. Plus, you can go boating on Canyon or Medina Lake.
San Antonio is also very close to Texas wine country, so you're only moments away from several fantastic wineries. You can take in the gorgeous scenery, complete with colorful wildflowers, and taste gourmet wines.
8. San Antonio Serves Up Fabulous Food
Thanks to the mix of cultures in San Antonio, you'll find a lot more than Tex-Mex. Whether you're looking for seafood, authentic Mexican cuisine, or something in between, you can find it here.
The city is full of an assortment of different eateries, from food trucks to fine dining. You can always find a great place to go for a casual lunch, romantic date night, or to grab a quick breakfast.
The Cons of Living in San Antonio
Of course, you can't have the good without the bad. So, if you're living in San Antonio, it's worth noting the things that aren't so great. At least then you can better prepare, and sometimes, what's a con for some might not matter to you.
1. San Antonio Lacks Pro Sports Teams
Except for the Spurs, San Antonio lacks a big pro sports presence. The city has no NFL or MLB teams. But, if you're not into pro sports, this won't be a big deal for you.
2. San Antonio Has Brutal Summers and Flash Flooding
Although most of the year experiences pleasant temperatures and little rain, the summers can be brutal. Plus, there is some risk of flash flooding during heavy rains. The combination of hills and limestone means not a lot of run-off, which means deep water in low areas.
In the summer months, temperatures can reach 100 degrees, typically falling between 90 and 100. So, when summer rolls around, you probably want to stay indoors whenever possible. Here's a glimpse at the average highs, lows, and rainy days in the summer.
| | | | |
| --- | --- | --- | --- |
| Month | Low in Degrees F | High in Degrees F | Average Rain Days |
| June | 74 | 93 | 8 |
| July | 76 | 96 | 5 |
| August | 77 | 98 | 5 |
| September | 72 | 92 | 7 |
The upside to living down South for many Americans is that they're able to avoid harsh winters. The flipside to that if you're living in the South is that you have to endure high temperatures. San Antonio is notorious for having scorching hot summers. Triple-digit temperature readings become the norm whenever summer rolls around.
What makes dealing with the high temperature even tougher is the presence of humidity. Even if you're just sitting down at home, you may find yourself getting all sweaty and sticky during the summer.
Running your air conditioner is pretty much a necessity during the summer. It's either that or driving to one of the beaches nearby to cool off.
3. San Antonio Has Lots of Traffic and Construction
This seems to be a common con in most big cities, and San Antonio is no exception. Since it's one of the fastest-growing cities in the country, that means there's always construction. And when you have constant construction, you get lots of traffic.
San Antonio also has lots of quarries, which can get pretty loud when they are blasting. Plus, you end up with lots of rock trucks, which adds to the traffic situation. So, if you live in San Antonio, you might want to ensure you know the locations of the quarries. You don't want to end up living with one in your backyard.
4. San Antonio Isn't Great for Allergy Sufferers
If you suffer from allergies, then it's worth noting that San Antonio can cause allergies to flare in certain months. Throughout the area, there are numerous juniper and cedar trees that release yellow pollen in the spring. This pollen causes what locals call cedar fever, wreaking havoc with allergies and making things pretty miserable.
5. San Antonio Has a Lower Income Than the National Average
While the cost of living in San Antonio is low, so is the average income. Although, it's not much lower than the national average.
| | | | |
| --- | --- | --- | --- |
| Income | San Antonio | United States | Texas |
| Average Salary | $62,000 | $65,712 | $67,000 |
| Average Monthly Pay | $5,167 | $5,476 | $5,583 |
| Average Weekly Pay | $1,192 | $1,264 | $1,288 |
| Average Hourly Wage | $29.80 | $31.59 | $32.21 |
6. San Antonio Has Lots of Tourists
While it might be great for the local economy, lots of tourists means lots of crowds and waiting. Basically, during hectic tourist seasons, like the holidays, ensure you always make reservations for restaurants. It will also take you longer to do things like find parking and maneuver through more crowded areas.
7. San Antonio Is Home to Lots of Critters
If you plan to live in San Antonio, you'll see lots of critters like snakes, fire ants, and scorpions. There are also many deer around the area, which might be cute but can cause damage to property and vegetation. It's just something you need to know so that you can take the proper pest control precautions.
8. San Antonio Has High Property and Sales Taxes
Although San Antonio doesn't have income tax, they make up for it with high property and sales taxes. Overall, Texas has some of the highest property tax rates in the country. Most states have a sales tax ranging between 4% and 7%, but San Antonio surpasses this.
| | |
| --- | --- |
| San Antonio Taxes | Cost |
| Sales Tax | 8.25% |
| Average Property Taxes | $4,432 |
---
Related Questions
Is San Antonio a safe place to live?
San Antonio is a relatively safe place to live, with a violent crime rate of about 1 in 158 residents. This is compared to a rate of 1 in 243 for the state of Texas. However, the rate for property crimes is higher, coming in at roughly 1 in 25. This is compared to a rate of 1 in 42 for Texas.Like any city, some San Antonio neighborhoods are safer than others, so do your research before choosing where to live. 
Does San Antonio experience any kind of natural disasters?
Yes, San Antonio can experience hurricanes, as well as earthquakes, tornadoes, and wildfires. Although earthquakes are not very common, and low-level brush fires are more common than huge wildfires. Hurricanes are also not overly common, and the city has only had about 19 since 1930.
Do You Need to Hire Movers?
Get free, zero-commitment quotes from pro contractors near you.
What Did We Learn?
Overall, the pros outweigh the cons when it comes to living in San Antonio. It's both a unique and fun place to live, with an attractive low cost of living. However, the low cost of living is somewhat offset by higher property taxes and a lower than average income.
Still, there are ample opportunities for entertainment, great food, and outdoor fun. But, you'll want to stay inside during the sweltering summer heat.
Related Articles

Stacy Randall
Stacy Randall is a wife, mother, and freelance writer from NOLA that has always had a love for DIY projects, home organization, and making spaces beautiful. Together with her husband, she has been spending the last several years lovingly renovating her grandparent's former home, making it their own and learning a lot about life along the way.
More by Stacy Randall
Published January 1st, 2021 6:00 PM