455 Views
What Are The Pros And Cons Of Living In Louisville, Kentucky?
December 17th, 2021 7:40 AM
Share
We're committed to finding, researching, and recommending the best products. We earn commissions from purchases you make using links in our articles. Learn more here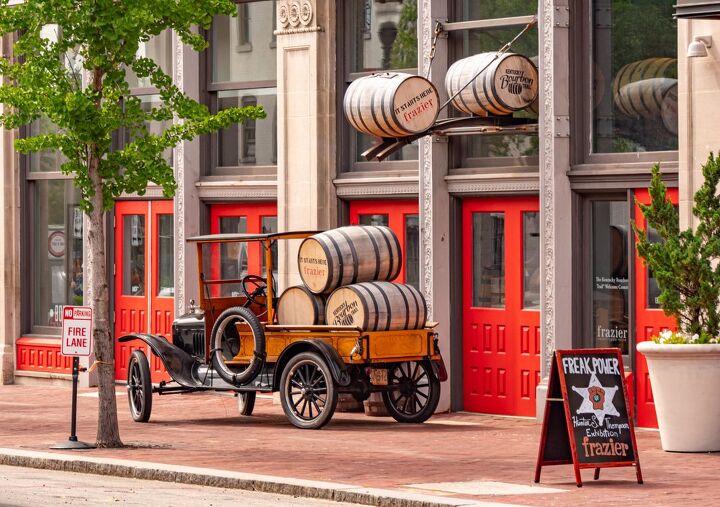 Louisville, Kentucky is a city steeped in incredible history. It's home to numerous American icons and a remarkable amount of natural beauty. The city of Louisville is one you must include on your list of must-visit tourist destinations.
We know that Louisville is a great tourist spot, but how it is as a potential hometown? That's the question we're aiming to answer in this article.
Louisville is a charming Southern city with architecture that you won't see in many other locales. The low cost of living also makes the prospect of living in Louisville long-term more appealing. Don't disregard the high crime rates if you're planning on moving to Louisville though.
The city of Louisville is known as the Gateway to the South. Now may be the time for you to find out what life is like in that part of the country. Learn more about Louisville and what the experience of living there could be like by reading on.
Do You Need to Hire Movers?
Get free, zero-commitment quotes from pro contractors near you.
What Are the Perks of Living in Louisville, KY?
When you start considering Louisville as a possible home instead of a tourist spot, you begin to understand its inherent appeal. We talk at length about the reasons why Louisville can serve as a great home city in the following section.
Low Cost of Living
Cost of living is usually on the low side for Southern cities. That's the case even for some of the bigger cities in that region. You'll be glad to know that Louisville is no different in that regard.
The housing costs in the city are very affordable. Expect to pay something close to $160,000 if you want a new home in Derby City. Remember that the median cost for a home in the United States is $231,000. You're getting a sizable discount if you decide to purchase your new home in Louisville.
Access to affordable homes is already a big plus, but there's more to like from a cost of living perspective. Other essential expenses in Louisville are also quite affordable. Groceries, utilities, and healthcare-related expenses are all relatively inexpensive in Louisville. Only the transportation-related expenses are more expensive than average.
The low cost of living threshold for Louisville is one of its major selling points. You don't need to have a sizable bank account to make the move there. Even younger families can find a way to live in the city while staying well within their means.
Unique Architecture
Explore Louisville in person and you'll quickly notice something different about the way it looks. To be more specific, the kind of architectural design the city boasts is not something you see frequently. Louisville features a great blend of old-style architecture and contemporary design.
Old Louisville is the part of the city where you will find buildings that have been expertly preserved. You'll see homes and other establishments there that feature Victorian designs. Visiting that part of the city almost feels like traveling back in time.
Downtown, you'll notice that there is a greater blending of architectural styles. Preserved buildings are still there, but you'll see some impressive skyscrapers as well. The combination of architectural styles gives Downtown Louisville a look that's uniquely its own. Some buildings in Downtown Louisville also feature cast-iron architecture. Those buildings add more visual intrigue to that part of the city.
You don't have to just admire the varied architectural styles featured in Louisville. Tour the city together with a realtor and you'll find more than a few properties built using similar designs. It's possible to purchase a home that stays in line with the gorgeous architecture the city boasts.
A City of Many Celebrations
Louisville is not just another sleepy town in the South. That's actually far from being the case.
All throughout the year, there are various festivals and events that take place inside Louisville. No matter what your interests are, there will be events that will pique your interest on Louisville's calendar.
The Kentucky State Fair is an annual celebration of the many cultures that inhabit the Bluegrass State. You'll see different kinds of attractions and exhibits set up while the State Fair is in town. Attendees are also treated to a large spread of Kentucky's specialty foods.
Speaking of Kentucky's specialties, you should also make sure not to miss out on the annual Bourbon Festival. The Bourbon Festival actually takes place in Bardstown, but you can get there quickly from Louisville. Just make arrangements for a hotel room so you can rest up after sampling the drinks available at the event.
Several arts and music festivals also take place inside Louisville annually. The indie music festivals that take place in the city are especially memorable. You can get a real sense for Kentucky's cultural spirit by listening to the soulful and creative songs of its artists.
Patriotic holidays are also important events in the city. Whether it's the Fourth of July or Memorial Day, you count on the locals holding a big celebration for it. There's never a dull time to be a resident of Louisville. Feel free to enjoy your time there as much as you want.
The University of Louisville
The Gateway to the South also doubles as a college town. By far the most esteemed educational institution in the city is none other than the University of Louisville.
Established way back in 1798, the University of Louisville has been a shining beacon of academic achievement for all of Kentucky. The university has a long list of impressive accomplishments amassed over the course of its existence. Its contributions to the field of healthcare, in particular, have been truly remarkable.
Researchers at the university continue their great work up to this day. The university belongs in the R1 group according to the Carnegie Classification. That kind of classification is bestowed only upon educational institutions that carry out high amounts of research activity.
The university is also famous for its athletics program. The Louisville Cardinals have won national titles in men's college basketball. Their women's basketball program is also among the most successful in the nation.
The University of Louisville has helped nurture the talents of promising youngsters for centuries. If you want to send your child to a highly regarded college, the University of Louisville would be a wonderful choice.
What Are the Pitfalls of Living in Louisville, KY?
Hopefully, you're now able to understand why Louisville is a great choice for a new home. Still, there are less than desirable aspects of Louisville we need to talk about as well. We detail what those are in the section below.
Alarming Crime Rates
If we're using crime rates as the measuring stick, then Louisville may very well be the most dangerous city in Kentucky. The website Neighborhood Scout even notes that Louisville is only safer than five percent of cities in the United States.
What's especially concerning about the prevalence of crime there is how out of line it is with the rest of Kentucky. The property crime rate in Louisville is double that of what you'll observe throughout the state. Meanwhile, Louisville's violent crime rate is more than three times greater than the violent crime rate for Kentucky.
Investing in home security is essential for any Louisville resident. You cannot afford to leave your home vulnerable so take care of that as soon as you move there.
Driving Cars Is Practically a Must
Only about three percent of the adult population in Louisville use public transportation to get around. That's probably because a lot of residents are frustrated with the slow and inefficient public transportation that the city offers. Expect to run late frequently if you use public transportation all the time.
The majority of Louisville residents use cars to move around town. You will likely have to do that as well.
Traffic remains an issue even if you use your own vehicle. Still, you can avoid being late if you tweak the time you leave home.
You may also have to purchase multiple cars and build a larger garage to accommodate your family's transportation needs. Those are big expenses though so make sure to save up for them.
Do You Need to Hire Movers?
Get free, zero-commitment quotes from pro contractors near you.
---
Related Questions
What Is the Status of the Economy in Louisville?
In a word, the economic outlook for Louisville is promising. The unemployment rate there is at 5.0 percent. That's a point lower than the nationwide rate.More encouraging is the fact that Louisville's job market is expected to grow faster than the country's job market. The difference in growth rate is about five percent in favor of Louisville.From an economic standpoint, moving to Louisville is a smart move. Making that move could set your family up better financially in the years to come.
Is the Kentucky Derby Worth Attending?
The Kentucky Derby is one of the can't miss events on Louisville's calendar. Held at the Churchill Downs annually, the Kentucky Derby is one of the biggest events in horse racing.In Louisville, the Kentucky Derby is more than just a sporting event. It's become an event of cultural significance as well. Even if you're not a big horse racing fan, catching the Kentucky Derby at Churchill Downs is an experience worth having.
Related Articles

Gary Evans
Gary Evans is passionate about home improvement. He loves finding out how to make improvements in the easiest, most practical, and most affordable ways. Upgrading his home kitchen is one of his ongoing hobbies. Gary is also a long-time content creator and enjoys spending his free time tending to his hydroponic vegetable garden.
More by Gary Evans
Published June 30th, 2021 8:25 AM