599 Views
One-Bedroom Apartment Floor Plans (with Drawings)
August 26th, 2022 4:08 PM
Share
We're committed to finding, researching, and recommending the best products. We earn commissions from purchases you make using links in our articles. Learn more here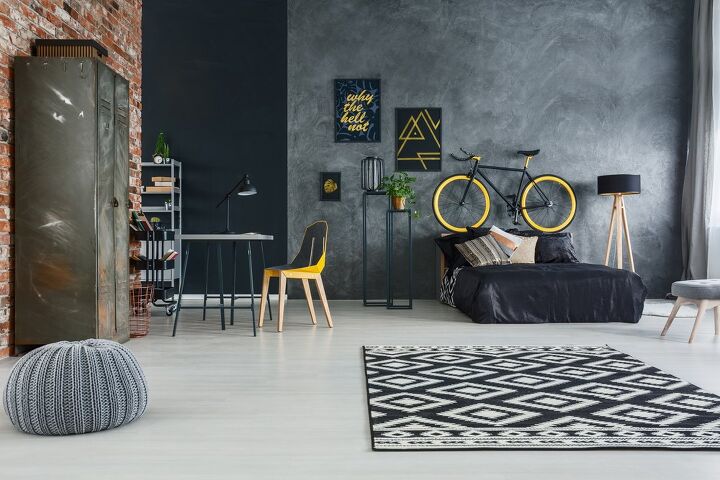 Living spaces in the United States vary greatly based on your budget and where you live. For many singles and couples who rent, a one-bedroom apartment often offers sufficient space. However, a one-bedroom can get tricky for families or multiple roommates.
The average size of a one-bedroom apartment in the US is between 675 and 715 square feet. However, there are one-bedrooms that can easily surpass 1,000 square feet or more. When it comes to making an apartment work for you, layout plays a major role.
In the majority of one-bedroom apartments, you'll typically find a kitchen, living/dining area, bathroom, and bedroom. Some units might also offer a patio or balcony area for some outdoor space. Then, the remaining space in the apartment goes to things like storage and perhaps a laundry area.
Making a One-Bedroom Apartment Work for You
The most important thing you can do when choosing a place to live is to consider your lifestyle carefully. For example, if you cook most of your meals at home, finding a place with a large kitchen is paramount. However, a big kitchen isn't as important if your idea of a gourmet meal is calling for pizza delivery.
Either way, when you choose a one-bedroom, you won't likely have an abundance of space. Therefore, decluttering frequently is a great idea to ensure you don't end up drowning in stuff. Plus, when you have fewer things in a smaller space, it's easier for you to keep it looking neat.
Typically, a one-bedroom apartment features ample open space for both living and dining. If you prefer to have more separate areas for these activities, you can create zones using furniture.
If the single bedroom is on a smaller size, you can opt for specially-designed furniture pieces, like a Murphy bed. Then, your bedroom can double as an office or craft room by day and a bedroom by night. It's all about getting creative and thinking outside of the box.
Making a One-Bedroom Apartment Work for Multiple People
If you live with more than one person in a one-bedroom, then you need to turn things up a notch. A Murphy bed or sofa sleeper in the living area can turn the space into a second bedroom at night. This could be a good option for kids who live in the apartment or if you live with a roommate.
Of course, this also means you have to become even more creative with storage. Surprisingly, many one-bedroom apartments actually offer ample storage, but they do so with one (maximum two) people in mind. Therefore, when a small family or three people try to share the space, storage becomes highly prized.
Furniture that serves multiple functions can make smaller living spaces work more efficiently and comfortably. Think about things like storage ottomans that double as coffee tables or bookshelves that act as room dividers. You can also add more vertical shelving to your walls and create hidden storage under your bed.
One-Bedroom Apartment Layout Ideas
Where you look for an apartment will influence your available options, as will your budget. However, most one-bedroom floor plans have some pretty standard layouts. Although, some can be more unique than others.
Ultimately, you can always change things up to work for you. For example, the bedroom doesn't have to be a dedicated bedroom. But, you are pretty much married to the locations of things like the kitchen, bath, and mechanical areas.
A Common One-Bedroom Apartment Layout
This layout below from ZoDev Design features a pretty common design found in one-bedroom apartments. You enter into one large space that encompasses the kitchen, living area, and dining area. An island with bar stools separates the kitchen from the rest of the space, a concept found in many apartments.
The residents used a sofa to provide separation between the living room and dining room areas. The bathroom's accessible from the main living area, while the bedroom is tucked away in the corner of the unit. A large patio area provides the perfect place to relax and extend the living space on a pleasant day.
The storage in this unit is also pretty standard. There's a closet near the entryway, a larger closet in the bedroom, then a stackable washer/dryer unit.
There's a decent amount of cabinet space in the kitchen, which would also need to double as the pantry space. You could also add a standing pantry against the wall between the dining area and the end of the countertop.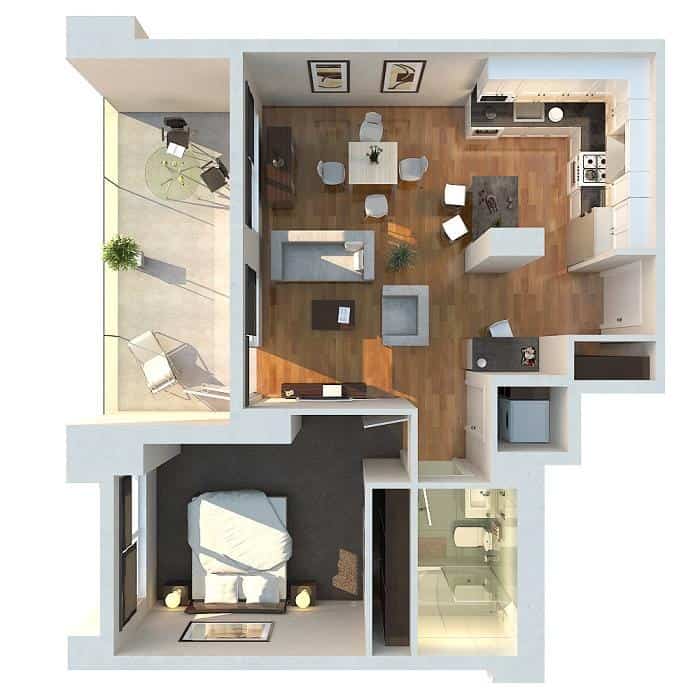 This unit also features a fairly common layout, entering into the kitchen and living area, with the bedroom tucked away.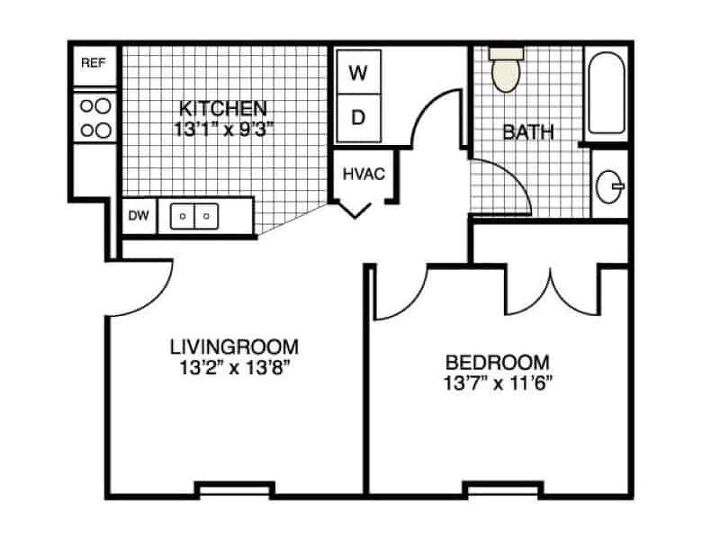 The Master Retreat
The majority of renters in a one-bedroom apartment are singles or couples. Therefore, many units will tend to create more spacious master ensuite areas to appeal to this market. In the below example, the kitchen, living, and dining areas again share one large space.
There's a nice outdoor deck area that helps extend the usable space of the apartment. There is also a bathroom accessible from the main living area. However, the bedroom, also tucked away in the back corner of the unit as above, is slightly different.
This master features a walk-in closet that provides direct access to the bathroom. The bathroom features a tub and an additional closet for extra storage. Plus, there is a laundry closet instead of just a stackable unit, which also provides extra storage.
A Smaller Kitchen
Some one-bedrooms go slightly smaller in the kitchen so as to not sacrifice too much space in the living areas. This will be an excellent option for you if take-out is your thing more than cooking. In this unit, the kitchen, laundry area, and bathroom are all sort of tucked away into one corner.
However, since the bedroom provides direct access to the bathroom, the layout works. You don't have to walk around the hall, through the kitchen to get from your room to the bathroom. This unit also provides a small, square patio area for relaxing outside.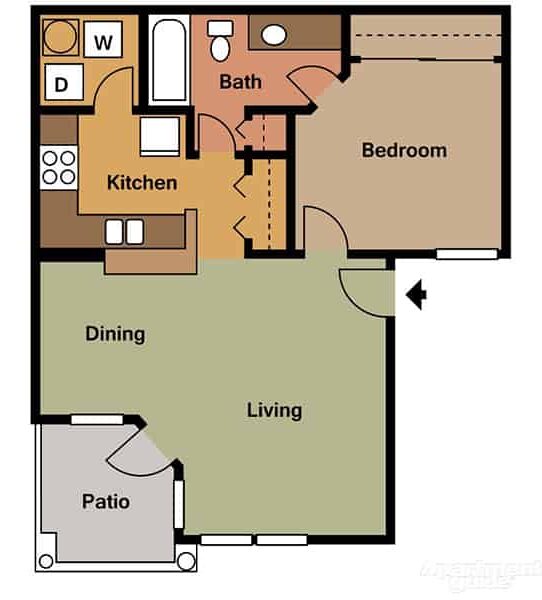 The Grand One-Bedroom (Studio) Apartment
If you enjoy entertaining, you'd likely prefer a unit like this one, with a spacious living and kitchen area. The trade-off is a slightly smaller (although still decent-size) bedroom.
This is actually a studio; if you look closely, the bedroom has no door. However, with such a clearly defined sense of separation, it feels like a one-bedroom.
At almost 1,000 square feet, it's also double the average studio and much larger than the average one-bedroom. Plus, the addition of a curtain or room divider can add even more separation.
In this particular set-up, a Murphy bed would be a great idea. When not in bedroom mode, the whole area can become an additional entertaining space.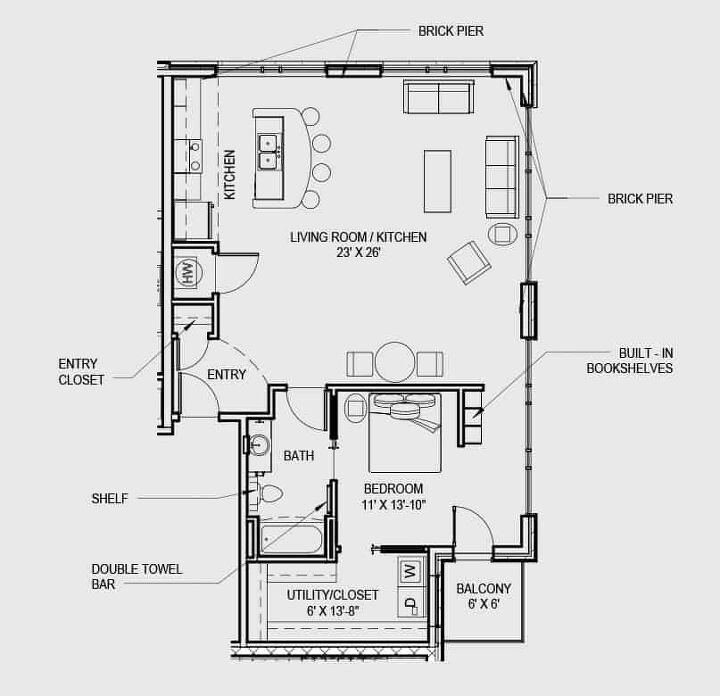 Extra Considerations When Living in a One-Bedroom Apartment
If you plan to call a one-bedroom apartment home, here are a few extra things to keep in mind.
One-bedrooms typically work well for one or two people. If you plan to have three people living there, carefully consider before you make the move. 
Plus, legally, you might not be able to have more than three people in the unit. Although there could be an exception in some cases, say a family of four, you need to know the rules. Typically, it's two people per bedroom plus one more; three people in a one-bedroom, five people in a two-bedroom, etc.
Nowadays, many one-bedroom apartments include at least a stackable washer and dryer. However, not all do, so check to see if the complex has a laundry facility on-site or a nearby laundromat. 
If all you really do in your bedroom is sleep, opt for a more spacious living area. Plus, don't underestimate the power of storage and pay attention to storage space in the apartment. Having enough room to put your belongings is key to making a small space feel calm and tidy.
---
Related Questions
How much does a one-bedroom apartment cost?
The average rent for a one-bedroom apartment in the United States is roughly $930. However, that number can go way up or inch down depending on where you live. For example, a one-bedroom apartment in San Francisco, California, averages $2,197 a month. Conversely, a one-bedroom in Gainesville, Florida, runs about $790 per month. What you pay also depends on various other factors such as amenities in the complex and parking. Some places feature things like a fitness center, swimming pool, clubhouse, gated security, and other extras. All of these bonuses add up and show up in your rent. You might also have a designated parking spot that goes along with your apartment. Therefore, carefully consider everything that's included in the rent price. If you have a pet, you might have to pay an additional monthly fee on top of your rent.
What are the pros and cons of living in a one-bedroom apartment?
Living in a smaller space, as most one-bedroom apartments are, comes with some pros and cons. You definitely have less space to clean and keep neat. Plus, rent is typically cheaper, and it won't cost you as much for utilities. One-bedrooms allow you some privacy despite their small footprint, although once you hit three people, you max out. Plus, you have to ensure that you make an effort to go through your stuff and toss out clutter regularly. If you live in a one-bedroom with your partner and plan to start a family, you'll outgrow your space very quickly. Apartments this size don't typically offer a lot of room to grow, which means you'd need to move soon.

Stacy Randall
Stacy Randall is a wife, mother, and freelance writer from NOLA that has always had a love for DIY projects, home organization, and making spaces beautiful. Together with her husband, she has been spending the last several years lovingly renovating her grandparent's former home, making it their own and learning a lot about life along the way.
More by Stacy Randall
Published April 10th, 2021 2:27 AM