174 Views
Luxury Apartment Floor Plans (with Drawings)
October 23rd, 2021 3:09 PM
Share
We're committed to finding, researching, and recommending the best products. We earn commissions from purchases you make using links in our articles. Learn more here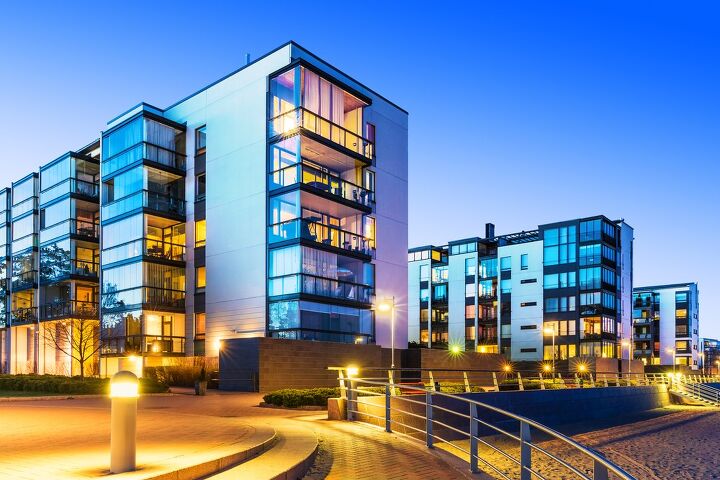 If you choose to rent instead of own, you might picture some small apartment with white walls and beige carpet. Maybe your image includes a tiny balcony or patio area, but surely no frills. However, apartments come in all shapes, sizes, and styles, and if you have the dough, they can get pretty lavish.
Luxury apartments usually stand out from other units thanks to their high-end finishes and extra perks. You'll likely find more extensive terraces, larger rooms, and bonus features like fireplaces and jacuzzi tubs. But better doesn't always mean bigger; sometimes luxury apartments can be small but feature impeccable quality and amenities.
If you're in the market for a luxury apartment, you need to start with two things: your budget and location. The real appeal is often the proximity to things like work, school, and entertainment. So, first, narrow down your search area, then start working within your budget.
Making a Luxury Apartment Work for You
The most significant factor to consider in making a luxury apartment work for you is the price. All the bells and whistles in the world won't do you any good if you're stressed about the price tag.
Of course, when it comes to cost, a lot depends on where you live. For example, you could snag a three-bedroom luxury apartment for about $1,300 in Oklahoma City. But, that same unit could cost you closer to $3,700 in Philadelphia.
Otherwise, if your pocketbook is breathing easy, then it comes down to your apartment's layout. You want to find a place that you can shape and mold into a home that suits your needs.
Consider Your Lifestyle
While you have some limited flexibility when it comes to living in an apartment, you still have some choices. You can choose from a different number of bedrooms and bathrooms, as well as storage space. You can also find apartments that include things like laundry, a balcony, and featured amenities like stainless steel appliances.
If you're single, then you might splurge on a smaller luxury apartment with one bedroom but tons of amenities. Or perhaps you want a two-bedroom unit so you can convert the spare bedroom into an office or workout room.
Couples planning to start a family might look for at least a three-bedroom unit for a family of four. Older, retired couples might wish to downsize from their homes into smaller two-bedroom apartments. You get the idea.
Then, you need to consider some logistics like whether the complex allows pets if you have any. Plus, any extras the complex offers that are important to you, like a gym, pool, off-street parking, etc.
Luxury Apartment Layouts
Luxury apartments come in a variety of layouts and styles. Depending on the complex, there could be an assortment of one, two, and three-bedroom units or even more bedrooms. Some buildings offer all one-level units, while some might feature two-story apartments.
In some complexes, there might only be luxury studio apartments available or just studios and one-bedrooms. You'll find large outdoor living areas like oversized wrap-around terraces in some areas, while others might offer a single balcony.
When choosing where you'll rent, check out available apartment buildings in the area to find one compatible with your needs. Don't forget to make a list of your must-haves versus your nice-to-haves to help you sort through your options.
Three Bedroom Luxury Apartment with a Wrap-Around Terrace
This layout features a reasonably standard apartment layout featuring a master suite with two additional bedrooms. What really sets this unit apart is the impressive wrap-around corner terrace, shared by the living area and a spare bedroom. Outdoor space like this significantly increases the overall size of the unit.
Plus, the master suite has its own private terrace along with an ensuite and walk-in closet. There is a second bath for the rest of the unit, and the apartment features a nice-sized laundry room. You'll also find ample storage throughout.
What this unit lacks is a dedicated dining area, but with creativity, you can incorporate one into your living room. You could set up zones in the space if you wanted a more permanent setup. Conversely, you could use a lift-up table on the side of the counter that faces the living room.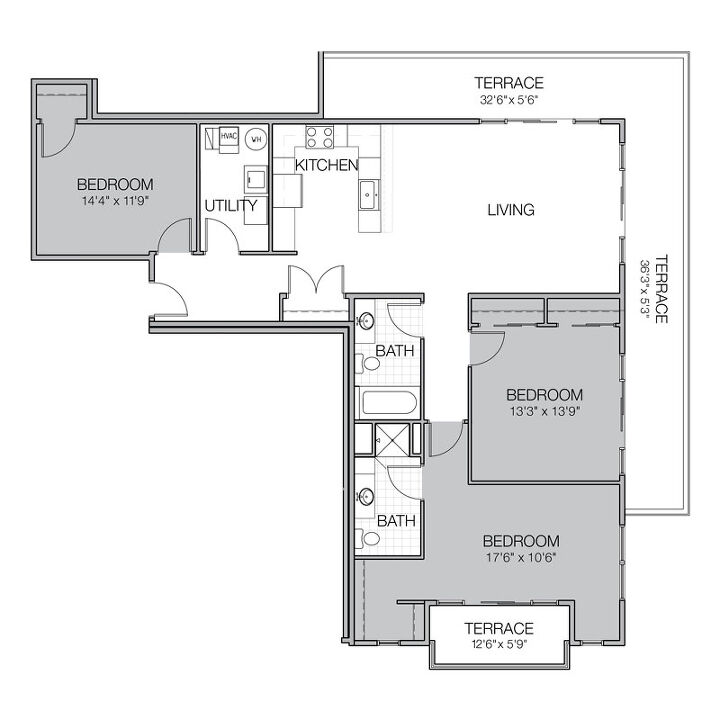 Two-Story Luxury Apartment
This two-story, three-bedroom unit converts the bedroom on the upper level into a den area instead. The loft-style of the upstairs keeps things feeling open and airy throughout the space.
Plus, the open floor plan of the kitchen, dining, and living area take you straight outside onto the walk-out patio. All of the bedrooms feature walk-in closets, and the master also has a dedicated bathroom. Plus, there's a laundry area within the unit, which you would come to expect with a luxury apartment.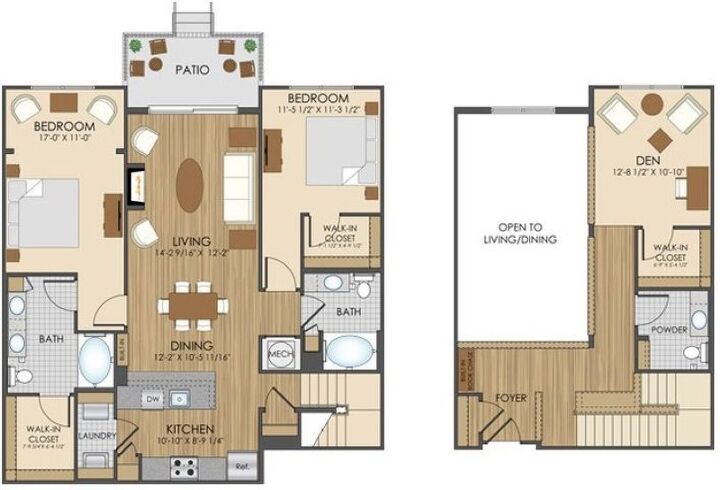 Luxury Split-Bedroom Apartment
This luxury two-bedroom unit separates the bedrooms with an open floor plan and spacious balcony, perfect for dining. The master retreat in this apartment is substantial, with an impressive bathroom and walk-in closet.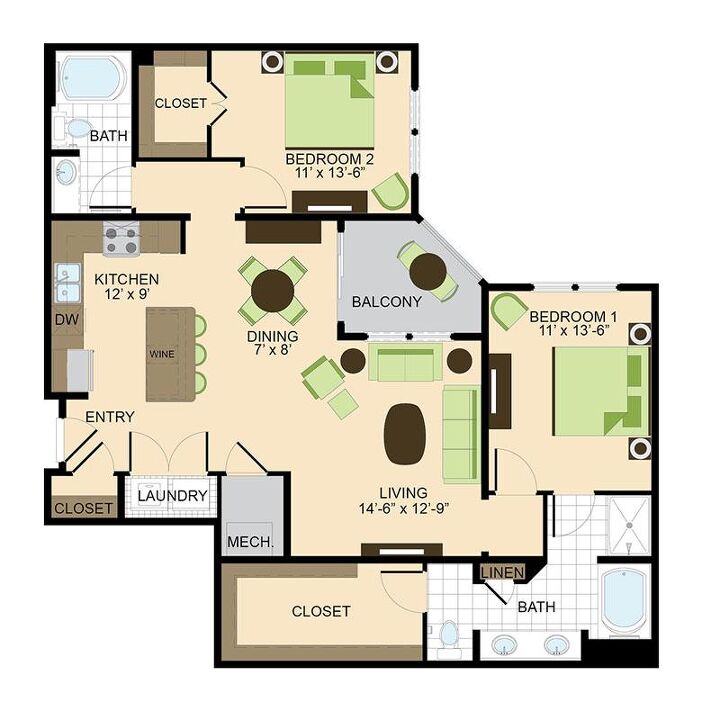 Unique Layout with Outdoor Space
This U-shaped plan wraps around an outdoor space that you can access from the utility room. There are also multiple balconies and a huge master retreat with double closets and double vanities in the bathroom.
The shared spaces are incredibly expansive, with a two-sided fireplace providing the perfect touch of flair. This unit also offers a private entrance via elevator.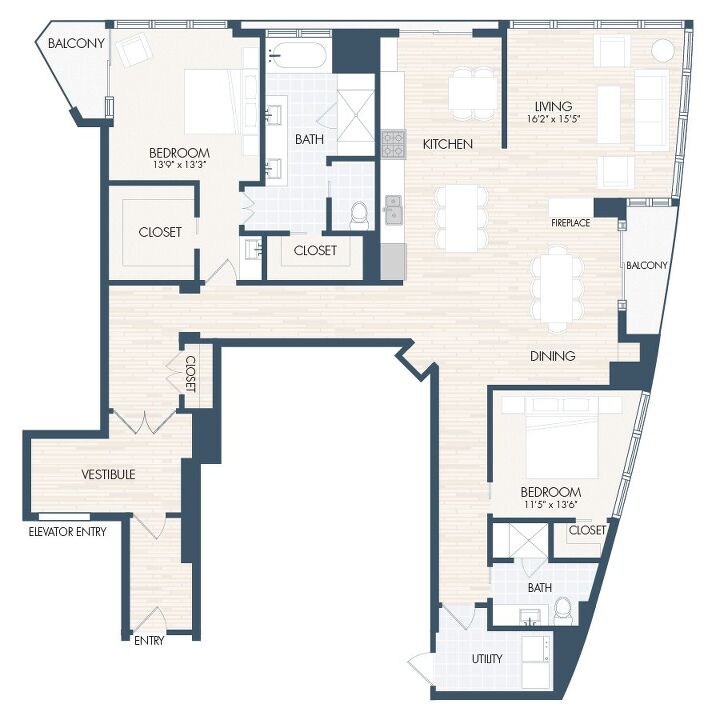 A Studio Luxury Apartment
If you want to live in luxury but at a smaller price point, then a studio might be for you. Of course, it works best for singles or couples. This studio is spacious, plus provides a large walk-in closet and separate laundry area.
It also features a balcony and full bath, thanks to a shower/tub combo. If you opted for a Murphy bed, then you could do even more with the space. It could be an office or dining room by day, bedroom by night.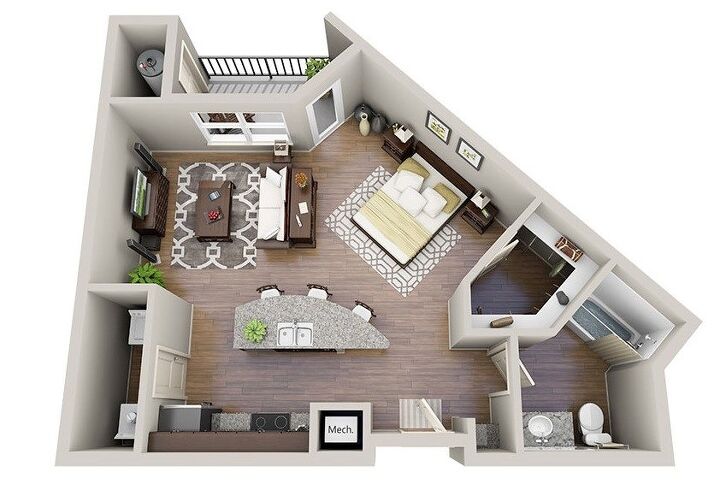 What Are Some Unique Perks that Come with Luxury Apartments?
Often, apartment complexes come with amenities like a pool or fitness center. Many also offer clubhouse spaces that you can use for large gatherings like a bridal shower or birthday party. Additionally, you'll find many complexes that provide designated parking for each unit.
But what about luxury apartment buildings? Do you get anything extra on top of what you might expect in a nice, standard apartment building? Possibly.
It all comes down to the individual complex, as they're all different. You'll likely have the usual amenities, but granted, they might be a bit more elevated (think resort-style pool area). However, you might also have some extra perks like a doorman, added security, and a private garage for extra storage.
Some complexes might even have things like a hair salon, spa, and shops. You could also have entertaining places like a game room, rooftop deck, extra green space, or even a movie theater. Of course, it's a relatively safe bet that the more extreme the amenities, the higher your rent will be.
---
Related Questions
How much does a luxury apartment cost?
You can't simply slap one price tag on every luxury apartment because numerous factors determine the cost. Location is a big one.  Rent varies widely across the country and even from city to city within the same state. Then, it depends on things like the size of the unit, as more square footage usually means more money. Plus, if the apartment complex includes a lot of perks, you'll pay for them within your rent. Finally, many apartments include things like water and garbage pickup in the rental price. However, you're typically on your own for things like cable, internet, and utilities. Here are a few average rental prices for luxury apartments in several major cities to give you an idea. 
| | | |
| --- | --- | --- |
| City | Studio | Three-Bedroom |
| Dallas, TX | $1,165 | $2,049 |
| Nashville, TN | $1,410 | $1,745 |
| Chicago, IL | $1,747 | $4,905 |
| San Francisco, CA | $3,157 | $6,812 |
| New York, NY (Manhattan) | $3,179 | $8,163 |
| Detroit, Michigan | $1,061 | $1,878 |
* cnbc.com
Beyond the regular rent, you might have extra costs. For example, typically, apartments will charge a pet fee on top of standard rent if you have pets.
What are the benefits of living in a luxury apartment?
There are several benefits when it comes to a luxury apartment. You often get high-end finishes and more space. You might also enjoy extra amenities because you're in a more upscale complex.
Often, the location is excellent; you'll be in the heart of an urban area, close to entertainment, shopping, and restaurants. Plus, you potentially have better views.
And, renting is more flexible than owning, which for many is a good fit. If you travel a lot for work or transfer often, it's easier to pick up and go. But, if this applies to you, consider a shorter-term lease, and know that they typically cost more per month.
What are the cons of living in a luxury apartment?
Everything with pros also has some cons. For luxury apartments, one of the cons is certainly price; you're paying a lot more than a standard apartment.
In some cases, what you get for this extra rent might seem worth it, but it might be overinflated too. Therefore, carefully assess what you're getting for your money.
Finally, an apartment is still an apartment, luxury or not. You don't own it, so you're limited on what you can do with your space. For example, many complexes don't allow you to paint specific colors (if you can paint at all).
Or, if you have a dog, what if the complex suddenly changes its rules not to allow pets? Are you going to get rid of your dog, or will you be forced to move? Basically, with an apartment, you give up some control of your living situation.
Related Articles

Stacy Randall
Stacy Randall is a wife, mother, and freelance writer from NOLA that has always had a love for DIY projects, home organization, and making spaces beautiful. Together with her husband, she has been spending the last several years lovingly renovating her grandparent's former home, making it their own and learning a lot about life along the way.
More by Stacy Randall
Published June 24th, 2021 10:11 PM